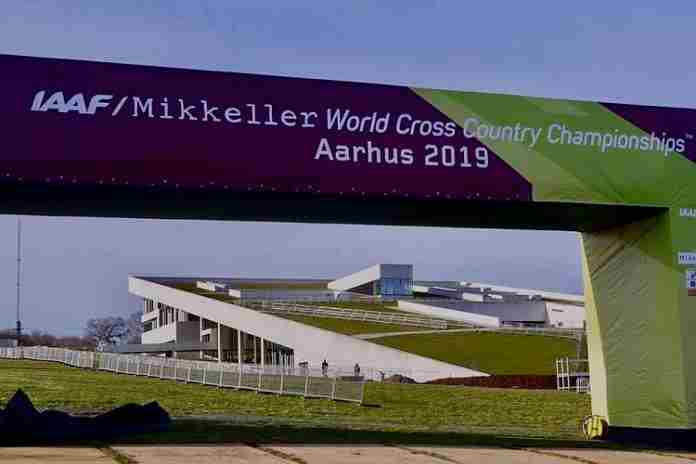 The IAAF World Cross Country Championships are back and will be held this Saturday on the grounds of the Moesgaard Museum near Aarhus (DEN) over a loop course which is designed to be more challenging than in recent years.
The men's and women's courses are both 10,000 m, with three laps of 1,955 m and two laps of 2,080 m. There is a sand pit, mud pit, water pit, cheering tent and something called the Viking Zone. Five races are scheduled:
● Mixed Relay (8,070 m)
● U-20 Men (7,570 m)
● U-20 Women (5,740 m)
● Senior Men and Women (10,025 m)
A total of 582 runners from 67 countries are entered, but the senior races are again expected to be dominated by the East Africans. The expected contenders:
Men:
● Selemon Barega (ETH) ~ 2018 world leader at 5,000 m (12:43.02 World Junior Record)
● Rhonex Kipruto (KEN) ~ 2018 World Junior Champion at 10,000 m (27:21.08)
● Geoffrey Kamworer (KEN) ~ 2015 and 2017 World Cross Champion
● Joshua Cheptegei (UGA) ~ 2017 World 10,000 m silver; 2018 Commonwealth 10,000 m gold
● Jacob Kiplimo (UGA) ~ 2017 World Cross U-20 Champion
Kamworer, still just 26, owns five world titles, including two in cross country and three in the Half Marathon. He is equally (or more) famous for winning silver-gold-bronze in the 2015-17-18 New York City Marathon. He is the man to beat, although Cheptegei appeared to be ready to do that in 2017, but he ran out of steam on the final lap after leading and ended up a nondescript 30th.
Barega, 19, was alternately spectacular or ordinary last year on the track. He ran the world-leading time of 12:43.02 in the Diamond League Final in Brussels (BEL), but was also fourth at the World Juniors and fourth ay the African Championships. He's been second in three cross country races in January and February, but he hasn't raced since 10 February.
Kenya's Kipruto and Ugandan Kiplimo won junior titles in 2018 and 2017 and could emerge as stars in this race.
East African runners have won 13 World Cross men's titles in a row, and 21 of the last 23. In terms of medals, African runners have swept the medals in the last nine World Cross races, back to the 2006 race.
The U.S. team is led by U.S. champ Shadrack Kipchirchir, who won the title over Emmanuel Bor and Leonard Korir in Florida on 2 February.
Kenya and Ethiopia have combined for the last 34 team titles in a row, with Ethiopia winning the last three (Kenya won the prior six). The U.S. men's team finished second in 2013.
Women:
● Rose Chelimo (BRN) ~ 2017 Marathon World Champion
● Eunice Chumba (BRN) ~ 2018 Asian Games 10,000 m silver medalist
● Dera Dida (ETH) ~ 2015 World U-20 Cross silver medalist
● Hawi Faysa (ETH) ~ 2017 World U-20 Cross silver medalist
● Letesenbet Gidey (ETH) ~ 2015 and 2017 World U-20 Cross Champion
● Beatrice Chepkoech (KEN) ~ 3,000 m Steeple world-record holder (8:44.32 '18)
● Hellen Obiri (KEN) ~ 2017 World 5,000 m Champ; 2018 Commonwealth 5,000 m gold
● Lilian Rengeruk (KEN) ~ 2017 World Cross bronze medalist
● Agnes Tirop (KEN) ~ 2015 World Cross Champion
East African women have won seven World Cross titles in a row and 20 World Cross team titles in a row (beginning from the 1995 race).
Obiri won the Kenyan Cross title on 23 February and has won her three cross-country races this year. She's clearly the favorite and appears to be in top shape. But what will Chepkoech – the stunning Steeple world-record setter last season – bring to the party? Or Regneruk, the bronze medalist from two years ago? Or the 2015 champ Tirop?
Kenya is a strong favorite for the team title, and has won four of the last five.
The U.S. team includes 2019 U.S. Cross bronze medalist Marielle Hall and American Steeplechase record holder Courtney Frerichs.
Prize money for the senior races includes payments to the top five finishers of $30,000-15,000-10,000-7.500-5,000, and $20,000-16,000-12,000-10,000-8,000-4,000 for the top six teams. There is also $12,000-8,000-6,000-4,000 for the top four mixed relay teams.
Look for results here.