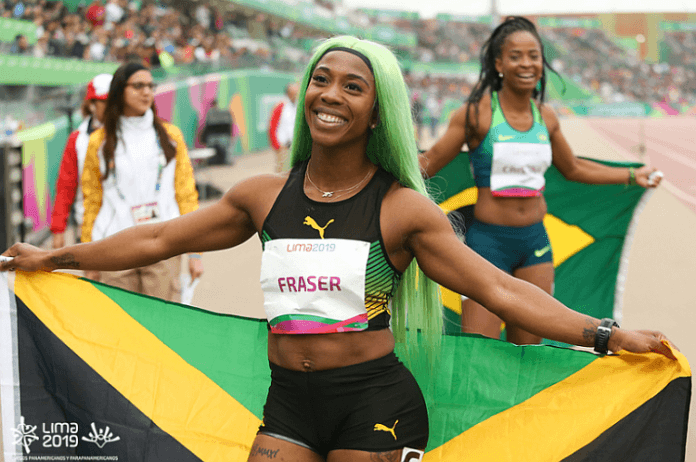 After almost a month off for national championships (and the Pan American Games in the Western Hemisphere), the IAAF Diamond League resumes in Birmingham (GBR) at the 12,700-seat Alexander Stadium on Sunday (18th).
This is the 11th out of 12 of the "regular-season" Diamond League meets before the finales in Zurich (SUI) and Brussels (BEL). So the qualifying for the finals is now a consideration, as well as the implications these races have for the World Championships in late September in Doha (QAT).
Conditions are expected to be cool and windy, with temperatures in the low-to-mid 60s and winds up to 18 miles per hour. That could impact a number of events and not favorably.
There are some real showdown events, like the women's 200 m, but most of the fields are of good but not great quality. Some of the expected highlight events:
● Men/100 m: There are 16 entries, but only one question. Can anyone run with American Christian Coleman? He's the world leader at 9.81 and has won the Bislett Games, Pre Classic and U.S. Nationals since losing in a photo finish to Noah Lyles in Shanghai back in May. There are challengers such as Akani Simbine (RSA: 9.92), Arthur Cisse (CIV: 9.93), 2011 World Champion Yohan Blake (JAM: 9.96) and Pan Am champ Michael Rodgers (USA: 10.00). And what about China's Bingtian Su, at just 10.05 this season?
● Men/400 m: If you were cynical, you would say this is a great race to see who will contend for the bronze medal at the Worlds behind Americans Michael Norman and Fred Kerley. More logically, this will be an indicator of which Americans – Michael Cherry (44.69 this season), Kahmari Montgomery (44.23) and Vernon Norwood (44.40) – are the real deal and which were just mirages (good and bad) at the USATF Nationals.
● Men/1,500 m: Not a Diamond League race, and the headline Kenyans are getting ready for their national championships in Nairobi on 22-24 August. But Ethiopia's Sam Tefera (3:31.39) is in, along with U.S. champ Craig Engels (3:35.32) in a good test of fitness.
● Men/110 m hurdles: Not a Diamond League event, but another lesson for NCAA runner-up Daniel Roberts, who has transitioned pretty well to post-collegiate racing. He will face 2016 Olympic champ Omar McLeod (JAM), who has run just 13.12 this season, and China's Wenjun Xie (13.17).
● Men/High Jump: World leader Ilya Ivanyuk (RUS: 2.33 m/7-7 3/4) and Syria's Majed El Dein Gazal (2.31 m/7-7) and China's Yu Wang (2.33 m/7-7) are the biggest names, but the wind could play havoc with this event. The cold won't help either.
● Men/Javelin: World leader Magnus Kirt (EST: 90.61/297-3) will try to hold off Germany's Rio Olympic champ Thomas Rohler (86.99 m/285-4 in 2019), world no. 2 Andreas Hofmann (89.65 m/294-1) and Bernhard Seifert (89.06 m/292-2).
● Women/200 m: Now this is a showdown. It's not known if Jamaica's Shelly-Ann Fraser-Pryce (22.22 in 2019) will show up in the all-green hair she wore at the Pan American Games, but she will be racing against Nigeria's Blessing Okagbare (22.05 this season) and Shaunae Miller-Uibo (BAH: 22.09), who has won her last 10 finals in a row in this event, dating back to the 2017 World Championships, won by Dafne Schippers (NED). Head-to-head, Fraser-Pryce and Miller-Uibo are 1-1 all-time over 200 m, but haven't been in the same race since 2015.
● Women/800 m: With South Africa's Caster Semenya sidelined by the IAAF eligibility regulations, American Ajee Wilson (1:57.72) is the Worlds favorite now and she will be tested by Jamaica's Natoya Goule (1:57.90), Britain's Lynsey Sharp (1:58.61) and fellow American Raevyn Rogers (1:58.65).
● Women/3,000 m Steeple: All of the top Kenyans are here, running at sea level instead of in altitude in Nairobi next week. World-record holder Beatrice Chepkoech (8:55.58) is the only one under nine minutes this season, but she will be challenged by Hyvin Jepkemoi (9:05.81), Norah Tanui (9:03.71), Daisy Jepkemei (9:08.45) and Celliphine Chespol (9:11.10).
● Women/100 m hurdles: There are 16 entries for two heats and then the final, with eight Americans and five Jamaicans. World-record holder Keni Harrison (12.43 this season) is in, as is 2016 Rio champ Brianna McNeal (12.61) and silver medalist Nia Ali (12.55). But the top two on the world list are Jamaicans Danielle Williams (12.32 in London in 20 July) and Janeek Brown, who won the NCAA title for Arkansas at 12.40 in June. Add in Nigeria's Tobi Amusan (12.49) and this is a preview of the Doha final.
● Women/Pole Vault: World leader Jenn Suhr (4.91 m/15-9 1/4) is here, but that mark was way back in April at the Texas Relays. World and Olympic champ Katerina Stefanidi of Greece is slowly but surely working back to form and is up to 4.83 m (15-10) this season. American Katie Nageotte cleared 4.82 m (15-9 3/4) on July and lost a tense battle to Cuba's Yarisley Silva at the Pan Am Games, with the Cuban reaching a season's best 4.75 m (15-7).
● Women/Discus: The top six on the world list for 2019 are here, but the focus is now on 2013 and 2017 World Champion Sandra Perkovic (CRO). Troubled by injuries, she has been slow to get up to speed, but suddenly added almost 4 m to her season best with a 68.58 m (225-0) win at the European Team Champs in Varazdin (CRO) last week. The Cubans ahead of her, Yaime Perez (69.39 m/227-8) and Denia Caballero (69.20 m/227-0) both had their bests in June. We'll know a lot more about the World Champs after this showdown.
There are several other events, including the men's 400 m hurdles and women's long jump with good fields; the long jump will tell us something about heptathlon star Nafi Thiam (BEL) and her current state of health.
There is no cable broadcast of the meet on U.S. TV (you can see it on the NBC Sports Gold online service). Look for results here.