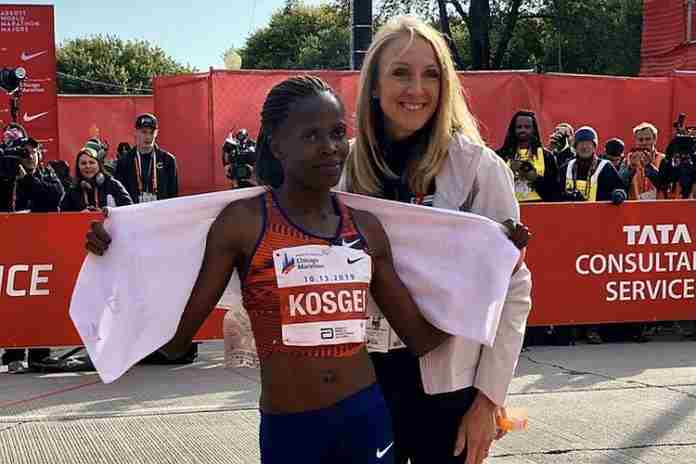 On a weekend when Kenya's Eliud Kipchoge broke the two-hour barrier in the marathon in a manufactured setting in Austria, Brigid Kosgei shattered a thought-to-be unassailable world record in the women's marathon in an actual race in Chicago.
Running away from the field in the early miles, Kosgei ran solo, aided by two pacemakers and destroyed the 2:15:25 mark set by Britain's Paula Radcliffe in London in 2003, finishing in an astonishing 2:14:04.
Kosgei ran away from the start and had an eight second lead at the 5 km mark, timing 15:28. By the 10 km mark, she was 32 seconds ahead of Ethiopia's Ababel Yeshaneh and the lead only grew from there.
As the race continued, it became clear that Kosgei had a real shot at Radcliffe's mark, which had not been challenged since it was set. The closest was Kenyan Mary Keitany's 2:17:01 win in London in 2017. But Kosgei crossed halfway in 1:06:59, a time which would rank her among the top 60 all time in the Half Marathon!
She charged ahead with 5 km splits of 15:45 between 25-30 km, then 15:56 and 15:57 to cross 40 km in 2:07:11 and the record was clearly going to be hers.
"I am feeling good, and I am happy because I was not expecting this," she said afterwards. "But I felt my body was moving, moving, moving so I went for it.
"I ran here last year so I knew it was a good course. There was a little bit of wind but it was okay. People were cheering all along the course, which gave me more energy."
Radcliffe was at the race and congratulated Kosgei on the achievement. This was the Kenyan's 11th career marathon and her third win in a row after Chicago last year and London in April in her prior personal best of 2:18:20.
Yeshaneh finished second, way back in 2:20:51 and Gelete Burka (ETH) was third in 2:20:55.
The men's race came down to a sprint at the finish, with Kenya's Lawrence Cherono winning from Dejene Debela (ETH), by 2:05:45-2:05:46. Ethiopia's Asefa Mengstu was third in 2:05:48.
The top five finishers in the race won prize money of $100,000-75,000-50,000-30,000-25,000 and Kosgei won an additional $75,000 for breaking Radcliffe's course record of 2:17:18 frm 2002. Summaries:
World Marathon Majors/Chicago Marathon
Chicago, Illinois (USA) ~ 13 October 2019
(Full results here)
Men: 1. Lawrence Cherono (KEN), 2:05:45; 2. Dejene Debela (ETH) 2:05:46; 3. Asefa Mengstu (ETH), 2:05:48; 4. Bedan Karoki (KEN), 2:05:53; 5. Bashir Abdi (BEL), 2:06:14; 6. Seifu Tura (ETH), 2:08:35; 7. Dickson Chumba (KEN), 2:09:11; 8. Mo Farah (GBR), 2:09:58; 9. Jacob Riley (USA), 2:10:36; 10. Jerrell Mock (USA), 2:10:37.
Women: 1. Brigid Kosgei (KEN), 2:14:04 (World Record; old, 2:15:25, Paula Radcliffe (GBR), 2003); 2. Ababel Yeshaneh (ETH), 2:20:51; 3. Gelete Burka (ETH), 2:20:55; 4. Emma Bates (USA), 2:25:27; 5. Fionnuala McCormack (IRL), 2:26:47; 6. Stephanie Bruce (USA), 2:27:47; 7. Lindsay Flanagan (USA), 2:28:08; 8. Laura Thweatt (USA), 2:29:06; 9. Lisa Weightman (AUS), 2:29:45; 10. Taylor Ward (USA), 2:30:14.