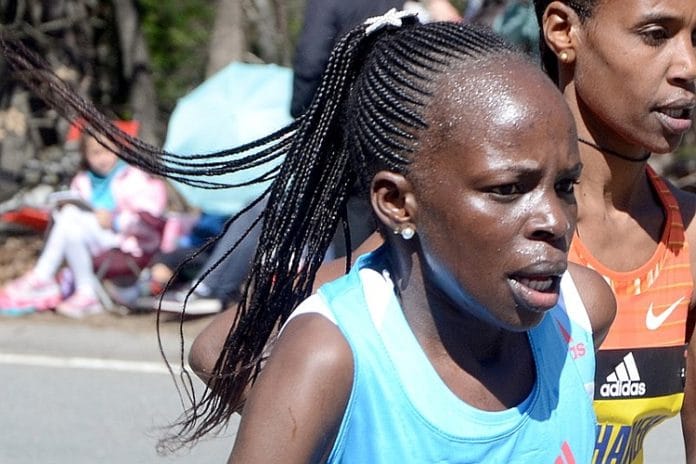 (For our Highlights of the weekend's major competitions, click here)
The crowds were back, the weather was crisp and clear in Boston on a sunny Patriots' Day for the 126th Boston Marathon, finally back in the spring for the first time since 2019.
Running in mid-40s temperatures, the men's race featured a huge pack of up to 20 runners sauntering through the first half of the race.
The lead men's pack crossed the halfway mark in 1:03:24, with American C.J. Albertson in the lead – he was 10th in Boston in 2021 – and stayed together, narrowing to 15 by 30 km, with American Elkanah Kibet leading.
Then a major push came toward 35 km, with Kenyan Evans Chebet and Gabriel Geay (TAN) taking over and creating a 50 m gap with the field and stringing out the race. The two leaders stayed on the gas hard, ahead of a chase pack of 4-5 that included 2019 Boston winner Lawrence Cherono (KEN) and defending champ Benson Kipruto (KEN).
Chebet broke away from Geay with a 4:27 mile and was running solo with an expanding lead at 23 miles. Cherono and Kipruto moved up to 2-3 and set their sights on Chebet, but the gap at mile 24 was substantial and Chebet – who ran 2:03:00 in 2020 in Valencia – looked strong.
By the 40 km split, Chebet had 18 seconds on his chasers and the result was no longer in doubt. Chebet had abandoned the miserably wet, cold and windy 2018 race, but dominated the last four miles today to win in 2:06:51, splitting 4:27, 4:26, 4:26 and 4:41.
In his 15th career marathon, Chebet has won four times, finished second six times and third once: 11 podiums out of 15. And on a notoriously difficult course, Chebet's time is no. 8 on the all-time Boston list.
Cherono broke away from Kipruto with about a mile to go and expanded his advantage into the finish: 2:07:51 to 2:07:57. Geay finished fourth in 2:07:53; Scott Fauble was the top American, finishing seventh in 2:08:52; Kibet was ninth in 2:09:07.
While the men's race featured a big pack, the women's race broke apart fairly early.
Four stars – Kenyans Tokyo Olympic champ Peres Jepchirchir and 2021 London Marathon winner Joyciline Jepkosgei and Ethiopians Ababel Yeshaneh (2:20:51 '19) and Degitu Azimeraw (2:17:58 '21) – broke away by 15 km. Azimeraw was dropped soon after and it was a trio running together through the half in 1:09:41.
Yeshaneh and Jepchirchir dropped Jepkosgei after 35 km and the two ran together to 39 km, when Yeshaneh took a small lead into the 40 km mark. Both were running strongly, but with a mile to go, Jepchirchir exploded to the front and appeared to run away, but Yeshaneh responded on the small incline with a half-mile left to take the lead again.
Jepchirchir sprinted  again and Yeshaneh responded again, then Jepchirchir took the lead  on the turn onto Boylston Street, but Yeshaneh passed her again. Jepchirchir sprinted one more time on the final straight and got a lead that she would not relinquish, winning in 2:21:02 to 2:21:06 for the Ethiopian. These are the nos. 5-6 performances in the history of the women's Boston Marathon.
Jepchirchir won her fifth straight marathon and has won five of her seven career marathons. At 28, she has years of running ahead of her and appears on the way to becoming one of the best ever. Yeshaneh, the 2019 Chicago runner-up and 2021 New York bronze medalist, confirmed her place as a world-class competitor.
Kenyans Mary Ngugi and two-time World Champion Edna Kiplagat (42!) finished 3-4 in 2:21:32 and 2:21:40. Nell Rojas was the top American, finishing 10th in 2:25:57.
It's the second straight men's and women's sweep for Kenya and ninth in the history of the race.
The top finishers got more than a handshake at the finish; there was $353,000 in prize money for the top 10 placers in the men's and women's races ($706,000 total): $150,000-75,000-40,000-25,000-18,000-13,500-10,500-8,500-7,000-5,500.
You can receive our exclusive TSX Report by e-mail by clicking here. You can also refer a friend by clicking here, and can donate here to keep this site going.
For our updated, 620-event International Sports Calendar for 2022 and beyond, by date and by sport, click here!