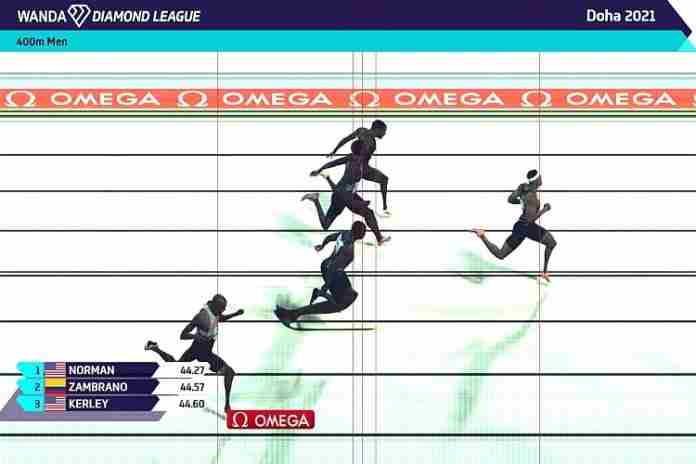 The gloomy, cold conditions in England gave way to bright, dry skies and 99-degree temperatures for the second Diamond League meet of 2021 at the Qatar Sports Club in Doha on Friday. And the performances were as hot as the weather, with six world-leading marks, with four by Kenyans:
● Men/400 m: 44.27, Michael Norman (USA)
● Men/800 m: 1:43.91, Wyclife Kinyamal (KEN)
● Men/1,500 m: 3:30.48, Timothy Cheruiyot (KEN)
● Women/3,000 m: 8:27.49, Beatrice Chebet (KEN)
● Women/Steeple: 9:00.67, Norah Jeruto (KEN)
● Women/Pole Vault: 4.84 m (15-10 1/2), Katie Nageotte (USA) and Sandi Morris (USA)
A fast men's 400 m was expected with superstars Norman, Fred Kerley (USA) and 2012 Olympic champ Kimani James (GRN) on the line. Norman and Kerley were out strongly and were 1-2 into the home straight, but then Colombia's Anthony Zambrano came up to challenge and got second at the line (44.57) while Norman won in a world-leading 44.27. Kerley was third (44.60) and James fourth (44.61) in a blanket finish. It was Norman's sixth-fastest time ever.
In the men's 800 m, Kimyalal took the lead on the final turn and outsprinted the fast-closing Ferguson Rotich (KEN: 1:44.45) and Britain's Daniel Rowden (1:44.60). In the 1,500 m, Cheruiyot was second at the bell with Ethiopia's Sam Tefera, but covered the last lap in 56.4 to run away from the field. Australia's Stewart McSweyn was second (3:31.57) and Steeple star Soufiane El Bakkali (MAR) was third in a lifetime best of 3:31.95. Tefera finished fourth (3:32.52).
Chebet won the women's 3,000 m on the final straight, passing fellow Kenyan star Hellen Obiri; Margaret Kipkemboi was second (8:28.27) while Obiri fell to fourth (8:33.98).
The women's Steeple saw Kenyan stars Norah Jeruto and Hyvin Kiyeng leading for much of the race, but Jeruto took the lead for good on the final lap, with Ethiopia's Mekides Abebe passing Kiyeng (who stumbled on the final water jump) on the way to a national record of 9:02.52. Winfried Yavi (BRN: 9:02.64) came up for third, with Kiyeng fourth (9:07.58) and American Emma Coburn fifth (9:08.22).
In the vault, Nageotte was the winner based on a perfect record through 4.84 m, while Morris missed twice at lower heights. Neither could clear 4.90 m (16-0 3/4).
American Ken Bednarek won the Diamond League opener in Gateshead in 20.33 and was supremely confident coming into Doha, and with good reason. In much warmer weather, he won in 19.88, just ahead of Canada's Andre De Grasse (19.89) with Aaron Brown (CAN: 20.25) third. Liberia's Emmanuel Matadi (20.45) and Justin Gatlin of the U.S. (20.49) went 4-5. Bednarek's 19.88 moves him to equal-2nd on the 2021 world list, with De Grasse now fourth.
The men's 400 m hurdles was another showcase for American Rai Benjamin, already the world leader, who cruised to an impressive win in 47.38, the second-best mark in the world for 2021. He had little trouble with contenders like Alison dos Santos (BRA: 47.57, lifetime best and national record), Kyron McMaster (IVB: 47.82) and Abderrahman Samba (QAT: 48.26). American Kenny Selmon was fifth in 49.03.
Home favorite Mutaz Essa Barshim (QAT) looked like a winner in the men's high jump, cruising over the first four bars, including 2.30 m (7-6 1/2). But world leader Ilya Ivanyuk (RUS) cleared 2.33 m (7-7 3/4) on his first try and Barshim could not match him, missing once at 2.33 m and twice at 2.36 m (7-8 3/4).
The men's shot featured New Zealand star Tom Walsh – wearing a uniform asking for sponsorship and reading "Space for Rent" on the front – who "won" by having the best throw of 21.63 m (70-11 3/4) in the final round. The best mark of the day, however, was by Serb Armin Sinancevic at 21.88 m (71-9 1/2) in the fifth round. But he fouled in the sixth-round "throw-off" and was officially classified in third place.
The women's 100 m was supposed to feature world leader Sha'Carri Richardson of the U.S. and Jamaica's two-time Olympic 100 m champ Shelly-Ann Fraser-Pryce, but Richardson did not show. No difference to Fraser-Pryce, who ran away with the race in 10.84, moving her to no. 3 on the 2021 world list (wind: +1.1 m/s). Nigeria's Blessing Okagbare was second (10.90) ahead of American Javianne Oliver (11.03). Americans Hannah Cunliffe (11.22) and Kiara Parker (11.26) finished 5-6.
Kenya's Faith Kipyegon, the reigning Olympic 1,500 m champion, won the women's 800 m with the no. 2 time of 2021: 1:58.26. She took the lead with 200 m to go and raced in ahead of Jamaica's Natalya Goule (1:59.70) and Morocco's Rababe Arabe (1:59.83).
World leader and Olympic favorite Yulimar Rojas won the women's triple jump at 15.15 m (49-8 1/2) in the first round and then jumped 15.11 m (49-7) in round six as well. American Keturah Orji was fifth (14.37 m/47-1 3/4).
American record holder Valarie Allman posted an impressive "win" in the women's discus … except that she finished second. Allman had the best throw of the day, 65.57 m (215-1), in the fourth round, but in the Diamond League's oddball sixth-round throw-off among the top three, was second. She threw 58.58 m (192-2), behind 2019 World Champion Yaime Perez (CUB: 61.35 m/201-3), but ahead of reigning Olympic champ Sandra Perkovic (CRO), who fouled. In the regular competition, Perez had a best of 63.75 m (209-2) and Perkovic reached 63.60 m (208-8). Good work by Allman.
Next up will be the Golden Gala Pietro Mennea in Florence (ITA) on 10 June.