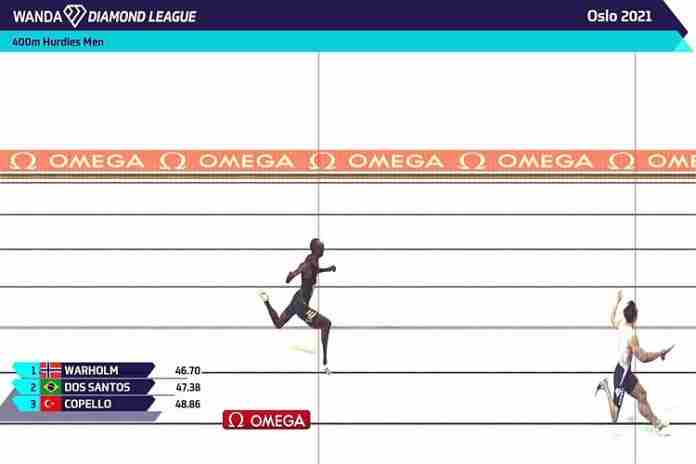 (★ Friends: Thank you! Now 26 donors have covered 32% of our new bill for server and support costs. Your help is needed: please donate here. Your enthusiasm is why this site continues. Thank you. ★)
The Wanda Diamond League resumed in Oslo (NOR) with the annual Bislett Games on Thursday, with three and a quarter hours of events leading up to the men's 400 m hurdles and the seasonal debut of two-time World Champion – and national hero – Karsten Warholm.
Making his seasonal debut at this distance, Warholm sprinted out of the blocks from lane seven and ran smoothly over all 10 hurdles and was way out in front when he crossed the line at 46.70, bettering American Kevin Young's winning time from the 1992 Olympic Games in Barcelona of 46.78.
That's just five days after American Rai Benjamin won the U.S. Trials at 46.83, now the no. 3 performance of all time, and the two are scheduled to meet in Monaco on 9 July.
Behind Warholm, cheered lustily by a limited crowd of about 5,000, was Brazil's Alison dos Santos, who set a national record of 47.38, closed hard and is now no. 3 on the world list.
It was the climax of an impassioned meet with other world-leading marks in the men's Mile and 3,000 m, and sensational performances from American Kate Grace (women's 800 m) and star Kenyan star Hellen Obiri (women's 5,000 m):
● Men's Mile: Australia's Stewart McSweyn was the big favorite in the men's mile and he delivered, taking over from the pacesetter running 57.70 for the penultimate lap and then finishing in 3:48.37, a new national record and the world leader for 2021. Poland's Marcin Lewandowski passed Australia's Jye Edwards in the final 10 m for second in 3:49.11, also a national record and Edwards was third at 3:49.27. Very, very impressive.
● Men's 3,000 m: The race was a showcase for Ethiopia's Yomif Kejelcha, the 2019 Worlds 10,000 silver medalist, who took over from the pacesetter with three laps to go and simply punished everyone else on the way to a solo victory in world-leading time.
Only Kenya's Jacob Krop could run with him, as Kejelcha ran 58.44 and 58.20 to get to the bell and then dropped Krop on the final turn, winning by 30 m, in 7:26.25, not just the world leader for 2021, but now no. 7 ever. His final lap was 56.35!
● Women's 800 m: The race looked good for 2019 World Champion Halimah Nakaayi (UGA), clearly in charge on the final lap, but American Grace – only seventh in the U.S. Trials final – stormed around the final turn and ran away to a lifetime best of 1:57.60: no. 5 on the 2021 world list and no. 9 on the all-time U.S. list. Oh, if she'd had this race a few days earlier …
● Women's 5,000 m: World Champion Obiri wanted to show her fitness in the women's 5,000 m and she led most of the race after the pacesetter retired. She broke the race open, with countrywomen Margaret Kipkemboi and Beatrice Chebet, Ethiopia's Fantu Worku and Britain's Eilish McColgan for company. After laps of 70 or a little less from 1,200 to go to the bell, Obiri took off on the backstraight and held on to beat Worku, 14:26.38 to 14:26.80, at the tape, after a 61.26 last lap. It was a season's best for Obiri and moves her to no. 4 on the 2021 world list. Kipkemboi was third in 14:28.24 and McColgan got a national record of 14:28.55 in fourth. Those stand nos. 4-5-6-7 in 2021.
And there was more:
On Canada Day (!), it was Rio silver medalist Andre De Grasse and Aaron Brown going 1-2 in the men's 200 m in 20.00 and 20.38 into a headwind of -1.0 m/s. American Vernon Norwood was fifth in 20.74.
The usual suspects were back on the men's vault runway, with world-record holder Mondo Duplantis (SWE), World Champion Sam Kendricks of the U.S. and 2012 Olympic champ Renaud Lavillenie (FRA). Those three were the only ones to clear 5.81 m (19-0 3/4) and then Duplantis was way over on his first try at 5.91 m (19-4 3/4). Lavillenie missed three times, but Kendricks made it on his third for a season's best. Duplantis finally won it at 6.01 m (19-8 1/2), then went for a new world mark at 6.19 m (20-3 3/4), but missed all three tries.
Algeria's Yasser Triki had the best performance in the men's triple jump through five rounds at 17.24 m (56-6 3/4), then saw Tiago Pereira (POR) and Andy Diaz (CUB) both foul and take his final jump as the winner! Triki did take his final jump and got to 17.23 m (56-06 1/2) to nearly match his best of the day.
Olympic favorite – and world leader – Daniel Stahl (SWE) led the men's discus at 68.65 m (225-2), ahead of Slovenia's Kristjan Ceh (66.68 m/218-9) through five rounds. But in the winner-take-all sixth round, Ceh got out to 65.72 m (215-7) … and Stahl threw the same! So Stahl's best throw was the decider!
The women's 100 m was won by Marie-Josee Ta Lou in 10.91, a season's best and now equal-8th on the 2021 world list. She ran away from Britain's Daryll Neita (11.06) with American Javianne Oliver fourth in 11.18.
Dutch star Femke Bol won the 400 m hurdles won easily in 53.33, a lifetime best and national record, keeping her fourth on the world list for 2021. Germany's Malaika Mihambo had the best mark in the first five rounds of the women's long jump – 6.86 m (22-6 1/4) – and then won the sixth round at 6.83 m (22-5) to actually win the event.
Germany's Christin Hussong won the women's javelin at 62.62 m (205-5) and by throwing 60.95 m (199-11) in the final-three face-off in the sixth round.
The Diamond League show moves to Stockholm (SWE) on Sunday for the annual Bauhaus-Galan and then to Monaco on the 9th and Gateshead (GBR) on the 13th.
¶
At the Irena Szewinska Memorial meet in Bydgoszcz (POL) on Wednesday, Namibia's 18-year-old sensation Christine Mboma won the women's 400 m in a world-leading 48.54, a World U-20 Record and underlining that she will be a medals contenders in Tokyo. She ran 49.24 and 49.22 at altitude, but now moved to no. 7 on the all-time list with her fourth world-leading time of the season. Poland's Justyna Swiety-Ersetic was a not-very-close second in 51.91.
Spain's Orlando Ortega won the men's 100 m hurdles in 13.33 into a headwind, American Chris Nilsen cleared 5.92 m (19-5) for a season's best in the men's vault and New Zealand's Tomas Walsh reached 21.46 m (70-5) in the shot. Poland's Olympic hammer favorite – and world leader – Pawel Fajdek won at 82.77 m (271-6), the third-furthest throw of the year … all of which are his!
You can receive our exclusive TSX Report by e-mail by clicking here. You can also refer a friend by clicking here, and can donate here to keep this site going.
For our 649-event International Sports Calendar for 2021 and beyond, by date and by sport, click here!