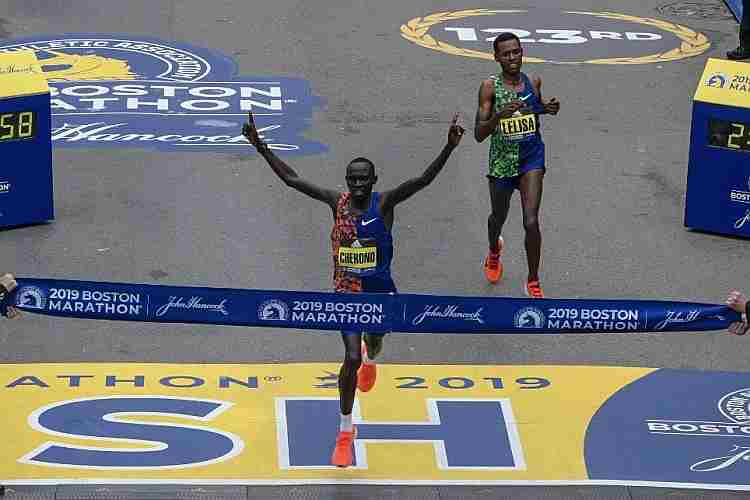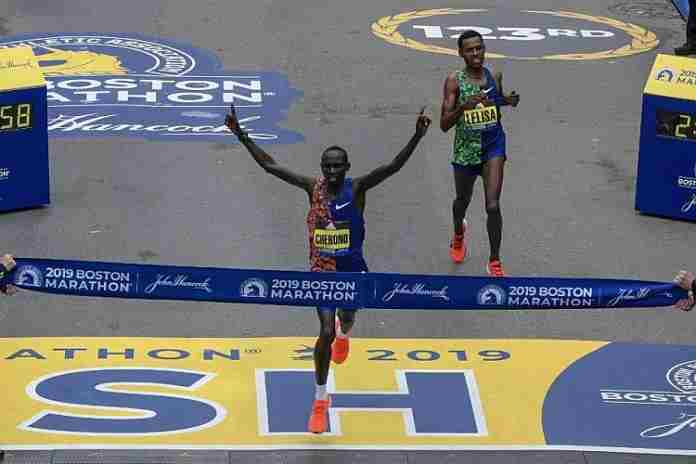 The weather was brutal at the start, but fine at the finish for Kenya's Lawrence Cherono and Ethiopia's Worknesh Degefa at the 123rd Boston Marathon on Monday.
The women started first and much attention was focused on two-time World Champion Edna Kiplagat (KEN), who was the 2017 Boston winner. But after running with the pack for the first 5 km, Ethiopia's Worknesh Degefa took off and simply ran away from the field. She had a 14-second lead after 10 km and passed halfway in 1:10:40, with a staggering 1:27 lead over the chase pack.
Degefa kept extending the lead, up to 2:59 by 30 km, but then Kiplagat decided to attack. She broke from the chase pack and started to gain on Degefa, "closing" to 2:26 behind by 35 km, and then made a spurt in the next 5 km to close to within 58 seconds.
But Degefa kept rolling and began waving to the crowd off the final hill and onto Boylston Street, assured of victory. She crossed the line in 2:23:30, the ninth-fastest winning time in Boston history.
Kiplagat impressively got onto Boylston Street within sight of Degefa and finished second in 2:24:14. Forgetting last year's Boston race in a heavy storm, it was Kiplagat's eighth straight marathon with a top-five finish. At 39, she is hardly done.
The comeback story of the race has to be Jordan Hasay of the U.S. in third. She was 10th at the halfway point, then worked her way up as the pack broke apart behind Degefa. Hasay passed Meskerem Assefa (ETH) around the 40 km mark and sailed home in 2:25:20 for third place; she has been third in all three of her career marathons!
Also impressive in fifth was defending champ Des Linden (USA), who finished an excellent fifth in 2:27:00, her eighth-fastest marathon ever. The difference in the conditions was showcased by comparing her time to last year's winning mark of 2:39:54!
More on Degefa: she had never run a marathon outside of Dubai, finishing 1-4-2 on the flat course there in 2017-18-19. She was second this past January in 2:17:41, an Ethiopian national record and moving her to no. 4 on the all-time list. Now 28, she ha no track background to speak of and began her career in 2012 as a road runner. She now has to be considered one of the contenders for medals at this year's World Championships in Doha.
The men's race had a front pack of about a dozen runners who ran together through the 35 km mark, but then Lawrence Cherono, Kenneth Kipkemoi and Lelisa Desisa took off and had an 11-second lead by 40 km. The early rain went away and the conditions got much better as the race went on, under overcast skies.
The three of them ran together into the final mile, and then Desisa – a two-time winner of this race in 2013 and 2015 – took off with a half mile to go, with Cherono closest and they came onto Boylston in that order. Desisa and Cherono had the advantage with 400 m left and it came down a teeth-gritting sprint, and Cherono was better in the final 10 m to get the victory.
Cherono, 30, came into the race with the fastest personal best at 2:04:06 off his win on the flat Amsterdam course in 2018, but he showed that he could handle the hills well. He has reached the peak of his career, not just by winning in Boston, but with six wins in his last eight marathons:
● 2016: 1) Prague, 2) Hengshui, 1) Honolulu
● 2017: 2) Rotterdam, 1) Amsterdam, 1) Honolulu
● 2018: 7) London, 1) Amsterdam
● 2019: 1) Boston
In fact, in his 14 career marathons, he has been first or second 12 times! He is also undefeated on U.S. soil, with two Honolulu wins and now a Boston Marathon title. His time of 2:07:58 is quite good for Boston, no. 11 on the race's all-time list once the wind-aided 2011 race is ignored.
There was good news among the American marathoners as well. Scott Fauble, who entered with a best of 2:12:28 from New York in 2018, finished seventh in 2:09:10 in just his fourth career marathon. Jared Ward, sixth in the 2016 Olympic marathoner, also shattered his best at 2:09:25 in eighth; his best had been his 2:11:30 in Rio de Janeiro!
The apocalyptic predictions concerning Olympic marathon qualifying, with new, tougher standards, were not borne out by the results on Boston's tough course. The top 10 men's finishers ran better than the 2:11:30 standard, and eight women ran faster than 2:29:30. Summaries:
World Marathon Majors/Boston Marathon
Boston, Massachusetts (USA) ~ 15 April 2019
(Full results here)
Men: 1. Lawrence Cherono (KEN), 2:07:58; 2. Lelisa Desisa (ETH), 2:07:59; 3. Kenneth Kipkemoi (KEN), 2:08;06; 4. Felix Kandie (KEN), 2:08:52; 5. Geoffrey Kirui (KEN), 2:08:55; 6. Philemon Rono (KEN), 2:08:58; 7. Scott Fauble (USA), 2:09:10; 8. Jared Ward (USA), 2:09:25; 9. Festus Talam (KEN), 2:09:25; 10. Benson Kipruto (KEN), 2:09:53.
Women: 1. Worknesh Degefa (ETH), 2:23:30; 2. Edna Kiplagat (KEN), 2:24:14; 3. Jordan Hasay (USA), 2:25:21; 4. Meskerem Assefa (ETH), 2:25:40; 5. Des Linden (USA), 2:27:00; 6. Caroline Rotich (KEN), 2:28:27; 7. Mary Ngugi (KEN), 2:28:33; 8. Biruktayit Eshetu (ETH), 2:29:10; 9. Lindsay Flanagan (USA), 2:30:07; 10. Betsy Saina (KEN), 2:30:32.