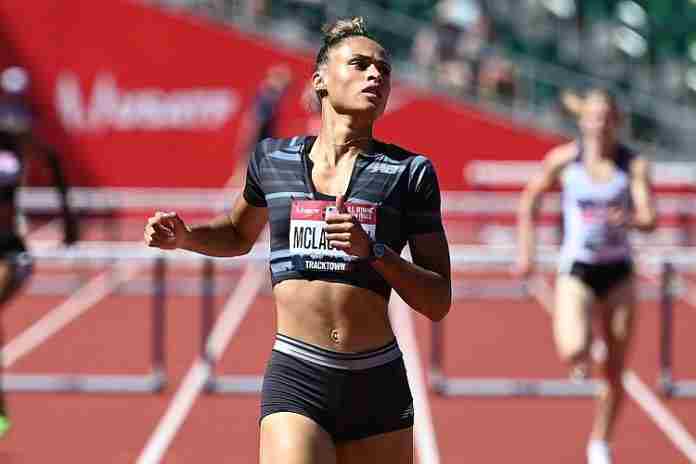 (★ Friends: Thank you! Now 21 donors have covered 28% of our new bill for server and support costs. Your help is needed: please donate here. Your enthusiasm is why this site continues. Thank you. ★)
The final day of the U.S. Olympic Track & Field Trials in Eugene took place in scorching, 100-plus degree temperatures, after the men's 5,000 m final had been held in the morning. The highlights as they happened:
● Men's High Jump: The jumping really began at 2.27 m (7-5 1/4), which left four men vying for three spots in Tokyo: 2012 Olympic champ Erik Kynard, NCAA champ JuVaughn Harrison, 2019 NCAA Indoor champ Shelby McEwen and Darryl Sullivan, with Kynard still needing the Olympic standard of 2.33 m (7-7 3/4).
Harrison, McEwen and Sullivan all cleared 2.30 m (7-6 1/2) on their first try, but Kynard missed. He missed a second try and then passed to 2.33 m (7-7 3/4), where he missed for a third time and was eliminated. Now Harrison, McEwen and Sullivan were jumping for fun.
Sullivan was "only" fourth at the NCAAs for Tennessee, but he and Harrison sailed over 2.33 m on their first tries, with Sullivan equaling his lifetime best. McEwen missed twice and passed, keeping his options open. The bar went up to 2.36 m (7-8 3/4) and Harrison still had the long jump ahead of him, but kept going, missing his first try. He and Sullivan both missed twice, then asked for the bar to go up to 2.39 m (7-10). Sullivan missed and was done, then McEwen came back for a final jump and missed as well. Harrison decided that after 90 minutes in the heat, he needed to get ready for the long jump, starting an hour later.
● Women's Heptathlon: Only Kendell Williams, the 2017 national champion, and two-time champ Erica Bougard came into the meet with the Olympic Standard of 6,420, but veteran Annie Kunz, the 2020 U.S. Indoor Pentathlon champ, was determined to get there.
Kunz led after the first day at 4,042, and was second in the long jump at 6.50 m (21-4) and fifth in the javelin at 45.06 m (147-10). That wasn't good enough to hold onto the lead, as Williams moved ahead by winning the long jump (6.73 m/22-1) and second in the jav (47.41 m/155-6). But Kunz could get to Tokyo with a 606-point 800 m, meaning she has to run 2:37.19 or faster in the heat. Her lifetime best of 2:14.90 is fine, but what about running in 105 degrees?
Bougard stands third at 5,716 and has almost a 300-point lead over Ashtin Mahler (5,419).
In the 800 m finale, Kunz ran brilliantly and finished ahead of Williams in 2:15.24 to not only get the Olympic standard, but won the event overall at 6,703, a huge lifetime best and the 2021 world leader! She scored lifetime bests in four of the seven individual events to finish ahead of Williams (6,683, a personal best) and Bougard (6,667) in third. Kunz is now no. 5 in U.S. history and Williams is now sixth.
● The Heat ● At 3:16 p.m., USA Track & Field announced that the record heat in Eugene required a delay in the competition, to 8:30 p.m. for the men's Long Jump and 9:02 p.m. for the Heptathlon 800 m. The heat reached 111 degrees (F), but was 99 when the competition continued.
● Men's Long Jump: The first event to start after the heat delay, LSU's Harrison took the lead in the first round at 8.24 m (27-0 1/2), which might be good enough to make the team. But he didn't stay in the lead for long as Marquis Dendy – the 2016 World Indoor Champion – boomed out to 8.38 m (27-6), his best mark since 2016!
Rio Olympic champ Jeff Henderson jumped 8.08 m (26-6 1/4) in the first round, a good opener, but then he was pushed to fourth by Damarcus Simpson, who jumped a lifetime best of 8.19 m (26-10 1/2).
Dendy reached 8.19 m (26-10 1/2) in round three, but then Harrison got most of the board this time and landed in the lead at 8.47 m (27-9 1/2) – a lifetime best – and no. 2 in the world for 2021. Then Steffin McCarter of Texas inserted himself into the race for Tokyo, equaling his lifetime best at 8.26 m (27-1 1/4), pushing Simpson to fourth and Henderson to fifth. Rio Olympian Jarrion Lawson passed on all three jumps and did not advance to the final.
The top three did not change in the last three rounds; Florida State's Isaac Grimes moved ahead of Henderson in round five at 8.09 m (26-6 1/2) and finished fifth. And it ended with Harrison completing his NCAA-Olympic Trials double in the high jump and long jump and on his way to Tokyo. For Dendy, making the team this time is especially sweet: he made the U.S. Worlds team in 2013-15-17, but now he gets to go to the Games.
● Women's 400 m hurdles: Shamier Little got lane 5, Sydney McLaughlin was in lane 6 and world-record holder Dalilah Muhammad was in seven, with temperatures at 94 degrees.
McLaughlin got out well, but McLaughlin was right with her through five hurdles. Around the turn, Little came into contention, but chopped over the eighth hurdle and fell back. Muhammad led to the ninth hurdle, but McLaughlin charged ahead and poured on the speed to run through the tape in world record 51.90, the third straight time the two have produced a world record.
Muhammad was second in 52.42, and Little slowed dramatically in the straight and was passed late by NCAA champion Anna Cockrell for third, 53.70 – a lifetime best – to 53.85.
McLaughlin now owns two of the four fastest times ever – Muhammad has the other two – and Muhammad's 52.42 was the equal-sixth fastest of all time. They may go faster in Tokyo.
● Women's 800 m: There was an early fall with Nia Akins going down and Chanelle Price, Athing Mu and Ajee Wilson at the front. Price led at the bell in 57.44 with Mu and Wilson right behind.
Then the race ended. Mu took over with 300 m, with Price second and Wilson third and was running easily away from the field. The 2016 trials winner, Kate Grace, came up for second on the final turn as Wilson faded and then Mu took off.
She stormed away from the field and was 20 m clear at the finish in 1:56.07, the world leader for 2021 and the no. 2 performance in U.S. history. All this at age 19.
Behind her, Raevyn Rogers came up for second in a lifetime best of 1:57.66 – now no. 9 all-time U.S. – and Wilson ran herself back onto the team from fifth to third in 1:58.39. Michaela Meyer ran a lifetime best 1:58.55 for fourth; Price was fifth (1:58.73) and Grace finished seventh (1:59.17).
● Men's 1,500 m: Josh Thompson took the lead with Cole Hocker, with Matthew Centrowitz in lane two and running comfortably. Eric Avila and Sam Prakel led through 400 m, but the pack remained bunched right into the home straight for the bell.
Centowitz, trying to stay out of trouble for the sprint to come, took the lead just before the bell and was ahead of Prakel, Colby Alexander and Thompson when the running really started. With a half-lap remaining Centro was in control and still running easily, with Prakel and Thompson trailing. But off the turn came Oregon frosh Cole Hocker, the NCAA winner, who sprinted past all but Centrowitz … and then passed Centrowitz on the straight in 3:35.28 to 3:35.34. Hocker finished in 52.5.
Notre Dame's Yared Nuguse used his closing speed to come from the middle of the pack to run past Craig Engels and get third in 3:36.19 to 3:36.69.
Hocker's 3:35.28 is a lifetime best, but he does not have the Olympic standard of 3:35.00. He's only 47th on the 2021 year list, so it will take some days to determine whether he goes to the Games. Centrowitz and Nuguse are on their way.
● Men's 200 m: World Champion Noah Lyles was in the middle of the track in lane five and he blasted right from the gun and had the lead heading into the straight from Kenny Bednarek outside of him in seven.
Normally, it would be race over for Lyles, but he was losing his lead in the final 50 m as Bednarek closed and prep star Erriyon Knighton stormed from fifth to third as they crossed the line. The clock showed a new world leader for Lyles in 19.74, with Bednarek running a lifetime best of 19.78 for second and Knighton breaking his own World U-20 Record at 19.84. Fred Kerley, already on the team in the 100 m, ran a lifetime best of 19.90 for fourth; Isiah Young ran 20.03 and got fifth.
¶
The meet concluded with stunning results and a powerful U.S. team named; the performances resulted in world-leading performances in 11 events, five American Records and two World Records:
World leaders:
● Men.200 m: 19.74, Noah Lyles
● Men/800 m: 1:43.17, Clayton Murphy
● Men/110 m hurdles: 12.81, Grant Holloway (in semis)
● Men/400 m hurdles: 46.83, Rai Benjamin
● Men/Shot Put: 23.37 m (76-8 1/4), Ryan Crouser (World Record)
● Women/200 m: 21.98, Gabby Thomas (in heats)
● Women/200 m: 21.94, Gabby Thomas (in semis)
● Women/200 m: 21.61, Gabby Thomas
● Women/800 m: 1:56.07, Athing Mu
● Women/400 m hurdles: 51.90, Sydney McLaughlin (World Record)
● Women/Pole Vault: 4.95 m (16-2 3/4), Katie Nageotte
● Women/Hammer: 79.98 m (262-5), DeAnna Price (American Record)
● Women/Hammer: 80.31 m (263-6), DeAnna Price (American Record)
● Women/Heptathlon: 6,703, Annie Kunz
American Records:
● Men/Shot Put: 23.37 m (76-8 1/4), Ryan Crouser (World Record)
● Men/Hammer: 82.71 m (271-4), Rudy Winkler
● Women/400 m hurdles: 51.90, Sydney McLaughlin (World Record)
● Women/Hammer: 79.98 m (262-5), DeAnna Price
● Women/Hammer: 80.31 m (263-6), DeAnna Price
Now, on to Tokyo, eventually. But between now and then, many of the Trials stars will be out to make a living at the Diamond League meets coming up in Oslo (1 July), Stockholm (4 July), Monaco (9 July) and Gateshead on 13 July before the Olympic break.
You can receive our exclusive TSX Report by e-mail by clicking here. You can also refer a friend by clicking here, and can donate here to keep this site going.
For our 649-event International Sports Calendar for 2021 and beyond, by date and by sport, click here!