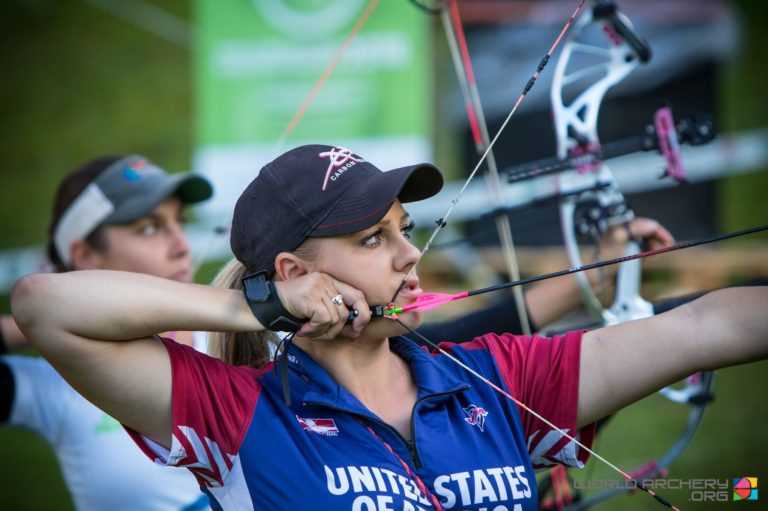 It's true that the World Field Championships do not carry the same importance as the World Target Championships, but many of the world's top archers don't care and enjoy the more relaxed atmosphere.
Paige Pearce of the U.S. really enjoyed it as she won the women's Compound Division, meaning the 23-year-old has now won World Championships at the Youth (U-18), Junior (U-21) and senior levels! "I was really nervous before I was heading into the match but as soon as I drew back I kinda just got this wave of calm and thought, okay I can do this," said Pearce.
She led a strong U.S. team at the World Fields at Cortina d'Ampezzo (ITA), which included bronze medals from Brady Ellison in the men's Recurve division, Steve Anderson in the men's Compound Division, a silver from Fawn Girard in women's Barebow and a silver in the men's combined team event.
Japan's Wataru Oonuki won his first international title in the men's Recurve division and German Lisa Uhruh repeated in the women's Recurve class. In Compound, Dutch shooter Mike Schloesser became the second man in history to complete the career Triple Crown, – the world titles in indoor, outdoor and Field Archery – with a win in Cortina (only Sweden's Morgan Lundin had done it previously).
The Barebow division has a touch of romance, as the engaged Swedish couple of Erik Jonsson and Linda Bjorklund both won!
The women's combined team event was finally won by Germany after a protest. Italy was initially declared the winner, but it was found that the third set of targets (out of four) were mis-marked and removed from the scoring. That left Gemany the winner and Italy with the silver. Said World Archery Secretary General, Tom Dielen, "This is a regrettable situation in any competition, let alone the final of a world championships, and not a comfortable result for either team. It will now be taken forward with the field and judge committees within World Archery to prevent such a situation occurring again." Unfortunately, these things happen. Summaries:
World Field Archery Championships
Cortina d'Ampezzo (ITA) ~ 4-9 September 2018
(Full results here)
Men
Recurve: 1. Wataru Oonuki (JPN); 2. Massimailiano Mandia (ITA); 3. Brady Ellison (USA); 4. Jean-Charles Valladont (FRA). Semis: Oonuki d. Valladont, 60-58; Mandia d. Ellison, 65-64. Third: Ellison d. Valladont, 58-58 (4-1 shoot-off); Final: Oonuki d. Mandia, 58-47.
Compound: 1. Mike Schloesser (NED); 2. Nico Wiener (AUT); 3. Steve Anderson (USA); 4. Domagoj Buden (CRO). Semis: Wiener d. Anderson, 69-66; Schloesser d. Buden, 67-65. Third: Anderson d. Buden, 66-63. Final: Schloesser d. Wiener, 63-61.
Barebow: 1. Erik Jonsson (SWE); 2. David Garcia Fernandez (ESP); 3. Fredrik Lundmark (SWE); 4. David Jackson (FRA). Semis: Garcia Fernandez d. Jackson, 59-47; Jonsson d. Lundmark, 56-53. Third: Lundmark d. Jackson, 51-45; Final: Jonsson d. Garcia Fernandez, 51-43.
Combined Team: Germany (Florian Kahllund, Jens Asbach, Michael Meyer); 2. United States (Brady Ellison, Steve Anderson, John Demmer III); 3. Italy (Marco Morello, Giuseppe Seimandi, Alessandro Giannini); 4. Austria (Heribert Dornhofer, Nico Wiener, Franz Haberler). Semis: U.S. d. Italy, 65-62; Germany d. Austria, 62-54. Third: Italy d. Austria, 53-52. Final: Germany d. U.S., 49-47.
Women
Recurve: 1. Lisa Uhruh (GER); 2. Naomi Folkard (GBR); 3. Nami Fukusawa (JPN); 4. Jessica Tomasi (ITA). Semis: Unruh d. Fukusawa, 56-55; Folkard d. Tomasi, 59-52. Third: Fukusawa d. Tomasi, 50-47; Final: Unruh d. Folkard, 54-40.
Compound: 1. Paige Pearce (USA); 2. Toja Ellison (SLO); 3. Carolin Landesfeind (GER); 4. Irene Franchini (ITA). Semis: Ellison d. Landesfeind, 61-58; Pearce d. Franchini, 61-60. Third: Landesfeind d. Franchini, 58-55; Final: Pearce d. Ellison, 64-59.
Barebow: 1. Lina Bjorklund (SWE); 2. Fawn Girard (USA); 3. Cinzia Noziglia (ITA); 4. Christine Gauthe (FRA). Semis: 1. Girard d. Noziglia, 55-52; Bjorklund d. Gauthe, 55-51. Third: Noziglia d. Gauthe, 48-34; Final: Bjorklund d. Girard, 43-43 (5-2 shoot-off).
Combined Team: 1. Germany (Lisa Unruh, Carolin Landesfeind, Martina Boscher); 2. Italy (Jessica Tomasi, Irene Franchini, Cinzia Noziglia); 3. Slovenia (Ana Umer, Toja Ellison, Tina Gutman); 4. Great Britain (Bryony Pitman, Hope Greenwood, Jessica Nilsson). Semis: Italy d. Slovenia, 61-56; Germany d. Great Britain, 45-44. Third: Slovenia d. Great Britain, 57-51. Final: Germany d. Italy, 32-29.