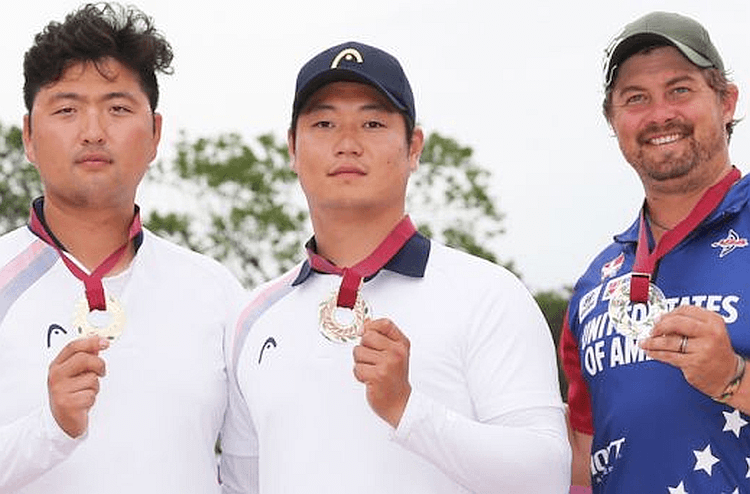 At the 2019 World Archery Championships in the Netherlands, Korean archers won one of the five Olympic-style (Recurve) events. Don't expect the same in Tokyo next year.
Korean archers swept all three events on the program of the Ready Steady Tokyo test event held in Tokyo, with Seung-Yun Lee, San An and the Mixed team of Ina Jeon and Woo-Jim Kim taking the victories.
Lee led an all-Korean final in which he defeated 2015 World Champion Kim by 6-0 in the final, after dispatching 2019 World Champion Brady Ellison of the U.S., 6-4, in the semifinals. Ellison took the bronze medal against Dutchman Sjef van den Berg, 6-4.
It was the second straight tournament to shine for the 18-year-old An, who won at the last World Cup, in Berlin (GER). In Tokyo, she defeated 2019 World Champion Chien-Ying Lei (TPE) in the third round (6-2), then reigning Olympic Champion Hye-Jin Chang (KOR) in the quarterfinals (6-0) and Chinese Taipei's Ya-Ting Tan in the semis, 7-1. In the final, she breezed past India's Deepika Kumari, 6-0.
Her reaction? "At this moment, I'm not sure to make the national team for the Olympics next year. But I'm happy to have shot here. I think there is some pressure on the Korean team [for the Games next year]. But I will try hard so I can stand in the same place."
The Korean duo of Jeon and Kim blanked Russia's Artem Makhnenko and Ksenia Perova, 6-0 in the Mixed Team final.
Korean archers swept all four medal events in Rio in 2016; the results from the Tokyo test show that's quite possible once again. Summaries:
Ready Steady Tokyo Olympic Test Event
Tokyo (JPN) ~ 11-18 July 2019
(Full results here)
Men: 1. Seung-Yun Lee (KOR); 2. Woo-Jin Kim (KOR); 3. Brady Ellison (USA); 4. Sjef van den Berg (NED). Semis: Lee d. Ellison, 6-4; Kim d. van den Berg, 6-4. Third: Ellison d. van den Berg, 6-4. Final: Lee d. Kim, 6-0.
Women: 1. San An (KOR); 2. Deepika Kumari (IND); 3. Ya-Ting Tan (TPE); 4. Yichai Zheng (CHN). Semis: An d. Tan, 7-1; Kumari d. Zheng, 6-0. Third: Tan d. Zheng, 7-3; Final: An d. Kumari, 6-0.
Mixed Team: 1. Ina Jeon/Woo-Jin Kim (KOR); 2. Artem Makhnenko/Ksenia Perova (RUS); 3. Ana Maria Rendon/Daniel Pineda (COL); 4. Ya-Ting Tan/Hao-Wen Kao (TPE). Semis: Jeon/Kim d. Rendon/Pineda, 6-0; Makhnenko/Perova d. Tan/Kao, 5-3. Third: Rendon/Pineda d. Tan/Kao, 5-1. Final: Jeon/Kim d. Makhnenko/Perova, 6-0.