There are no medals handed out for qualifying scores. But one of the truly respected records in archery is the ranking round score, which for Olympic-style (Recurve) competitions is 72 arrows shot at 70 m (~230 feet, or almost 77 yards).
A perfect score would be 720, or 72 consecutive 10s. As of Wednesday morning in Lima, Peru, the world record was 700, shot by Korea's Woo-Jin Kim in Rio in 2016. Then American Brady Ellison, who won the 2019 World Championship in June, stepped up to the line for the Pan American Games ranking round.
Shooting in a ranking round is in groups of three arrows, known as "ends," for which 30 would be a perfect score. He started 30-28-30-30-30-28 and finished the first half with 30-29-30-29-29-27 for 350 points, halfway to Kim's mark.
He was better in the second half, starting 30-28 and then scoring 16 straight 10s and then finishing with 30-29-30-28 for a 702 total.
Out of 72 arrows, the 30-year-old Ellison shot 55 10s, just 15 nines and two eights. He is now only the second ever to shoot 700 in a competition round.
"It means so much," he told World Archery's Chris Wells afterwards. I've been shooting so good this year and I've shot so many 700s in practice. I shot 708 yesterday in practice. And we stepped onto that field today and there wasn't a touch of wind on it and I was like, I know it, I got it.
"I've been shooting good enough and I had the weather to do it and it's nice to finally get it."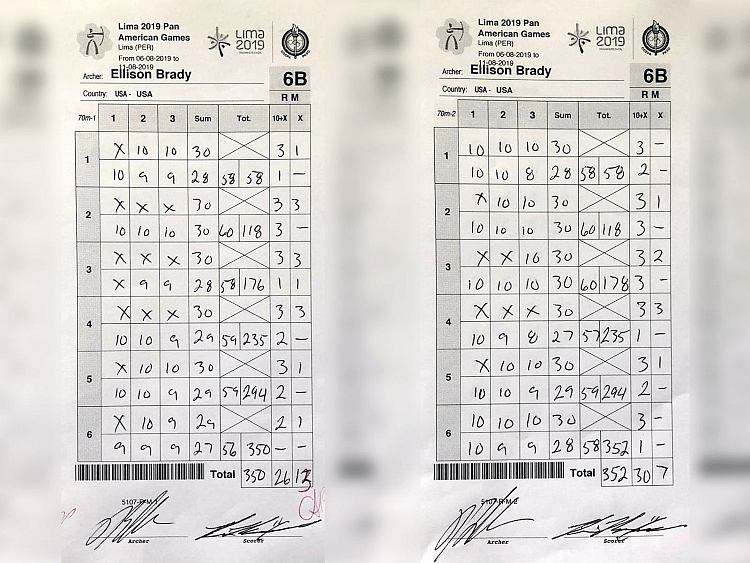 As brilliant as Ellison was, he wasn't alone on the field. Marcus D'Almeida (BRA) qualified second at 692 points and American Jack Williams was third with 689.
It's important to note that Ellison, the 2011 Pan American Games champion and 2015 silver medalist, hasn't won anything yet. He's obviously seeded first going into the elimination rounds, but anything can happen there. But he will long remember setting a world record in Lima that promises to last for a while.