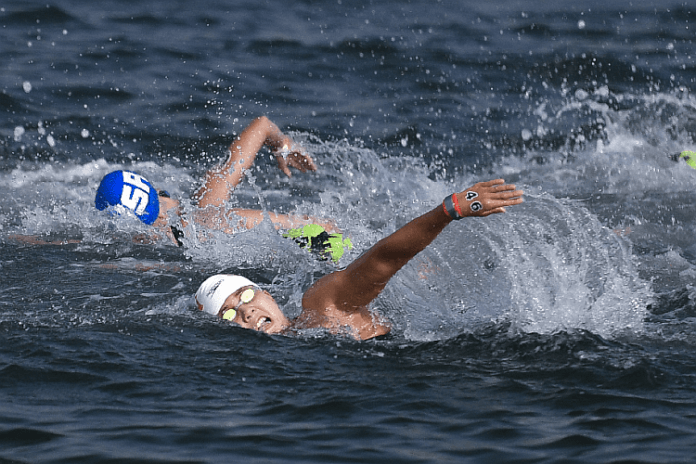 The 2019 FINA World Aquatics Championships have opened just as expected … with one surprise.
China was expected to dominate the diving events and has won all five. Russia was expected to dominate Artistic Swimming and is doing just that. But China's Xin Xin pulled off the first upset of the Worlds with a victory in the 10 km Open Water event on Sunday.
A very large group of 64 women started the race and the race finished in a huge sprint, with a large pack of swimmers not only trying to win a medal, but to finish in the top 10 and qualify for the 2020 Olympic race in Tokyo.
A total of 13 swimmers touched within five seconds, but the surprise was seeing China's Xin make it to the touch first in 1:54:47.20, almost a second ahead of Haley Anderson of the U.S. Xin, still just 22, raced in London 2012 and was fourth in the Rio 10 km race in 2016, but finally won her first medal – and China's first medal – in Open Water at the World Championships.
Anderson had won a 10 km silver in London and the 2013 and 2015 Open Water golds at 5 km, but this was her first Worlds medal in the 10 km.
"I am really happy with how I raced and I am excited to qualify for another Olympic Games," said Anderson afterwards. "I can't believe I qualified for my third Olympics. To get my hand on the touch pads in second is really awesome. I finally won a medal in the 10 km at the World Championships. I really learned a lot during the past two quads.
"It was pretty stressful and brutal in the race today. It was a little cut-throat out there because everyone was trying to finish in the top ten. I was trying to stay calm and confident. Coming down the last stretch was a pretty big pack and I tried to keep the best line possible to the finish and I found clear water. I wanted to avoid fighting with anyone as that isn't good for either swimmer. I made up some ground on the leaders.
"It was always my goal to be on the podium here, it wasn't just about finishing in the top 10 today. I am really excited about how I finished, not just where I finished. This is a great 'set up' for me for the Olympics next summer. I want to earn another medal for the USA at next summer's Olympics. I still have plenty of racing ahead of me this summer."
Ashley Twichell also qualified for the U.S. for Tokyo, finishing sixth, 3.3 seconds behind Xin.
In diving, Chinese victories were expected and delivered. Through five events, the Chinese have not only won, but dominated; the margins of victory:
● 20.10 ~ Men/1 m Springboard: Zongyuan Wang
● 24.72 ~ Men/10 m Synchro: Siyi Xie/Yuan Cao
● 23.45 ~ Women/1 m Springboard: Yiwen Chen
● 32.52 ~ Women/3 m Synchro: Jiaqi Zhang/Wei Lu
● 34.86 ~ Mixed/10 m Synchro: Junjie Lian/Yajie Si
That's an average margin of victory of 27.13 points through five events, with seven events remaining. A sweep is certainly possible. Here's how good the Chinese were: Wang was seventh in the 1 m after three of his six dives and said afterwards that he "was in a fog and got lost in the first half of the competition. Then I started to realize I was at the bottom of the ranking and should bounce to the top." He won the event easily for China's seventh straight win in the men's 1 m Springboard."
The U.S. came through with two medals in diving, including a silver from Sarah Bacon in the 1 m Springboard. No U.S. woman had won a World Championships individual medal since Laura Wilkinson's gold in the 10 m Platform in 2005. Bacon's silver was the first American women's medal in the 1 m since 1991, when Wendy Lucero won the silver.
Bacon, 22, had to come from fourth into the medals with two rounds to go, but moved into third on her fourth dive and into second position after her final dive. Amazingly, this was her first international competition at the senior level!
"I did know how close it was," she said afterwards. "Paying attention to the scores and being that close kind of gives me motivation going into my dives. It gives me a little more fire to perform them well. I could have hit one or two dives a little better, but it was a very consistent list."
"I think this will give me more confidence going into 3-meter, which is something I struggle with every now and then. Most of the time I perform better on 1-meter than on 3-meter, so being able to medal on 1-meter gives me more confidence going into the 3-meter event."
The U.S. got a second diving medal from Murphy Bromberg and Katrina Young in the women's 10 m Synchro, which unlike the 1 m Springboard, is an Olympic event. The U.S. hadn't won a women's Worlds 10 m Synchronized medal since 2009, when Haley Ishimatsu and Mary Beth Dunnichay took silver. The bronze medal also secured an Olympic slot for the U.S. in the event for 2020.
They also came from behind, having to pass Canada's Meaghan Benfeito and Caeli McKay on the final dive. But the Americans scored 69.12 on their final dive and Benfeito (a three-time Olympic medalist) and McKay scored 62.40 for a margin of 81/100ths and the bronze medal.
"After the event, [coaches John Proctor and Matt Scoggin] came up to us and said, 'You did it. You got it.' We didn't believe them. We were like, 'No, we didn't.' And then we did. We were surprised," Bromberg said.
In Artistic Swimming, Russia continued to dominate as Svetlana Kolesnichenko won her second gold of the competition, teaming with Svetlana Romashina for the Duet Technical win. Kolesnichenko now owns 15 World Championships golds from 2011-19 and more are coming. Romashina, on a comeback, won her 19th Worlds gold in a career that started in 2005.
In women's water polo, the favored U.S. team defeated New Zealand in its opening game of group play, 22-3.
Summaries so far:
FINA World Aquatics Championships
Gwangju (KOR) ~ 12-28 July 2019
(Full results here)
ARTISTIC SWIMMING
Solo Technical: 1. Svetlana Kolesnichenko (RUS), 95.0023; 2. Ona Carbonell (ESP), 92.5002; 3. Yukiko Inui (JPN), 92.3084; 4. Marta Fiedina (UKR), 91.3014; 5. Jacqueline Simoneau (CAN), 89.2932; 6. Linda Cerruti (ITA), 88.0378; 7. Evangelia Platanioti (GRE), 86.2921; 8. Vasiliki Alexandri (AUT), 85.6098.
Duet Technical: 1. Svetlana Romashina/Svetlana Kolesnichenko (RUS), 95.9010; 2. Wenyan Sun/Xuechen Huang (CHN), 94.0072; 3. Anastasiya Savchuk/Marta Fiedina (UKR), 92.5847; 4. Megumu Yoshida/Yukiko Inui (JPN), 92.116; 5. Linda Cerutti/Costanza Ferro (ITA), 90.1743; 6. Jacqueline Simoneau/Claudia Holzner (CAN), 88.8659; 7. Paula Ramirez/Sara Saldana Lopez (ESP), 87.2960; 8. Eirini Alexandri/Anna-Maria Alexandri (AUT), 87.0654. Also: 12. Ruby Remati/Anita Alvarez (USA), 84.0190.
DIVING
Men
1 m Springboard: 1. Zongyuan Wang (CHN), 440.25; 2. Rommel Pacheco (MEX), 420.15; 3. Jianfeng Peng (CHN), 415.00; 4. Haram Woo (KOR), 406.15; 5. Patrick Hausding (GER), 405.05; 6. Briadam Herrera (USA), 399.90; 7. Oleg Kolodiy (UKR), 396.40; 8. Kacper Lesiak (POL), 380.05.
3 m Synchro: 1. Siyi Xie/Yuan Cao (CHN), 439.74; 2. Jack Laugher/Daniel Goodfellow (GBR), 415.02; 3. Juan Celaya/Yahei Castillo (MEX), 413.94; 4. Lars Rudiger/Patrick Hausding (GER), 399.87; 5. Nikita Shleikher/Evgenii Kuznetsov (RUS), 396.81; 6. Oleksandr Gorshkovozov/Oleg Kolodiy (UKR), 393.24; 7. Sho Sakai/Ken Terauchi (JPN), 389.43; 8. Andrew Capobianco/Mike Hixon (USA), 388.08.
Women
1 m Springboard: 1. Yiwen Chen (CHN), 285.45; 2. Sarah Bacon (USA), 262.00; 3. Suji Kim (KOR), 257.20; 4. Katherine Torrance (GBR), 255.40; 5. Kristina Ilinykh (RUS), 252.80; 6. Yani Chang (CHN), 251.95; 7. Elena Bertocchi (ITA), 245.60; 8. Elizabeth Cui (NZL), 244.20. Also: 10. Maria Coburn (USA), 237.75.
10 m Synchro: 1. Jiaqi Zhang/Wei Lu (CHN), 345.24; 2. Mun Yee Leong/Pandelela Pamg (MAS), 312.72; 3. Murphy Bromberg/Katrina Young (USA), 304.86; 4. Meaghan Benfeito/Caeli McKay (CAN), 304.05; 5. Iullia Timoshinina/Ekaterina Beliaeva (RUS), 291.30; 6. Lois Toulson/Eden Cheng (GBR), 289.14; 7. Chiara Pellacani/Noemi Batki (ITA), 280.38; 8. Melissa Wu/Emily Chinnock (AUS), 277.44.
Mixed
10 m Synchro: 1. Junjie Lian/Yajie Si (CHN), 346.14; 2. Ekaterina Beliaeva/Viktor Minibaev (RUS), 311.28; 3. Maria Sanchez/Jose Balleza (MEX), 287.64; 4. Noah Williams/Robyn Birch (GBR), 285.18; 5. Olivia Rosendahl/Zach Cooper (USA), 267.96; 6. Maicol Verzotto/Noemi Batki (ITA), 259.62; 7. Jiwook Kim/Halim Kwon (KOR), 247.20; 8. Ingrid Oliveira/Isaac Filho (BRA), 239.46.
OPEN WATER SWIMMING
Men
5 km: 1. Kristof Rasovszky (HUN), 53:22.10; 2. Logan Fontaine (FRA), 53:32.20; 3. Eric Hedlin (CAN), 53:32.40; 4. Matej Kozubek (CZE), 53:33.60; 5. Domenico Acerenza (ITA), 53:34.00; 6. Daniel Szekelyi (HUN), 5:34.40; 7. Bailey Armstrong (AUS), 53:34.80; 8. Kirill Abrosimov (RUS), 53:35.50. Also: 14. Brendan Gravley (USA), 53:37.80
Women
10 km: 1. Xin Xin (CHN), 1:54:47.20; 2. Haley Anderson (USA), 1:54:48.10; 3. Rachele Bruni (ITA), 1:54:49.90; 4. Lara Grangeon (FRA), 1:54:50.00; 5. Ana Marcela Cunha (BRA), 1:54:50.50; 6. Ashley Twichell (USA), 1:54:50.50; 7. Kareena Lee (AUS), 1:54:50.50; 8. Finnia Wunram (GER), 1:54:50.70.