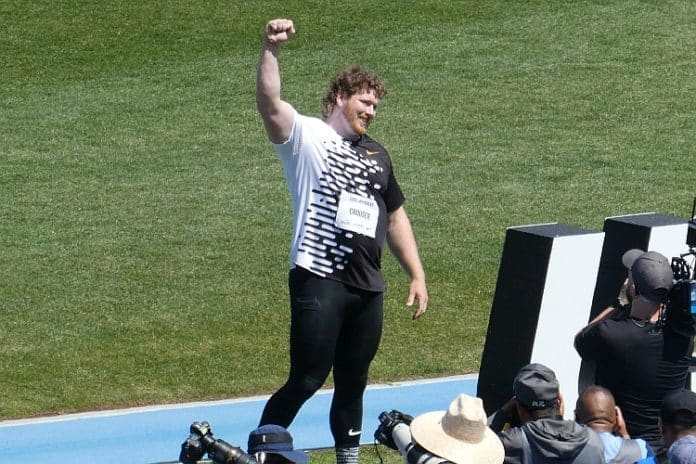 ★ The Sports Examiner: Chronicling the key competitive, economic and political forces shaping elite sport and the Olympic Movement.★
★ To get The Sports Examiner by e-mail: sign up here! ★
≡ THE 5-RING CIRCUS ≡
1. Crouser smashes WR again: 77-3 3/4 at L.A. Grand Prix
2. Grand Prix confirms L.A. market and Drake Stadium appeal
3. El Bakkali, Kerley, Tsegay star in Rabat Diamond League
4. Roglic's time trial takes Giro d'Italia from Thomas
5. UIPM appoints panel to review Russia-Belarus re-entry
Ryan Crouser's fabulous world record of 23.56 m (77-3 3/4) in the men's shot was the highlight of the USATF L.A. Grand Prix at UCLA's Drake Stadium, but there were seven world-leading marks in all. The meet was notable in proving the stadium as a worthy site for more events in the future, and the attendance showed that Los Angeles remains a good market for the sport … but there were issues. At the Rabat Diamond League meet on Sunday, there were four more world leads, including a rapturous roar for home hero Soufiane El Bakkali, who won the men's Steeple in a lifetime best of 7:56.68; Fred Kerley of the U.S. shut down a good field in the men's 100 m in 9.94. At the annual Hypomeeting in Austria, American Anna Hall won the heptathlon with a startling 6,988 points, moving to no. 5 all-time; she scored four lifetime bests among the seven events. Slovenian star Primoz Roglic won the 106th Giro d'Italia with a stirring time trial win on Saturday on an uphill course, taking the maglia rosa jersey away from Britain's Geraint Thomas. The Union Internationale de Pentathlon Moderne appointed a five-member panel to review Russian and Belarusian application for re-entry, as international federations continue to struggle with deciding what is required to be "neutral."
● World Championships: Football (U.S. undefeated in FIFA men's U-20) = Ice Hockey (Canada wins 28th Worlds, over Germany) = Table Tennis (China sweeps 2023 Worlds) ●
● Panorama: Badminton (Prannoy and Yamaguchi take Malaysia singles titles) = Cycling (new Dutch star Kool wins RideLondon Classique from U.S.'s Dygert) = Gymnastics (U.S. dominates Pan Am Artistic Champs) = Judo (Krpalek and Wagner star at Austria Grand Prix) = Shooting (ISSF Trap World Cup in Almaty) = Skateboarding (Cini and Brown win in San Juan) = Swimming (Manzi and Jouisse surprise in Setubal Open Water) = Triathlon (Yee and Taylor-Brown win in Cagliari) ●
1.
Crouser smashes WR again: 77-3 3/4 at L.A. Grand Prix
There hadn't been a world-class invitational meet in the Los Angeles area since 2008. The last major invitational at UCLA's Drake Stadium was in 1990, when Randy Barnes set a world record of 23.12 m (75-10 1/4) in the men's shot put.
On Saturday, Ryan Crouser had the best meet in the history of shot putting, scaring and then surpassing his own world record – and the 77-foot mark – with a staggering fourth throw of 23.56 m (77-3 3/4) at USATF's L.A. Grand Prix.
This was using his new "step-across" throwing motion – also known as the Crouser Slide – designed to help generate more speed in the ring, and did it ever. Throwing at the north end of the field, in what was originally designed as a practice ring, Crouser nearly hit the concrete retaining wall at the far back of the dirt landing area, way beyond the 22 m marking line.
Crouser was on fire from the start:
● 1: 23.23 m (76-2 3/4), equal-3rd performance all-time
● 2: 23.31 m (76-5 3/4), no. 2 all-time
● 3: 22.94 m (75-3 1/4)
● 4: 23.56 m (77-3 3/4), World Record
● 5: 22.80 m (74-9 3/4)
● 6: 22.86 m (75-0)
He had three of the top six throws in history in the same series, not counting his 23.38 m (76-8 1/2) indoor mark at the Simplot Games on 18 February, which was not ratified as a world record and classified as an "irregular measurement."
His six-throw average was a staggering 23.12 m (75-10 1/4), a distance which only two others – Americans Joe Kovacs (2022) and Barnes (1990) – have ever reached once! He was the first to reach 76 feet and now the first to 77.
Just sensational; Crouser said afterwards that this was the first time he had been able to get his new technique working in competition, after seeing promising results in training. And he said there is more in the tank.
Former World Champion Tom Walsh of New Zealand was excellent in second at 22.12 m (72-7), but was completely overshadowed.
That was the highlight of an excellent afternoon of track & field, which saw a total of seven world-leading marks:
● Men/1,500 m: 3:31.47, Timothy Cheruiyot (KEN)
● Men/Vault: 5.91 m (19-4 3/4), Mondo Duplantis (SWE) and Sam Kendricks (USA)
● Men/Shot Put: 23.56 m (77-3 3/4), Ryan Crouser (USA) ~ World Record
● Women/400 m: 48.98, Marileidy Paulino (DOM)
● Women/1,500 m: 3:57.84, Diribe Welteji (ETH)
● Women/100 m Hurdles: 12.31, Jasmine Camacho-Quinn (PUR)
● Women/Shot Put: 20.45 m (67-1 1/4), Maggie Ewen (USA)
The men's and women's 100 m dashes were much anticipated, even more so when the women's heats produced a runaway 10.90 win (wind: -0.8 m/s) for Sha'Carri Richardson in the first race and then a 10.88-10.95 win (+1.3) for Marie-Josee Ta Lou (CIV) over American Aleia Hobbs in the second. But none of those three ran in the final, citing injuries or injury concerns, and resurgent Morolake Akinosun won the final in 10.97 (+0.2) over Melissa Jefferson (11.07).
The men's 100 m was the final race of the day and super-starter Christian Coleman got out well and had the race in hand at 80 m. But Jamaica's Ackeem Blake, to Coleman's left, closed with a rush and got to the line first in a lifetime best of 9.89, no. 3 in the world for 2023. American Cravont Charleston caught Coleman at the tape and got second, with both in 9.91, a lifetime best for Charleston. Both ranked no. 4 in the world at meet's end.
The other straightaway race that had the knowledgeable fans waiting was the women's 100 m hurdles, and Olympic champ Jasmine Camacho-Quinn did not disappoint with a world-leading 12.31 (-0.2), just 0.05 off her best ever. She took control in mid-race and kept the pressure on to beat a late surge from Keni Harrison (12.35), her fastest since 2017!
There was a lot to like, including two come-from-behind wins in the men's 800 m and 1,500 m. American Clayton Murphy smoked the straight to win the 800 m in 1:44.75, no. 4 on the year list. Kenyan Cheruiyot, the 2019 World Champion, took off in the final 100 m to pass countryman Raynold Kipkorir, 18, to win in a world-leading 3:31.47 to 3:32.01. American Hobbs Kessler, 20, also flew down the home straight and got third over Cooper Teare, 3:32.61 to 3:32.74, lifetime bests for both.
The women's 1,500 m was a runaway for Ethiopia's Welteji in 3:57.84, her third-fastest ever, with Kate Snowden (GBR) getting a lifetime best at 4:00.04, now no. 3 in 2023, and American Josette Andrews at 4:00.77, another lifetime best and no. 5 in 2023.
The women's 800 m saw a late surge from Ajee Wilson of the U.S. that carried her to victory in 1:59.01, no. 4 on the year list, over 2019 World Champion Halimah Nakaayi (1:59.35).
Dominican star Marileidy Paulino ran away with the women's 400 m in a national record 48.98, ahead of comebacking Salwa Eid Naser (BRN: 50.27). American Jenna Prandini ran down former USC Trojan TeeTee Terry to win the 200 m, 22.34-22.44 (+0.5).
Jamaica's Sean Bailey stormed past 2012 Olympic winner Kirani James (GRN) off the final turn to win the men's 400 m in 44.43 to 44.50. C.J. Allen of the U.S. continued his hot running in the men's 400 m hurdles, winning in 47.91, now no. 2 in 2023, a lifetime best and his second race this season under 48 seconds.
World Champion Anderson Peters (GRN) put the men's javelin to bed early with his winning throw of 83.16 m (272-10) in the first round. China's Xiaomei Sun won the women's jav with her second-round throw of 55.67 m (182-7).
The women's shot saw the world-leading performance by Ewen, whose 20.45 m (67-1 1/4) moved her to no. 3 all-time U.S. World Champion Chase Ealey was second at 19.98 m (65-6 3/4).
It was a wonderful meet on the track and on the field (and shot circle), but there was significance well beyond the results.
2.
Grand Prix confirms L.A. market and Drake Stadium appeal
There was, in many track and field circles, as much interest in the attendance, optics and feel of the L.A. Distance Classic on Friday and the L.A. Grand Prix on Saturday as there was in the events themselves.
At least from Saturday's L.A. Grand Prix, there are some noteworthy conclusions to be drawn:
● UCLA's Drake Stadium, once one of the premier showcases for the sport in the U.S., shined brightly as an excellent competitive facility, with world-class performances in every event and more than a dozen stadium records. Not a huge surprise for the first high-end invitational there in 33 years, but still great to see.
● The attendance was a critical measure of success for this meet and while the 11,142-seat facility was hardly full, the crowd was good. Announced at 7,246, there were actually about 4,500 there on Saturday as shown by this photo taken after the men's 800 m (some empty sections at the right side of the image are not shown):
But this was the best crowd for a meet in the Los Angeles area since the 2005 adidas Track Classic at the (then) Home Depot Center in Carson. And, given the indifferent promotion of the meet, was a concrete demonstration that Los Angeles is still – after all these years – a very viable market for track & field.
● The meet had a lot of important eyes on it. Underwritten by Southern California-based Internet Brands (WebMD, CarsDirect and many others), there was an evaluation team from World Athletics on site, as well as a member of its Executive Board. New U.S. Olympic & Paralympic Committee President Gene Sykes, also an LA28 Olympic & Paralympic Games Organizing Committee board member, was in attendance.
What they saw was an unevenly staged meet, beginning with the Friday night L.A. Distance Classic, a meet designed to create fast races for qualifying purposes, along with a few field events.
It was cold and dreary and this hurt the potentially-exciting women's vault, which saw Olympic and World champ Katie Moon no-height, but with Worlds silver medalist Sandi Morris winning at 4.61 m (15-1 1/2), beat Canada's Alysha Newman on misses.
The men's and women's hammer were held in the afternoon, with only modest public address support, so the dramatic, fifth-round, national-record win by Canada's Cam Rogers at 78.62 m (257-11) over World Champion Brooke Andersen of the U.S. (76.06 m/249-6) was hard to follow. Rogers moved to no. 2 in the world this season and former World Champion DeAnna Price of the U.S. moved to no. 3 in third place at 75.89 m (248-11).
Poland's Wojciech Nowicki won the men's hammer in the sixth round with a 77.18 m (253-2) toss to edge American Rudy Winkler (77.17 m/253-2). also essentially unnoticed.
Same in the men's and women's discus, where Olympic gold medalist Valarie Allman was rarely noted prior to her throws; she set the field down with a first throw of 68.39 m (224-4), beating Cuba's Yaime Perez (63.63 m/209-9). Jamaica went 1-2 in the men's disc, with Traves Smikle upending 2019 Worlds silver medalist Fedrick Dacres, 67.06 m (220-0) to 64.51 m (211-7).
The running events concentrated on the distances, of course, and the cool weather made for excellent conditions. Not as good, however, was that the runners were in the dark as soon as the sun went down, because the 1999 renovation of Drake Stadium installed lighting for the soccer field and not on the track.
The 1,200 or so spectators could barely see Ahmed Jaziri of Tunisia win the men's Steeple at 8:17.64, no. 2 in 2023, with American Isaac Updike just behind at 8:17.96 (no. 3). But the women's 5,000 m – won by Emily Lipari of the U.S. with a 69.34 last lap in 15:08.87 – was hard to follow and the excellent men's 5,000 was literally in the dark.
Too bad, because Abdi Nur scored an impressive lifetime best of 13:05.17, beating Edwin Kurgat (KEN: 13:08.46) and Morgan Beadlescomb (USA: 13:08.82); the top 12 all broke 13:20.
Crouser's world-record performance was held at the north end circle, used by UCLA for practice and now for its low-key home meets. But when the field was re-designed in 1999, shot put circles were installed on the infield, including one just beyond the finish line, which would have been right in front of most of the spectators. But perhaps no one knew about it.
The meet is hoped to be an annual event in Los Angeles, so these issues and others can be addressed in the future. The enthusiasm of Saturday's attendees sent a message that Los Angeles is a very viable future site for more high-quality meets like this one.
3.
El Bakkali, Kerley, Tsegay star in Rabat Diamond League
The second round of the Wanda Diamond League was the Meeting Mohammed VI in Rabat (MAR) on Sunday, with the home crowd screaming with delight as Olympic and World Champion Soufiane El Bakkali took a shot at the world record in the men's Steeplechase and ended with a lifetime best and world-leading win. The four world leaders:
● Men/Steeple: 7:56.68, Soufiane El Bakkali (MAR)
● Women/1,500 m: 3:54.03, Gudaf Tsegay (ETH)
● Women/High Jump: 2.01 m (6-7), Yaroslava Mahuchikh (UKR)
● Women/Triple Jump: 14.84 m (48-8 1/4), Leyanis Perez (CUB)
El Bakkali finally shook free of Ethiopia's Getnet Wale with 500 m to go and strode home with a lifetime best and now, the no. 8 performer of all time. Wale got a personal record of 8:05.15, , ahead of Abraham Kibiwot (KEN: 8:05.51 lifetime best) and American Hillary Bor, who had a seasonal best of 8:11.28 in fourth.
Tsegay dominated the women's 1,500, taking over at 800 m and streaked to win, with fellow Ethiopians Freweyni Hailu (3:57.65) and Birke Haylom (3:57.66). American Cory McGee was fifth in 4:03.09. It's Tsegay's third-fastest race ever and she took over the world lead from Diribe Welteji (ETH)'s win in L.A. on Saturday.
Ukraine's Mahuchikh won the women's high jump at 1.95 m (6-4 3/4) over countrywoman Iryna Gerashchenko (1.91 m/6-3 1/4), then cleared 2.01 m (6-7) for the world lead.
Cuba's Perez got her world-leading triple jump mark of 14.84 m (48-8 1/4) in the second round, well ahead of Maryna Bekh-Romanchuk's sixth-round jump of 14.65 m (48-0 3/4). Americans Tori Franklin and Keturah Orji were fifth (14.22 m/46-8) and seventh (13.90 m/45-7 1/4).
The men's 1,500 m featured Olympic champ Jakob Ingebrigtsen (NOR), taking over at the bell and unchallenged to the tape in 3:32.59, no. 3 on the 2023 world list. Australian Olli Hoare was his main challenger until the final 60 m, when the U.S.'s Yared Nuguse sprinted in for second (lifetime best 3:33.02), with Hoare getting third in 3:33.39.
The men's 100 m was a marquee event, with World Championships bronze medalist Trayvon Bromell getting out best, but then came Kenyan Ferdinand Omanyala and, at 50 m, World Champion Fred Kerley of the U.S. took over. He accelerated to the front, secured the win and looked back to see South Africa's Akani Simbine come up for second, 9.94 to 9.99 (wind: +0.1 m/s), with Omanyala third (10.05) and Bromell fifth (10.10).
Jamaica's World 200 m Champion Shericka Jackson was challenged around the turn by American Tamari Davis, but pulled away to win in 21.98 (+0.8), with Anthonique Strachan coming up for second (22.15 lifetime best) and Davis third with a lifetime best of 22.30. American Kayla White was fourth in 22.52.
Bahamian star Steven Gardiner, the world leader at 400 m, ran powerfully down the straight to win in 44.70, with American Vernon Norwood coming on late for second in 45.11.
World Champion Grant Holloway was out like a shot in the men's 110 m hurdles, but he was reeled in over the final hurdle and the run-in by Jamaica's Rasheed Broadbell, 13.08-13.12 (-1.3). Tokyo Olympic winner Hansle Parchment was third (13.24) and Americans Devon Allen (13.25) and Freddie Crittenden (13.43) fourth and fifth.
Kenya took 1-2 in the men's 800 was Kenya's Emmanuel Wanyonyi passed countryman Wyclife Kinyamal late to win by 1:44.36 to 1:44.73.
Worlds bronze winner Mary Moraa (KEN) ran away with the women's 800 m on the home straight in 1:58.72, with Catriona Bisset (AUS: 2:00.11) second and American Sage Hurta-Klecker third (2:00.62).
American Shamier Little passed Jamaica's Rushell Clayton on the home straight to win the 400 m hurdles in 53.95; Clayton was second in 54.15. Rio 2016 Olympic champ Dalilah Muhammad of the U.S. was fifth in a season-best of 55.72.
Portugal's Auriol Dongmo won the women's shot at 19.28 m (63-3 1/4) with her second-round toss.
Slovenian's discus giant, Kristjian Ceh, reached 70.32 m (230-8) in the fifth round to win his specialty; it's his no. 3 throw of 2023. Sweden's Tokyo Olympic winner Daniel Stahl got a seasonal best of 69.21 m (227-0) for second.
¶
One of the best – if not the best – multi-event meets in the world is the annual Hypomeeting in Gotzis (AUT), with world-leading performances from Canada's Pierce LePage and American Anna Hall.
Hall, still just 22 and the 2022 Worlds bronze medalist, was brilliant, posting a stunning score of 6,988, not just the best in 2023, but moving her to no. 5 all-time, with the no. 11 performance in history and now no. 2 in U.S. history to Jackie Joyner-Kersee.
Hall went crazy, getting lifetime bests in the 100 m hurdles (12.75), high jump (1.92 m/6-3 1/2), 200 m (22.88) and the 800 m in 2:02.97.
Britain's Katerina Johnson-Thompson was second (6,556), with her best score since her World Championship gold year if 2019; American Annie Kunz in sixth (6,330).
Canada's LePage, the Worlds silver medalist in 2022, missed his lifetime best by a single point, winning at 8,700, ahead of countryman Damian Warner (8,619), the Olympic champ from Tokyo.
4.
Roglic's time trial takes Giro d'Italia from Thomas
He left it late, but Slovenia's Primoz Roglic, the three-time winner of the Vuelta a Espana, captured his fourth Grand Tour title, taking the 106th Giro d'Italia on his third try.
Britain's Geraint Thomas, the 2018 Tour de France winner, held the lead from stages 10-13 and then from stages 16-19, with Roglic pushing from behind. On the four-climb 19th stage on Friday, Roglic chopped three seconds off of Thomas's lead, closing to 26 seconds back with the Individual Time Trial coming on Saturday.
Saturday's racing was a particularly misery-inducing course of 18.6 km, finishing with a 9 km climb from 850 to 1,744 m at the top of the Monte Lussari. While the first two time trials had been Roglic and Thomas finish close together, Roglic was ready to charge and won in 44:23, with Thomas second, but 40 seconds back, flipping the leaderboard and leaving Roglic, 33, 14 seconds up and assured of winning after the final, flat stage into Rome.
Thomas was down 16 seconds at the second checkpoint, with 3.3 km left and then 29 seconds on the climb, with 800 m to go. Portugal's Joao Almeida finished third (+0:42) and cemented a third-place finish in the overall race.
The 126 km finale on Sunday in Rome was for the sprinters, with British specialist Mark Cavendish – who will retire at the end of this season – getting his 17th career Giro stage win, to go along with 34 in the Tour de France and three in La Vuelta. He won in 2:48:26, just ahead of Alex Kirsch (LUX) and Filippo Fiorelli (ITA).
Roglic finished 32nd and Thomas was 63rd, all with the same time. Roglic's final time overall was 85:29:02, 14 seconds up on Thomas and 1:15 ahead of Almeida. American Sepp Kuss, riding with Roglic's Jumbo-Visma team, was 14th overall (+13:09).
Roglic will try for his fourth La Vuelta win later this year.
5.
UIPM appoints panel to review Russia-Belarus re-entry
Desperate to regain its place on the Olympic program for 2028, there was no doubt whatsoever that the Union Internationale de Pentathlon Moderne (UIPM) would follow the International Olympic Committee's recommendations on re-entry for Russian and Belarusian athletes.
But the IOC left the details to the federations and so the UIPM announced a five-person review panel, "chaired by three-time Olympian Aya Medany OLY (Egypt) and comprising Ana Ruth Orellana (Guatemala), Sungjoo Park (Korea), Nishanthe Piyasena (Sri Lanka) and Dr Harald Vervaecke (Belgium)."
The group will review (1) applications made by Russian and Belarusian athletes and officials for re-entry into international competition and (2) the timing of re-entry, which is not specified by the IOC in its 28 March 2023 recommendations.
While the statement assures that "based on criteria to be set by the UIPM Executive Board in collaboration with the International Olympic Committee (IOC)," those criteria are anything but clear and different federations have come up with differing interpretations of what "neutral" means in the context of the IOC Executive Board statements.
The International Judo Federation rejected eight of 18 entries submitted by Russia for its recent World Championships. World Sailing rejected any Russian or Belarusian re-entry until the spring of 2024. World Taekwondo is allowing all but two Russian entries for its World Championships. And so on.
What path will the UIPM take, in a decision which could create further confusion and upset within a federation already in the midst of a civil war over the replacement of the riding discipline in favor of obstacle racing as part of its bid for Los Angeles 2028.
≡ WORLD CHAMPIONSHIPS ≡
● Football ● The FIFA men's U-20 Championships in Argentina completed group play on Sunday, with the U.S. the winner of Group B with a 3-0 mark and a 6-0 goals-against total.
Argentina (Group A) was the only other team with a perfect record; the U.S. moves on to the Round of 16 to face New Zealand (1-1-1 in Group A) on the 30th; Argentina will play Nigeria on 31 May. The quarters are on 3-4 June, semis on 8 June and the medal matches on the 11th.
● Ice Hockey ● A complete stunner in the semifinals of the IIHF men's World Championship in Finland and Latvia, as the U.S. men, dominant throughout the tournament, lost in the semifinals to Germany, 4-3, in overtime.
The Americans were up, 3-2, after two periods thanks to an Michael Eyssimont goal at 8:47 of the second and had a 19-15 edge on shots. The Germans pulled keeper Mathias Niederberger with 1:39 to play and, with the extra attacker, got the tying goal 16 seconds later from Marcel Noebels.
On to overtime and while the U.S. was the aggressor, Frederik Tiffels scored for the Germans after 7:32 to move on to the final and relegate the Americans to the third-place match.
Canada, meanwhile, came from 2-1 down in the third period with three goals for a 4-2 win and a chance for the gold medal. In the final, in Tampere (FIN), the script was almost the same, as the Canadians scored three times in the third to break a 2-2 tie and win 5-2 for its 28th Worlds title, the most of any country (the USSR won 22). Germany won its third Worlds silver.
Samuel Blais, Tyler Toffoli and Scott Laughton (empty-netter) scored the decisive third-period goals.
The U.S. lost to co-host Latvia in the bronze-medal game, again by 4-3 in overtime. The U.S. was down 1-0 and 2-1 in the first, but two goals from Rocco Grimaldi tied it at two at the period break. The U.S. had a 3-2 lead after an Matt Coronato goal at 6:19 of the third, but Kristians Rubins tied it with 5:39 to play.
In the overtime, it only took 1:22 for Rubins to score again and give Latvia it's first-ever Worlds medal, in its third appearance in the tournament. The Americans ended up fourth for the second straight year.
Germany's J.J. Peterka was recognized as the top forward; Canada's Mackenzie Weegar was named top defenseman and Arturs Silovs (LAT) won the award for top goaltender. Grimaldi won the scoring title with 14 (7+7); Czech Dominik Kubalik had the most goals, with eight.
● Table Tennis ● The 57th ITTF World Championships in Durban (RSA) was another sweep for China, which won all five events and won gold and silver in both the men's and women's Singles finals.
Zhendong Fan, 26, took his second consecutive title in the men's Singles, defeating countryman Chuqin Wang, 8-11, 11-9, 11-7, 12-10, 11-13, 11-6. China also had both bronze medalists in Jingkun Liang and two-time Olympic gold medalist Long Ma.
Top-seeded Yingsha Sun, the Tokyo Olympic runner-up, defeated Tokyo gold medalist Meng Chen, 5-11, 11-8, 11-7, 11-7, 7-11, 11-6 to win her first World title in the women's final. Japan's Hina Hayata and China's Xington Chen shared the bronze.
In the men's Doubles, Fan and Wang teamed up to defeat South Koreans Woo-jin Jang and Jong-hoon Lim, 13-11, 11-6, 11-5. In the women's Doubles, Chen and Yidi Wang sailed past Yu-bin Shin and Ji-hee Jeon, 11-8, 11-7 and 12-10 for the gold.
Chuqin Wang won his second gold and third medal of the tournament with Sun in the Mixed Doubles final, sweeping aside Hayata and Tomokazu Harimoto (JPN), 11-6, 11-2, 11-7. Sun also won three medals: two golds and a women's Doubles bronze.
It's the first sweep for China since 2019, but they have won at least four events in 2015-17-19-21-23.
≡ PANORAMA ≡
● Badminton ● South Korea captured two titles at the Malaysia Masters in Kuala Lumpur, with unseeded teams taking the men's and women's Doubles.
Ha Na Baek and So Hee Lee had a difficult women's final with home favorites Pearly Tan and Muralitharan Thinaah, but won, 22-20, 8-21, 21-17. The men's gold-medal match was another Korea-Malaysia match-up, with Min Hyuk Kang and Seung Jae Seo winning another marathon, against Wei Chong Man and Kai Wun Tee, 21-15, 22-24, 21-19.
The singles winners were India's H.S. Prannoy, a 21-19, 13-21, 21-18 winner against China's Hong Yang Weng, for his first career tournament title on the BWF World Tour. He had won three times on the old BWF Grand Prix circuit.
Top-seeded Akane Yamaguchi of Japan swept past Indonesia's Gregoria Tunjung, 21-17, 21-7 in the women's final, while Thai Doubles stars Dechapol Puavaranukroh and Sapsiree Taerattanachai – seeded second – came from behind to beat China's Yan Zhe Feng and Dong Ping Huang, 16-21, 21-13, 21-18.
● Cycling ● Another new Dutch star emerged at the UCI Women's World Tour's RideLondon Classique stage race that finished Sunday: Charlotte Kool.
The 24-year-old won her first multi-stage title by taking the first and third stages and finishing with a total time of 9:34:41, 11 seconds up on American Chloe Dygert, with Britain's 2015 World Road Champion Lizzie Deignan third (+0:15).
Kool won the first-stage mass sprint, finished 22nd in the second stage as Dygert and Deignan led a group to the line, then Kool triumphed on Sunday's final ride in London, finishing just ahead of Dygert in another all-out sprint.
● Gymnastics ● The U.S. performed strongly at the Pan Am Artistic Championships in Medellin (COL), with a 1-2 finish in the men's All-Around and Tiana Sumanasekera won the women's All-Around in her international senior-level debut.
Tokyo Olympian Yul Moldauer won the men's All-Around over fellow Olympian Shane Wiskus, 84.200 to 82.800, and then Moldauer scored a win on Floor (14.500, with Wiskus third), a bronze on Pommel Horse (13.367, while Alex Young won at 14.300), a win on Parallel Bars (14.567, with Wiskus second: 14.100) and was part of a "sweep" on the Horizontal Bar.
Curran Phillips scored 13.833 to win the Bar final, with Moldauer second (13.600) and Wiskus third (13.533), but not allowed to receive the bronze medal with only two per country allowed.
Daniel Villafane (ARG) won on Rings at 14.133, with Moldauer fourth (13.733). Brazil's Yuri Guimares won on Vault, scoring 14.300.
The U.S. men won the team title on Sunday with 247.499 points to 238.599 for Canada and 234.901 for Brazil.
Sumanasekera scored 53.900 to take the women's A-A gold, with Natalia Escalera (MEX) second at 53.266; Nola Matthews of the U.S. was fourth (52.267).
The U.S. went 1-2 on the Uneven Bars with Matthews (14.000) and Addison Fatta (13.667), on Beam with Sumanasekera scored 13.767 to 13.267 for Jocelyn Roberson, and on Floor with Roberson getting the win at 14.100 to Sumanasekera's 13.567.
Mexico's Alexa Moreno won on Vault, scoring 13.700 with Roberson second at 13.583 and Fatta fifth at 13.100.
The U.S. women were a decisive team winner, scoring 163.700 to 154.698 for Mexico and 150.998 for Canada.
● Judo ● Japan led the IJF World Tour Upper Austria Grand Prix in Linz with three victories, all on the women's side: Kisumi Omori at 52 kg, Momo Tatsukawa at 63 kg and Ruri Takahashi at +78 kg.
There were some well-known winners, including Czech star Lukas Krpalek, the two-time Olympic champ, winning at +100 kg, and Hungary's Krisztian Toth, the Tokyo bronze medalist, won at 90 kg.
Anna Wagner (GER) the 2021 World Champion at 78 kg, won a clash with France's 2019 World Champion Madeleine Malonga in the 78 kg final.
● Shooting ● Italy and Spain took the individual Trap titles at the ISSF Shotgun World Cup in Almaty (KAZ), with Massimo Fabbrizi, 45, the two-time World Champion winning the men's final for Italy over Australia's two-time Olympian James Willett, 46-43.
Spain went 1-2 in the women's final, as Mar Molne Magrina, 21, won her second career World Cup gold with a 42-37 victory against 2015 World Champion Fatima Galvez.
In the Mixed Team final, Kazakhstan's Victor Khassyanov and Mariya Dmitriyenko out-pointed Turkey, 142-140.
● Skateboarding ● At the World Skateboarding Tour in San Juan (PUR), Brazil's Luigi Cini came out on top in the men's final at 85.74, beating Tom Schaar of the U.S. (84.51), Australia's Tokyo Olympic champ Keegan Palmer (84.13) and Americans Tate Carew (83.19) and Gavin Bottger (82.21). Cini threw down his 85.74 score on his first run and no one could catch him; Palmer took only his first run and withdrew due to injury.
Britain's 14-year-old sensation, Sky Brown, won the women's final, leading after round one at 85.22, then scoring 87.45 in the second round and an unbeatable 90.84 in the final round to win easily. Australian Ruby Trew got second (86.16 in round three) and Brazil's Raicca Oliveira took the bronze with her third-round run that scored 85.17.
● Swimming ● Italy scored a 1-2 finish in the men's Open Water World Cup III in Setubal (POR), with Andrea Manzi getting his first career World Cup gold in 1:52.37.1, just ahead of teammate Marcello Guidi (1:52.47.1). Hungarian stars David Betlehem (1:53:12.1) and last week's winner, Kristof Rasovszky (1:53:18.8) went 3-4, but could not stay with the Italian surge on the fourth lap of five.
The women's win was claimed by France's Caroline Jouisse in 2:01:12.1, less than a second up on Italy's 2017 Worlds bronze medalist Arianna Bridi (2:01:13.0) and Rio 2016 Olympic champ Sharon van Rouwendaal (NED), who tied for second. Rouwendaal led on the final lap, but Jouisse final surge propelled her to the win.
Hungary, with Rasovszky, Betlehem, Bettina Fabian and Mira Szimcsak won the Mixed 4×1,500 m in 1:24:13.1 over Italy (1:25:32.6).
● Triathlon ● Britain swept the World Triathlon Series in Cagliari (ITA), with Olympic silver winner Alex Yee taking the men's race and Georgia Taylor-Brown, the 2020 World Champion and also Olympic silver medalist in Tokyo.
Yee trailed out of the water and was in contention after the 38 km bike phase, but was superb in the run, with the fastest 10 km of the race at 28:31. That was enough to give him a 1:36:28 to 1:36:33 win over New Zealand's Hayden Wilde, the winner in Yokohama earlier in May. The 2022 World Champion, Leo Bergere, led three straight French in 3-4-5 in 1:37:04, then Dorian Coninx (1:37:15) and Pierre Le Corre (1:37:21).
Taylor-Brown was also behind after the 1,500 m swim, but had the second-fastest bike section to be among the leaders at the transition. She then simply ran away, with the fourth-fastest run in the field (32:45) to win in 1:46:43 to 1:47:06 for France's Emma Lombardi.
American Taylor Spivey got third (1:47:36), with teammate Summer Rappaport seventh (1:48:12). Former World Champion Katie Zaferes was 12th.
¶
You can receive our exclusive TSX Report by e-mail by clicking here. You can also refer a friend by clicking here, and can donate here to keep this site going.
For our updated, 651-event International Sports Calendar (no. 2) for 2023 and beyond, by date and by sport, click here!