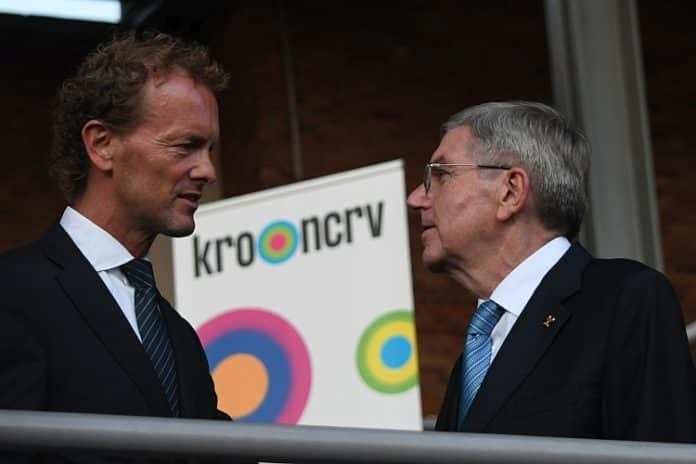 ★ The Sports Examiner: Chronicling the key competitive, economic and political forces shaping elite sport and the Olympic Movement.★
★ To get The Sports Examiner by e-mail: sign up here! ★
≡ THE 5-RING CIRCUS ≡
1. UCI authorizes Russian and Belarusian re-entry as of 1 June
2. Van de Vorst to leave Dutch fed, focus on World Boxing
3. U.S. Olympic star sprinter Bowie dies at 32
4. Paris 2024 would-be "un-volunteers" detail possible acts
5. Perurena re-elected as World Games head, 30 sports in '25
The Union Cycliste Internationale approved the return of Russian and Belarusian athletes to competition as soon as 1 June as neutral athletes, after a check of their public communications, of any type, about the Ukraine invasion since its inception in February 2022. The UCI is also taking heat for its transgender regulations, with American Austin Killips – a transgender woman – winning the women's Tour of the Gila in New Mexico on Sunday. Dutch boxing federation chief Boris van der Vorst will step down as federation chief at the end of this month in order to concentrate on the development of the new World Boxing group in an attempt to keep boxing on the Olympic program. The International Boxing Association, which says it champions the right of all athletes from any country to compete, was rebuked by the Kosovo Olympic Committee after it said that Uzbek authorities would not issue visas for their fighters to compete in the ongoing men's World Championships in Tashkent. Sad news of the passing of 2016 triple Olympic medal winner Tori Bowie, found dead in her Florida home, at age 32. The continuing turmoil in France over the increase of the retirement (pension) age from 62 to 64 has created an underground of "un-volunteers" who will seek to damage the 2024 Olympic Games in Paris – if they are selected – as a continuing protest against French President Emmanuel Macron. Spain's Jose Perurena was elected to a third term as the head of the International World Games Association; also approved were 30 sports for the program of the 2025 World Games in China.
● Panorama: World University Games (remembering the 1923 origins of the concept) = Athletics (Amos suspended for three years) = Fencing (Ukraine files at CAS against FIE allowing Russian return) = Snowboard (U.S.'s Diebold retires at 36) = Volleyball (Brazil's Wallace suspended five years for inciting violence) = Weightlifting (IWF releases doping control figure for 2022) = Wrestling (Mensah-Stock retires, joining WWE) ●
1.
UCI authorizes Russian and Belarusian re-entry as of 1 June
The Management Committee of the Union Cycliste Internationale announced that Russian and Belarusian athletes may be allowed back into international competitions as neutrals as of 1 June 2023. In specific, the UCI decided:
"To authorise, under strict conditions, the participation of athletes of Russian and Belarusian sporting nationality in events on the UCI International Calendar, including UCI World Cup and UCI Nations Cup events and UCI World Championships, as 'neutral individual athletes', without them having any involvement or association with the Russian Federation or the Republic of Belarus, their National Federation or National Olympic Committee. Any person wishing to obtain the status of 'neutral individual athlete' will have to apply to the UCI within the framework of a procedure which will lead, if the conditions are met, to the issue of this status by the UCI. The possibility of participating in international competitions as a 'neutral individual athlete' will become effective from 1st June."
A supplementary document outlines the neutrality requirements, which include the now-familiar "No link with the Russian or Belarusian military or with any other national security agency" and "No active support for the war in Ukraine," there was this regarding communications:
"Riders and support personnel must refrain from any activity or communication, either verbal, non-verbal or written, associated with the national flag, anthem, emblem or any other symbol of the Russian Federation, the Republic of Belarus, their National Federations or NOCs, or from any support for the war in Ukraine in any official venue or in the media (including interviews, social media, retweets and reposted messages on Twitter, forwarded messages, etc. ) at any time since the beginning of the military aggression in Ukraine by the Russian Federation and the Republic of Belarus.
"Riders and support personnel must not make any public statements or comments or take any action or behave in any way that may prejudice the interests of the competition, its integrity or the participant's neutrality required as a condition for participation."
This will requite research on athlete and staff applicants going back to February 2022, when the invasion started. The UCI's regulations state that it will "confirm if the status of Individual Neutral Athlete can be granted within a deadline of 30 days."
The UCI's opening to Russian and Belarusian athletes and support personnel also applies to race officials, who can now also apply to return to working at cycling events.
The UCI's actions are hardly unexpected, given that it has allowed Russian and Belarusian riders for road cycling teams to continue to participate on a neutral basis, but has outlawed teams organized or sponsored by Russian or Belarusian companies.
The federation included the usual condemnation of the Russian invasion of Ukraine and pledged further assistance to Ukraine cycling, including CHF 100,000 to the Ukrainian Cycling Federation, and continuing credits of up to CHF 600,000 for technical support.
¶
The UCI is also under pressure after American transgender racer Austin Killips came from 12th to first by winning last Sunday's fifth and final stage of the Tour of the Gila in New Mexico.
The Tour of the Gila, held for women beginning in 2000, is an important American stage race, on the fourth level of the UCI calendar (category 2.2). The organizers posted a notice that reads in part:
"This race marks the first time an openly trans athlete (Austin Killips from Amy D Foundation) has won a UCI Women's Stage Race. Tour of the Gila is a UCI sanctioned and regulated race; as such, Tour of the Gila is required to follow the rules and regulations set forth by UCI. All rules and regulations on racer eligibility and classification are set forth by the UCI and USA Cycling and must be followed by event organizers.
"Tour of the Gila recognizes the passionate debate regarding rider eligibility and classifications of riders set by UCI and USA Cycling and encourages UCI and USA Cycling to host an open discussion on the matter. All comments regarding rider eligibility should be directed to UCI and USA Cycling."
According to a statement sent to CNN by the UCI:
"The UCI acknowledges that transgender athletes may wish to compete in accordance with their gender identity. The UCI rules are based on the latest scientific knowledge and have been applied in a consistent manner."
The statement implies that Killips, 27, originally a skier who has been riding as a female since 2019, meets the UCI's requirements for transgender participation, with serum testosterone levels of 2.5 nmol/L or less for at least 24 months prior to competing.
Her win has been met with substantial criticism, including from Canadian Alison Sydor, a three-time World Champion in Mountain Bike:
"The current UCI rules that allow males to compete in female cycling events are not fair to female athletes. Time for UCI to admit this current rule situation is unsustainable and leaving a black mark on cycling as a fair sport for females."
Killips plans to continue on.
2.
Van de Vorst to leave Dutch fed, focus on World Boxing
Boris van der Vorst announced that he will conclude 10 years as the President of the Nederlanse Boksbond – the Dutch national boxing federation – on 29 May at the General Assembly. The future of Olympic boxing is the reason. He explained in a posted letter, reading in part:
"So why have I decided to say goodbye? This has to do with the fact that in recent times, I had to increasingly focus on international developments. After the judging scandals at Rio 2016, the international association was under a magnifying glass of its partners and stakeholders, including the IOC. The leadership culture within the [International Boxing Association] caused great concern for the IOC, as well as for many National Federations, particularly in the areas of sports integrity, governance, and financial management. The election of the controversial AIBA President, Gafur Rahimov [UZB], lead to the suspension of AIBA's recognition by the IOC in 2019.
"Since then, the situation has only deteriorated, and that is why a group of like-minded representatives of National Federations from around the world, have been trying to change the leadership culture within the IBA. Unfortunately, we have not succeeded until now and I am concerned that the Olympic recognition of the IBA is about to be permanently lost. This would be a doomsday scenario, an outright nightmare for our sport. For this reason, World Boxing was presented to the global sports community on April 13, where I am among the Interim Executive Board Members, together with leaders from GB Boxing, USA Boxing, and others.
"World Boxing aims to save the Olympic-style boxing for the future generations by securing its place within the Olympic Family. That requires an immense investment of time and attention. For that reason, I have decided to step down as the President of the Dutch Boxing Federation and allow others to stay focused on driving Dutch boxing forward."
USA Boxing announced on 26 April that it was leaving the IBA and applying for membership in the new World Boxing group. The IBA has reacted furiously, but continues on suspension by the IOC.
Boxing's situation within the Olympic Movement remains precarious. The sport is on the Paris 2024 program, but is being managed by the IOC, without input from the IBA, which has told its registered officials not to become involved in the Paris 2024 qualifying events run by the IOC. Further, the sport is not on the program for the 2028 Games in Los Angeles, with its fate to be decided this year. The IOC has been clear it has no qualms with the sport, but with the IBA.
The next expected actions will be the withdrawal of additional federations from the IBA and affiliation with World Boxing, but there is no established timetable for this.
¶
The IBA is also being embarrassed during its current men's World Championships in Uzbekistan by the apparent refusal of the Uzbek government to allow fighters from Kosovo to compete.
IBA President Umar Kremlev (RUS) told a news conference on Monday, "I don't have the right to prohibit anything for the athletes. All I have to do is to provide money, if needed, and assistance for athletes to come and participate in tournaments."
But the Kosovo National Olympic Committee tweeted the same day:
"For the third time in a row, #Kosovo's boxing team lost the World Boxing Championships, due to politics.
"This time, Uzbekistan did not issue visas for our team.
"We lost: Serbia [men's World Champs] 2021, India [women's World Champs] 2023 & Uzbekistan [men's World Champs] 2023.
"Are you @IBA_Boxing or IBA Politics?"
The Kosovo issue has been watched closely by the International Olympic Committee, which recognized Kosovo in 2014, and could be another problem for the IBA in its continuing struggle to obtain re-integration into the Olympic Movement.
3.
U.S. Olympic star sprinter Bowie dies at 32
Startling sad news that three-time Olympic medal winner Tori Bowie has passed at just 32 years old.
The Associated Press reported that police in Orlando, Florida were called Tuesday afternoon "for a well-being check of a woman in her 30s who had not been seen or heard from in several days."
The Orange County Sheriff's Office stated that Bowie "was found dead in the home. There were no signs of foul play."
Bowie, the NCAA indoor and outdoor women's long jump champion in 2011 for Southern Mississippi, exploded on the international scene in 2013 and led the world 100 m list in 2014 at 10.80 for 100 m.
Originally a basketball player, she won the Worlds 100 m bronze in 2015, the Olympic 100 m silver and 200 m bronze in 2016 and ran on the gold-medal-winning U.S. 4×100 m team, won the 100 m and 4×100 m golds at the 2017 Worlds. She suffered a bad leg injury at the 2018 Pre Classic and was never the same, although she was fourth in the long jump at the 2019 World Championships.
She won three U.S. national titles, in the 100 m in 2015-17 and the 200 m in 2016. Bowie competed in just four meets in 2021, with little success, and one meet in 2022, a 200 m race in Florida in June. She had lifetime bests of 10.78 for the 100 m in 2016 (no. 17 all-time) and 21.77 for the 200 m in 2017 (no. 18).
After her Olympic success in Rio, she was an in-demand fashion model, and was known for her bubbly, positive personality. No cause of death was provided.
4.
Paris 2024 would-be "un-volunteers" detail possible acts
The Associated Press posted an interesting story on Wednesday about the so-far loosely organized, mostly underground group that wants to join the Paris 2024 organizing committee as members of the 45,000-strong volunteer corps, and then sabotage the Games.
Bernard Gauvain, 68, was noted as one member of the anti-Games group; the story included:
"They're considering an array of possibilities: not turning up to leave organizers short-handed; turning up but working badly and slowly; unfurling banners inside the Olympic perimeter; sabotaging equipment; using the opportunity to lobby other volunteers; or going to a labor court afterward to argue they should have been paid for their help. Gauvain even mentioned that some suggest gluing venue doors shut."
He has been highly active on Twitter, so he knows he will not be selected as a volunteer, but plans to make trouble any way he can:
"The Olympic Games are Macron's pride and joy. So it's a way of stinging him."
The Paris organizers announced that more than 200,000 applications have been received for the expected 45,000 positions, and an interview process will be part of the selection effort.
Most of the animus about the Games is related to the change in retirement age in France from 62 to 64 pushed through by President Emmanuel Macron on funding concerns, which has caused considerable turmoil in the country.
There are also civil liberties worries concerning the use of advanced surveillance technologies which were approved by the French legislature for the Games, but will also remain in place in 2025.
The Paris 2024 organizers have had budget worries for some time, but the Games project has generally been popular in France. But as a major public spectacle, the Games is also a long-standing target for those airing their favorite political issues.
5.
Perurena re-elected as World Games head, 30 sports in '25
Spain's Jose Perurena was elected unopposed for a third term as the President of the International World Games Association (IWGA) during its Annual General Meeting in Madrid.
Perurena, 78, also served as the head of the International Canoe Federation from 2008-21 and was first elected to lead the IWGA in 2014.
The next World Games will be held in Chengdu (CHN) in 2025 and will include a maximum of 5,000 athletes spread across at least 30 sports, to include:
Air Sports, Archery, Billiards Sports, Boules, Canoe, DanceSport, Finswimming, Fistball, Floorball, Flying Disc, Gymnastics, Beach Handball, Ju-Jitsu, Karate, Kickboxing, Korfball, Lacrosse, Life Saving, Muaythai, Orienteering, Powerlifting, Racquetball, Roller Sports, Sambo, Softball, Sport Climbing, Squash, Tug-of-War, Waterski and Wushu.
The Chengdu organizers could also ask for the inclusion of additional sports, to be chosen from Flag Football, Cheerleading, Dragon Boat, Duathlon, and Freestyle Inline skating.
The 2022 World Games was held in Birmingham, Alabama. The World Games has been an important demonstration platform for sports that would like to be considered for the program of the Olympic Games.
≡ PANORAMA ≡
● World University Games ● The 100-year anniversary of the event which eventually led to the World University Games came on Wednesday, 3 May, exactly a century after the first "Jeux Mondiaux Universitaires" in Paris.
The International University Sports Federation (FISU) noted the anniversary of the concept championed by French sports leader Jean Petitjean.
The four-day event included only track & field (18 events) and fencing (2), with American Olympic star Charley Paddock winning the 100 m (10.4) and 200 m (21.0). Dutch runner Adriaan Paulen, who later went on to head the IAAF from 1976-81, won the 400 m in 51.2 and was second at 800 m in 1:57.2.
The World University Games as known today and under the governance of FISU – established in 1949 – was first held in 1959 in Turin, Italy.
● Athletics ● Botswana's Nijel Amos, the 2012 Olympic silver medalist at 800 m and still the equal-third-fastest man in history at 1:41.73, has been banned by the Athletics Integrity Unit for three years.
A three-time Olympian at 800 m, Amos' sample from a test on 4 June 2022 turned up evidence of GW1516, a prohibited hormone modulator. The test of his "B" sample confirmed the positive and he approved an "Admission of Anti-Doping Rule Violations and Acceptance of Consequences Form" on 10 April 2023, which reduced his sanction from four years to three.
Now 29, he was a finalist at the Tokyo Olympic Games in 2021 (8th), and will be eligible again on 11 July 2025.
● Fencing ● The FIE Congress may have approved the return of Russian and Belarusian athletes as neutrals, but the Ukrainian Fencing Federation is not amused and has registered an appeal:
"The Court of Arbitration for Sport (CAS) has registered the procedure CAS 2023/A/9522 Fencing Federation of Ukraine v. International Fencing Federation (FIE). The arbitration is at an early stage. No further information is available at this time."
In April, Mykhailo Ilyashev, head of the Ukrainian federation, explained that the FIE Congress decision "was adopted with numerous violations of the FIE Statutes, which raises many questions about its legality."
● Snowboard ● Sochi 2014 Olympic Snowboard Cross bronze medal winner Alex Diebold announced his retirement from competitive snowboarding at age 36.
He wrote on his Instagram page on Monday:
"After almost 20 years on the @ussnowboardteam I still don't really know what to say other than thank you. Thank you to my family. Thank you to my teammates, coaches, team managers, trainers, doctors, and physios. Thank you to my competitors. To the people that tore me down and to the people who built me back up – you have taught me things I couldn't learn anywhere else. And for all of this, I am grateful. I love snowboarding now was much as I did in 1990 when I started, and I can't wait to see what new riding adventures await. I'm both terrified and excited for whatever is next."
In addition to his Sochi Olympic bronze, he appeared in five World Championships, with a best finish of 15th in the individual SnowCross event and seventh in the Team event. He won six World Cup medals: three silvers and three bronzes between 2013-20.
● Volleyball ● Wallace de Souza won an Olympic silver as an Opposite on the Brazilian team in London 2012 and a gold in front of adoring home fans at Rio in 2016, plus three Worlds medals in 2014-18-22 (0-2-1). Now he is suspended.
De Souza, 35, was banned for five years by the Brazilian Olympic Committee for inciting violence. In February:
"Wallace posted stories on Instagram that featured guns and shooting clubs. In one of the posts, he asked his followers if he should use one of the guns to shoot [Brazilian] President Lula. The post had huge negative repercussions and generated criticism not only in the world of sport, but also in politics.
"Wallace deleted the post and apologized the next day."
He supported prior president, Jair Bolsonaro, who was beaten by Lula in the last election.
● Weightlifting ● The International Weightlifting Federation posted a graphic which summarized its anti-doping results from 2022, as provided by the International Testing Agency.
In short, 2,725 tests were collected from 1,333 athletes from 124 countries. Of these, 65 adverse findings were returning, with one doping positive confirmed so far.
Without clarity on the 64 adverse-finding cases, it's impossible to know how good or bad the doping situation is in the sport, which is trying to recover from decades of drug-use problems. It has been left off the 2028 Los Angeles Games program, but could be returned this year.
● Wrestling ● With nothing left to conquer in the Olympic wrestling world, American star Tamyra Mensah-Stock confirmed that she has retired and signed with the WWE.
Mensah-Stock, 30, won the women's 68 kg gold in Tokyo in 2021 and also won two World Championships golds, in 2019 and 2022, plus bronzes in 2018 and 2021. ESPN reported:
"The Texas resident will start in WWE's developmental program. Mensah-Stock reported Monday to the WWE Performance Center in Orlando, Florida, she told ESPN. Her goal is to make WWE's main roster within one year."
¶
You can receive our exclusive TSX Report by e-mail by clicking here. You can also refer a friend by clicking here, and can donate here to keep this site going.
For our updated, 651-event International Sports Calendar (no. 2) for 2023 and beyond, by date and by sport, click here!