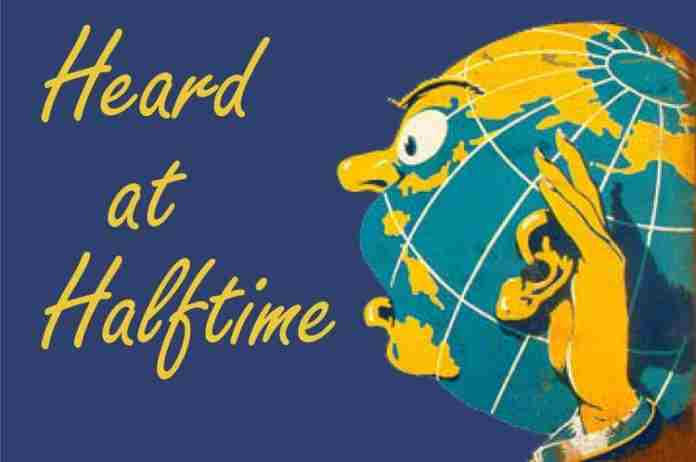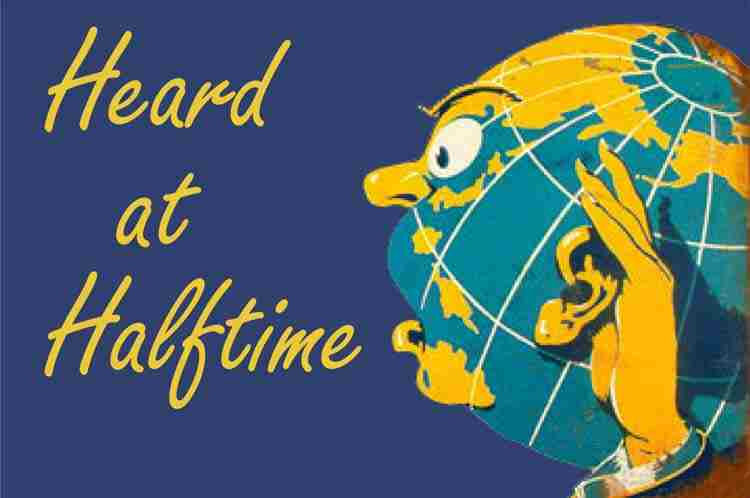 (For our Highlights of the weekend's top competitions, click here)
News, views and noise from the non-stop, worldwide circus of Olympic sport:
≡ SPOTLIGHT ≡
American Erik Kynard was formally awarded the gold medal for the 2012 London Olympic high jump on Friday (12th) by the International Olympic Committee, after the on-field winner, Russian Ivan Ukhov, was disqualified for doping.
Kynard and Ukhov were the only ones to clear 2.33 m (7-7 3/4), but Ukhov then cleared 2.36 m (7-8 3/4) and 2.38 m (7-9 3/4) for the victory. Kynard missed once each at 2.36-2.38-2.40 m (7-10 1/2).
Ukhov's disqualification moved up the three bronze medalists to silver: Mutaz Essa Barshim (QAT), Derek Drouin (CAN) and Robbie Grabarz (GBR), each clearing 2.29 m (7-6).
This was one of five medal re-allocations; also:
● Athletics/Women's high jump: Russian Svetlana Shkolina was disqualified as the bronze medalist and Ruth Beitia (ESP) was advanced to the bronze medal. American Chaunte Lowe moved up to fifth.
● Athletics/Women's long jump: This event was won by American Brittney Reese, but placers 4-5-7 were disqualified: Ineta Radevica (LAT), Anna Nazarova (RUS) and Nastassia Mironchyk (BLR).
● Canoe-Sprint/Men's C-1 200 m: Lithuania's Jevgenij Shuklin was disqualified after winning the silver medal. Russian Ivan Shtyl moves up to silver and Alfonso Benavidez (ESP) to bronze.
● Wrestling/Men's Freestyle 120 kg: Gold and silver winners Artur Taymazov (UZB) and Davit Modzmanashvli (GEO) were both disqualified. Third-placers Komeil Ghasemi (IRI) and Russian Bilyal Makhov were moved up to be co-winners, but Makhov is currently serving a doping suspension into 2024 and will not be awarded his medal while suspended!
≡ THE 5-RING CIRCUS ≡
● Games of the XXXII Olympiad: Tokyo 2020 ● The IOC's Olympic Solidarity Commission reviewed the Tokyo 2020 support program, which sent $47 million to 186 National Olympic Committees to assist 1,836 athletes. The Olympic Solidarity scholarship program offered direct financial help to 827 athletes (465 men and 362 women).
An additional $28.5 million in post-Games Tokyo 2020 support for the NOCs was approved, along with about $5 million to the NOCs for Beijing 2022 preparations impacted by Covid-19.
● Games of the XXXVI Olympiad: 2036 ● Thomas Weikert, the former head of the International Table Tennis Federation and a leading candidate to be the head of the German National Olympic Committee (DOSB) said in an interview that he is in favor of a German bid for the 2036 Olympic Games.
Speaking to the ARD national network's "Sportschau" program, Weikert, 59, said (computer translation of the original German):
"[W]e have to apply as soon as possible, also for 2036. I know that there are discussions about whether to apply for 2036 against the background of Berlin 1936. But I am of the opinion: yes! You have to portray the image of Germans well, and work precisely to ensure that we portray ourselves well abroad. So the answer is clear: Paralympic Games, Olympic Games should come to Germany as soon as possible."
He was not so sure about whether Berlin should be Germany's candidate city, but the DOSB was surprised by the fats-tracked selection of Brisbane for 2032. The DOSB election comes on 4 December.
● XXIV Olympic Winter Games: Beijing 2022 ● Polish luger Mateusz Sochowicz was expected to be released from the University Hospital in Yanqing (CHN) today (15th) after suffering left kneecap and right leg injuries when a gate was left open on the Beijing 2022 sliding track.
The Federation Internationale de Luge indicated that the accident was caused by "human error" and that the federation, "together with the track operator in Yanqing, has introduced additional track safety measures for Beijing 2022 after the Sochowicz accident."
¶
The Beijing 2022 organizers announced that two foreign luge racers tested positive for Covid-19 during the test-event period.
More than 1,500 athletes and coaches have come to China to try out the 2022 Winter Games facilities. The two infected athletes are asymptomatic and have been allowed to train, but have been placed in separate accommodations.
● XXVI Olympic Winter Games: 2030 ● Japan's regional bid for the 2030 Winter Games, centered on Sapporo, but also including events at the 1998 host Nagano, is being reviewed to reduce the total budget for the event by as much as 20 percent.
Cost reductions of ¥90 billion (~$790 million) are being sought, with the total cost of the Games down to ¥280-300 billion ($2.54-2.63 billion U.S.). The prior budget was ¥310-370 billion ($2.72-3.24 billion U.S.).
This is also considerably less than the 2014 projection for a possible 2026 Winter Games of ¥453.7 billion ($3.98 billion U.S.).
Observed: The Sapporo bid for 2030 needed to come down in price, especially if Salt Lake City gets into the 2030 race, with no venues to build and a total budget of perhaps $2.1-2.2 billion. With the Barcelona-Pyrenees bid suffering from political infighting in Spain and public interest in a Vancouver bid waning, Sapporo's chances look promising … except in comparison to the Utah opportunity.
A Salt Lake City delegation will visit the IOC late this month to learn more about the IOC's vision for future Winter Games. If the ongoing dialogue with the LA28 organizers yields an agreement to allow SLC to bid for 2030, it will become the front-runner.
● World University Games ● Korea's bid for the 2027 World University Games is being promoted through a cooperative Chungcheong Megacity Bid Committee, which incorporates the governments of the Daejeon, Sejong and North and South Chungcheong provinces and the heads of Chungnam State University, Chungbuk Provincial University and Korea National University of Welfare.
Although the filing deadline for the 2027 WUG is open into January, the race is shaping up between Chungcheong and the Raleigh-Durham-Cary region of North Carolina in the U.S. Korea hosted the 2003 WUG in Daegu and 2015 in Gwangju; the U.S. has held the summer WUG once, in 1993 in Buffalo.
Korea is busy in the bid sector, with Gwangju and Daegu announcing last May a joint bid to host the 2038 Asian Games. It would be the fourth Asian Games to be held in Korea, with the last in Incheon in 2014.
¶
The Lake Placid organizers for the 2023 Winter World University Games announced a moose called "Adirondack Mac" as its mascot. It was designed by Kristina Ingerowski, a sophomore at the Fashion Institute of Technology of New York.
● International Olympic Committee ● Agence France Presse reported that the IOC is in discussions with Riot Games, owner of the popular "League of Legends" video game about some future form of participation within a future Olympic program.
The IOC has so far shown interest in online versions of actual sports, but the status of e-sport programs will be heightened next year at the 2022 Asian Games in Hangzhou (CHN), where eight e-sport medal events will be held – a first – including FIFA, Dota 2, Hearthstone, League of Legends, PUBG Mobile, Street Fighter V, Arena of Valor and Dream of the Three Kingdoms 2.
The Korea-based International eSport Federation is holding its 13th World Championships this week (14-19 November) in Eilat (ISR), with 164 athletes from 11 nations (out of 85 who tried to qualify) competing across four games: Dota 2, CS:GO, Tekken 7 and eFootball PES Series.
Observed: The IOC has steadfastly refused to get involved with games in which violence is depicted or used, so it will be fascinating to see if the talks with the Riot Games folks really get anywhere, or if the IOC backs down. The chatter is all about eSports possibly being included in the 2028 Los Angeles Games, but the LA28 organizers already have a long list of possible added sports starting with current or recent Olympic sports such as baseball and softball, skateboarding, surfing, sport climbing, karate, break dancing and many more trying to break in, such as cricket, flying disc (started in the L.A. area!), mixed martial arts, sambo, teqball and others.
As for the 2021 IESF Championships in Eilat, it's strictly a tourism play for the Israelis. Said Mayor Eli Lankry, "We are excited to host the IESF World Championship and are proud of the choice of Eilat as the host city, reaffirming Eilat's position as a leading tourism destination. Hosting the IESF World Championship will empower Eilat as an international sports city, as a leading Israeli host city for prestigious events and competitions and as an example to the hosting capabilities of Israel."
● National Olympic Committees ● Reuters reported that Belarusian police "detained" 2019 World Freestyle Aerials Champion Aliaksandra Ramanouskaya last Wednesday for allegedly violating protest laws, then released after imposing a fine a day later.
The Belarusian Sport Solidarity Foundation said that she was arrested in Minsk and fined the equivalent of more than $1,000.
Belarus has been in a state of confusion for more than a year since the disputed re-election of Alexander Lukashenko for a sixth term in August 2020. Belarusian athletes have been vocal in the opposition to Lukashenko and have been harassed; the IOC has been investigating the situation for more than a year and has imposed some penalties and is considering more.
● Aquatics ● The chaos involving the Ligue Europeenne de Natation (LEN) continues, with the confederation suspending Portugal and Croatia for a year on 6 November for their use of the LEN logo in a letter calling for the leadership to resign. Today, that action drew a rebuke from FINA, the international federation:
"Following discussion within the FINA Bureau, and with the support of 6 independent legal opinions, the FINA Bureau voted to not recognise the actions taken by LEN for the following reasons:
"1. The actions did not follow correct due process.
"2. The actions were clearly politically motivated and driven by self interest.
"3. The actions go against the ethos of the new FINA leadership which embraces inclusivity, equality, integrity and democracy."
Further, FINA confirmed voting rights for both national federations not only at FINA's own Congress coming up in December, but also confirmed the LEN Extraordinary Elective Congress in Germany next February. LEN member federations had successfully petitioned for a special election Congress under the LEN regulations, but had been ignored by the leadership, despite a vote of no-confidence against the current officers.
● Athletics ● "I listened to the bosses and decided to do as they said."
That was suspended star Russian high jumper Danil Lysenko, 24, who was suspended through next August for collaborating in a scheme with Russian Athletics Federation officials to cover up a "whereabouts" failure. The scandal costs the Russian federation – close to being reinstated by World Athletics – to continue to be under sanction.
Reuters reported he is currently driving a truck for a Moscow construction company, but cleared 2.15 m (7-0 1/2) last month in Moscow. He apologized for the hurt he caused others, but explained that he feared repercussions if he reported on the scheme when it happened. Five federation officials were suspended and Lysenko's ban was shortened by two years.
Lysenko still has hopes of returning to the sport and possibly competing in Paris in 2024.
● Gymnastics ● Olympic gold medalist Suni Lee, 18, winner of the Tokyo All-Around, was pepper-sprayed in a racist attack in October while in Los Angeles. In a story on PopSugar, Lee was
"waiting for an Uber after a night out with her girlfriends, who are all of Asian descent, they were startled by a group speeding by in a car yelling racist slurs like 'ching chong' and insisting they 'go back to where they came from.' One passenger, Suni says, sprayed her arm with pepper spray as the car sped off."
Lee won the All-Around, took silver in the Team competition and won a bronze on the Uneven Bars. She says she let the incident go, as it came and went so quickly.
● Modern Pentathlon ● A "5th Discipline Working Group" will be created to figure out how to replace riding within the Modern Pentathlon, and a two-and-a-half hour conference call with current modern pentathletes was held with the UIPM leadership last Friday.
The UIPM leadership explained why a change from riding is needed and "A Q&A session enabled the athletes to air their views and discover more about the context and timeline of the decision to replace Riding in Modern Pentathlon after the Paris 2024 Olympic Games – and the criteria for the discipline that will replace it."
Individual athletes and federations continue to publicly criticize the decision to replace riding, as opposed to changing the way it is operated within the event.
In Hungary – with a strong pentathlon program – "Over a hundred athletes, trainers, referees, and sports representatives gathered on Friday in Budapest to protest against a recent decision by the International Modern Pentathlon Union (UIPM) to remove horse riding from pentathlon's Olympic program after 2024." Similar calls have come from Pentathlon Canada noted that "it concerns us that the voice of the global community was not included."
The Swedish federation sent an open letter to the UIPM, including, "We are convinced that a solution that will preserve the horse arrangement can be found. We also agree with the practitioners that if the current UIMP management considers itself incapable of doing so, it is – for the good of our sport – time to resign and hand over the baton to someone else."
● Rowing ● Tokyo Olympic silver medalist and two-time World Champion Kjetil Borch (NOR) complained on his Instagram account about being disqualified by World Rowing after winning the men's Single Sculls at the 2021 World Cup III race in Saubaudia, Italy.
Borch was sanctioned for "violation of the Commercial Publicity, Sponsorship, Advertising and Identifications Rules," and World Rowing, in an unusual reply post, noted:
"Mr. Borch has violated these rules on three previous occasions at World Rowing events, from 2018 to 2021 (2018 European Championships, 2018 World Championships and 2021 World Rowing Cup I). Mr. Borch was informed and notified twice in writing and once verbally in a Zoom meeting with the World Rowing Athletes Commission Chair and the Executive Director. The Executive Committee twice gave him the chance to explain his actions and, based on his explanations, decided that a warning was the appropriate sanction in these cases: but with a strong statement that any further violations would result in penalties, no longer warnings. As a consequence, the violation in Sabaudia at the World Rowing Cup III resulted in a relegation."
A separate letter was posted by the World Rowing Athletes Commission, which supported the federation's position.
Stay tuned on this one.
● Weightlifting ● The infighting over the crucial International Weightlifting Federation elections coming up in December continues to boil, as Russian Weightlifting Federation chief Maxim Agapitov promises to challenge restrictions against Russian candidates in the elections.
According to the Russian news agency TASS, "The [IWF] Eligibility Determination Panel argues that Russia's candidates are temporarily not eligible to contest seats on the IWF committees, commissions and the executive board. The EDP claims that Russian weightlifters have committed six or more violations of antidoping rules over a period of four years that resulted in disqualifications for more than three months."
Agapitov, the 1997 World Champion at 91 kg, was suspended for doping in 1994, but says that now – under his leadership – "The RWF today is the world's leader in the struggle against doping."
Agapitov would have to file his claim with the Court of Arbitration for Sport quickly, as the IWF elections are scheduled for 20-21 December in Tashkent (UZB).
¶
Here's how NOT to promote your sport. The Pan American Weightlifting Championships apparently took place in Guayaquil, Ecuador from 1-7 November. What appeared to be a few video highlights were posted on the Pan American Weightlifting Federation's Twitter page.
But as of today (15th), more than a week after the scheduled end of the event, NO results have been posted.
Observed: This is how a sport implodes, when even simple things are overlooked, or go uncared for. Certainly many lifters won medals and should be recognized. Nope.
Only a small thing – just a continental championship – but yet another reason to question why a sport this incompetent should be on the Olympic program. And this has nothing to do with doping.
≡ SCOREBOARD ≡
● Curling ● The U.S. Olympic Team Trials in Curling are underway in Omaha, Nebraska, with six men's and six women's teams trying for an Olympic berth in Beijing in February. A double round-robin schedule precedes the playoffs, with the concluding matches on the 21st.
Defending Olympic champion John Shuster is back with three members of his gold-medal squad in Matt Hamilton and John Landsteiner, plus newcomer Chris Plys, who just won the U.S. Olympic Mixed Doubles Trials with Vicky Persinger.
Women's 2018 Trials winner Nina Roth is also back, but this time as a member of Tabitha Peterson's team, instead of as skip.
● Football ● The U.S. men's National Team, now leading the CONCACAF World Cup qualifying standings after a 2-0 win over Mexico, will face Jamaica on the road in Kingston on Tuesday (16th) at 5 p.m. Eastern time. The match will not be shown on English-language television, but streaming on Paramount+. A Spanish-language telecast will be available on Universo.
The U.S. (4-1-2) defeated Jamaica, 2-0, in their first World Cup 2022 qualifier on 7 October in Austin, Texas. Midfielder Weston McKennie (yellow card accumulation) and defender Miles Robinson (red card) were each suspended for one match and will not be available against Jamaica (1-3-3, 6 points so far in World Cup qualifying). .
≡ AT THE BUZZER ≡
Kuwait's Sheikh Ahmad al-Fahad al-Sabah was found guilty of forgery in a Swiss criminal court in September, and while removing himself from his role as an International Olympic Committee member and the head of the Association of National Olympic Committees and Olympic Council of Asia, was re-elected as head of the Kuwait-based Asian Handball Federation in early November (!).
On Friday, Sheikh Fahad stepped down "until further notice" as the head of the AHF, while he appeals the decision against him. This is apparently his last international office within the Olympic Movement.
The AHF will now be led by Japan's Yoshihide Watanabe, the federation's first vice-president. Now you know.
You can receive our exclusive TSX Report by e-mail by clicking here. You can also refer a friend by clicking here, and can donate here to keep this site going.
For our 743-event International Sports Calendar for 2021 and beyond, by date and by sport, click here!