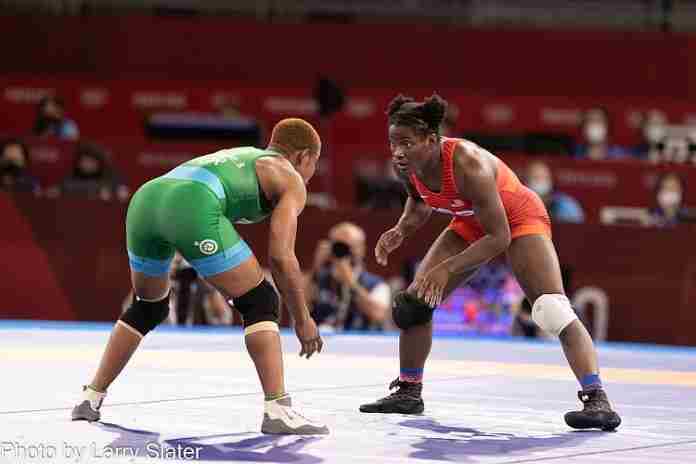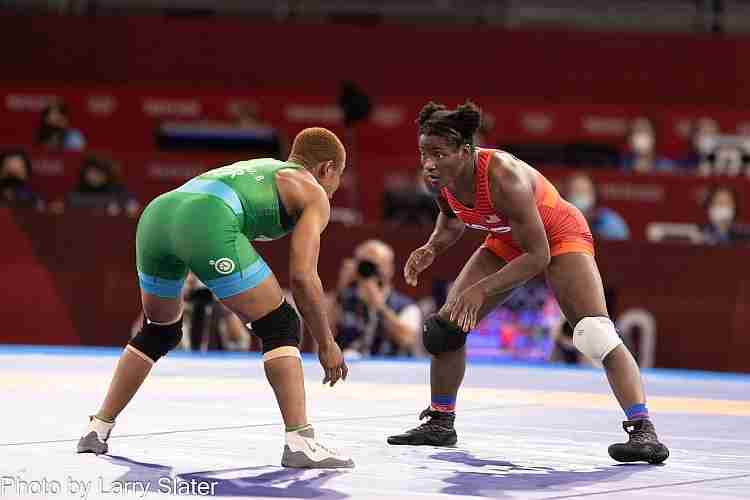 (★ Friends: Very grateful to say that 47 donors have now covered 68% of our current server & support bill. If you like this coverage, please donate here. Your enthusiasm is what motivates this site. Thank you. ★)
= TOKYO 2020 =
From Lane One
As was expected, the Tokyo Games are a major hit on television worldwide, but especially in Japan.
Timo Lumme (FIN), the managing director of the International Olympic Committee's television and marketing services division, told reporters on Tuesday:
"There's been incredibly strong engagement. As of the close of play on Sunday, August the first, 113 and a half million Japanese people had watched some coverage of the Olympic Games. So, translated, that means nine out of 10 Japanese people have watched coverage of the Games.
"The most-watched program, not surprisingly perhaps, was the Opening Ceremony, with 70 million, or 56%of the addressable Japanese population watched the Opening Ceremony."
He noted that there has been strong viewing in many countries:
● "In China, again strong viewership … The highest-rated programs have been the men's 100 m final and the two table tennis Singles finals, which have been the three most-watched sports broadcasts since the FIFA 2018 World Cup final."
● "In Europe, which as you know, has no primetime coverage because of the time zones, broadcast channels have also enjoyed a dominant share of viewing compared to when they didn't have the Games, and in general, 1 in 2 Europeans have followed the Games. Some markets like the U.K. has gone up to two out of three people following the broadcast of the Games."
● "In the U.S. … it's the only program – of course not just sports – with a primetime average of around 17 million spectators or viewers each night. NBC's broadcast is therefore regularly beating the opposition, the other networks, by double or triple the combined amount of all the other three networks' viewership."
● "Similar story in Canada: 56% of the population have watched some of the broadcasts, that translates to 21 million Canadians."
● "Also a stat on India: the only data we have so far is for the Opening Ceremony, where the viewership was six times higher compared to Rio 2016."
Noting that the 1964 Tokyo Games was the first to offer color coverage, Lumme suggested that the this edition, "I suppose you could say were the first streaming Olympic Games."
The total amount of program hours being produced by the Olympic Broadcast Services (OBS) group will be about 30% more than for Rio 2016, or about 9,500 hours in all.
In terms of value, he pointed out that "TV ratings again, generally, are much higher for the channels showing the Games than they would have in an ordinary, non-Olympic year."
Lumme wasn't sure about the total number of global viewers of the Opening Ceremony, but guessed it would be in the 600 million range once all the data was collected.
Asked about the high Japanese viewership in a country where pre-Games polling was highly negative about holding the event there, Lumme observed:
"No, we weren't surprised. … I think we think we were always confident in one thing, is that the athlete stories – sport – will break out, because we know very well what the athletes have been preparing for and what they are capable of and so we were very, very confident that once the Games started, their stories would have huge appeal and would really transcend discussion before, because that's what the Games are about at the end of the day.
"Of course, we never know the exact number, but we were very confident – and I think we've been proved right – that the Japanese people have totally embraced the Tokyo 2020 Olympic Games."
¶
Some 225 events out of the 339 total events in Tokyo (67%) have been completed. The current medals leaders:
1. 73: United States (24-28-21)
2. 69: China (32-21-16)
3. 52: Russian Olympic Committee (13-21-18)
4. 43: Great Britain (13-17-13)
5. 36: Japan (19-6-11)
So far, 84 countries have won at least one medal, compared to 86 for the entire 2016 Games in Rio.
Our exclusive TSX team scoring uses the familiar collegiate system of 10-8-6-5-4-3-2-1 per event to give a much better view of the relative achievements of the teams:
1. 878.0 United States
2. 733.0 China
3. 571.0 Russian Olympic Committee
4. 515.0 Great Britain
5. 460.5 Japan
6. 384.0 Australia
7. 362.0 Italy
8. 351.5 Germany
9. 332.0 France
10. 283.6 Netherlands
11. 247.0 Korea
12. 211.5 Canada
In terms of individual places won, the U.S. has won 163 (across 225 events), followed by China (117), the Russian Olympic Committee (108), Great Britain (100) and Japan (89).
¶
No numbers posted by NBC for Sunday's Olympic primetime programming, for the second day in a row. The average is still over 16 million for the "total audience," but Saturday's numbers were under 15 million in primetime for the first time.
~ Rich Perelman
= RESULTS: TUESDAY, 3 AUGUST =
● Athletics: Men's 400 m hurdles-Pole Vault
One of the most-anticipated showdowns of the Tokyo Games is the men's 400 m hurdles with world-record setter Karsten Warholm (NOR) facing off with American Rai Benjamin.
It was even more, much more, than expected.
Benjamin was in lane five and Warholm in six and the Norwegian took off like a shot – as he always does – building a lead down the backstraight and into the turn.
Warholm came off the turn with a solid lead, but Benjamin was gaining, over hurdles eight and nine. Coming to the 10th, Benjamin nearly caught up, but Warholm had one more burst that sent him across the line, with Benjamin close, but a clear second.
Then the time was posted: 45.94.
Consider that the world record from 1992 to earlier this year was 46.78 by American Kevin Young from Barcelona in 1992. Warholm ran 46.70 on 1 July and has now lowered what was a 29-year-old mark by 0.84 in about a month.
It's a staggering time, one of the greatest performances in any event in history. Right there with Bob Beamon's 8.90 m (29-2 1/2) jump in 1968 or any of Usain Bolt's sprint records. Warholm's time over hurdles would have ranked hin 140th on the 2019 world list for the flat 400 m. Unbelievable, but it happened.
Benjamin was second in an also-unreal 46.17, now the American Record. Brazil's Alison dos Santos was third as expected, in 46.72 – also faster than Young's 1992 time – ahead of Kyron McMaster's fourth-place mark of 47.08, moving him to no. 7 on the all-time list.
How great was this race? Of the eight finishers, six set or equaled their national records.
¶
Not too much suspense in the men's vault, as world-record holder Mondo Duplantis (SWE) made five straight heights, including 6.02 m (19-9) and won the event easily. At 21, you can easily envision him with golds at Paris and Los Angeles; he would only be 32 in Brisbane in 2032!
Behind him, six others cleared 5.80 m (19-0 1/4), but at 5.87 m (19-3), only American Chris Nilsen and Rio champ Thiago Braz could clear and were set for silver and bronze medals.
At 5.92 m (19-5), Nilsen cleared on his second attempt while Braz missed all three and settled for bronze, a remarkable feat as he had been suffering from injuries since his magical night in 2016.
Nilsen moved on to a lifetime best of 5.97 m (19-7), now no. 8 on the all-time U.S. list, with his first-try clearance. Nilsen missed all three tries at 6.02 m, and Duplantis sailed over for the win.
American K.C. Lightfoot was one of those who cleared 5.80 m and settled for a tie for fourth, pretty good for the U.S., which was without World Champion Sam Kendricks due to Covid.
● Athletics: Women's 200 m-800 m-Long Jump-Hammer
Jamaica's Elaine Thompson-Herah won the 100 m in dazzling fashion and then looked tired on the first round of the 200. She obviously got some rest.
She blitzed the semifinals, posting a brilliant 21.66 for the fastest qualifier. And she had more in the tank, taking the lead off the turn in the final and zooming home to complete a history-making double-double in 21.53, the second-fastest time in history. Only Florence Griffith-Joyner's 21.34 win in Seoul in 1988 is faster.
Behind Thompson was a wild race for second. Jamaica's Shelly-Ann Fraser-Pryce came off the turn in good position, but was passed on the inside by American Gabby Thomas. But in the final 60 m came a rocket in lane five, Namibia's 18-year-old Christine Mboma, who flew past Fraser-Pryce and then Thomas to grab the silver, 21.81-21.87-21.94.
Mboma was supposed to run in the 400 m, but her testosterone levels were above the World Athletics regulations for females in events from the 400 m to the mile. So she moved to the 200 and is now the Olympic silver medalist and the world U-20 record holder. She's no. 20 on the all-time list … and moving up.
Her teammate, Beatrice Masilingi, in the same situation, finished sixth in a lifetime best of 22.28. Shaunae Miller-Uibo, considered a favorite in this event, was eighth in 24.00.
Thompson is the first woman in history to win the 100-200 double twice and has to be considered among the best sprinters in history … when healthy.
¶
If there were any doubts about American teen sensation Athing Mu, they have been answered.
She took the lead right away in the 800 m Olympic final, kept her poise and when the time came to put down the hammer, she ran away from the field to win in 1:55.21, an American Record and now no. 11 on the all–time list. It's the first win for an American in this race since Madeline Manning did it in 1968.
Mu strung out the field coming into the home straight and the sprint finish saw Britain's Kelly Hodgkinson get second in 1:55.88, a national record, with American Raevyn Rogers coming up fast for third in 1:56.81, a lifetime best. Britain's Jemma Reekie was fourth by 0.09 (1:56.90).
As for Mu, her 1:55.21 is slightly faster than Caster Semenya (RSA) winners in the last two OG 800s in 1:56.19 (2012) and 1:55.28 (2016).
¶
Nigeria's Ese Brume took the lead with the sixth jump of the first round at an impressive 6.97 m (22-10 1/2). It looked like the gateway to a plethora of seven-meter jumps, but it didn't turn out that way.
This was a close event, not decided until the final jump, with twists and turns primarily involving Brume, 2012 Olympic champ Brittney Reese of the U.S. and 2019 World Champion Malaika Mihambo of Germany.
Mihambo got out to 6.95 m (22-9 3/4) for second in round two, with Ivana Spanovic (SRB) reaching 6.91 m (22-8) to stand third. Then Reese got going, matching Brume at 6.97 m but taking the lead with a better second jump.
No problem for Brume; she went 6.88 m (22-7) in the fourth round to take the lead with a better second mark. Reese jumped 6.87 m (22-6 1/2) and stayed second.
The strain was showing on a hot day, but Mihambo got a big jump off in the fifth round, with a tiny foul at the board. Reese got going and reached 6.95 m (22-9 3/4) to push Brume to second again with one round left.
American Tara Davis had step problems all day, but managed 6.84 m (22-5 1/4) in the fourth round, but could not improve and finished sixth.
Spanovic did not improve and finished fourth, bringing up Mihambo for her final trial. She hit the board cleanly this time and sailed right at the 7 m mark and when the measurement was posted, it was 7.00 m (22-11 3/4) on the dot. She had the lead.
Brume was game and jumped 6.90 m (22-7 3/4), but did not improve and won the bronze. Reese had good speed on the runway on the final jump of the day, but ended at 6.84 m (22-5 1/4) to win her second Olympic silver in the last two Games.
Mihambo seemed stunned, but after the 2019 world title and now this, she's the world's pre-eminent long jumper.
¶
American DeAnna Price came to Tokyo as the world leader at 80.31 m (263-6). She left in eighth place.
Two-time defending champion Anita Wlodarczyk (POL), 35, won her third Olympic gold by taking the lead in the second round and then upping it in rounds three and four, finishing at 78.48 m (257-6) a seasonal best at just the right time.
Her teammate Malwina Kopron was second going into the sixth round at 75.49 m (247-8), but was passed by a season's best from China's Zheng Wang of 77.03 m (252-8) on her final throw.
This was not an impressive final in terms of marks; Wlodarczyk threw 82.29 m (269-11) in Rio in 2016. And it was an absolute failure for the three American throwers: Price, Brooke Andersen and Gwen Berry.
Price finished eighth in 73.09 m (239-9) – same as she finished in Rio – getting that far on her final throw. Andersen, no. 2 in the qualifying, was 10th at 72.16 m (236-9) and Berry finished 11th at 71.35 m (234-1). Price is 28, Anderson will be 26 later this month and Berry is 32, and Paris is only three years away.
● Boxing: Men's 69 kg
In the 69 kg Welterweight class, Cuba's Roniel Iglesias out-classed 2019 Worlds silver medalist Pat McCormack (GBR) with a unanimous 5:0 decision.
It's the second career Olympic gold in four Olympic starts for Iglesias, now 32, after winning in 2012 at 63 kg (Lightweight) and a bronze at that weight in Rio in 2016.
The bronze medals went to semifinalists Aidan Walsh (IRL) and Russian Andrey Zamkovoy.
● Boxing: Women's 57 kg
Reigning World Champion Nesthy Petecio had faced Japan's Sena Irie before in international competition, defeating her in the 2019 Worlds quarterfinal, 4:1.
But this time, in Tokyo, Irie claimed the Olympic title with a unanimous, 5:0 decision in the final. It topped an amazing run by Irie, just 20, who won her first two bouts by 5:0, then two by 3:2, and overcoming Karriss Artingstall (GBR) in the semifinals. Now she's Olympic champion and part of the best gold-medal haul in Japanese history.
Semifinalists Artingstall and Irma Testa (ITA) received the bronze medals.
● Canoe-Kayak: Sprint-Men's K-1 1,000 m-C-2 1,000 m
In the K-1 1,000 m, the 2019 World Champion, Hungary's Balint Kopasz, was too much for this field, taking the lead in mid-race and rolling to an Olympic-best time in 3:20.643.
He led a 1-2 finish with teammate Adam Varga (3:22.431), who passed Portugal's former World Champion Fernando Pimenta (3:22.478) in the final quarter of the race for the silver.
In the C-2 1,000 m, Cuba's 2019 Worlds silver winners Serguey Torres and Fernando Jorge were too much for this field. They sat second to China's favored Hao Liu and Hao Wang for the middle of the race, then moved ahead in the final quarter to win with an Olympic-best 3:24.995 to 3:25.198.
Germany's Sebastian Brendel and Tim Hecker took the bronze in 3:25.615; Brendel won his fourth career Olympic medal.
● Canoe-Kayak: Sprint-Women's K-1 200 m-K-2 500 m
This day figured to be all about New Zealand's star, Lisa Carrington and it was.
The London and Rio gold medalist in the K-1 200 m, handled a good field in an Olympic-best 38.120, ahead of 2019 Worlds co-bronze medalist Teresa Portela (ESP: 38.883) in second and the other co-bronze winner, Emma Jorgensen (DEN: 38.901) third. Poland's Marta Walczykiewicz, the Rio silver medalist, was fourth.
Carrington is in line to become the second woman to win four consecutive golds in a single event in Paris … if she chooses to continue. She's 32.
Later in the day, Carrington came back for the women's K-2 500 m and teamed with Caitlin regal to win by almost a second over Poland's Karolina Naja and Anna Pulawska, 1:35.785-1:36.753. Hungary went 3-4, with Danuta Kozak and Dora Nodonyi getting the bronze (1:36.867).
That's four career golds for Carrington, and New Zealand's first-ever medal in this event.
● Cycling: Track-Men's Team Sprint
The Netherlands came in as the reigning World Champions from 2019 and walked out as Olympic champions, winning the final from Great Britain and breaking its own Olympic Record at 41.369-44.589 in the final.
Roy van den Berg, Jeffrey Hoogland and Harrie Lavreysen were outstanding the dominated the field. The British had won this event three times in a row, but got silver this time.
France defeated Australia, 42.331-44.013 for the bronze.
● Cycling: Track-Women's Team Pursuit
Germany dominated this event, setting a world record of 4:07.307 in the qualifying, improving that to 4:06.166 in the first round and finally to 4:04.242 in the final, defeating Great Britain, which had won in 2012 and 2016.
The U.S. was third in the qualifying and got to the bronze-medal match and won it over Canada, with Jennifer Valente, Chloe Dygert, Emma White and Megan Jastrab aboard.
● Diving: Men's 3 m Springboard
Exactly as expected, China went 1-2 behind two-time World Champion Siyi Xie and Zongyuan Wang, scoring 558.75 and 534.90. Britain's Rio silver winner Jack Laugher settled for bronze this time (518.00).
American Andrew Capobianco was 10th in 401.70.
● Gymnastics: Men's Parallel Bars-Horizontal Bar
In the Parallel Bars, China's Jingyuan Zou – World Champion in 2017 and 2018 – led the qualifying with a big score of 16.166 and did even better in the final, scoring 16.233 for the gold medal.
Germany's Lukas Dauser was the second qualifier at 15.733 and scored 15.700 to win silver. Although "only" fourth in the qualifying. Turkey's Ferhat Arican improved to 15.633 and edged China's Hao You (15.466) for the bronze.
American Sam Mikulak was sixth at 15.000.
In the Horizontal Bar, Japan's Daiki Hashimoto – the All-Around winner – was the only one to score over 15 points in the qualifying (15.033) and that was the case again in the final. His total of 15.066 was golden ahead of Croatia's 2017 World Champion Tin Srbic (14.900) and Russian star Nikita Nagornyy (14.533).
American Brody Malone, in his first Games, scored 14.200 for fourth.
● Gymnastics: Women's Balance Beam
The performances in the final did not score as high as in the qualifying, but China's Chenchen Guan (14.633) and Xijing Tang (14.233) maintained their places and won gold and silver.
American Simone Biles was only seventh in the qualifying, but returning from her gyroscopic issues, was an impressive third in the final, scoring 14.000. If this is her final competition, she will be remembered for going out with full effort and grace after what for her has been a nightmare of a Games: one silver, one bronze and missed possibilities in the All-Around, Vault, Bars and Floor.
Canadian Ellie Black was fourth (13.866) with Suni Lee of the U.S. fifth with the same score.
● Sailing: Men's 49er-Women's 49er FX
The men's 49er class came down to the medal race, with Peter Burling and Blair Tuke from New Zealand (52) leading Dylan Fletcher and Stuart Bithell (GBR: 56) and Diego Botin le Chever and Iago Lopez from Spain (56).
Needing to save every point, Fletcher and Bithell won the medal race, their second win in the 13 races and ended with a net total of 58. Burling and Tuke needed to finish second to win the gold, but finished third to also end with 58 points. But the Brits had finished ahead in the medal race and took the top prize. Burling and Tuke now have medals in three straight Games: silver-gold-silver.
Botin and Lopez managed only seventh in the medal race and finished with 70 points, allowing Germany's Erik Heil and Thomas Ploessel – the 2016 bronze medalists – to catch them with a second-place finish and also end on 70. But they won the bronze medal due to their higher finish in the medal race and won a second straight bronze.
¶
Defending Olympic champs Martine Grael and Kahena Kunze (BRA) were locked up with 2018 Worlds gold medalists Annemiek Bekkering and Annette Duetz of the Netherlands at 70 points each going into the medal race, with Germany's Tina Lutz and Susann Beuke are third at 73.
The medal-race format was designed to untangle this. Grael and Kunze navigated best, finishing third and adding only six points to their total (76). With Bekkering and Duetz finishing ninth, their total was 88 and were passed by the Germans, who finished fifth and ended with the silver at 83.
Spain's Tamara Echegoyen and Paula Barcelo finished sixth in the medal race and missed the bronze by a point (89). The U.S. entry of Stephanie Roble and Maggie Shea finished 11th (101).
● Sailing: Men's Finn
The curtain call for this class in Olympic racing saw a tight finish between Rio 2016 gold medalist Giles Scott (GBR), Zsombor Berecz (HUN) and Joan Cardona of Spain. Scott had a 28-37-39 lead going into the medal race, so if he finished no worse than fifth, he was golden again.
In fact, Berecz did win the medal race and finished at 39 net points. Scott managed to finish fourth and ended with a 36-39 advantage and Britain's sixth consecutive win in this class. Cardona was sixth in the medal race and won the bronze at 51.
American Luke Miller was 13th (92).
● Sailing: Mixed Nacra 17
The medal races didn't change anything among the medal winners and the 2018 World Champions Ruggero Tita and Caterina Banti (ITA) sailed home as Olympic Champions, scoring 35 net points after a sixth-place medal-race finish.
The 2017 World Champions, John Gimson and Anna Burnet (GBR), were standing second going into the final race and finished fifth, ending on 45 points. Germany's Paul Kohlhoff and Alica Stuhlemmer finished eighth in the medal race and were third with 63.
The U.S. entry of Riley Gibbs and Anna Weis was ninth with 99.
● Weightlifting: Men's 109 kg
The 2019 Worlds fourth-placer, Uzbek Akbar Djuraev, upset world-record holder and 2019 World Champion Simon Martirosyan (ARM), with an Olympic Record total of 430 kg.
Djuraev missed his opening Snatch lift and one Clean & Jerk try, but he made his final lifts to collect his maximum weight for the competition. Martirosyan made only three of his six lifts and while he won the Snatch competition at 195 kg (Olympic Record), he missed his last two Clean & Jerk lifts, each at 238 kg: either would have given him the gold medal.
Latvia's Arturs Plesnieks made five of his six lifts to edge Timur Naniev (ROC) for the bronze, 410-409 kg. American Wesley Kitts was eighth at 390 kg, but got an American Record in the Snatch at 177 kg.
● Wrestling: Greco-Roman 77 kg-97 kg
The Greco 77 kg class final gave 2012 Olympic 66 kg Champion and 2019 World Champion Tomas Lorincz of Hungary his second career gold medal, beating emerging star Akzhol Makhmudov (KGZ), 2-1.
His younger brother, Viktor, is going for his first gold in the 87 kg final today.
Japan scored another medal as Shohei Yabiku (JPN) defeated Mohammad Ali Gerei of Iran, 13-3, and Rafig Huseynov (AZE) out-scored Karapet Chalyan (ARM), 4-1.
At 97 kg, Russia's Musa Evloev won a battle of past World Champions by defeating Artur Aleksanyan (ARM) by 5-1. It's the first Olympic medal for Evloev (a two-time World Champion), while Alexsanyan (a three-time World Champion) has his second Olympic medal after a bronze in 2012.
Tadeusz Michalik (POL) and Mohammad Hadi Saravi (IRI) won the bronze medals.
● Wrestling: Women's Freestyle 68 kg
The 2019 World Champion, American Tamyra Mensah-Stock, add an Olympic gold medal to her collection by stopping Nigeria's Blessing Oborududu in the final by 4-1. All the scoring came in the first period, with Mensah-Stock scoring two takedowns and then holding off Oborududu from there.
Mensah-Stock won her four bouts by a combined score of 34-5 and became the second American woman to win an Olympic gold; Helen Maroulis did it in 2016 (and will wrestle later in Tokyo).
Ukraine's Alla Cherkasova won a bronze medal by pinning Rio winner Sara Dosho (JPN); Meerrim Zhumanazarova (KGZ) won the other bronze with a pin over Soronzonboldyn Battsetseg (MGL).
Elsewhere:
● Athletics:
The men's 1,500 m heats saw the major medal contenders advance, with heat wins by Ismael Debjani (BEL: 3:36.00) over favorite Tim Cheruiyot (KEN); Kenya's Abel Kipsang (3:40.68) ahead of defending champion Matthew Centrowitz (USA: 3:41.12) and Jake Heyward (GBR: 3:36.14) in heat three.
American Cole Hocker qualified on time after a 3:16.16 forth in heat one. Surprising non-qualifiers were Ethiopia's Sam Tefera and Norway's Filip Ingebrightsen. American Yared Nuguse did not start due to an injury.
The men's triple jump saw five automatic qualifiers, led by a sensational 17.71 m (58-1 1/4) leap for Portugal's Pedro Pablo Pichardo! Four others were beyond 17.00 m (55-9 1/4), led by Turk Necati Er at 17.13m (56-2 1/2), a season's best.
Americans Will Claye (16.91 m/55-5 3/4) and Donald Scott (17.01 m/55-9 3/4) advanced to the final. Chris Benard was 18th at 16.59 m (54-5 1/4) and did not qualify. The last to make it into the final was one of the medal favorites: Hugues Fabrice Zango (BUR), at 16.83 m (55-2 3/4). But he's get to start all over again in the final.
Despite her insistence for months that she was concentrating only on the 200 m in Tokyo, defending 400 m champ Shaunae Miller-Uibo was on the starting line for the women's 400 m qualifying. She won heat one in 50.50, the second-fastest time of the day, behind only heat six winner Marileidy Paulino (DOM), who raced to a 50.06!
Americans Allyson Felix (50.84), Wadeline Jonathas (50.93) and Quanera Hayes (51.07) all advanced without incident, as did Jamaica's Stephenie Ann McPherson (50.89).
The women's javelin qualifying was led by Poland's Maria Andrejczyk at 65.24 m (214-10), with Maggie Malone of the U.S. second at 63.07 m (206-11). World-record holder Barbora Spotakova, in poor form this year, did not advance in 14th place; Americans Kara Winger and Ariana Ince were 17th and 27th.
● Team/Basketball: The U.S. men's basketball team advanced to the semifinals with a 95-81 win over Spain, despite 38 points from Spanish guard Ricky Rubio.
The game was tied at 43 at half, but the U.S. pulled away with a 26-20 third quarter and then out-scored Spain in the fourth by 26-18 for the final, 14-point margin. Kevin Durant had his best game of the tournament with 29 points on 10-17 shooting, including 4-7 from three-point range.
The U.S. had five players in double figures, including Jayson Tatum with 13 and Jrue Holiday with 12. Spain out-rebounded the U.S., 42-32, but the U.S. defense held Spain to 45.3% from the field.
Next up: Australia, which pounded Argentina, 95-59. The U.S. has lost its last two games with the Aussies. France and Slovenia will play in the other semi.
● Team/Beach Volleyball: Americans April Ross and Alix Klineman continued their march through the Olympic tournament, defeating Germans Maggie Kozuch and Laura Ludwig (GER) by 21-19, 21-19 to reach the semifinals.
The U.S. will play Swiss pair Joana Heidrich and Anouk Verge-Depre in the semis, after they fought off Brazil's Ana Patricia and Rebecca, 21-19, 18-21, 15-12. The other semi has Latvia's Anastasija Kravcenoka and Tina Graudina facing Australians Taliqua Clancy and Mariafe Artacho del Solar.
● Team/Football: Two dramatic semifinals sent Spain and Brazil into the Olympic men's final, and Japan's "Cinderella" story came to an end in Tokyo.
Spain and Japan were scoreless through regulation and the first period of extra time, but Marco Asensio scored in the 118th minute (!) to avoid penalties and give Spain its appearance in the Olympic final since 2000.
Rio 2016 winner Brazil and 2012 gold medalist Mexico could not score within 120 minutes and had to go to penalties. Dani Alves, Gabriel Martinelli, Bruno Guimares and Reinier Jesus all scored for Brazil and only Carlos Rodriguez was able to convert for Mexico for a 4-1 final. The championship match will be on the seventh.
● Team/Water Polo: The U.S. women's team crushed Canada, 16-5, in its quarterfinal match and moves into the semifinals, to be played on the 5th. A 7-1 first quarter meant the match was over early; Maggie Steffens, Makenzie Fischer and Alys Williams all scored three goals. The next opponent will be the "ROC," which beat Australia – usually the U.S.'s toughest foe – by 9-8 in its quarterfinal. The U.S. stomped the Russians, 18-5, in their group-stage game. Spain and Hungary are in the other semifinal.
= PREVIEWS: WEDNESDAY, 4 AUG.=
(17 events across 10 sports)
● Artistic Swimming: Duet
Russia has won this event in five straight Games, the last two with Svetlana Romashina and Natalia Ishchenko. Romashina is back, now paired with Svetlana Kolesnichenko and they are overwhelming favorites to win again. They are the 2019 World Champions.
Romashina and Kolesnichenko won the Technical Routine phase at 97.1079, followed by Xuechen Huang and Wenyan Sun (CHN: 95.4599), Ukraine's Marta Fiedina and Anastasiya Savchuk (93.8620) and Japan's Yukiko Inui and Moeka Yoshida (93.3499).
The Russian pair also led the Free Routine prelims at 97.9000, ahead of China (95.7667) and Ukraine (94.9333). If any of the top three perform badly, Canada's Claudia Holzner and Jacqueline Simoneau (5th) and Italy's Linda Cerruti and Constanza Ferro (6th) are ready to pounce.
It should be a lively fight for the bronze, but the Russians and Chinese look likely for gold and silver.
● Athletics: Men's 200 m-800 m-Hammer
The men's 200 m is not supposed to have the surprises that the 100 m did. That's because of Noah Lyles, the 2019 World Champion and the clear favorite at this distance.
But the semifinals changed all that. Canada's Andre De Grasse, the 2016 silver medalist, ran a world-leading 19.73 to win semi three – a national record – and has to figure as a major player now. He edged American Kenny Bednarek (19.83), also poised for a medal.
In semi one, American teen Erriyon Knighton won with ease in 20.02 and looked impressive. In semi two, Lyles came off the turn well and was in the lead when he slowed to the finish and was passed (!) by Canada's Aaron Brown and Liberia's Joseph Fahnbulleh as all were timed in 19.99.
So now what? The semis resulted in a lane draw with Lyles in three, Knighton in five, De Grasse in six, Bednarek in seven and Fahnbulleh – always a slow starter – in eight. Lyles prefers to be on the outside, shortening his running around the curve, but he's inside now. At least he can see De Grasse and Bednarek ahead of him.
Canada won this event in 1908 (Robert Kerr) and 1928 with Percy Williams. Will De Grasse join them?
¶
The men's 800 m is going to be wild, with two-time winner Daniel Rushida (KEN) out with injuries and 2019 World Champion Donavan Brazier of the U.S. failing to make the team.
Kenya's Ferguson Rotich has been running away in the prelims: he won his heat in a ridiculous 1:43.75 – fastest of the day – and then led the semis at 1:44.04. Pole Patryk Dobek (1:44.60) and Australia's Peter Bol (1:44.11) won the other semis.
Will Rotich try to run away again? The rest of the field is onto him, and will have plotted their strategy. Clayton Murphy of the U.S. (1:43.17) this year likes to hang on and then surge at the end, but can he stick with Rotich to be able to challenge?
The top two on the world list are in: Nigel Amos (BOT: 1:42.91), who fell in the semi, but was advanced on appeal to the final, and Kenya's Emmanuel Korir (1:43.04). Wild cards? How about these fast finishers in the semis who are under the radar: Gabriel Tual (FRA: 1:44.28) and Adrian Ben (ESP: 1:44.30)?
¶
The men's hammer throw figures to be a match-up of young and old(er). Poland's 32-year-old Pawel Fajdek is the four-time World Champion in this event, in 2013-15-17-19, but failed to qualify for the final in Rio.
American Rudy Winkler is 26 and was also a Rio non-qualifier. But he has blossomed and stands second on the year list to Fajdek with an American Record of 82.71 m (271-4) at the U.S. Trials.
They are 1-2 on the year list; this should be quite a duel.
Both have teammates in the final: Poland's Wojciech Nowicki, the qualifying leader and 2019 Worlds bronze medalist and Daniel Haugh of the U.S., sixth on the year list (79.39 m/260-5). Nowcki, especially, could win the whole thing.
Behind them Quentin Bigot of France, the 2019 silver medalist; Ukraine's Myhaylo Kokhan, no. 4 on the 2021 year list and maybe Elvind Henriksen (NOR), who got a national record of 78.79 m (258-6) in the qualifying.
● Athletics: Women's 3,000 m Steeple-400 m Hurdles
Rio 2016 silver medalist Hyvin Kiyeng of Kenya and bronze winner Emma Coburn (USA) are back again, but the question is about world-record holder Beatrice Chepkoech.
Her stupendous 2018 world mark of 8:44.32 is far beyond everyone else's times, or capability really, so what is she going to do? Play safe and sprint? Run away from everyone, as she did from Coburn and Germany's Gesa Krause at the 2019 Worlds?
Those four are clear contenders; Coburn was the shock 2017 World Champion with teammate Courtney Frerichs winning the silver and both will be chasing medals but also to become the first American women under nine minutes.
The semifinals underlined that lesser lights Winfred Yavi (BRN: 9:02.64 this year) and Peruth Chemetai (UGA: 9:12.72) will contend along with the not-always-consistent Mekides Abebe (ETH: 9:02.52).
¶
Another world record? That's what many are expecting in the next clash between Rio 2016 champ – and two-time world-record setter – Dalilah Muhammad and the Olympic Trials winner – and world-record setter at 51.90 – Sydney McLaughlin, both from the U.S.
But there is also the matter of Dutch star Femke Bol, who has vaulted into medal class, won all eight of her races this year – including her two rounds at the Games – and is no. 2 on the world list at 52.37, ahead of Muhammad (52..42).
Another record is certainly possible. It would be an upset for anyone other than these three to medal, but in case something drastic happens, next up would be Ukraine's Anna Ryzhykova (52.96 in 2021), Janieve Russell (JAM: 53.68), Anna Cockrell of the U.S. (53.70) and Panama's Gianna Woodruff (54.70).
● Boxing: Men's 81 kg
The final in the Light Heavyweight division will see another Cuban, Arlen Lopez take on Britain's Benjamin Whittaker.
Whittaker was the 2019 World Championships bronze medalist and won the European Championship in this class in 2018. But he faces the Rio 75 kg (Middleweight) champion, who also won the 2015 Middleweight title and Pan American Games golds in 2015 and 2019 but has moved up in weight for Tokyo.
Whittaker got to the final by decisioning Imam Khataev of Russia – 4:1 – in the semis, with Khataev getting a bronze medal. Lopez has pounded his three opponents, winning each bout on a 5:0 decision; he beat Loren Alfonso (AZE) in the semis and Alfonso has a bronze medal for his troubles.
● Cycling: Men's Team Pursuit
Great Britain has won this event at the last three Games and is in the hunt again, having posted the fourth-fastest time in qualifying and facing qualifying leader Denmark for advancement to the gold-medal final.
But they will have their hands full, as Denmark won the 2020 World Championships and set the world record at 3:44.672. In Tokyo, the team of Lasse Norman Hansen, Niklas Larsen, Frederik Madsen and Rasmus Pedersen timed 3:45.014, an Olympic Record.
That was 0.881 seconds faster than second-place Italy, bronze medalists in 2020 and more than a full second better than New Zealand, the 2020 silver medalists.
Italy will race New Zealand and Denmark will race Great Britain with the winners moving on to the gold-medal final. The next two fastest teams will face off for the bronze medals. The next-best time outside the top four was Australia, last year's fourth-place team.
● Equestrian: Jumping
The qualifying was led by Britain's Ben Maher, already the owner of an Olympic gold from 2012 as a member of the Team Jumping winners. His time of 81.34 led 25 finalists who all went penalty-free in this round.
Following were Darragh Kenny of Ireland (82.01), Ashlee Bond (ISR: 82.84), Maikel van der Vleuten (NED: 84.61) and Mario Deslauriers (CAN: 84.76).
Van der Vleuten also has an Olympic medal – silver – from the Team Jumping in London, and a gold in Team Jumping from the 2014 World Equestrian Games. Deslauriers is amazing: now 56, he won the Jumping World Cup way back in 1984, and competed in the Los Angeles and Seoul Games.
Maher's teammate from the London 2012 gold medalists, Scott Brash, stands ninth. In 10th is the Rio 2016 silver winner, Peter Fredricson (SWE), at 85.83 seconds. World no. 1 Daniel Deusser (GER) qualified in 12th place (86.14).
All three Americans were eliminated in the qualifying round: Jessica Springsteen, Kent Farrington and Laura Kraut.
● Sailing: Men's and Women's 470
Australia's Mathew Belcher and Will Ryan won silver in Rio, but have owned this class in the World Championships, with Belcher winning eight times and Ryan aboard for five.
They are owning it in Tokyo as well, finishing in the top three in seven of 10 races and scoring just 21 net points. Barring disaster, they're good as gold.
Well back are Sweden's Anton Dahlberg and Fredrick Bergstrom (41: three wins), Spanish veterans Jordi Xammar and Nicolas Rodrigurz at 45 (net) and then New Zealand's Paul Snow-Hansen and Dan Willcox (51) and Luke Patience and Chris Grube (GBR: 54).
Patience won Olympic silver in London, paired with Stuart Bithell and Xammar has gone bronze-silver-bronze in the last three World Championships. Dahlberg and Bergstrom were sixth in Rio and won the 2021 World 470 title. But none compare to Belcher and Ryan, soon to celebrate another major victory.
¶
In the women's 470, Hannah Mills and Saskia Clark (GBR) won silver in this event in London and gold in Rio and Mills is back with new partner, Eilidh McIntyre. The 2019 Worlds bronze medalists, they have a modest lead of 28-42 over France's Camille Lecointre and Aloise Retornaz, with Lecointre a returning bronze medalist from Rio 2016.
Mills and McIntyre have six top-3 finishes in the first 10 races compared to three for the French and that's the difference to far.
Poles Agnieszka Skrzypulec and Jolanta Ogar are in the fight for medals, standing third at 46; Skrzypulec is in her third Games and competed with Ogar in London, but a different partner in Rio. As a team, they won a European Championships bronze in 2017.
Slovenia's Tina Mrak and Veronika Macarol have moved up to fourth (55) to contend for a medal and are being chased by crews from Brazil (62), Switzerland (62) and Japan (63).
● Skateboarding: Women's Park
Another new event for this Games, World Championships have been held in women's Park from 2016-19 and then, of course, interrupted by the pandemic.
The Olympic field includes Brighton Zeuner of the U.S., the first World Champion from 2016 and the silver-medal winner from 2017 and, just as with the Street event, strong entries from Japan.
Sakura Yosozumi was the 2018 World Champion and 2019 silver medalist and Misugu Okamoto won the 2019 world title and are both medal prospects. So are Australia's Poppy Olsen, the 2018 Worlds bronze winner and Britain's 13-year-old Sky Brown, the 2019 Worlds bronze medalist.
Britain has Brown and Bombette Martin, 15; what other "Olympic team" in Tokyo averages 14 years old?
● Swimming: Women's Open Water 10 km
Much concern has been directed to the open-water events in Tokyo because of the water temperature, but the readings on heat and water quality have been good enough to move ahead as scheduled.
There are 25 entries, with Rio Olympic Champion Sharon van Rouwendaal and silver medalist Rachele Bruni (ITA) and London 2012 silver winner Haley Anderson of the U.S. all returning to contest this event.
But the one to beat might be China's Xin Xin, the 2019 World Champion, who beat Anderson and Bruni to the touch in Gwangju, Korea by one and two seconds, respectively.
Xin will be pressured by fourth-placer Lara Grangeon of France and Brazil's amazing Ana Marcel Cunha. The latter was fifth in the 2019 Worlds, but won silver in 2013 abd bronzes in 2015 and 2017. And she might be the fittest person in the world, as she has four world titles in the grueling 25 km open-water swim, in 2011-15-17-19. Close observers will not be surprised to see Ana Olasz (HUN), or Germans Leonie Beck or Finnia Wunram win a medal.
A second American, Ashley Twichell is also in, the 2017 World 5 km champion, who has dueled with Anderson repeatedly at the U.S. national championships.
● Weightlifting: Men's +109 kg
The winner of the men's super-heavy category can rightfully be called the "strongest man in the world."
So watch out for Georgia's Lasha Talakhadze, the world-record holder at 485 kg – about 1,065 pounds – and the World Champion in 2015-17-18-19 and the reigning Olympic Champion from 2016. He will be focus of the evening.
There will be silver and bronze medals to hand out. Back from the 2019 World Championships are fifth-placer Walid Bidani (ALG), sixth-placer Man Assad (SYR) and ninth-placer Ali Davoudi of Iran. They were all within 11 kg of each other in the totals.
Hojamuhammet Toycyyew (TKM) was in Rio in 2016, but failed in the Snatch; he's been as high as sixth in the Worlds, in 2018 and could be a factor.
● Wrestling: Greco-Roman 67 kg-87 kg
At 67 kg, the final will feature Iran's Mohammad Reza Geraei and Ukraine's Parviz Nasibov. Geraei won the 2019 Asian Championship at 72 kg but stepped down for the Games, and is a medal winner.
Nasibov, just 22, won the World Junior bronze at this weight in 2018, making both finalists first-time Olympic medalists.
Semifinalists Ramaz Zoidze (GEO) and Mohamed Ibrahim El-Sayed (EGY) will wrestle for bronze medals against the repechage bracket winners.
At 87 kg, Hungary's Viktor Lorincz is trying to match his older brother's gold medal in the 77 kg class, facing Zhan Beleniuk (UKR) in the final.
A three-time Worlds medalist, Lorincz saw brother Tamas win the 77 kg division and now wants a gold of his own. Viktor was the silver-medal winner at the 2019 World Championships in this class and won bronze at the 2020 European Championships at 84 kg.
Beleniuk has to be favored, however. He won the Rio 2016 silver at 85 kg and was World Champion at 85 kg in 2015 and at 87 kg in 2019. He was third at the 2021 European Championships, so he is not invincible.
Mohamed Metwally (EGY) and Ivan Huklek (CRO) will wrestle for bronze medals against the repechage bracket winners.
● Wrestling: Women's Freestyle 62 kg
Japan has a perfect record in this class: four gold medals in four Games. This could get to five as Yukako Kuwai has reached the final, against Aisuluu Tynybekova (KGZ).
Kuwai is the Worlds silver medalist in this class from 2018 and won bronze in 2019, but can continue's Japan's dominance of women's Freestyle with a win. She will have her hands full with Tynybekova, the 2019 World Champion at 62 kg, following a bronze at 58 kg in 2017.
The two met up at the 2019 Worlds in the round of 16, with Tynybekova advancing by pin while the score was 3-3. The rematch should be great.
Ukraine's Iryna Koliadenko and Taybe Yusein (BUL) will wrestle for bronze medals against repechage-bracket winners.
= INTEL REPORT =
"The IOC has decided to launch a formal investigation into the situation of the NOC of Belarus. It will be led by the IOC administration. We need to establish the full facts, we need to hear everyone involved."
The announcement by International Olympic Committee spokesman Mark Adams (GBR) on Tuesday reflects the deep concern over the situation surrounding sprinter Krystsina Tsimanouskaya. After criticizing the team coaches on Instagram, she was told to leave the Olympic Village and was taken to the airport to return to Belarus.
She sought out Japanese police and asked for protection; she has been offered assistance by the Polish government and will apparently ask for political asylum there. The IOC had already imposed small sanctions on some Belarus sports officials for interference with the operation of the National Olympic Committee. Now, more may be coming.
¶
There are a couple of protest inquiries being made by the IOC, starting with U.S. silver medalist shot putter Raven Saunders, who crossed her arms for photographers after the awards ceremony was concluded on Sunday. The U.S. Olympic & Paralympic Committee has cleared her, declaring her gesture was a "peaceful expression in support of racial and social justice [that] was respectful of her competitors." The IOC is working through its own process, including talking to the USOPC.
Chinese women's Team Sprint winners Shanju Bao and Tianshi Zong wore pins with the image of former Chinese Communist Party leader Mao on their uniforms at the medal ceremony. This was reported; IOC spokesman Adams said at a news conference, "We contacted the Chinese Olympic Committee and asked them for a report on the situation. We are looking into the matter."
¶
Tuesday's report from the Tokyo 2020 organizers showed 18 positive coronavirus tests related to the Games, with 10 from contractors and five from "Games-concerned personnel." The latter category includes team officials, but also sports competition officials, IOC and International Paralympic Committee personnel, sponsors and the host broadcast crew.
The infection total is now 294, of which 153 (52%) are contractors, 89 are "Games-concerned personnel" (30%), 25 are athletes, 14 media and 13 are Tokyo 2020 staff and volunteers.
The testing report by stakeholder group through 1 August:
● Athletes and team officials: 32 positives in 222,447 tests (0.01%).
● Media/Tokyo 2020 staff: 65 positives in 260,452 tests (0.02%).
The total number of people screen at airports coming into Japan for the Games is a so-far staggeringly low total of 41,997, from which 35 positives were found (0.08%).
The U.S. Olympic & Paralympic Committee reported no positives among 1,010 U.S. personnel in Tokyo on 2 August; there were none among 1,088 on 1 August.
Prior results: 1 in 1,038 athletes and officials on 24 July; 0 of 1,144 on 25 July, 0 of 1,172 delegates on 26 July, 0 of 1,175 on 27 July, 0 of 1,214 for 28 July, 1 in 1,174 on 29 July, 0 of 1,174 on 30 July and 0 for 1,148 on 31 July.
¶
Dear readers:
You may have noticed some format changes to this report, with names not bolded and larger section titles. This is primarily to save time and get this post up more quickly as the number of events surges in the second week. The goal is always to give you the most information in a timely way … and saving an hour in bolding names is a big help. Thank you for your support.
You can receive our exclusive TSX Report by e-mail by clicking here. You can also refer a friend by clicking here, and can donate here to keep this site going.
For our 649-event International Sports Calendar for 2021 and beyond, by date and by sport, click here!