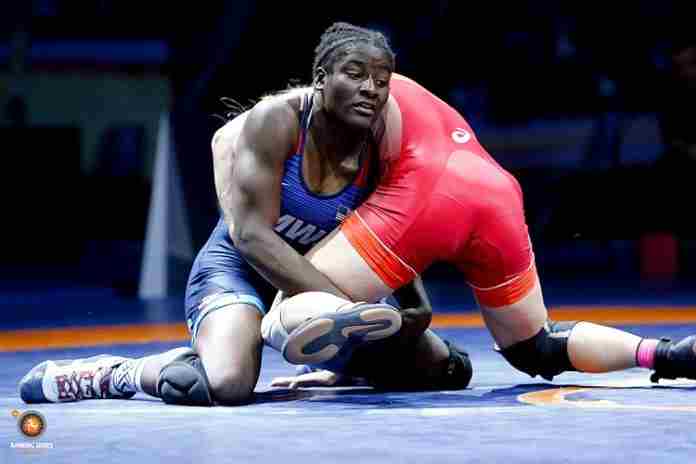 It's a shame that wrestling's new-fangled scoring system – essentially forced on it by the International Olympic Committee – is so hard to follow. Because this sport is one of the most dramatic, personal and uproarious of all.
The Matteo Pellicone Memorial in Sassari (ITA), an important ranking tournament which impacts seeding at the World Championships, showcased the amazing potential of this sport.
Right at the top of the storylines was American star Tamyra Mensah-Stock, who won her third ranking tournament of the year, essentially assuring herself of the no. 2 seed at 68 kg in the 2019 Worlds … if she makes the U.S. team.
United World Wrestling reported that she arrived in Italy at 10:30 p.m. the night before her matches started on Friday, "didn't get to bed until well after midnight, then had to get up before sunrise for her final weight cut before weights.
"Mensah fought through all sorts of adversity to get to Sassari, including having to check her weight on a baggage scale at Chicago's airport – but her coach continued to hammer home that she needed to embrace the adversity and remind herself why she fell in love with the sport."
In some ways, it seemed to help. She pounded Rio silver medalist Maryia Mamashuik (BLR) in a 10-0 technical fall opener, then won two more matches by 5-1 and 9-2 before getting two first-period takedowns to defeat last year's 65 kg Worlds silver medalist Danielle Lappage (CAN) by 4-0. Wow!
Equally impressive was the 76 kg final, where Rio 2016 gold medalist Erica Wiebe (CAN) won a showdown with London 2012 champ Natalia Vorobeva by pinfall in less then two minutes. Said Wiebe afterwards, "Today was a test, and I'm happy with how I competed. I love being creative on the mats, and I love to get to wrestling positions. That's my bread and butter, so I went for it."
Iran dominated the men's Freestyle program, winning four weights with victories at 86 kg, by Ahmad Bazrighaleh; at 92 kg by Alireza Karimimachiana and 97 kg by Hamed Talebizarrinkamar.
But Mohammad Yakhkeshi's triumph at 61 kg vanished after a 7-2 win over Rassul Kaliyev (KAZ) in the final. UWW's own report stated:
"[T]he Iranian's gold medal got revoked during the medal presentation ceremony for failure to cooperate with United World Wrestling's medal ceremony procedures.
"Yakhkeshi took the podium not wearing the approved medal ceremony clothing. According to United World Wrestling's rule book, wrestlers have to wear their countries tracksuit [sic] on the podium to receive their medal. Yakhkeshi, who was wearing short sleeves, was asked several times to comply with the rules but failed to do so, among many other things, which resulted in disqualification.
"Therefore, Kalyev, Uladzislau ANDREYEU (BLR), and Rahul AWARE (IND) received bumps and finished in first through third, respectively."
Amazing.
One of the best performances came from ex-Cuban and now Italian star – and 2015 (65 kg)-2017 (70 kg) World Champion – Frank Chamizo. Cheered on by the loud crowd, he won the 74 kg final with a 6-4, come-from-behind win over Daniyar Kaisanov (KAZ). But his focus is on the World Championships in Kazakhstan later in the year. "I'm focused. I'm not joking. That's it, guys. I don't want to talk about wins or loses. I want talk about training and staying focused."
Turkey led the Greco-Roman division with three wins, to two for Korea and Russia. The U.S. earned a silver medal at 97 kg from G'Angelo Hancock, who lost to Italy's Nikolosz Kakhelashvili (ITA), 5-0.
You can check the current rankings on the UWW home page here. Summaries from Sassari:
United World Wrestling Ranking Tournament/Matteo Pellicone Memorial
Sassari (ITA) ~ 24-25 May 2019
(Full results here)
Men/Freestyle:
57 kg/ Final: Azamat Tuskaev (RUS) d. Darthe Capellan (CAN), 6-0. Third: Nader Hajiaghaniasamakoushi (IRI) d. Chang-Jun Park (KOR), 6-0; Givi Davidovi (ITA) d. Patrick Hebreard (USA), 10-0.
61 kg/ Final: Mohammad Yakhkeshi (IRI) d. Rassul Kaliyev (KAZ), 7-2. Third: Uladzislau Andreyeu (BLR) d. Rahul Aware (IND), 11-0. (Yakhkeshi was disqualified afterwards for improper awards ceremony behavior and Kaliyev, Andreyeu and Aware were promoted to gold, silver and bronze.)
65 kg/ Final: Sonba Gongone (IND) d. Magomedrasul Idrisov (RUS), 9-8. Third: Sayatbek Okassov (KAZ) d. Harphool Harphool (IND), 14-3; Jun-Sik Yun (KOR) d. Quentin Sticker (FRA), 5-0.
70 kg/ Final: Nurkozha Kaipanov (KAZ) d. George Koliev (BLR), 6-0. Third: Yones Emamichoghaei (IRI) d. Mihail Georgiev (BUL), 10-0; Batyr Borjakov (TKM) d. Fares Lakel (ALG), 9-4.
74 kg/ Final: Frank Chamizo (FRA) d. Daniyar Kaisanov (KAZ), 6-4. Third: Miroslav Kirov (BUL) d. Amit Dhankhar (IND), 11-0; Khetik Tsabolov (RUS) d. Andrei Karpach (BLR), 12-6.
79 kg/ Final: Khalil Aminov (RUS) d. Galymzhan Usserbayev (KAZ), 6-2. Third: Fateh Benferdjallah (ALG) d. Parveen Rana (IND), 4-2; Dmytrii Tkachenko (UKR) d. Sahergeldi Saparmyradov (TKM), 4-2.
86 kg/ Final: Ahmad Bazrighaleh (IRI) d. Azamat Dauletbekov (KAZ), 19-10. Third: Akhmed Aibuev (FRA) d. Dovletmyrat Orazgylyjov (TKM), 14-4; Deepak Punia (IND) d. Boris Makoev (SVK), 3-2.
92 kg/ Final: Alireza Karimimachiana (IRI) d. Batyrbeck Tcakulov (RUS), 8-4. Third: Arashk Mohammadkazem (IRI) d. Nurgali Nurgaipuly (KAZ), 7-3.
97 kg/ Final: Hamed Talebizarrinkamar (IRI) d. Abbas Ali Foroutamrani (IRI), 8-1. Third: Abraham Conyedo (ITA) d. Bakdaulet Almentay (KAZ), 2-0; Igor Ovsiannikov (RUS) d. Batzul Ulziisaikhan (MGL), 9-1.
125 kg/ Final: Pavel Krivtsov (RUS) d. Daniel Ligeti (ITA), 7-4. Third: Oleg Boutin (KAZ) d. Grant Robinson (USA), 12-0; Frederick Choquette (CAN) d. Aly Barghout (CAN), 3-0.
Men/Greco-Roman:
55 kg/ Final: (Round-robin) 1. Hakan Cankaya (TUR); 2. Giovanni Freni (ITA); 3. Dogus Ayazci (TUR).
60 kg/ Final: Seunghak Kim (KOR) d. Ahmet Uyar (TUR), 5-0. Third: Gyanender Gyanender (IND) d. Florin Tita (ROU), 9-0; Jacopo Sandron (ITA) d. Latuf Madi (FRA), 2-1.
63 kg/ Final: Mehmet Ceker (TUR) d. Erik Torba (HUN), 5-4. Third: Kadir Kamal (TUR) d. Kyung-Hoon Kim (KOR), 2-0; Eun-Bin Kim (KOR) d. Andres Montano (ECU), 8-4.
67 kg/ Final: Azamat Akhmedov (RUS) d. Haci Karakus (TUR), 7-1. Third: Han-Su Ryu (KOR) d. Yasin Ozay (FRA), 9-1; Mihai Mihut (ROU) d. Mamadassa Sylla (FRA), 2-1.
72 kg / Final: Adam Kurak (RUS) d. Balint Korpasi (HUN), 3-0. Third: Selcuk Can (TUR) d. Ahmet Yilmaz (TUR), 3-1.
77 kg/ Final: Hyeon-Woo Kim (KOR) d. Zotlan Levai (HUN), 10-0. Third: Georgios Prevolarakis (GRE) d. Gil Nugues (FRA), 10-0; Tamas Lorincz (HUN) d. Roman Zhernovetski (ISR), 7-0.
82 kg/ Final: Gurpreet Singh (IND) d. Burhan Akbudak (TUR), 14-4. Third: George Mariea (ROU) d. Matteo Maffezzoli (ITA), 8-6.
87 kg/ Final: Viktor Lorincz (HUN) d. Dogan Goktas (TUR), 5-1. Third: Erik Szilvassy (HUN) d. Singh Harpreet (IND), 8-0; Gadzhimurad Dzhalalov (RUS) d. Ramon Betschart (SUI), 3-1.
97 kg/ Final: Nikolosz Kakhelashvili (ITA) d. G'Angelo Hancock (USA), 5-0. Third: Balazs Kiss (HUN) d. Armen Grigoryan (RUS), 2-0; Mihail Kajala (SRB) d. Daigoro Timoncini (ITA), 3-1.
130 kg/ Final: Osman Yildirim (TUR) d. Balint Lam (HUN), 3-0. Third: Min-Seok Kim (KOR) d. Constantin Hutuleac (ROU), 2-1; Yong-Min Kim (KOR) d. Lenard Berei (ROU), disqualified.
Women/Freestyle
50 kg/ Final: Seema Seema (IND) d. Daria Leksina (RUS), 10-0. Third: Jacqueline Mollocana (ECU) d. Kamila Barbosa (BRA), 10-0; Frederika Petersson (SWE) d. Jade Dufour (CAN), 10-0.
53 kg/ Final: Ekaterina Poleshchuk (RUS) d. Hyung-Joo Kim (KOR), 6-1. Third: Diana Weicker (CAN) d. Anzhelika Vetoshkina (RUS), 7-0; Luisa Valverde (ECU) d. Samantha Stewart (CAN), 6-6 (criteria).
55 kg/ Final: Sofia Mattsson (SWE) d. Vanesa Kaladzinskaya (BLR), 0-0 (criteria). Third: Viktoriia Vaulina (RUS) d. Marina Sedneva (KAZ), 12-4.
57 kg/ Final: Grace Bullen (NOR) d. Pooja Dhanda (IND), 5-0. Third: Lissette Antes Castillo (ECU) d. Olga Khoroshavtseva (RUS), 5-4; Alexandria Town (CAN) d. Katsiaryna Hanchar (BLR), 8-0.
59 kg/ Final: Linda Morais (CAN) d. Kumari Manju (IND), 9-0. Third: Laurence Beauregard (CAN) d. Kelsey Campbell (USA), 8-2.
62 kg/ Final: Henna Johansson (SWE) d. Elmira Gambarova (AZE), 6-4. Third: Lais Nunes (BRA) d. Mallory Velte (USA), 2-1; Malin Mattsson (SWE) d. Marwa Amri (TUN), 7-2.
65 kg/ Final: (Round-robin) 1. Gabriella Sleisz (HUN); 2. Aina Temirtassova (KAZ); 3. Braxton Stone (CAN); 4. Amanda Savard (CAN).
68 kg/ Final: Tamyra Mensah (USA) d. Danielle Lappage (CAN), 4-0. Third: Anastasia Bratchikova (RUS) d. Maryia Mamashuk (BLR), 4-3; Divya Kakran (IND) d. Irina Kazyulina (KAZ), 10-5.
72 kg/ Final: (Round-robin) 1. Anna Fransson (SWE); 2. Zhamila Bakbergenova (KAZ); 3. Tatiana Kolesnikova (RUS); 4. Dejah Slater (CAN).
76 kg/ Final: Erica Wiebe (CAN) pinned Natalia Vorobeva (RUS). Third: Epp Mae (EST) d. Ekaterina Bukina (RUS), 8-7; Aline Focken (GER) d. Iselin Solheim (NOR), 8-0.