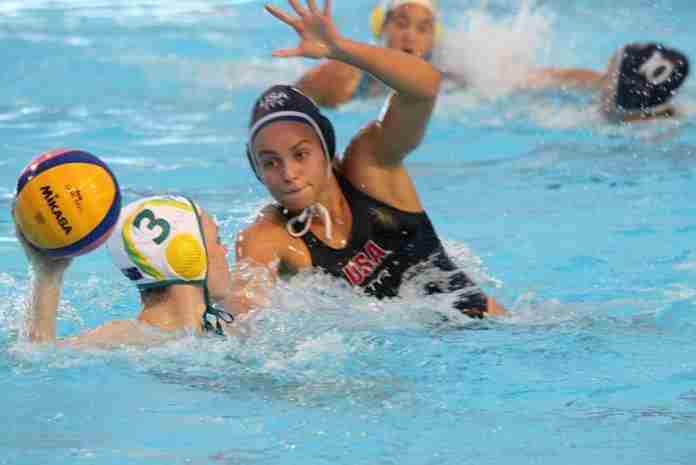 The United States women's water polo team got a scare from Australia, but still managed to win its 13th Intercontinental Cup title.
"We are not in the best shape and we stopped attacking after halftime, but a great team like Australia, you can't hold them down forever," said coach Adam Krikorian. "They were bound to score some goals. With not having Maggie Steffens on the team everyone had to play a little bit more and a little bit better, and thankfully they did."
Steffens, the U.S. captain, suffered a head injury in the semifinal win over Australia and could not play in the final. More than 1,000 fans showed up at HBF Stadium in Perth (AUS) to see perennial rivals Australia and the U.S. play for the championship.
After a 3-3 first quarter, the U.S. zoomed to an 8-4 halftime lead, including three penalty shots. But the U.S. relaxed on offense and the Stingers closed to 9-6 after three quarters and tied the game, 9-9, at the end of regulation time. Stephanie Haralabidis, Kaleigh Gilchrist and Kiley Neushul all scored twice for the U.S. in regulation, and all three, plus Jamie Neushul and Jordan Raney scored in the shoot-out. Keesja Gofers had three goals (plus a penalty) for Australia.
In the shoot-out, U.S. keeper Ashleigh Johnson made the key save of the tournament on Australia's first shot, denying Isobel Bishop. The U.S. made all five of its penalties, clinching the win at 14-12. It was the fourth Intercontinental Cup title for the U.S. in the last five editions.
The final was the only close game for the U.S. in the entire tournament, after group-play wins of 11-5 (vs. China), 18-7 (over Japan) and 20-3 over New Zealand. Krikorian's squad sailed past South Africa in the quarterfinals, 22-4, and defeated Canada, 14-7 in the semis.
The tournament all-star team included Johnson and Alys Williams of the U.S.; Bronwen Knox (Most Valuable Player) and Rowie Webster of Australia; Elyse Lemay-Lavoie (CAN), Kotori Suzuki (JPN) and Huan Wang (CHN), plus Krikorian (coach).
The men's final went better for Australia, which handled Japan, 10-8 in a furious match that was 7-6 for the home team at halftime. Australia took a 10-7 lead into the final period and held Japan to a single goal and held on for the win. Lachlan Edwards scored four times for the winners and Joseph Kayes scored twice.
The all-tournament team included Anthony Hrysanthos and Aidan Roach (AUS), Nicolas Bicari (CAN – Most Valuable Player), Keigo Okawa and Yusuke Inaba (JPN), Yevgenyi Medvedev (KAZ), German Yanez (ARG), and coach Elvia Fatovic (AUS).
The top four teams received entry into the FINA Water Polo World League Super Final later this year. The teams received prize money of $50,000-40,000-30,000-25,000-20,000-15,000-12,500-10,000 for places 1-8. Summaries:
FINA Water Polo Intercontinental Cup
Perth (AUS) ~ 26-31 March 2019
(Full results: Men here ~ Women here)
Men/Final Standings: 1. Australia; 2. Japan; 3. Canada; 4. Kazakhstan; 5. Argentina; 6. China; 7. New Zealand; 8. South Africa. Semis: Australia 14, Canada 7; Japan 12, Kazakhstan 7. Third: Canada 9, Kazakhstan 4. Final: Australia 10, Japan 8.
Women/Final Standings: 1. United States; 2. Australia; 3. China; 4. Canada; 5. Japan; 6. Kazakhstan; 7. New Zealand; 8. South Africa. Semis: U.S. 14, Canada; 7; Australia 12, China 8. Third: China 11, Canada 8. Final: U.S. 14, Australia 12 (shoot-out: U.S. 5, Australia 3).