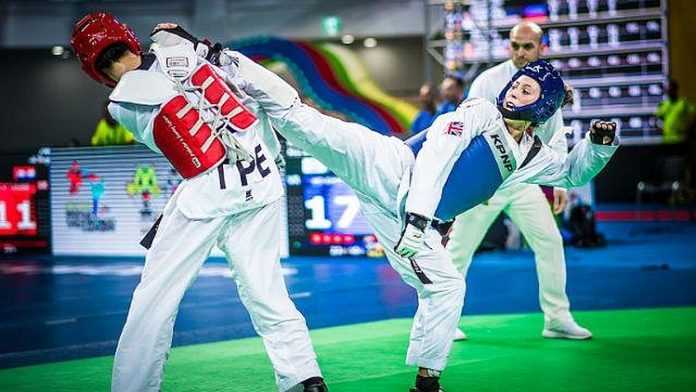 The site was pretty exotic: Fujairah in the United Arab Emirates, but Korea was once again on top of the standings in the World Taekwondo Grand Prix Final.
The Korean squad collected nine medals (4-3-2) to easily lead the medal table, with Turkey (1-0-3) winning four and Croatia (0-1-2) three. Korea was led by wins from two reigning World Champions: Dae-Hoon Lee in the men's 68 kg class and Ah-Reum Lee in the women's 57 kg category.
One other current world title holder, Turkey's Nur Tatar Askari, won at 67 kg. Summaries:
World Taekwondo Grand Prix Final
Fujairah (UAE) ~ 22-25 November 2018
(Full results here)
Men
-58 kg: 1. Jun Jang (KOR); 2. Jesus Tortosa Cabrera (ESP); 3. Vito Dell'Aquila (ITA). Final: Jang d. Tortosa Cabrera, 21-12.
-68 kg: 1. Dae-Hoon Lee (KOR); 2. Seok-Bae Kim (KOR); 3. Lovre Brecic (CRO). Final: Lee d. Kim, 65-20.
-80 kg: 1. Richard Andre Ordemann (NOR); 2. Maksim Khramtcov (RUS); 3. Cheick Sallah Cisse (CIV). Final: Ordemann d. Khramtcov, 27-14.
+80 kg: 1. Vladislav Larin (RUS); 2. Kyo-Don In (KOR); 3. Sajjad Mardani (IRI). Final: Larin d. In, 5-1.
Women
-49 kg: 1. So-Hui Kim (KOR); 2. Panipak Wongpattanakit (THA); 3. Jae-Young Sim (KOR). Final: Kim d. Wongpattanakit, 10-8.
-57 kg: 1. Ah-Reum Lee (KOR); 2. Nikita Glasnovic (CRO); 3. Marta Calvo Gomez (ESP). Final: Lee d. Glasnovic, 11-7.
-67 kg: 1. Nur Tatar Askari (TUR); 2. Jan-Di Kim (KOR); 3. Matea Jelic (CRO). Final: Askari d. Kim, 7-5 (golden point).
+67 kg: 1. Shuyin Zheng (CHN); 2. Bianca Walkden (GBR); 3. Nafia Kus (TUR). Final: Zheng d. Walkden, 17-8.