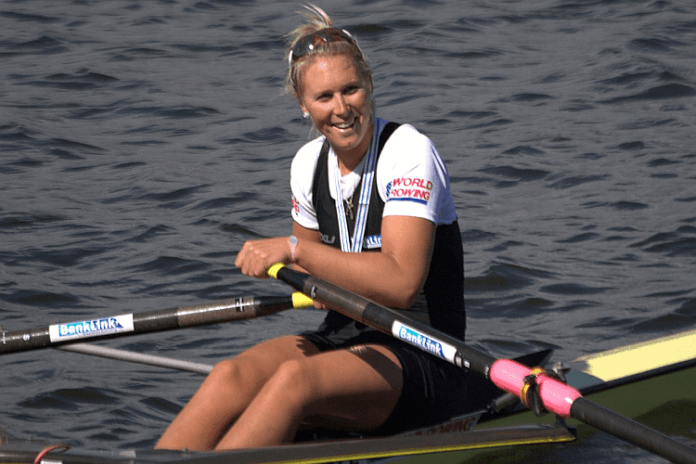 Two teams that came a long way to compete in the second World Rowing World Cup in Poland left with the most trophies: Australia and New Zealand.
Both won three races in the open divisions for men and women, with the Kiwi women especially impressive. They won three races, including a remarkable comeback for three-time Olympian Emma Twigg.
The 2014 World Champion and fourth in the Single Sculls in Rio, Twigg took a couple of years off, actually working for the International Olympic Committee at one point, and returned to rowing at this regatta … and won!
She started slowly in the 2,000 m final, sitting only fourth after the 500 m mark, but then had the fastest 500 m split of anyone in the field to take a 0.62-second lead by halfway and she cruised him with a 12/100ths win over Austria's 2018 Worlds bronze medalist Magdalena Lobnig. Very impressive.
More expected were the wins by Worlds silver medalists Brooke Donoghue and Olivia Loe in the Double Sculls and Grace Pendergast and Kerri Gowler in Pairs.
Australia took their golds in the men's Pairs with Joshua Booth and Alexander Hill, the men's Fours and the much-anticipated women's eights that included the reigning World Champions from the U.S.
In the Eights final, the U.S. got off to a slow start, with the Australians almost two seconds ahead at the end of 500 m. But the Americans drew closer, moving from third to second by 1,000 m and then rowing the fastest splits in the field in the third and fourth quarters of the race, but it was not enough. The Aussies – third at last year's World Championships – won by 6:26.29-6:27.74. Germany's eight, the reigning men's World Champions, crushed the field with a victory over Great Britain by almost two seconds.
There were some other surprise winners, like Denmark's Sverri Nielsen in the men's Single Sculls and the Danish women in the Fours. The U.S. women had seven finalists, and took two medals beyond the Eights silver. Summaries:
World Rowing World Cup II
Poznan (POL) ~ 21-23 June 2019
(Full results here)
Men
Single Sculls: 1. Sverri Nielsen (DEN), 7:21.96; 2. Pilip Pavukou (BLR), 7:24.10; 3. Angel Fournier Rodriguez (CUB), 7:24.79.
Double Sculls: 1. Barnabe Delarze/Roman Roeoesli (SUI), 6:32.84; 2. John Collins/Graeme Thomas (GBR), 6:33.05; 3. Tim Ole Naske/Stephan Kreuger (GER), 6:34.43.
Quadruple Sculls: 1. Poland, 6:01.010; 2. Asutralia, 6:03.210; 3. New Zealand, 6:03.480.
Pairs: 1. Joshua Booth/Alexander Hill (AUS), 6:38.23; 2. Thomas Murray/Michael Brake (NZL), 6:39.49; 3. Kai Langerfeld/Conlin McCabe (CAN), 6:43.34.
Fours: 1. Australia, 6:16.460; 2. Italy, 6:18.590; 3. Poland, 6:19.600. Also: 5. United States (Karwoski, di Santo, Reed, Hack), 6:25.04.
Eights: 1. Germany, 5:45.830; 2. Great Britain, 5:47.740; 3. Canada, 5:48.440.
Lightweight Single Sculls: 1. Sean Murphy (AUS), 7:12.77; 2. Artur Mikolajczewski (POL), 7:15.45; 3. Peter Galambos (HUN), 7:19.58.
Lightweight Double Sculls: 1. Jonathan Rommelmann/Jason Osborne (GER), 6:47.94; 2. Stefano Oppo/Pietro Ruta (ITA), 6:49.46; 3. Hamish Parry/Leon Chambers (AUS), 6:50.66.
Lightweight Quadruple Sculls: 1. Italy, 6:05.730; 2. Austria, 6:08.780; 3. China, 6:08.850.
Women
Single Sculls: 1. Emma Twigg (NZL), 8:04.45; 2. Magdalena Lobnig (AUT), 8:04.57; 3. Carling Zeeman (CAN), 8:05.11. Also: 4. Kara Kohler (USA), 8:05.90.
Double Sculls: 1. Brooke Donoghue/Olivia Loe (NZL), 7:21.28; 2. Cicely Madden/Genevra Stone (USA), 7:21.55; 3. Amanda Bateman/Genevieve Horton (AUS), 7:23.94. Also: 4. Meghan O'Leary/Ellen Tomek (USA), 7:24.85.
Quadruple Sculls: 1. China, 6:38.240; 2. Poland, 6:42.380; 3. Germany, 6:42.890.
Pairs: 1. Grace Pendergast/Kerri Gowler (NZL), 7:35.55; 2. Jassica Morrison/Annabelle McIntyre (AUS), 7:37.25; 3. Megan Kalmoe/Tracy Eisser (USA), 7:43.73.
Fours: 1. Denmark, 6:52.88; 2. China, 6:53.96; 3. Australia, 6:55.47. Also: 4. United States (Opitz, Baker, Regan, Bruggeman), 6:55.90-; 5. United States (Sonshine, Thoennes, Salmons, Pierson), 6:58.83.
Eights: 1. Australia, 6:26.29; 2. United States, 6:27.74; 3. Great Britain, 6:32.04.
Lightweight Single Sculls: 1. Jill Moffatt (CAN), 8:16.43; 2. Fang Chen (CHN), 8:17.35; 3. Georgia Nesbitt (AUT), 8:18.76.
Lightweight Double Sculls: 1. Zoe McBride/Jackie Kiddle (NZL), 7:22.09; 2. Valentina Rodini/Federica Cesarini (ITA), 7:22.18; 3. Wenyi Huang/Dandan Pan (CHN), 7:23.42. Also: 6. Michelle Sechser/Christine Cavallo (USA), 7:29.28.