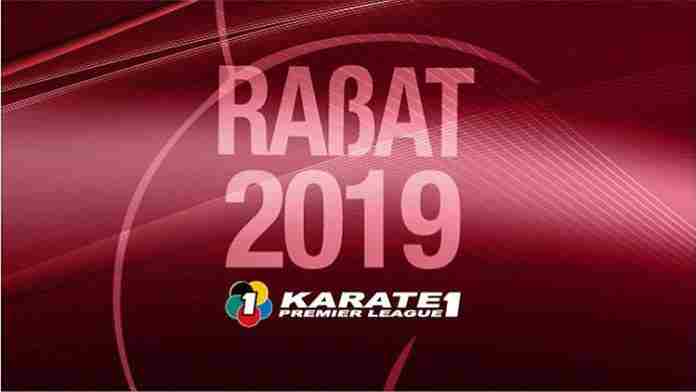 A huge field of 595 fighters from 75 countries lined up for the third Karate1 Premiere League tournament in Rabat (MAR), with three countries winning eight of the 12 individual classes: Ukraine, Japan and Turkey.
Japan won both of the Kata classes, with 2014-16-18 World Champion Ryo Kiyuna taking the men's division and 2014-16 World Champion Kiyou Shimizu winning among the women.
But Ukraine has the most winners with three, including Stanislav Horuna at -75 kg, Valerii Chobotar at -84 kg and Anzhelika Terliuga taking the women's -55 class.
Turkey had two winners in the women's division: 2014 World Champion Serap Ozcelik at -50 kg, and Meltem Hocaoglu at +68 kg.
Iran's Sajad Ganjzadeh, the 2016 Worlds gold medalist at +84 kg, made it four current and former World Champions who won their classes in Rabat. Summaries:
Men
Kata: 1. Ryo Kiyuna (JPN); 2. Danian Hugo Quintero (ESP); 3. Enes Ozdemir (TUR) and Kazumasa Moto (JPN).
Team Kata: 1. Turkey; 2. Russia; 3. Morocco I and Morocco II.
Kumite -60 kg: 1. Darkhan Assadilov (KAZ); 2. Eray Samdan (TUR); 3. Angelo Crescenzo (ITA) and Sadriddin Saymatov (UZB).
Kumite -67 kg: 1. Ali Elsawy (EGY); 2. Burak Uygur (TUR); 3. Masamichi Funahashi (JPN) and Hesham Abdelgawad (EGY).
Kumite -75 kg: 1. Stanislav Horuna (UKR); 2. Ali Asghar Asiabari (IRI); 3. Ken Nishimura (JPN) and Rafael Aghayev (AZE).
Kumite -84 kg: 1. Valerii Chobotar (UKR); 2. Ryutaro Araga (JPN); 3. Igor Chikhmarev (KAZ) and Ugur Aktas (TUR).
Kumite +84 kg: 1. Sajad Ganjzadeh (IRI); 2. Alparslan Yamanoglu (TUR); 3. Saleh Abazari (IRI) and Jonathan Horne (GER).
Women
Kata: Kiyou Shimizu (JPN); 2. Sandra Sanchez (ESP); 3. Dilara El Temur (TUR) and Hikaru Ono (JPN).
Team Kata: 1. Italy; 2. Russia I; 3. Morocco and Russia II.
Kumite -50 kg: 1. Serap Ozcelik (TUR); 2. Radwa Sayed (EGY); 3. Bettina Plank (AUT) and Junna Tsukii (PHI).
Kumite -55 kg: 1. Anzhelika Terliuga (UKR); 2. Tzu-Yun Wen (TPE); 3. Travat Khaksar (IRI) and Tuba Yakan (TUR).
Kumite -61 kg: 1. Xiaoyan Yin (CHN); 2. Giana Lotfy (EGY); 3. Gwendoline Philippe (FRA) and Mayumi Someya (JPN).
Kumite -68 kg: 1. Elena Quirici (SUI); 2. Halyna Melnyk (UKR); 3. Kayo Someya (JPN) and Vasiliki Panetsidou (GRE).
Kumite +68 kg: 1. Meltem Hocaoglu (TUR); 2. Guadalupe Quintal (MEX); 3. Hamideh Abbasli (IRI) and Maria Torres (ESP).