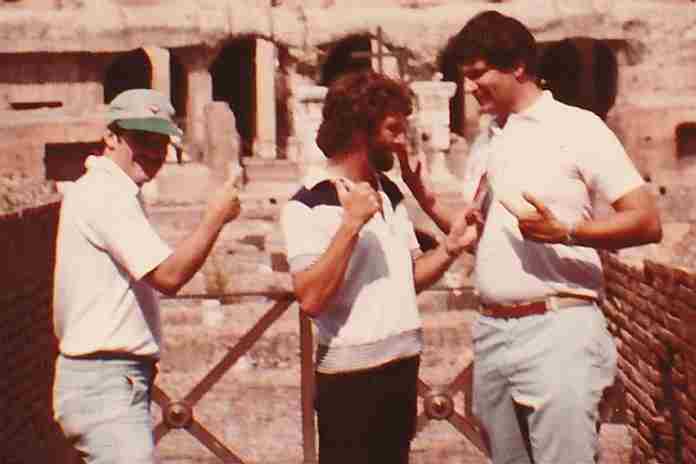 News, views and noise from the non-stop, worldwide circus of Olympic sport:
● RUSADA confirms sanctions appeal to CAS ● To the surprise of absolutely no one, the Russian Anti-Doping Agency began the process of formally appealing the sanctions imposed by the World Anti-Doping Agency.
According to the Russian TASS news agency:
"The Supervisory Board of the Russian Anti-Doping Agency (RUSADA) has recommended the agency's Board of Founders to disagree with sanctions of the World Anti-Doping Agency (WADA) against Russian sports and to turn this case to the Court of Arbitration for Sport (CAS) in Switzerland's Lausanne, RUSADA told TASS on Thursday."
Alexander Ivlev, head of the RUSADA Supervisory Board, said that the filing would take place within 10-15 days. "After that the ball will be in the court of WADA and the situation will be developing within the legal boundaries."
Russian President Vladimir Putin also chimed in, with themes likely to be seen in the appeal:
"In my opinion, this decision is not only unjust, but it also goes against a common sense. … Decisions were made against athletes competing under a neutral flag at the previous Olympics.
"We do everything to make Russian sports clean. RUSADA was formed in close collaboration with colleagues from WADA and we even have appointed the agency's administration based on their recommendations.
"Unfortunately, this decision [of WADA] is more likely to be again of a political nature."
Putin also came back to a claim he has made multiple times previously:
"The WADA decision contradicts the Olympic Charter. If there are no claims against the Russian Olympic Committee [ROC], the national team must be competing under the national flag, while we have to render support and assistance.
"Any punishment should be individual. If anyone is caught, then [punishment] is absolutely natural and fair. But if the overwhelming majority of athletes are clean, how can they slap sanctions on them?"
(This ignores the fact that the International Olympic Committee is now bound by the World Anti-Doping Agency's International Standard for Code Compliance by Signatories, but maybe he's busy with other matters.)
One of the possible Russian strategies in front of the Court of Arbitration for Sport is to drag out the proceedings so long that the Russian team will be able to compete in Tokyo without sanctions. This was addressed by Jonathan Taylor (GBR), the head of WADA's Compliance Review Committee, who stated "If they drag it out so that it doesn't cover Tokyo, it will cover Paris [2024]. They have to decide which we want to do, which athletes they want to suffer."
● Athletics I ● Stunning and sad news from Indianapolis that Pete Cava, 73, the longtime information director for the Amateur Athletic Union and then The Athletics Congress, passed away suddenly on Wednesday evening (18th).
His daughter, Nancy, wrote to friends that "Dad was enjoying dinner with friends last night, when he felt ill and had serious chest pains. He was taken to Methodist Hospital via ambulance. Fortunately, my mom made it to the hospital in time to be with him before he passed."
Cava's impact on Olympic sports cannot be minimized. He joined the AAU in 1974 to work on the association's Junior Olympics program and then became the Media Information Director a couple of years later. He immediately began updating the AAU's press information operations, starting with a series of media guides for most of the AAU's sports, at a time when Olympic sports received far more coverage than today.
Suddenly, the AAU championship events began providing the same level of services that were common at the baseball World Series, NFL Super Bowl and at major NCAA championships: pre-event media guides and daily notes, pre-event athlete availabilities and news conferences and post-event record recaps, statistics and quotes.
This was quite an undertaking as the AAU functioned as the national governing body for eight Olympic sports, including aquatics, bobsled, boxing, judo, luge, track & field, weightlifting and wrestling. Pete led the press operations program for the 1978 World Weightlifting Championships and 1979 World Wrestling Championships.
In 1979, he left the AAU to become the Media Information Director of The Athletics Congress, devoted specifically to track & field. He greatly expanded the media information and operations efforts, becoming a publisher of statistical guidebooks on cross country, the decathlon and heptathlon, race walking, indoor track & field, junior track & field, the U.S. National Championships and a seasonal track & field guide, the American Athletics Annual. Under his direction, the first-ever comprehensive calendar of U.S. meets was produced in 1983.
Pete was also the face of U.S. track & field press services on the road, serving as the U.S. team press officer for numerous international meets, as well as five editions of the U.S. Olympic Track & Field Trials. He created a mobile but ever-changing team of sports information professionals, statisticians and track nuts to help serve the media at national and international events, known as the "TAC Press Box Crew."
(The photo above shows TAC Press Box Crew members, left to right, Alan Mazursky, with the late Bruce Tenen explaining to Cava at right, that his 1981 IAAF World Cup credential was not good for admission to the "press box" at the Colosseum in Rome!)
Beyond all of this publicly-seen activity, Cava was also a gifted advisor and counselor to TAC Executive Director Ollan Cassell, to the AAU and TAC officers, on communications matters large and small. While he had detractors, Cava was widely appreciated – especially in the days before electronic mail was commonly available – for being accessible, friendly and well informed, among not only U.S. news media, but track & field reporters around the world, as well as many U.S. officials, promoters, agents, and, of course, athletes.
He was a large man, but gentle, easygoing and fun. He and the AAU and TAC reaped the benefit of his upbeat personality and sunny outlook, but he was not someone to be crossed, and certainly not a second time.
Pete left USA Track & Field in 1999 (the name changed in 1992) and continued to work as a contract press officer for many events, including two editions of the World Baseball Classic, where his language skills made him an excellent choice to support teams such as Italy and Venezuela. He also wrote for the Indianapolis Star, was a U.S. correspondent for Agence France Presse and contributed to the National Scholastic Sports Foundation Web site.
But he also indulged his love for baseball writing and statistics and had encyclopedic knowledge about major-league players born in Indiana, as well as almost everything to do with his beloved New York Yankees, and his wife's favored Chicago Cubs. And he was known to enjoy, on occasion, handmade cigars, especially when his travels took him to Cuba.
Born in Staten Island, New York on 26 July 1946, Pete graduated from Fordham University, where he worked in the sports information department, and during his stint in the U.S. Army, served in the Public Affairs Office of the First Infantry Division at Ft. Riley, Kansas. He joined the AAU after working as a sports reporter and a radio program director.
He is survived by his wife and lifelong love, Molly, and son Andy and daughter Nancy. Services are pending. He is already deeply missed by the many, many people whose lives he touched … and made better.
(Special thanks to Bob Hersh for the correct year in which TAC became USA Track & Field, and to Dan O'Brien for noting Pete's passion for the Yankees and Molly's for the Cubs).
● Athletics II ● One of the four gold medals won by the legendary Jesse Owens at the 1936 Olympic Games in Berlin, Germany, sold in an online auction to a private collector for $615,000 on 8 December.
It's not clear which event this medal was awarded for, as there was no engraving of names or event in 1936. This medal was offered by weightlifter John Terpak, who befriended Owens as a teammate in 1936 and later helped him as he got his public relations business off the ground as a speaker in the 1950s.
● Athletics III ● Reader (and track coach) Ron Brumel of Los Angeles, California, sent in personal memories of New Zealand great Peter Snell, who passed away on 12 December:
"Very sad to hear of Snell's passing.
"He was my first hero as I began my H.S. running career in 1961. He was an upset winner in Rome 1960, upsetting Roger Moens of Belgium in the 800. He set a then world record for 800 meters on a grass track in New Zealand running 1:44.3 and 1:45.1 for 880 yards in the same race.
"He then went on to break the legendary Herb Elliott's world mile record, running 3:54.4, then 3:54.1 later on.
"He dominated in Tokyo '64, winning both the 800 and 1500 with devastating kicks from 300 meters out.
"His running style was more of a lope than a steady rhythm, he had the legs of a short sprinter, not a middle distance runner, and carried his arms in a long, low carriage, elbows straight, with his index finger pointing downward.
"I used to imitate his running form, including the kick from 300 out in the 880, though with not the same results. Usually, I would get beat in the last 50 yards, having begun my kick way too early. Alas, I was no Peter Snell.
"He deserved much more than the single sentence, throw-away line in the L.A. Times. And yes, he was a student of physiology and highly regarded as an academic. (see the pre-Olympic Sports Illustrated article in 1964, a terrific article about Snell, his training, his personal life, and his thinking: 'The Fastest is Faster').
"RIP Peter Snell."
● At the BuZZer ● The International Olympic Committee announced yet another doping positive from the 2012 London Games, this time knocking out another gold medalist.
Ukraine's Oleksiy Torokhtiy won the 105 kg division in London, but the IOC's re-testing program – now carried out by the International Testing Agency – found his "samples from London 2012 resulted in a positive test for the prohibited substances Dehydrochlormethyltestosterone."
This was the 62nd doping positive found by the IOC in its re-analysis program of the London Games and now 71 total positives at the 2012 Games. Only the 2008 Beijing Games have had more positives: seven during the Games and 65 afterwards for a total of 72.