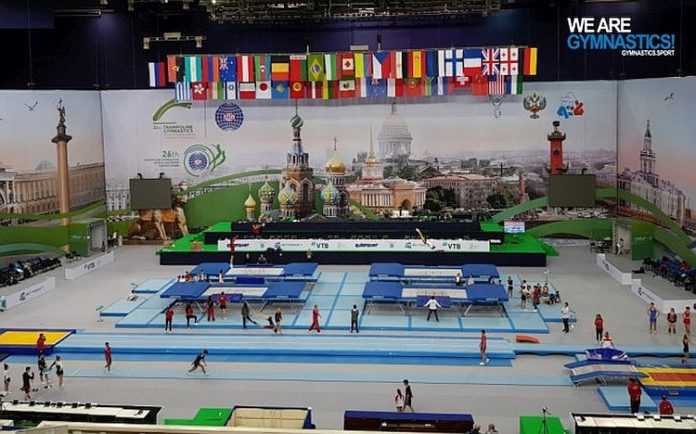 One of the reasons that many international federations are loath to suspend Russia for doping violations is that the country hosts so many Grand Prix or World Cup or World Championship events. The FIG World Trampoline Championships are just the latest, at the St. Petersburg Sports and Concert Complex.
More than 250 athletes from 34 countries are entered in individual and team events in Trampoline and Tumbling. Entries of note include:
Men:
∙ Uladzislau Hancharou (BLR) ~ 2016 Olympic Champion and 2015 Worlds silver medalist
∙ Gao Lei (CHN) ~ 2016-17 World Champion and 2016 Olympic bronze medalist
∙ Dmitrii Ushakov (RUS) ~ 2012 Olympic silver and 2017 Worlds silver medalist
∙ Andrey Yudin (RUS) ~ 2015 World Championships bronze medalist
∙ Dong Dong (CHN) ~ 2009-10-13 World Champion and thrice Olympic medalist: 3-1-2 in 2008-12-16
Women:
∙ Rosie MacLennan (CAN) ~ 2012-16 Olympic Champion and 2013 World Champion
∙ Bryony Page (GBR) ~ 2016 Olympic silver medalist
∙ Tatsiana Piatrenia (BLR) ~ 2017 World Champion
∙ Dan Li (CHN) ~ 2016 Olympic silver medalist; 201-15 World Champion
∙ Lingling Liu (CHN) ~ 2014 World Champion
Page is returning from injury just in time for the Worlds; MacLennan, now 30, is back in action after a slow recovery from concussions and ligament damage in her neck.
In Trampoline Synchro, men's winners Hancharou and Aleh Rabtsau (BLR) are back for Belarus; half of the Chinese women's team – Xueying Zhu – is also returning.
In the Tumbling events, defending champions Kuo Zhang (CHN) and Fangfang Jia (CHN) both return.
The U.S. has a full team in St. Petersburg, but national Trampoline champs Jeffrey Gluckstein and Savannah Thompson are not able to compete. National runner-ups Aliaksei Shostak and Nicole Ahsinger and bronze medalists Isaac Rowley and Alyssa Oh will lead the U.S. squad.
Look for results here.