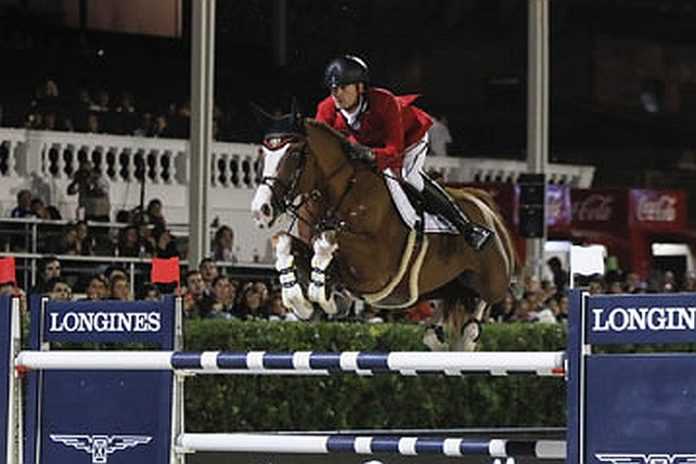 Yes, the World Equestrian Games just finished in North Carolina, but the Show Jumping world is now anticipating the annual FEI Jumping Nations Cup Final, which will be held in Barcelona (ESP) beginning on Friday.
This is the 10th annual edition of this championship, which includes 16 teams invited from the seven different regional leagues around the world. Coming to Barcelona are 83 riders and 138 horses from these teams:
∙ Austria
∙ Belgium ~ 1st in Europe Div. 1
∙ Brazil
∙ Canada ~ 1st in North/Central America
∙ France ~ 4th in Europe Div. 1
∙ Germany ~ 8th in Europe Div. 1
∙ Great Britain ~ 6th in Europe Div. 1
∙ Ireland ~ 2nd in Europe Div. 1
∙ Italy ~ 9th in Europe Div. 1
∙ Netherlands ~ 5th in Europe Div. 1
∙ Portugal ~ 1st in Europe Div. 2/Group C
∙ Switzerland ~ 3rd in Europe Div. 1
∙ Sweden~ 7th in Europe Div. 1
∙ Spain ~ 10th in Europe Div. 1
∙ United Arab Emirates ~ 1st in Middle East
∙ United States ~ 2nd in N./Central America
The line-ups for these teams will differ significantly from the recent World Equestrian Games, where the United States, Germany and Sweden took the medals in Team Jumping. The only member of the winning U.S. team on the Barcelona squad is Laura Kraut; she will be joined by Lucy Deslauriers, Alex Granato, Andrew Kocher and Jessica Springsteen (yes, the daughter of rick & roll star Bruce Springsteen!).
The Nations Cup started in 2009 and has been won three times by France (2009-10-13) and Germany (2011-12-16) and twice by the Netherlands (2014-17), with Belgium winning in 2015. The Dutch, the U.S. and Belgium went 1-2-3 last year, the first medal for the American team in this event.
Look for results here.