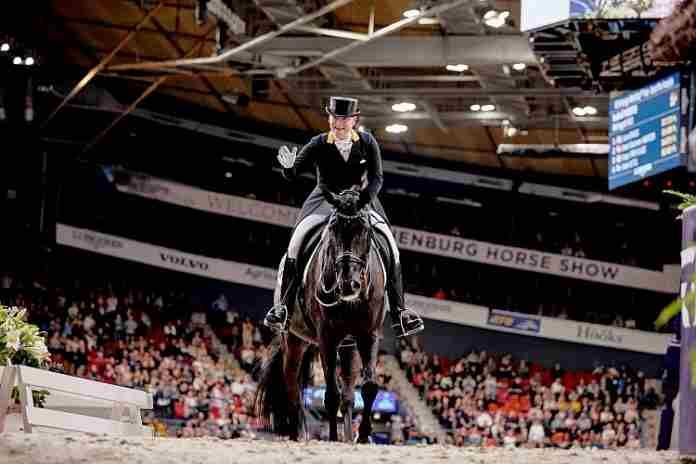 When the subject of the all-time greatest equestrian riders is discussed, Germany's Isabell Werth has to be right near the top, as she demonstrated once again at the 2019 FEI World Cup Final in Goteborg (SWE), with a clear victory in both sections of the Dressage final.
Riding aboard Weihegold OLD, on whom she won last ear, Werth out-pointed American Laura Graves in the Dressage Grand Prix on Friday, scoring 81.755% to 80.109% for Graves.
In the Grand Prix Freestyle final on Saturday, Werth triumphed again over Graves, 88.871%-87.179%, giving Werth her fifth World Cup title and third in a row. Graves won the silver for the third year in a row.
Werth, 49, won her 12th career World Cup medal and has championships in three decades: 1992-2007-2017-18-19. She owns six Olympic gold medals (1992-2016) and four silvers, plus nine World Championships golds, spanning 1994-2018.
Graves was upbeat about her silver, saying "I was super thrilled with my horse today, and the crowd really got a good show up until the very last ride."
For the Freestyle Final, Werth's victory was worth €60,000, while Graves won €50,000 and bronze medalist Helen Langehanenberg (GER) received €40,000, out of a final-day prize purse of €275,100.
The Jumping final also had plenty of drama, as home favorite Peter Fredricson took the lead with two riders left, having just five penalties through the two rounds of the final-day competition. Swiss Martin Fuchs had just three faults on his first-round run and pushed Fredricson to silver with an error-free round.
Now, only his teammate Steve Guerdat, the winner of the first of the three Finals events, remained. He had two faults in his first-round event, so he had no margin for error … but he didn't need any.
Guerdat proceeded to guide Alamo clear all of the barriers and finish with a perfect round, the gold medal and €172,500 out of the €750,000 prize purse for his sixth career World Cup medal and his third win in the past five years (also in 2015 and 2016).
Fuchs settled for silver and €131,250 and Fredricson was a popular third and won €78,750. Defending champ Beezie Madden of the U.S. finished sixth with 11 total faults: seven in the first ride and four on the second, losing a tie-breaker for fifth on time. That was still good enough for €45,000.
The World Cup Finals will be back in the U.S. in 2020 in Las Vegas; summaries:
FEI World Cup Final
Goteborg (SWE) ~ 3-7 April 2019
(Full results for Dressage here; for Jumping here)
Dressage/Final I: 1. Isabell Werth (GER, on Weihegold OLD), 81.755%; 2. Laura Graves (USA, on Verdades), 80.109%; 3. Daniel Bachman Andersen (DEN, on Blue Hors Zack), 78.152%; 4. Kasey Perry-Glass (USA, on Goerklintgarrds Dublet), 77.267%; 5. Helen Langehanenberg (GER, on Damsey FRH). Also: 8. Adrienne Lyle (USA, on Salvino), 75.326%.
Dressage/Final II: 1. Werth (GER), 88.871%; 2. Graves (USA), 87.179%; 3. Langehanenberg (GER), 86.571%; 4. Bachmann Andersen (DEN), 85.468%; 5. Perry-Glass (USA), 84.975%. Also: 7. Lyle (USA), 81.832%.
Jumping/Final I: 1. Steve Guerdat (SUI, on Alamo), 61.28; 2. Pieter Devos (BEL on Apart), 61.31; 3. Olivier Philippaerts (BEL, on H&M Legend of Love), 61.43; 4. Francois Mathy Jr. (BEL, on Casanova de l'Herse), 61.62; 5. Martin Fuchs (SUI, on Clooney 51), 62.04. Also: 10. Beezie Madden (USA, on Breiting LS), 63.74.
Jumping/Final II: 1. Peder Fredicson (SWE, on Catch Me Not S), 37.94 (0 faults); 2. Eduardo Alvarez Aznar (ESP on Rokfeller de PlevilleBois Margot), 37.97 (0); 3. Max Kuhner (AUT, on Chardonnay 79), 39.44 (0); 4. Jaroslaw Skrzyczynski (POL on Chacclana), 39.68 (0); 5. Madden (USA), 34.75 (4).
Jumping/Final III: 1. Guerdat (SUI), 2 (2 faults in Round A and 0 in Round B); 2. Fuchs (SUI), 3 (3+0); 3. Fredricson (SWE), 5 (5+0); 4. Daniel Deusser (GER, on Scuderia 1918 Tobago Z), 6 (6+0); 5. Niels Bruynseels (BEL, on Delux van T&L), 11 (7+4). Also: 6. Madden (USA), 11 (7+4; lost tie-break on time, 66.14-66.27); … 15. Eve Jobs (USA, on Venue d'Fees Des Hazalles), 30 (26+4).