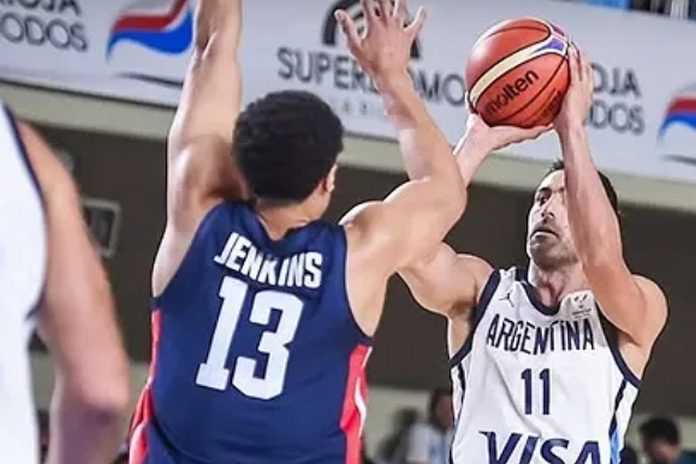 Road games are hard and the U.S. men's national team for the FIBA 2019 World Cup found out the hard way in an 80-63 loss to Argentina in La Rioja (ARG).
The American squad, made up of non-NBA players – from the G League and free agents – ran off 12 consecutive points to start the game, but by the end of the quarter, the Argentines had closed to 16-13.
Argentina had a 35-32 lead at the half and then pummeled the U.S. in the third quarter by a 23-8 count to take a commanding 58-40 lead at the end of the quarter. The U.S. managed a 23-22 edge in the final quarter.
The home team shot 44.4% from the field, including 58.6% on 2-point shots and held the U.S. to just 35.2% from the floor. Argentina out-rebounded the American squad, 45-44 and got major contributions from its bench. Reserve point guard Nicolas Laprovittola led the winners with 17 points and shooting guard Lucio Redivo had 14.
The U.S. had only one player in double figures: guard Travis Trice, who had 16 points on 5-10 shooting and 3-4 from the foul line. Reserve center Tyler Zeller led the squad with 12 rebounds.
In the other games in Group E, Uruguay squeezed past Puerto Rico, 64-62 and Panama defeated Mexico, 76-65. That brings the standings to:
1. Argentina (8-1)
2. United States (7-2)
3. Uruguay (6-3)
4. Puerto Rico (5-4)
5. Panama (4-5)
6. Mexico (3-6)
The top three teams in the group will qualify for the 2019 FIBA World Cup, so the U.S. is still in good shape, with a two-game lead on Puerto Rico with three games to play. The U.S. will face Uruguay on Sunday in Montevideo; the Americans scored a 114-57 win over Uruguay back on 14 September in Las Vegas. A U.S. win coupled with a loss by Puerto Rico to Panama in Panama City would clinch a World Cup berth for the Americans.
The final qualifying games will come in February, with the U.S. playing at home against Panama and, yes, Argentina. You can follow the games and standings here.