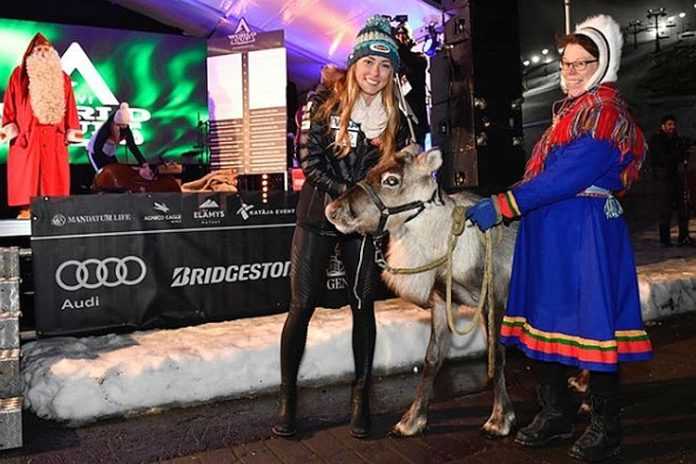 If Mikaela Shiffrin (pictured) is going to win a third straight FIS Alpine World Cup title, it will start with continued dominance in the Slalom.
So her brilliant performance at the season-opening race in Levi (FIN) was a good sign for the season, as she mauled the field with a brilliant first run and cruised home with a decisive win over last season's victor, Slovakian Petra Vlhova.
Shiffrin started no. 1 and tore down the mountain, timing 45.06 for her run. No one got close, with Sweden's Frida Hansdotter at 45.20 and then Vlhova at 45.65. That caused everyone to race harder on the second run, but Hansdotter fell back to fourth, Austria's Bernadette Schild moved up to third and Vlhova had a consistent run to move up to second.
Shiffrin, now skiing last, had the event in hand and skied consistently, finishing fifth in the second run and winning by a convincing 0.58 seconds.
As the winner, Shiffrin got to name another reindeer, her third. She named this one "Mister Gru" after "Despicable Me" character Felonious Gru. It joins Rudolph (2013) and Sven (2016) from her prior wins.
The script was almost the same in Sunday's men's Slalom. Defending World Cup champion (and Slalom champ) Marcel Hirscher ripped down the mountain with the fastest first-run time of 54.27, just 0.07 ahead of perennial challenger Henrik Kristoffersen (NOR). Hirscher was fastest on the second run, too, but by just 0.02 over Kristoffersen again, for a final margin of just 0.09.
It's a familiar end to World Cup Slalom races, as Hirscher and Kristoffersen finished 1-2 in this event nine times (!) on the World Cup circuit last season. It was Hirscher's third win at Levi and he named his reindeer "Mr. Snow," after his two other reindeers "Ferdinand" and "Leo." Summaries:
FIS Alpine World Cup
Levi (FIN) ~ 17-18 November 2018
(Full results here)
Men's Slalom: 1. Marcel Hirscher (AUT), 1:51.04; 2. Henrik Kristoffersen (NOR), 1:51.13; 3. Andre Myhrer (SWE), 1:52.45; 4. Ramon Zenhaeusern (SUI), 1:52.49; 5. Jean-Baptiste Grange (FRA), 1:52.60.
Women's Slalom: 1. Mikaela Shiffrin (USA), 1:32.61; 2. Petra Vlhova (SVK), 1:33.19: 3. Bernadette Schild (AUT), 1:33.40; 4. Frida Hansdotter (SWE), 1:33.42; 5. Wendy Holdener (SUI), 1:33.46.