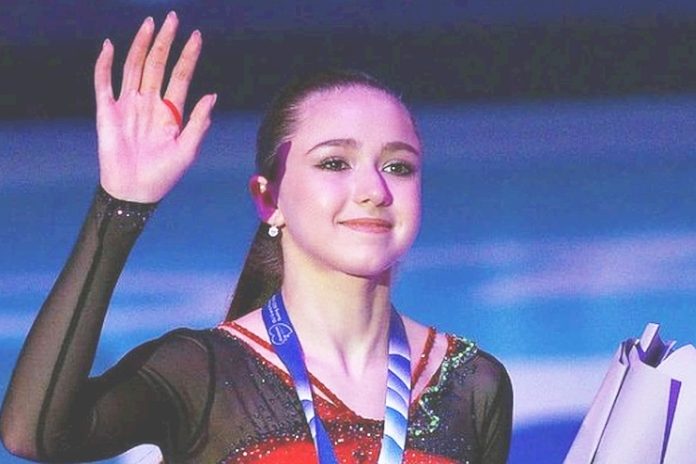 ★ The Sports Examiner: Surveying, monitoring and explaining the key competitive, economic and political forces shaping elite sport and the Olympic Movement. ★
★ To get The Sports Examiner by e-mail: sign up here! ★
≡ THE 5-RING CIRCUS ≡
1. Jefferson County Commission OKs $4 million for World Games debt
2. World Rowing may sue Italian town's abandonment of two events
3. RUSADA ready to hold Valieva case hearings
4. Russian gymnast Kuliak's suspension upheld
5. Paris 2024 torch relay details: 12,000 runners, 70-80 days
The World Games organizing committee in Birmingham will receive another $4 million to support its $15.66 million debt on a vote from the Jefferson County Commission last week. The money actually comes from part of a federal grant to support tourism losses due to Covid-19; the organizers have now been granted $9 million in total and are continuing to try to make good the losses. For the second time this year, the town of Sabaudia, Italy withdrew from hosting rowing events it had been awarded, this time the 2023 World Rowing Coastal Championships and Beach Sprint Finals and the 2024 European Rowing Championships, "due to recent unforeseen political changes." The federation indicated it had contracts for both events and is considering legal action against the town! The Russian Anti-Doping Agency said it had completed its months-long inquiry into the Kamila Valieva doping case from the Beijing 2022 Olympic Winter Games and would hold a hearing soon. The Gymnastics Ethics Foundation upheld the suspension of 20-year-old Russian Ivan Kuliak for wearing a pro-invasion "Z" symbol on his uniform at a March World Cup event. In Paris, it was reported that the 2024 Olympic Torch Relay will utilize 12,000 runners over 70-80 days and cost perhaps €30-35 million, with the host communities paying about a third.
1.
Jefferson County Commission OKs $4 million for
World Games debt
The second large chunk of funding for the $15.66 million debt left from the staging of the 2022 World Games in Birmingham, Alabama, was confirmed last Thursday (8th) with the Jefferson County Commission voting on a $4 million grant.
Added to the prior $5 million approved by the Birmingham City Council, 57.5% of the total debt has been provided for. The Birmingham Convention & Visitors Bureau is also expected to contribute additional funds of perhaps $1 million, with the remnants of the Birmingham Organizing Committee working to raise the remainder from the private sector, including World Games corporate partners.
The Jefferson County Commission voted 4-1 for the grant, which will actually come from Federal funding from the American Rescue Plan Act. The country received $113 million under the ARPA to deal with the impact of Covid-19 to area tourism and these funds will be used to help the World Games organizers. Al.com reported:
"Commission President ProTem LaShunda Scales made a point during the meeting to address criticism that the money should instead be spent on local needs. 'I wanted to be clear that residents understand the difference in the dollars used for tourism versus the idea that monies are being taken away from the communities or roads or any other service we provide as a county,' she said. 'These dollars could not be used for operational needs that our citizens are looking for us to provide. The public needs to know that.'"
Said Commission President Jimmie Stephens:
"We discovered we are able to use reimbursable federal dollars without impacting monies we'd normally use to improve the quality of life of our citizens. That was a very fortunate finding because I was not prepared to use any dollars that could be used to improve quality of life.
"You want to help [the World Games], but I can't extend [Jefferson County] taxpayer dollars to do something folks should have done right to start with. I don't mind utilizing these fed funds that didn't originate here. It was the World Games and people from the entire world came. I feel comfortable with that."
2.
World Rowing may sue Italian town's abandonment of two events
Don't be surprised if you need to read this announcement from World Rowing a couple of times. It's that shocking:
"World Rowing is disappointed to announce that the following World Rowing and European Rowing events, which had been attributed to Sabaudia, Italy, will no longer take place in Sabaudia, Italy due to recent unforeseen political changes.
"● 2023 World Rowing Coastal Championships & Beach Sprint Finals
"● 2024 European Rowing Championships
"The new Mayor of Sabaudia refuses to abide by the contractual obligations provided in the contracts validly executed in 2019 and 2020 and unilaterally decided to dissolve the Organising Committee in charge of the hosting of these events. World Rowing is currently considering all appropriate legal remedies against the Organisers of these events.
"The above-mentioned Championships will have to take place in other venues. World Rowing has invited its Member Federations to provide their expressions of interest in hosting the above-mentioned events by 30 September 2022."
So, in addition to Covid and a possible worldwide recession, we now have "unforseen political changes."
Saubaudia is a town of about 20,000 located on the western coast of Italy, south of Rome, in central area of the country. Alberto Mosca, a former general of the Carabinieri (national police) won June's Mayoral election over former Mayor Maurizio Lucci, with 52.9% of the vote, with a margin of about 381 votes.
However, Saubaudia's problems as a rowing venue started earlier. On 23 March, the venue pulled out as the site for the European U-19 Championships, scheduled for 21-22 May. The town of Varese, Italy stepped in and held the event instead.
3.
RUSADA ready to hold Valieva case hearings
"The investigation has been concluded. The next step is for the results processing department, it is preparing documents for hearings in the [anti-doping disciplinary committee], in accordance with established rules and procedures."
That's from the Russian Anti-Doping Agency, the responsible party in the inquiry into the doping positive of then-15-year-old Kamila Valieva, the Beijing 2022 women's skating favorite, who tested positive for trimetazidine at the Russian National Championships in December, but was cleared by a RUSADA appeals panel in February and declared eligible to compete at the Olympic Winter Games.
An emergency appeal by the International Olympic Committee, the International Skating Union and the World Anti-Doping Agency to keep her from competing in Beijing was turned down by the Court of Arbitration for Sport.
Valieva won the women's section of the Team Event and Russia won the event overall with 74 points to 65 for the U.S., 63 for Japan and 53 for Canada. She performed poorly in the women's individual event, finishing fourth.
The IOC did not allow the medal ceremony for the Team Event to take place and has been waiting for the outcome of the Valieva case – including the inevitable appeal – to officially conclude the event and award the medals.
No indication of when a hearing would take place has been given as yet.
4.
Russian gymnast Kuliak's suspension upheld
Remember the furor from the March 2022 FIG Apparatus World Cup in Doha (QAT), where Russia's Ivan Kuliak, 20, brazenly wore the infamous, pro-invasion "Z" symbol on his uniform?
He won a bronze medal on the Parallel Bars, but was subsequently disqualified in May by the Disciplinary Commission of the Gymnastics Ethics Foundation, including:
"Mr Kuliak is not allowed to participate in any FIG-sanctioned event or competition organised by an affiliated FIG member federation for one year as of the date of this decision. If the protective measures keeping Russian athletes from competing are still in place on 17 May 2023, the ban shall continue and expire six months after the removal of said measures …"
On Tuesday (14th), the decision in Kuliak's appeal to the Gymnastics Ethics Foundation was announced, including:
"In its decision, the Appeal Tribunal Panel confirms the decision issued on 17 May 2022 by the GEF Disciplinary Commission in upholding the one-year ban from competition. It finds, however, that this ban is independent of the protective measures currently keeping Russian athletes out of international gymnastics competition and should therefore not be prolonged beyond one year regardless of the status of the protective measures at the end of the ban."
So, Kuliak's personal eligibility will be activated on 17 May 2023, but if Russian athletes continue to be banned, he will too, but on the same basis as all others.
The appeal costs of CHF 5,000 remain in place and have been paid; this decision can now be appealed to the Court of Arbitration for Sport if desired.
5.
Paris 2024 torch relay details: 12,000 runners, 70-80 days
Initial details of the Paris 2024 torch relay were announced on Tuesday (13th), with the organizing committee explaining the basic outline of the program and reports adding in some of the financial specifics:
● Total relay program of 70-80 days with about 12,000 total runners
● Visiting about 60 "Departments of France" (regions)
● Cost roughly €30-35 million (about $30-35 million U.S. today)
The initial hope was to have the torch visit all 102 Departments of France – the 96 continental Departments and the six islands – but FrancsJeux.com reported that some of the regions had no interest in the support costs of €150,000 and passed.
The all-sports newspaper L'Equipe reported that each day of the relay will cost about €450,000 and will pass through about 700 cities. The areas to be visited are expected to be fixed sometime in November and the actual route in mid-2023. A visit to the surfing site in Tahiti is also planned.
The relay is planned to have three commercial sponsors, with the BPCE financial group (Banque Populaire, Caisse d'Epargne & Natixis) and Coca-Cola already committed.
≡ WORLD CHAMPIONSHIPS ≡
● Gymnastics ● The FIG Rhythmic World Championships are underway in Sofia (BUL), with Italy's 18-year-old Sofia Raffaeli claiming first-day golds in both Hoop and Ball.
In Hoop, Raffaeli had the highest difficulty rating for her routine at 17.500 and scored 34.850 for a clear win over Stiliana Nikolova (BUL: 33.400) and Darja Varfolomeev (GER: 32.150). American Evita Griskenas was seventh at 30.450.
Almost the same story in Ball, where Raffaeli again had a high degree of difficulty (17.600) and helped her to a 34.900-34.100 win over Varfolomeev, with Italian Milena Baldassari third (32.400).
Raffaeli won the All-Around at three of the four FIG Rhythmic World Cups this season and won 13 medals in the 16 individual events held. She moved up from a bronze in hoop at the 2021 Worlds to the top of the podium with two more apparatus events and the All-Around still to go.
Russia has dominated the Rhythmic Worlds and its absence is obvious. Raffaeli's win in Hoop broke a streak of six consecutive Worlds golds by Russians and the Ball gold ended a string of 12 straight Russian wins. The streak is 10 in Clubs and 10 in the All-Around (but zero in Ribbon!).
● Wrestling ● The U.S. won its first gold of the 2022 UWW World Championships in Belgrade, with Dominique Parrish claiming her first Worlds medal.
Parrish crushed her first two opponents at 53 kg by 10-0 technical falls, then defeated Greece's Maria Prevolaraki in a tense, 3-1 battle to get to the final. She had a battle in the final against Asian Championships silver medalist Batkhuyagiin Khulan of Mongolia, taking a 2-0 lead in the first period, then getting a final takedown after Khulan had tied the score in the second.
Japan marched on with two more victories, at 50 kg and 65 kg. Tokyo Olympic champ Yui Sasaki dominated the 50 kg class and won her third World title with a pinfall against Mongolia's 2021 Worlds bronze medalist Dolgorjavyn Otgonjargal. American Sarah Hildebrandt, the Tokyo bronze medalist, won her third career Worlds medal with a win in her bronze-medal match with Alina Vuc (ROU) by a 10-0 technical fall.
At 65 kg, Miwa Morikawa moved up from silver at the 2021 Worlds to gold, defeating China's Jia Long in the final, 2-0. American Mallory Velte lost to Morikawa (also by 2-0) in the quarterfinals, but fought back to win a bronze medal over Mimi Hristova (BUL) by 11-2. It's Velte's second Worlds medal, after a bronze in 2018 at 62 kg.
At 76 kg, Turkey's Yasemin Adar, the Tokyo bronze medalist, won her second Worlds gold with a 6-0 shutout of Egypt's Samar Amer in the final. Adar previously won the 2017 World title in Paris in 2017.
The U.S. women had a big day in the preliminary rounds of four other divisions and qualified three finalists: three-time World Champion Helen Maroulis (57 kg), Olympic champ Tamyra Mensah-Stock (68 kg) and 18-year-old Amit Elor, the 2022 World Junior Champion, at 72 kg.
≡ PANORAMA ≡
● Olympic Games 2020: Tokyo ● The arrests keep piling up in the Tokyo Olympic sponsor bribery case, with Kadokawa Publishing Chair Tsuguhiko Kadokawa, 79, detained by Tokyo prosecutors on Wednesday.
The prosecutors believe that Kadokawa Publishing paid ¥76 million (about $531,600 U.S. today) to the consulting firm of an ex-Dentsu staffer, working with former Dentsu senior managing director Haruyuki Takahashi, a Tokyo 2020 Executive Board member with influence over the sponsor selection process. Kadokawa Publishing was named an "Official Supporter" of the Games (third tier) in 2019, with a license to use the Tokyo 2020 marks on publications for sale to the public.
The inquiry has thus far pursued want-to-sponsor bribery allegations against Kadokawa, business suit retailer Aoki Holdings and Daiko Advertising, the latter on behalf of an unnamed client.
● Russia ● "We insist that Russia has been and remains a self-sufficient powerful sports power that can overcome these temporary sanctions."
That's Russian Sports Minister Oleg Matytsin at a Monday conference, explaining that no permanent damage has been done to the country's sports program as a result of near-universal sanctions on its athletes and teams:
"As soon as the sanctions measures were introduced, we adopted an anti-crisis plan. Today we will talk about its implementation, both in the format of the competitions and in terms of our international activities. The main task is to strengthen the national sports system."
● Freestyle Skiing ● Canadian moguls star Chloe Dufour-Lapointe, 30, has announced her retirement.
She competed internationally for 15 years and was a frequent medal winner, with 27 medals in 142 World Cup starts and a Crystal Globe for the 2015-16 season. A four-time Olympian, she won silver at Sochi in 2014, one place behind her sister Justine, and won two Worlds medals in the dual moguls, a silver in 2011 and the Worlds gold in 2013.
● Swimming ● Italian Swimming Federation President Paolo Barelli, is a leading candidate for the Italian Senate in elections coming up on 25 September and the former head of the European Swimming League (LEN), was provisionally suspended by the FINA Ethics Panel on Wednesday.
The notice of suspension noted only "The FINA Ethics Committee is currently investigating multiple referrals of alleged wrongdoing from three separate cases against Mr. Barelli." Other reports indicate the issues involve financial irregularities, with continuing investigations in Italy and Switzerland. Barelli was elected to a third term as the head of LEN in 2020, but was then removed in a 46-44 vote of no-confidence in September 2021.
In a statement, Barelli said in part:
"The time of the attack on my political role in the run-up to the elections is also suspect. I am sure that this story, like all the others with which people tried to tarnish me in Italy and abroad, will end with the full demonstration of my correctness."
● Table Tennis ● Events have been canceled in China for months in nearly every sport except one: table tennis.
The ITTF World Team Championships has been confirmed for Chengdu from 30 September to 9 October, to be held in a confined-access environment similar to that created for the Beijing 2022 Olympic Winter Games in February.
On Wednesday, World Table Tennis announced the WTT Champions Macau tournament from 19-23 October, with $800,000 in total prize money, and the WTT Cup Finals in Xinxiang, with a $1 million prize purse.
And perhaps the anti-Covid measures are being trimmed, as WTT Council Chair Guoliang Liu (CHN) said, "We expect players from all over the world to fully explore and experience China's history, culture and customs by participating … May table tennis become the bridge connecting the world again."
¶
You can receive our exclusive TSX Report by e-mail by clicking here. You can also refer a friend by clicking here, and can donate here to keep this site going.
For our updated, 620-event International Sports Calendar for 2022 and beyond, by date and by sport, click here!