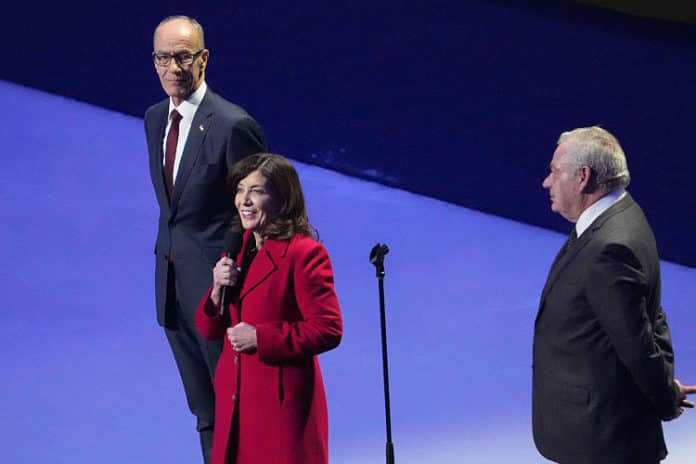 ★ The Sports Examiner: Chronicling the key competitive, economic and political forces shaping elite sport and the Olympic Movement.★
★ Thank you to now 15 donors, who have covered 38% of our technical expenses for the first half of 2023. Please consider a donation. Thank you in advance. ★
★ To get The Sports Examiner by e-mail: sign up here! ★
≡ THE 5-RING CIRCUS ≡
1. Winter World University Games open in Lake Placid
2. IPC to hear Russian suspension appeal in spring
3. Russia's Litvinov admits doping, loses 2014 Euro hammer bronze
4. Gold Coast looking to upstage Brisbane in 2032
5. Morgan, Messi, Mbappe nominated for FIFA awards
The 31st Winter World University Games opened in Lake Placid, New York on Thursday evening, with New York Governor Kathy Hochul declaring the Games open, although the ice hockey tournament actually began on Wednesday. The appeals board of the International Paralympic Committee will hear the appeal of the Russian Paralympic Committee to be reinstated in the spring, after the IPC suspended it last November, something the International Olympic Committee has been loath to do with the Russian Olympic Committee. Russian hammer thrower Sergej Litvinov, 36, and son of the 1988 Olympic gold medalist of the same name, admitted to doping in 2012 on a Facebook post, and was promptly slapped with a suspension of two years by the Russian Anti-Doping Agency and a nullification of his results that will take away his 2014 European Championships bronze medal. Politics over public spending is in full swing in Australia regarding the 2032 Olympic Games, where the Mayor of Gold Coast – the successful host of the 2018 Commonwealth Games – is campaigning for more events to be moved there from Brisbane, which is facing a possible multi-billion-dollar cost to revamp the Brisbane Cricket Ground ("The Gabba") for future use as a world-class facility. FIFA's nominations for its Players of the Year in 2022 were announced Thursday, including American Alex Morgan on the women's side and men's World Cup heroes Lionel Messi of Argentina and Kylian Mbappe of France.
1.
Winter World University Games open in Lake Placid
"Let the 2023 Winter World University Games begin!"
New York Governor Kathy Hochul opened the second Winter World University Games to take place in Lake Placid – after a 51-year hiatus – on Thursday evening inside the Olympic Center during a festive, two-hour Opening Ceremony.
Held in the famed Herb Brooks Arena where the "Miracle on Ice" took place during the 1980 Olympic Winter Games, the ceremony began with a reading and performance from members of the Oneida Indian Nation and the Saint Regis Mohawk Tribe.
The parade of nations – 46 are participating in Lake Placid – took about 48 minutes, with the biggest cheers for the U.S. team, for Ukraine and for cross-country skier Theo Mallett from Haiti, its first-ever Winter WUG participant.
International University Sports Federation (FISU) Acting President Leonz Eder of Switzerland told the teams and spectators that "Lake Placid is a special city that has created both legends and a legacy that endures." Referring to the chaos of the coronavirus pandemic, he noted:
"To see so many of you gathered here today is a proud and emotional moment, which should make these World University Games a truly festive occasion, especially after the cancellation of Lucerne 2021."
Eder also asked for a moment of silence to honor the victims of the terrible recent weather in upstate New York and for those who have lose their lives to "senseless wars."
Hochul noted in her remarks:
"After more than $550 million in state-supported renovations and investments in the North Country to prepare for the games, New York is ready to welcome athletes and spectators from all over the world to our state. I wish the best of luck to the athletes competing, and I thank FISU, the organizing committee and partners at every level of government for ensuring that this event is a resounding success."
The unique Lake Placid 2023 "torch" – actually an LED display – was brought into the arena and then traveled to Brewster Park a short distance away where the Games cauldron was "lit."
The competitions actually started on Wednesday, with Slovakia defeating Hungary, 4-0, in the first event. The U.S. men's team was also in action and whipped Great Britain by 18-0 (not a typo!). The first medals will be determined on Friday morning, with the first ceremony likely for the women's Alpine Super-G.
2.
IPC to hear Russian suspension appeal in spring
Unlike the International Olympic Committee, the International Paralympic Committee suspended the Russian Paralympic Committee from membership last November.
This was opposed by the Russians, of course, who filed an appeal, according to RPC President Pavel Rozhkov:
"The Russian Paralympic Committee has received a letter confirming that the IPC Appeals Tribunal received a motion, filed by the RPC and three Russian Para-athletes contesting the decision by the IPC General Assembly to suspend the RPC's membership with the IPC. The letter states that the hearings will take place either in April or May, 2023.
"The Appeals Tribunal is also set to soon consider at its closed session the RPC's motion to temporarily lift sanctions previously imposed in regard to Russian Para-athletes.
"In the event of a positive decision on this matter, Russian athletes will have an opportunity to participate in the qualifiers for the 2024 Paralympics in Paris as well as in other major sports tournaments before the appeal of the RPC's membership status with the IPC is considered."
3.
Russia's Litvinov admits doping, loses 2014 Euro hammer bronze
A fascinating post this week from Russian hammer thrower Sergej Litvinov, a three-time national champion, 2014 European bronze medalist and son of the 1988 Olympic gold medalist and 1983 and 1987 World Champion of the same name.
Russian-born data scientist Elena Dyachkova – a long-time U.S. resident – shared a Litvinov (the son) Facebook post on Wednesday that included (as posted in English):
"I took doping in 2012 and took profit from the coverup system in Russia.
"2012 in end of April till end of May i took Oral-Turinabol and Oxandrolon.
"Before this I threw 79m [259-2] in February, I improved almost 2 meter with Doping. The hammer was going further without a good feeling, or a good technique. I felt it was wrong at that time. I lost all my technique feelings, [which I] was working so hard before and the hammer was still going far."
He noted that he failed to make the Russian Olympic Team that year because of three fouls in the Russian championships. Then:
"After this year I didn't took anything cause I understood that this isnt the sport I like. My motivation in my sport was to getting better and improve in a very hard technical event. I was interested in training methods, in technique and physiology of this sport. To improve without improvement in this 3 things, but with doping, makes no fun and [sense].
"I had pressure from the federation at that time, but at the end this was my decision and my fault."
Litvinov got his lifetime best of 80.98 m (265-8) in June 2012 in Moscow, while he was doping. He did reach 80.89 m (265-4) the next year, apparently after his doping program was over. He retired after the 2019 season.
Noted Dyachkova, "Refreshing to see a public admission."
The Russian Anti-Doping Agency announced on Thursday that, based on his admission, Litvinov is suspended for two years from 8 November 2021, and more importantly, his results will be nullified from 14 July 2012 to 25 February 2016, including his European Champs bronze, but maintaining his lifetime best of 80.98 m in June 2012.
4.
Gold Coast looking to upstage Brisbane in 2032
Although the Games of the XXXV Olympiad is labeled the "Brisbane Games," Australian politics are already in play to shift more of the focus to the second-largest metropolis in Queensland, Gold Coast.
While much smaller than Brisbane by 2.47 million to 722,000, Gold Coast was the very successful host of the 2018 Commonwealth Games, and third-term Mayor Tom Tate is campaigning to move more events there.
Already slated to host all or parts of beach volleyball, football, golf, judo, wrestling, open water swimming, triathlon, volleyball weightlifting and wrestling, Tate told Daily Mail Australia:
"Look at The Gabba [Brisbane Cricket Ground]. They want to spend A$2.5 billion [~$1.74 billion U.S.] to put an extra 8,000 seats in. That simply doesn't make sense when you cannot deliver affordable housing.
"They should only refurbish it because this is taxpayers' money and there are hard times right now so it's not the time to rebuild. If you are going to burn dollars left, right and centre, people will look at you with disdain.
"I say they need to be respectful of taxpayers' money. We already have a lot of the facilities such as Olympic pools, hockey fields and BMX, to name a few. Let's focus on value-for-money and legacy for the whole of South East Queensland. After all, this all started out as a southeast Queensland bid."
The Gabba project includes not only a seating expansion, but a renovation of the transportation to the area, to make it a centerpiece of a larger commercial sector. However, in the IOC's 2021 feasibility study of the Brisbane bid, its review of the venue plan included "Consider using existing Carrara Stadium (40,000) in Gold Coast for Athletics" and limit The Gabba to ceremonies. Similar suggestions were made for the existing Optus Aquatics Centre instead of the planned, new Brisbane Arena for swimming and water polo, and the Gold Coast Hockey Centre for field hockey.
The Australian national government and the Queensland government agreed on a 50-50 split on infrastructure spending for the Games during the bid process, but with a change from the Liberal Party to Labor in 2022 elections, no formal agreement on spending has yet been concluded.
5.
Morgan, Messi, Mbappe nominated for FIFA awards
FIFA announced its Player of the Year award candidates for 2022, with the biggest stars of the FIFA World Cup in Qatar at the top of the list, including Argentina's Lionel Messi and France's Kylian Mbappe.
The women's Player of the Year list has 14 options, including U.S. star Alex Morgan and two members of the European Champion English team: scoring star Beth Mead and midfielder Keira Walsh.
The men's list also has 14, including Mbappe and Messi, plus Brazil's Neymar and Vinicius Junior, Croatian star Luka Modric and Egyptian scoring whiz Mohamed Salah from Liverpool FC.
The top goalkeepers list for women has six candidates, including American Alyssa Naeher and England's Mary Earps. The men's goalie list includes Argentina's Emiliano Martinez, Brazil's Alisson Becker and Morocco's Yassine Bounou.
There are 11 candidates for the top goal of the year, with Brazilian star Richarlison's flying score against Serbia in the World Cup sure to be one of the top options. That and an Mbappe score against Argentina in the championship match are the only two World Cup goals on the list.
Public voting is open now on FIFA+ through 3 February, with the three finalists to be announced shortly thereafter.
≡ WORLD CHAMPIONSHIPS ≡
● Handball ● The 28th IHF men's World Championship in Poland and Sweden opened on Wednesday with a 26-24 win for six-time champion France over Poland, in Katowice (POL).
The tournament features 32 teams, playing in a first round of eight groups of four. Two-time defending champ Denmark is in Group H; the U.S. is in Group G – in Jonkoping (SWE) – in the Worlds for the first time since 2001!
The Americans will start play on Friday against Morocco, followed by matches against Croatia and Egypt. The top three teams in each group will continue into a second pool-play round, leading to the quarterfinals on 25 January. The medal matches will be on the 29th.
● Ice Hockey ● The IIHF Women's U-18 Championship has reached the playoff round in Oestersund (SWE), with Canada and the U.S. possibly on the road to another showdown in the finals.
Canada won Group A by defeating the U.S., 3-1, in the final round of group play, to finish 3-0, with the Americans at 2-1. Both advanced directly to the semifinals.
In the play-in quarters, Sweden defeated Slovakia, 6-1, and Finland edged the Czech Republic, 3-2, on Thursday. So, the U.S. will play Sweden in the second semi in a re-match of a group match, won by the U.S., 6-3, on 8 January. Canada will face Finland, which it defeated, 8-0, in group play.
The semis will be on the 14th and finals on the 15th.
≡ PANORAMA ≡
● Olympic Games 2028: Los Angeles ● The Los Angeles Times reported that Los Angeles Police Chief Michel Moore, up for a second, five-year term, would serve only 2-3 years and resign prior to the 2028 Games.
Moore, made chief in 2018, told The Times he wanted to continue his reforms of the department with a re-appointment in 2023, but wanted to avoid a "haphazard" transition to a new chief just prior to the Games in 2028.
"Succession planning is obviously meant to provide for consistency, anticipated needs and capabilities and delivery that the public can trust. It's such a critical role, and, in my view, it would be inappropriate for me to stay."
● International Olympic Committee ● Olympic sailing gold medalist and former International Olympic Committee member King Constantine II of Greece passed away on Tuesday (10th) in Athens.
As Crown Prince Konstantinos, he teamed with Odysseus Eskitzoglou and Georgios Zaimis as helmsman of the keelboat "Nireus" which won the Dragon class in sailing at the 1960 Rome Games. Constantine became a member of the IOC in 1963, later resigning in 1974 but maintained as an Honorary Member until his death.
Although only 23 at the time, Constantine became the Greek King on the death of his father, King Paul, in March 1964. He ruled during a turbulent period in Greek politics, during which the military took over the government and Constantine tried – and failed – to win back power. He left Greece in December 1967 for London, and while he was technically still king into 1973, a referendum declared the country a republic, confirmed in 1974, with the military displaced.
He remained in exile until 2013, except for brief visits to Greece, including for the 2004 Olympic Games as an IOC member. He lives quietly until his death, due to a stroke, on Tuesday.
● Snowboard ● The fourth event in the FIS World Cup Parallel racing schedule was on Tuesday (10th) in Bad Gastein (AUT), with home favorite Daniela Ulbing delivering a victory in the women's Parallel Slalom.
The 2017 World Champion, Ulbing, 24, defeated fellow Austrian Claudia Riegler by 0.72 seconds in the final, with Swiss Ladina Jenny winning over countrywoman Jessica Keiser for the bronze medal. It was Ulbing's fifth individual World Cup gold.
The men's Slalom was something of a shocker, as 28-year-old Maurizio Bormolini won his first World Cup medal in three years and got his first career World Cup gold! He defeated Austria's Alexander Payer in the final; four of Bromolini's five individual World Cup medals have come at Bad Gastein! German vet Stefan Baumeister won the bronze.
● Swimming ● The first full day of the Tyr Pro Swim Series in Knoxville, Tennessee saw U.S. Freestyle superstar Katie Ledecky win one race, and just miss another win in an off-event.
Ledecky powered to an impressive win in the women's 200 m Free in 1:55.47, a time that would have ranked her no. 6 in the world in 2022! She was a dominant winner over 2022 Worlds 4×200 m Free gold medalist Bella Sims (1:57.87). In the 400 m Medley, Ledecky was 5.31 seconds behind 2022 Worlds silver medalist Katie Grimes of the U.S. – age 17 – at the halfway mark (!), but closed hard to finish second by just 0.17, 4:35.92 to 4:36.09.
Another 17-year-old, Henry McFadden of the U.S. won the men's 200 m Free in 1:47.23, ahead of Tokyo Olympic 400 m Free bronze medalist Kieran Smith (1:47.33). Smith was third in the 400 m Medley, which saw Olympic 800-1,500 m Free champ Bobby Finke of the U.S. overtake Tokyo silver medalist Jay Litherland on the final length, 4:17.64-4:17.97.
Women's 50 m Back World champ Kylie Masse (CAN) was the winner in a tight battle with American Katharine Berkoff, 27.38-27.80, repeating their 1-2 finish at the 2022 World Championships in Budapest.
Same in the men's 50 m Back, as 2022 Worlds gold medalist Justin Ress held off fellow American and 2022 Worlds silver medalist Hunter Armstrong once again, 24.49-24.70.
Bulgarian Lyubomir Epitropov – who swims for Tennessee – and Ireland's Mona McSharry – also a Volunteer – won the men's and women's 100 m Breast events in 1:01.35 and 1:06.80. The 100 m Fly finals were wins for Ella Jansen (CAN: 58.92), and American Luke Miller (52.24), with Backstroke star Ryan Murphy of the U.S. second in 52.41.
The meet continues through Saturday.
¶
You can receive our exclusive TSX Report by e-mail by clicking here. You can also refer a friend by clicking here, and can donate here to keep this site going.
For our updated, 929-event International Sports Calendar for 2023 and beyond, by date and by sport, click here!