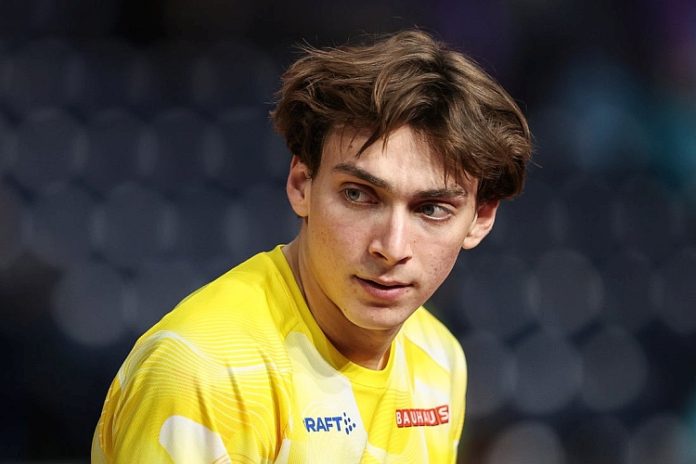 ★ The Sports Examiner: Surveying, monitoring and explaining the key competitive, economic and political forces shaping elite sport and the Olympic Movement. This site is free to view, with donations gratefully accepted to support our operating costs.
Comments? Click here. ★
★ Tell your friends to sign up for The Sports Examiner e-mails now, just in time for session-by-session coverage of the World Athletics Championships
coming 15-24 July. ★
≡ THE 5-RING CIRCUS ≡
1. Duplantis had 160,000 reasons to skip a WR try at Stockholm
2. Study shows 29% of USATF top-3 open aths unsponsored
3. Edwin Moses on his 1980 world record and the boycott
4. Reps of 35 nations call for Russian suspension in sport
5. U.S. women shut out Haiti, 3-0, in CONCACAF W opener
For those who are track & field professionals, it not only a sport, but their business. This was underlined by Swedish vault star Mondo Duplantis, who made a good business decision not to go for a world record in front of home fans last week. For others who finished in the top three at the USATF Nationals, business isn't a good as almost a third do not have a lead commercial sponsor. Then there is Edwin Moses, who was not allowed to compete at the 1980 Moscow Olympics due to the U.S. boycott, but set a world record just two weeks before to show who would have won. A statement by ministers of 35 nations calls for Russian and Belarusian athletes to continue to be suspended due to the war on Ukraine. The U.S. women's team won its opener in the important CONCACAF W Championship in Mexico.
1.
Duplantis had 160,000 reasons to skip a WR try at Stockholm
It's a business, baby.
Mondo Duplantis, on only his sixth jump of the competition, cleared 6.16 m (20-2 1/2), the highest vault ever outdoors. Would he try for an absolute world record of 6.21 m (20-4 1/2)?
No, and there are good reasons why. Said the winner afterwards:
"I wanted to come here today and try to do something special. … I just remember I was trying to focus really hard to not hitting the bar. And once when I did, I was over the bar and then I just started to run like an idiot. … I feel like I am definitely in shape to win my title and maybe to do something special in Eugene.
"I am in a great shape and it is all about building to the world champs. I don´t really feel the pressure; only the pressure I put on myself. I think I could go high in Oregon and it is important to be in my best shape there. Today was a confirmation that I can do it."
He'll be looking forward to the Worlds in Eugene for many reasons, including winning a world title, the only major championship he has not won. He was ninth in his debut in 2017 and second in 2019. Now he's the favorite.
But there are other things at stake, like money. The Diamond League pays $10,000 for a win, with no mention of a world-record bonus. At the World Championships in Eugene:
● Prize money is $70,000-35,000-22,000-16,000-11,000-7,000-6,000-5,000 for the top eight places, and
● World records earn a $100,000 bonus!
So, with a win in Eugene and a world record, Duplantis would earn $170,000 vs. $10,000 for his win in Stockholm (and no bonus).
No wonder he didn't try for the record in Stockholm. And he had 160,000 reasons why.
2.
Study shows 29% of USATF top-3 open aths unsponsored
An intriguing review of athlete sponsorship by former 3:34.54 1,500 m man Kyle Merber, writing for Citius Magazine, showed that among post-collegians, 24 of the 83 top-three finishers at the recent USATF Championships are unsponsored.
Merber broke down the top-three finishers in the 34 events – 102 medalists in total – and found:
● 59 were sponsored (40 track; 19 field)
● 24 were unsponsored (5 track, 19 field)
● 19 were collegians (9 track, 10 field)
So, 59 of the 83 top-three finishers who were post-collegians were sponsored (71%) and 29% were not. By group, 40 of 45 track athletes were sponsored, but only 19 of 38 field athletes.
Of the 59 sponsored athletes, Nike supports 29, followed by adidas (10), New Balance (6), Tracksmith and Puma (4 each).
Merber further notes the continuing difficulties for athletes using the one college-style facility available to professionals:
"USATF is cutting the budget of many athletes who are currently based out of the Olympic Training Center in Chula Vista — the closest thing to a college environment that most top-level athletes, particularly field eventers, have available. …
"[D]espite this arrangement being incredibly effective at producing medals, those who benefitted from the stability will now be forced to relocate and find new and likely less ideal situations. Rather than taking away the Olympic Training Center, we should be replicating it."
3.
Edwin Moses on his 1980 world record and the boycott
"I decided to cut a big race loose that day. We didn't get a chance to go to the Moscow '80 games because of the US boycott of the event. I was mad as a mugga mugga that summer knowing that my 2nd gold medal was going to an inferior runner.
"2nd place was 49.02 and third was 50.13 ([German Harald] Schmid and [American Andre] Phillips). This was 42 years ago and the race was two weeks before the Olympics final in the 400 hurdles. It was an exhibition, solo effort."
So remembered Edwin Moses of his world-record 47.13 on 3 July in Milan, Italy, just 16 days prior to the opening of the 1980 Olympic Games in Moscow, which the U.S. did not attend as the leader of a 65-country boycott.
This was the third of his four world records, and it was East Germany's Volker Beck who won the cheapest gold medal in Olympic history in 48.70, which would likely have won him a bronze, behind Moses and Schmid, but for the boycott.
Moses went on to set his fourth world mark at 47.02 in 1983 and finished not only with Olympic golds in 1976 and 1984 and two World Championships, but an unforgettable 122-race win streak from 1977-87.
4.
Reps of 35 nations call for Russian suspension in sport
A 1 July statement signed by governmental representatives of 35 nations, including the U.S., called for more sanctions on Russia and Belarus in view of the continuing war against Ukraine:
"● Russian and Belarusian sport national governing bodies should be suspended from international sport federations.
"● Individuals closely aligned to the Russian and Belarusian states, including but not limited to government officials, should be removed from positions of influence on international sport federations, such as boards and organising committees.
"● National and international sports organisations should consider suspending the broadcasting of sports competitions into Russia and Belarus."
"We call on all international sport federations to take account of these principles, applaud all those that have taken action already, and encourage our own domestic sporting bodies to engage with their international federations to do so."
The statement noted that where Russians or Belarusians are allowed, they should be noted as not representing their country and the flags and anthems of these countries should be prohibited. The 35 signatories included 29 European countries, plus Australia, Canada, Japan, New Zealand, South Korea and the United States, and was presented by Polish Sports and Tourism Minister Kamil Bortniczuk.
The reaction from the Russian Olympic Committee was swift and furious:
"Unfortunately, the forced escalation of anti-Russian hysteria continues, this is happening in the absence of any reaction to the widespread interference of Western state structures in the affairs of the National Olympic committees, which are ordered to support restrictions and suspensions on a national basis, are forbidden to participate in competitions where Russians compete."
TASS further noted a report last week from Kurafin Moscow State Law University Rector Viktor Blazheev:
"If you take the big picture, then, according to the latest information from the Ministry of Sports, the IOC, the IPC and 95 other international organizations have applied sanctions against our athletes and sports organizations. 12 international federations have decided to suspend the membership of Russian national federations or to exclude them from their membership, 19 international organizations have removed representatives of Russia from their managerial positions.
"At the same time, 14 sports federations allow Russian athletes to participate in competitions in a neutral status." He noted especially the permission for Russian participation in chess, judo and tennis as neutral athletes.
On Tuesday, the International Ice Hockey Federation appeals board dismissed Russian and Belarusian appeals against the IIHF suspension from international tournaments; Russia is considering an appeal to the Court of Arbitration for Sport. The European Table Tennis Union barred Russian or Belarusian participation for the 2022-23 season, and the Federation Internationale de Ski extended the Russian and Belarusian ban through the summer season.
5.
U.S. women shut out Haiti, 3-0, in CONCACAF W opener
The CONCACAF W Championship for women is pretty important, as the top two teams in each group qualify for the 2023 FIFA Women's World Cup and the winner advances to the Paris 2024 Olympic tournament. The second- and third-place teams will qualify for a play-off to go to Paris.
So, the no. 1-ranked U.S. women – two-time defending champions – opened play on Monday in Group A with a 3-0 victory in 99 F heat over Haiti at San Nicolas de los Garza (MEX). Alex Morgan got two first-half goals, on a feed from Mallory Pugh in the 16th minute and on a header off a cross from Kelley O'Hara in the 23rd for her 117th career goal for the U.S. and a 2-0 lead.
However, Haiti applied pressure later in the half and midfielder Melchie Dumornay slammed a shot toward the net in the 27th minute that was stopped by U.S. keeper Casey Murphy. In the 42nd minute, Haiti was awarded a penalty, but striker Roselord Borgella hit the crossbar.
The U.S. lost two second-half goals to offside calls, then Midge Purce got a goal in the 84th minute to make the final 3-0, with the U.S. owning 69% of the possession and a 17-7 edge on shots. Hardly artistic, but convincing.
The U.S. plays Jamaica next on 7 July, then Mexico on 11 July to finish group play.
≡ PANORAMA ≡
● International Olympic Committee ● IOC President Thomas Bach (GER) visited the capital of Kyiv at the invitation of the Ukrainian National Olympic Committee on Sunday (4th), meeting more than 100 athletes at the National Training Center, as well as Ukrainian President Volodymyr Zelensky.
Bach announced that the IOC's aid fund for Ukrainian athletes will be tripled to $7.5 million to help with preparations for Paris 2024 and Milan Cortina 2026. In addition, he committed to the staging of a Ukrainian Sport Recovery Conference of the Olympic Movement to be held in Lausanne.
● Caribbean Games ● The first Caribbean Games, an under-23 event with 800 athletes competing in seven sports, with 29 nations attending in the French overseas region of Guadeloupe. Cuba led all countries with 44 medals (18-12-14), followed by Puerto Rico (32: 15-10-7) and the Dominican Republic (13: 6-4-3).
This is a separate competition from the Central American & Caribbean Games, which will next take place in June 2023 in El Salvador.
● Athletics ● A new contender in the already-hot men's 200 m: Cuba's Reynier Mena, who won the Resisprint International in a national record of 19.63 (+1.2) at La Chaux-de-Fonds (SUI) on Sunday. That moves him to no. 3 on the 2022 world list, beyond Americans Erriyon Knighton (19.49) and Noah Lyles (19.61).
A very encouraging win for Rio 2016 400 m champ (and world-record holder) Wayde van Niekerk (RSA) in 44.58 at the Stars & Stripes Classic in Marietta, Georgia on Saturday. Battling back from injuries, he's now 14th on the 2022 World list.
China's zero-tolerance Covid policy has caused the cancellation of November's World Half Marathon Championships. World Athletics did, however, award the second World Athletics Road Running Championships to Yangzhou for 2027.
● Baseball-Softball ● Italy's Riccardo Fraccari was re-elected for a second term as President of the World Baseball-Softball Confederation by 100-43 over France's Didier Seminet; Fraccari will serve into 2028 and is leading the federation's efforts to place baseball and softball on the program of the 2028 Olympic Games in Los Angeles. Secretary-General Beng Choo Low of Malaysia was also re-elected.
● Basketball ● Two-time Olympic gold medalist Brittney Griner wrote to U.S. President Joe Biden, asking for help from her detainment in Russia on "drug smuggling" charges. The U.S. government considers Griner to be unlawfully held by the Russians; her trial began last Friday.
"I realize you are dealing with so much," she wrote, "But please don't forget about me and the other American detainees. Please do all you can to bring us home." She also noted, "I'm terrified I might be here forever … It hurts thinking about how I usually celebrate [Independence Day] because freedom means something completely different to me this year."
● Cycling ● Back on French soil, Belgium scored its second 1-2 of the 2022 Tour de France, with race leader Wout van Aert breaking away in the final 12 km for an eight-second win in the flat, 171.5 km Stage 4 over Jasper Philipsen in 4:01:36. Van Aert now has a 25-second lead over countryman Yves Lampaert and 32 seconds over two-time defending champ Tadej Pogacar (SLO).
At the Giro Donne in Italy, Dutch star Annemiek van Vleuten took over the race lead on Sunday, winning the hilly 126.1 km Stage 3 over Mavi Garcia (ESP) and forging a 25-second over the Spaniard as Italy's Elisa Balsamo fell and finished well back in 36th. On Tuesday, Balsamo won her second stage over the flat, 126.1 km course in a mass sprint, just ahead of Dutch stars Charlotte Kool and Marianne Vos. Van Vleuten continues to lead Garcia by 0:25 and Marta Cavalli by 0:57 with the race concluding on Sunday.
● Football ● The U.S. Department of Justice announced last week that a further $92 million in funds forfeited from corruption in international football will be sent to FIFA and the CONCACAF (North and Central America and the Caribbean) and CONMEBOL (South America). This is on top of the $201 million already sent. According to the DoJ statement:
"To date, the prosecutions have resulted in charges against more than 50 individual and corporate defendants from more than 20 countries, primarily in connection with the offer and receipt of bribes and kickbacks paid by sports marketing companies to soccer officials in exchange for the media and marketing rights to various soccer tournaments and events and the laundering of those payments."
● Errata ● Some readers of Monday's post saw the Olympic memorabilia auction now ongoing as offered by "RRM Auctions." It's RR Auctions and the lots can be viewed here; the auction continues through 21 July.
¶
You can receive our exclusive TSX Report by e-mail by clicking here. You can also refer a friend by clicking here, and can donate here to keep this site going.
For our updated, 620-event International Sports Calendar for 2022 and beyond, by date and by sport, click here!