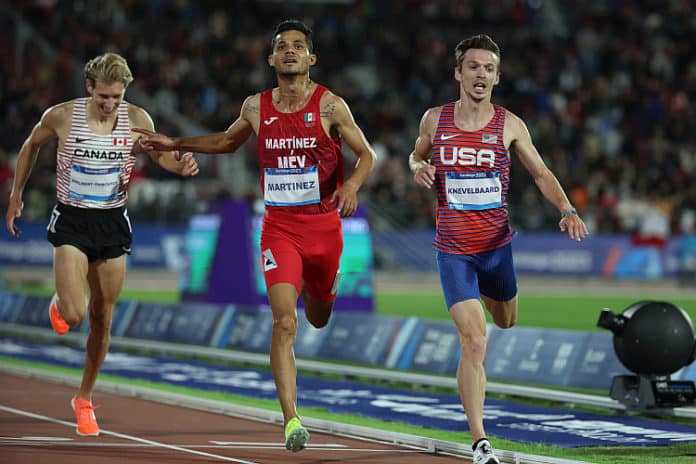 ★ The Sports Examiner: Chronicling the key competitive, economic and political forces shaping elite sport and the Olympic Movement.★
★ To get The Sports Examiner by e-mail: sign up here! ★
≡ THE 5-RING CIRCUS ≡
1. U.S. goes gold-silver in Foil and Sabre fencing at Pan Ams
2. Saudi Arabia only bidder for 2034 FIFA World Cup
3. Shaikin: Major leaguers need to participate in 2028 Olympics
4. Wasserman forecasts LA28 success on Sunday Night Football
5. Report: Paris 2024 opening to allow 400,000 spectators
● Day 12 of the 2023 Pan American Games had only 10 finals, but the U.S. won four golds, including 1-2 finishes in the men's Foil and women's Sabre fencing events.
● FIFA announced the bidders for the 2030 and 2034 World Cups, with the Portugal-Spain-Morocco bid (with South American openers) the only option for 2030 and Saudi Arabia the controversial sole bidder for 2034. For good measure, the Saudis are also the most for the 12,000-athlete Asian Games that year!
● Los Angeles Times baseball columnist Bill Shaikin urged Major League Baseball not to make a "blunder" by skipping the 2028 Olympic baseball tournament in Los Angeles. Shaikin suggests that the All-Star Game be replaced by an eight-team Olympic tournament instead.
● LA28 Chair Casey Wasserman told NBC's Mike Tirico in a pre-game segment on Sunday Night Football that the Los Angeles Games will have the most sports in the history of the Olympic Games (already true) and will sell more tickets than any Games ever.
● A French media report says that the opening ceremony of the Paris 2024 Games will have 400,000 spectators, down from the initial projection of 600,000, in order to best manage security and transportation.
● Panorama: Special Olympics (Chile to bid for 2027 World Games) = On screen (modest TV interest in U.S. women's matches vs, Colombia) ●
1.
U.S. goes gold-silver in Foil and Sabre fencing at Pan Ams
American athletes won four golds and seven medals in all on a slow day at the XIX Pan American Games in Santiago, Chile, with just 10 finals across all sports. The U.S. winners:
● Athletics: Kasey Knevelbaard, men's 5,000 m
● Fencing: Nick Itkin, men's Foil
● Fencing: Magda Skarbonkiewicz, women's Sabre
● Table Tennis: Rachel Sung and Amy Wang, women's Doubles
Worlds silver medalist Itkin and Skarbonkiewicz swept the fencing finals on Tuesday in 1-2 finishes for the U.S. and brought the American medal total to five in the four events contested, including three golds. In the men's Foil, Itkin sailed through his elimination matches with wins by 15-3, 15-7, 15-4 and then 15-6 in the final against fellow U.S. star Miles Chamley-Watson, the 2013 World Champion.
Skarbonkiewicz, 17, crushed her five pool opponents by a combined 25-6, then won her elimination matches by 15-7, 15-6, then 15-14 over Cuba's Leidis Veranes Mustelier, and finally a 15-13 gold-medal victory over fellow American Maia Chamberlain.
It's the sixth straight Pan American Games win for the U.S. in the men's Foil, and fourth straight in women's Sabre.
In Table Tennis, Wang and Sung defeated Brazil's Bruna and Giulia Takahashi in the final, 4-3 (11-7, 5-11, 7-11, 12-10, 11-8, 4-11, 11-6).
Knevelbaard, 11th at the U.S. Nationals in Eugene, won the men's 5,000 m in a slow 14:47.69, but only after defending champion Fernando Martinez (MEX) was disqualified for interference. Both finished ahead of Charles Philibert-Thiboutot (CAN: 14:48.02), who was awarded the silver, with Emmanuel Bor of the U.S. sixth in 14:55.53. However, the U.S. did not have even a single finalist in the men's 100 m, won by Jose Gonzalez (DOM) in 10.30 (wind: 0.0 m/s), or in the women's 100 m, with Yunisleidy Garcia of Cuba winning in 11.36 (-0.2).
Arnovis Dalmero of Colombia won the men's long jump at 8.08 m (26-6 1/4), with the two Americans, Damarcus Simpson (7.55 m/24-9 1/4) and Jermel Jones (7.32 m/24-0 1/4) in eighth and ninth.
In the decathlon, Santiago Ford (CHI) won with 7,834 points, ahead of Jose Ferreira (BRA: 7,748) and American Ryan Talbot (7,742) third.
In the women's football tournament, the U.S. U-19 team lost to Chile, 2-1, in the semifinals and will play Argentina in the third-place match. Mexico and Chile will play for the gold. Chile's men will play the U.S. men on Wednesday in another semifinal match.
Of special note was the triumph of Cuban judoka Idalys Ortiz – the London 2012 Olympic champ – in the women's +78 kg class, defeating Brigitte Carabali (COL) in the final for her fourth straight Pan American Games gold, just as American Lee Kiefer did in women's Foil fencing.
The U.S. continues to lead the medal table with 178 in total: 76 golds, 47 silvers and 55 bronzes. Brazil continued in second with 130 (37-52-41), Canada third with 106 (35-33-38) and Mexico fourth at 90 (35-22-33).
The competitions continue through 5 November; after just 10 finals on Tuesday, there will be 15 on Wednesday, 25 on Thursday, 40 on Friday and a staggering 71 on Saturday! The event is being shown on the Panam Sports Channel (sign-in required).
2.
Saudi Arabia only bidder for 2034 FIFA World Cup
FIFA announced the bidders for the 2030 and 2034 World Cups and as expected, only one bid for each was submitted:
● "Morocco, Portugal and Spain confirm interest in hosting FIFA World Cup 2030, with Uruguay, Argentina and Paraguay confirming interest in hosting celebratory games"
● "Declaration of interest from Saudi Arabian Football Federation received for FIFA World Cup 2034″
The sole bid for 2034 from Saudi Arabia became obvious when Football Australia issued a statement on Monday which included:
"We have explored the opportunity to bid to host the FIFA World Cup and – having taken all factors into consideration – we have reached the conclusion not to do so for the 2034 competition.
"Instead, we believe we are in a strong position to host the oldest women's international competition in the world, the AFC Women's Asian Cup 2026, and then welcome the greatest teams in world football for the 2029 FIFA Club World Cup. Achieving this – following the FIFA Women's World Cup Australia and New Zealand 2023 and with the Brisbane 2032 Olympic Games – would represent a truly golden decade for Australian football."
FIFA's next steps:
"As established in the Bidding Regulations approved by the FIFA Council, the FIFA administration will conduct thorough bidding and evaluation processes for the 2030 and 2034 editions of the FIFA World Cup, with the hosts to be appointed by FIFA Congresses expected to take place by Q4 2024."
As for the requirements, the 2030 requirements for the 48-team, 104-match tournament include:
● Minimum of 14 stadiums, of which at least seven must be existing.
● Capacity for most matches of at least 40,000 seats.
● Semifinal capacity of 60,000 and opening and final capacity of 80,000.
● Team base training sites (72) and four training sites per stadium.
● Two sites per venue city suitable for a fan festival.
● Fan Festival capacities of 15,000 for all except the final (40,000).
● Fan accommodations capacity: 4,000 rooms for most matches; 6,000 for semifinals; 8,000 for the opening match and final.
For 2034, the bid requirements are mostly the same, but the number of existing stadia has been lowered to four, which helps the Saudis in their current situation. But a lot of building will be needed.
The Saudi Football Federation was planning to bid for 2030 in a joint effort with Egypt and Greece; it is possible that some of the 2034 matches could be played elsewhere. And as with the 2022 FIFA World Cup in Qatar, tournament will have to be played at the end of the year to avoid the hot weather.
Moreover, Saudi Arabia is already the host for the massive 2034 Asian Games, to take place in Riyadh from 29 November to 14 December; the 2023 edition in Hangzhou (CHN) hosted 11,909 athletes from 45 countries, competing in 481 events in 40 sports.
The FIFA World Cup bid requirements also include:
"Each stadium is subject to an exclusive use period. This period runs from 30 calendar days prior to the first match in the venue until seven calendar days after the last use in connection with the competition. During this period, the stadium shall not be used for purposes other than the tournament."
This is going to be interesting.
3.
Shaikin: Major leaguers need to participate in 2028 Olympics
The highly-respected and widely-read Bill Shaikin, the award-winning baseball columnist for the Los Angeles Times, urged Major League Baseball to allow its players to participate in the 2028 Olympic Games in Los Angeles.
Baseball and softball were added, along with cricket, flag football, lacrosse and squash, as medal sports for 2028 by the LA28 organizers and approved by the International Olympic Committee. A six-team baseball tournament was played at the Tokyo Games in 2021, but an eight-team format is also a possibility.
Reporting from the World Series in Phoenix, Shaikin pulled no punches, opening with:
"No priorities might be more important for Major League Baseball than marketing its players and growing the game internationally.
"The league has just been handed a golden ticket to do both. The league is about to crumple it up and throw it out."
Baseball Commissioner Rob Manfred has been enthusiastic about the return of baseball to the Olympics, as it will not be held in Paris next year. But he had also been cautious not to promise major league players.
Shaikin says it can be done, re-assigning the annual All-Star Game break to the Olympic tournament:
"MLB could shut down for one week — and it would be the week of the All-Star Game, so only three games of the regular season would be impacted. The season could be extended by three days to accommodate those games, so owners would not lose any revenue. The All-Star Game could be sacrificed for one year.
"The tournament could be played in six days. Eight nations would compete, split into two pools."
Shaikin sees pool play across three days, with day-night doubleheaders at Dodger Stadium and Angel Stadium, with the pool winners playing for the Olympic championship and the pool runners-up playing for bronze.
And then everyone goes back to their clubs and starts up with the second half of the season.
In the meantime, television audiences for the World Series keep shrinking, with 9.17 million viewers for the Diamondbacks at Rangers opener last Friday and 8.15 million for Game 2 on Saturday, the smallest national TV rating in World Series history.
4.
Wasserman forecasts LA28 success on Sunday Night Football
If you were among the 15.7 million who watched NBC's Sunday Night Football telecast of the Bears and Chargers at SoFi Stadium in Inglewood, California, you might have caught Mike Tirico's pre-game chat with LA28 Chair Casey Wasserman about the five-years-away Olympics.
Tirico opened by asking Wasserman about the addition of flag football to the Olympic program, a move backed strongly by the National Football League, and which has created interest from some NFL stars about exploring participation. Said Wasserman:
"It's a huge deal. Our opportunity is to make this the most important Games in this country, and to have the opportunity to add our country's biggest and one of the biggest sports in the world to the program was amazing, and the accessibility of American Football to kids around the world, with LA28 as a launching pad."
Asked about the impact of having flag football, Wasserman explained:
"It's the accessibility. You can play in a park, with a football. It makes it like soccer. It's not expensive to play. It's not dangerous to play. Boys and girls can play. And we can play it in a park, anywhere there is a field of grass. And that makes the sport open to everybody, which is not always the case with tackle football."
And what about the 2028 Games as a whole? Wasserman could not have been more enthusiastic:
"Seventeen hundred and twenty days from today, you and I will be in this building, pretty close to now, lighting the torch. So, it's an incredible journey. We're going to have the biggest sports program in the history of the Olympics, more tickets sold than in the history of the Olympics and we're excited to welcome the world to L.A. It's a great stage."
The LA28 program now includes 35 sports, the most in Olympic history, with a possible 36th sport in boxing, which has no international federation recognized by the IOC at present. That will help to allow the most tickets to be sold; the Guinness World Records folks have Atlanta 1996 as the all-time leader at 8.3 million tickets sold.
5.
Report: Paris 2024 opening to allow 400,000 spectators
A report from the French television channel RMC Sport has fixed the total spectator count for the 26 July 2024 opening of the 2024 Olympic Games at 400,000:
"According to our information, the government is counting on 300,000 spectators on the upper platforms, in addition to the 100,000 people on the lower platforms who have already purchased a place via the official Paris 2024 ticket office. This would therefore bring the number to 400,000. of spectators in total along the Seine on July 26, 2024. 'This is the last number in the running,' a ministerial source confirms to RMC."
The original projection was for 600,000 spectators, with the same 100,000 paid places on the lower quays and 500,000 above. But there has been continuing concerns from government agencies responsible for security and transport.
Ile-de-France transport officials, especially, have said that the number of spectators allowed cannot be more than 500,000 in total as there will be insufficient capacity to carry more.
All spectators at the opening, even if using the free higher quays, will be required to obtain a ticket. Free tickets for the upper areas will be distributed by the French Interior Ministry next year.
≡ PANORAMA ≡
● Special Olympics World Games 2027 ● Chilean President Gabriel Boric, attending the beach volleyball third-place match at the ongoing Pan American Games in Santiago, said last weekend that Chile will bid for the Special Olympics World Games 2027.
Boric told reporters, "We are going to start applying for the Paralympic World Championship which will be in 2027. We are going to send the application letter soon, we are looking at it with the [Sports Minister Jaime Pizarro] and the Undersecretary of Sports [Antonia Illanes]."
Multiple reports noted his reference was to the Special Olympics World Games and not to either the Paralympic World Championships in individual sports, or to the Paralympic Games, which are held in conjunction with the Olympic Games.
The Santiago Pan Ams, the largest sporting event ever held in Chile, has generally gone well, but with some notable issues including a mis-measurement of the women 20 km walk course and a roof leak that impacted the women's handball semifinals and bronze-medal match.
Boric told reporters that as a follow-up to the Pan Ams, "Little by little we are moving forward, but we want to dream. We want to dream high."
The Special Olympics World Games is also a massive event, with 6,500 athletes from 190 countries attending the 2023 Berlin Games held in June. The World Games will head to Dubai (UAE) in 2025, and according to the Special Olympics Web site, "Special Olympics International is currently engaged in dialogue with multiple potential bidders for the 2027 World Games. The host will be announced in 2024."
Special Olympics Australia has made a bid for Perth, submitting its documentation in 2022.
● On Screen ● Pretty low interest in last week's two U.S. Women's National Team matches against Colombia, with 274,000 taking in the Thursday match in Sandy, Utah on TBS. That game ended in a 0-0 tie.
However, the Nielsen ratings data showed that the pre-game show – also on TBS – had an average audience of 311,000!
Sunday's rematch in San Diego, a 3-0 U.S. win, on at 5:30 p.m. Eastern against the late-window NFL games, had 235,000 viewers on TNT, but 439,000 viewers on Spanish-language Telemundo.
NBC showed Saturday's Rugby World Cup final delayed on Sunday at noon Eastern and drew 496,000 viewers. The CBS and Fox NFL pre-game shows drew 3.39 million and 5.26 million in the same time slot, respectively.
¶
You can receive our exclusive TSX Report by e-mail by clicking here. You can also refer a friend by clicking here, and can donate here to keep this site going.
For our updated, 850-event International Sports Calendar (no. 4) for 2023 and beyond, by date and by sport, click here!