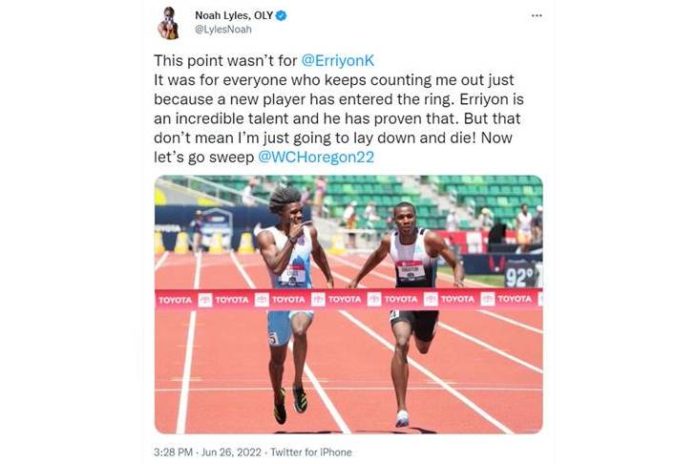 (★ Friends: Our goal is to expertly survey, monitor and explain the key competitive, economic and political forces shaping international sport and the Olympic Movement, now in an easier-to-use format. Comments are welcome; please donate here if you would like to help with our support costs; thank you for continued interest and enthusiasm. ★)
≡ THE 5-RING CIRCUS ≡
1. Lyles's finger-wag at Knighton made an electric men's 200 m final epic
2. Jamaica strikes back as Jackson steals women's 200 m lead from Steiner
3. Brittney Griner trial set for Friday, but with detention extended again
4. Not sitting still, Russia now supports India's ambitions for 2036 Games
5. Is Modern Pentathlon bringing the Ninja Warrior show to the Games?
The just-completed USA Track & Field nationals selected a brilliant U.S. team for the upcoming World Championships in Eugene in July, but now the men's and women's 200 m races have been elevated to must-see status. U.S. basketball star Brittney Griner will be in court on Friday, but her outlook is not good. Russia's athletes may be mostly banned, but its sports diplomats are now stirring the pot for the 2036 Games. And modern pentathlon is trying out a Ninja Warrior set as a possible new discipline. This is progress?
1.
Lyles's finger-wag at Knighton
made an electric men's 200 m final epic
Sunday's men's 200 m USATF Nationals final that saw World Champion Noah Lyles come from well behind to overtake teen superstar Erriyon Knighton, 19.67-19.69, is now much more than a race for the ages.
It's getting personal. Will it get crazy? Ugly? Happy?
The race itself was sensational. Knighton, 18, who emerged as an Olympic medal threat last year and finished fourth in Tokyo, came in as the world leader at 19.49, standing no. 4 in history. Lyles, 24, was coming back to his 2019 form when he ran 19.50, now no. 5.
The final started with Knighton destroying the field on the turn, taking a 3 m lead on Lyles going into the straightaway and looking like he was going to run away to his first national title. But Lyles got into an overdrive gear that he alone possesses today and ran Knighton down, actually turning to his left and wagging his finger as he passed him with 5 m to go, winning by 0.02.
While still panting, Lyles told NBC's Lewis Johnson immediately afterwards:
"I do what it takes to win, and Erriyon got the best of me on the turn. I ain't worried about that. I saw him reach his top speed , and mine's faster. So I'm going to catch him and it's going to take the whole rest of the 100. And that's what I did."
Knighton was having none of it, telling Johnson:
"I'm coming back [to the World Championships] to win. The job's not finished. It's never finished."
And he walked away. Knighton is quiet and reserved, exactly the opposite of the gregarious Lyles, who expounded on the race in the mixed zone:
"Erriyon is an amazing competitor, I know he's a little bit disappointed. I think he's now getting that feel of what it is to have a target on your back, but to be honest, he'll be fine.
"I know he's going to come to Worlds and he's going to bring it. I expect him to PR and I expect myself to PR as well."
Now we're creeping up on Michael Johnson's 26-year-old American Record of 19.32 from the Atlanta Games and Jamaican icon Usain Bolt's unapproachable (?) world record of 19.19 from the 2009 Worlds in Berlin. Rivalries make races and can push great athletes into history.
Lyles was asked if Knighton might have thought the finger-wagging was directed at him – and why wouldn't he? – but said:
"He might have and I will definitely talk to him after this and let him know that it wasn't, because I don't need him to feel like that. That's not how he should feel. It wasn't for him. We are teammates. He's an amazing guy."
Lyles followed up with a tweet later in the day, picturing the finish:
"This point wasn't for @ErriyonK
"It was for everyone who keeps counting me out just because a new player has entered the ring. Erriyon is an incredible talent and he has proven that. But that don't mean I'm just going to lay down and die! Now let's go sweep @WCHoregon22″
The U.S. has more medal contenders as well, with Fred Kerley third (19.83), Tokyo silver medalist Kenny Bednarek fourth (19.87), and there are other contenders such as Luxolo Adams (RSA: 19.82), NCAA champ Joe Fahnbulleh (LBR: 19.83) and Trinidad & Tobago's Jereem Richards (19.83).
But now the Worlds has a signature, mano-a-mano match-up between the World Champion and the kid. Mark down the day and time for the Worlds men's 200 m final: Thursday, 21 July at 7:50 in the evening, Oregon time.
This is why track & field will always have a future.
2.
Jamaica strikes back as
Jackson steals women's 200 m lead from Steiner
One of the feel-good stories of the USATF Nationals was the women's 200 m victory by 22-year-old Kentucky star Abby Steiner, who equaled her own world lead of 21.80 in winning the semifinals and then bettered it with a 21.77 win in the final
That moved her to no. 17 all-time, but her status as world leader didn't last the day.
The Jamaican Championships in Kingston followed in the evening and the surprise winner of the women's 100 m, Tokyo bronze medalist Shericka Jackson, blasted a brilliant field that included two-time Olympic champ Elaine Thompson-Herah, winning in 21.55, the no. 3 performance in history:
● 21.49, Florence Griffith-Joyner (USA), 1988
● 21.53, Elaine Thompson-Herah (JAM), 2021
● 21.55, Shericka Jackson (JAM), 2022
● 21.56, Griffith-Joyner, 1988
● 21.61, Gabby Thomas (USA), 2021
Jackson had previously run 21.81, so the time was a shock, in addition to pulverizing Thompson-Herah (22.05) and two-time Olympic 100 m winner Shelly-Ann Fraser-Pryce (22.14). And Jackson, 27, had already won the 100 m final in 10.77, with Thompson-Herah third (10.89) after a lengthy delay.
Jackson, Fraser-Pryce and Thompson-Herah will be favored to sweep the women's 100 m at the Worlds in Eugene, but the Shericka vs. Steiner story is suddenly another reason to mark 21 July on your calendar. The women's 200 m final will go at 7:35 p.m., 15 minutes before the men.
3.
Brittney Griner trial set for Friday,
but with detention extended again
U.S. basketball star Brittney Griner appeared in a Russian court for a preliminary hearing on Monday, with her trial set to begin on Friday, 1 July. The Russian news agency TASS reported:
"The Khimki Court of the Moscow Region on Monday extended until December 20 the arrest of two-time Olympic basketball champion from the United States Brittney Griner, accused of drug smuggling," which would be until 20 December.
The report further explained, "Greiner was arrested for trying to illegally import hash oil into the Russian Federation through Sheremetyevo Airport."
Griner, 31, has been detained since 17 February and the U.S. government considers her unlawfully held. The Associated Press reported:
"Griner could face 10 years in prison if convicted on charges of large-scale transportation of drugs. Fewer than 1% of defendants in Russian criminal cases are acquitted, and unlike in the U.S., acquittals can be overturned."
TASS said Russian Deputy Foreign Minister Sergei Ryabkov, asked about Griner as a part of a prisoner swap with the U.S., indicated that any further actions will have to wait until the trial is concluded.
4.
Not sitting still, Russia now supports
India's ambitions for 2036 Games
The Russian Sports Minister, Oleg Matytsin, is well versed in the Olympic Movement, having been the well-respected President of the International University Sports Federation (FISU) prior to being called to head the ministry. He knows how to operate and despite the widespread ban on Russian and Belarusian athletes, he is continuing to try to influence the future.
The latest move came in an interview with Russia's RIA Sport, where he declared Russia's willingness to help India with a bid for the 2036 Olympic Games, a recognized desire of the Indian Olympic Association.
"We are always open to interaction, and always ready to share our experience in organizing the Olympic Games. We have done it many times. If a decision was taken in this direction, Russian experts would be happy to help in the organization of the Olympic Games in India."
India, to the irritation of the U.S. and NATO, has been mute on the Russian invasion of Ukraine, preferring to keep open ties with Moscow and increase its oil imports. And India – which has hosted the massive Asian Games twice but offered a very poorly-run Commonwealth Games in 2010 – will be front-and-center with the International Olympic Committee as host of its 140th Session in Mumbai on 30 May and 1 June 2023. Good timing.
Matytsin said that the IOC's requested ban on events in Russia has removed 186 different competitions scheduled in 2022 and 2023 so far. But the Russian minister is already working on influencing a decision which will come in 2026 or much later.
5.
Is Modern Pentathlon bringing the
Ninja Warrior show to the Games?
From its development as a Greek religious festival in 776 B.C.E., the Olympic Games has always had an air of solemnity, even with the inclusion of events such as tug-of-war and, most recently, skateboarding.
So, how about taking Tokyo Broadcasting System's SASUKE/Ninja Warrior production sets and placing them in the Olympic Games as the fifth discipline in the revised concept of the Modern Pentathlon for 2028?
That is exactly what's happening in Ankara (TUR) on Monday and Tuesday, where the Union Internationale de Pentathlon Moderne requested and TBS agreed "to provide a Ninja Warrior obstacle course for use as a demonstration of the event in Ankara. This obstacle course is currently used to film local versions of the SASUKE/Ninja Warrior format shown in France, Poland, and other European countries. The Wall Flip, Parallel Pipes, Wind Chimes and Tire Swing obstacles will be featured."
"Ninja Competitions" is one of two obstacle programs being considered for the federation's new fifth discipline, replacing riding, although being fought by many of the sport's premier athletes.
TBS's SASUKE/Ninja Warrior debuted in 1997 as a sports entertainment program, now seen in more than 160 countries and locally produced in more than 20 countries.
Observed: It's hard to square a Ninja Warrior event with the Olympic Games in any case, and especially considering that it will be part of a sport that includes the classical disciplines of running, swimming, fencing and shooting. But it makes sense if the Olympics is no more than a television show now. Is it? Or is it something more?
It's worth noting that Obstacle Racing isn't even a part of the upcoming 2022 World Games in Birmingham, Alabama and that the international federation – known as World Obstacle (FISO) – is not an IOC-recognized federation (as is American Football, now provisionally recognized!).
What's the UIPM's other idea? Is it any more credible?
≡ CALENDAR ≡
The U.S. Women's National Team takes on Colombia in the second of two friendly matches on Tuesday in Sandy, Utah, with kickoff at 7 p.m. Pacific time on ESPN … The 109th Tour de France begins Friday (1st) in Copenhagen (!) with coverage on NBC, USA Network and Peacock through the finish in Paris on 24 July.
≡ PANORAMA ≡
● Aquatics: The pool is closed, but the FINA World Aquatics Championships roll on in Budapest. The Open Water events have started with Olympic 10 km champs Florian Wellbrock (GER) and Brazil's Ana Marcela Cunha – possibly the fittest person on the planet – winning the 5 km races on Sunday. It's Cunha's sixth Worlds open-water gold. China – to no one's surprise – won the first two diving events, with 2019 World Champion Yuxi Chen repeating on the women's 10 m Platform.
● Archery: Americans Brady Ellison and teen Casey Kaufhold won the Recurve Mixed Team gold at the World Archery World Cup stage 3 in Paris, with Kaufhold winning her first-ever World Cup medal, a great sign for the future for the U.S.
● Gymnastics: The USA Gymnastics Championships in acro, rhythmic and trampoline were held in Des Moines with Evita Griskenas winning the All-Around (1st title), Hoop and Clubs, Lili Mizuno taking Ribbon and Alexandria Kautzman winning on Ball. Sarah Webster and Ryan Maccagnan won the individual Trampoline titles.
● Triathlon: The World Triathlon Series was in Montreal for the Sprint and Relay World Championships, with Britain sweeping the men's and women's Sprint titles (300 m swim, 7.2 km bike phase and 2 km run) with Tokyo silver medalists Alex Yee winning in 21:55 and Georgia Taylor-Brown winning the women's race in 24:04.
¶
You can receive our exclusive TSX Report by e-mail by clicking here. You can also refer a friend by clicking here, and can donate here to keep this site going.
For our updated, 620-event International Sports Calendar for 2022 and beyond, by date and by sport, click here!