★ The Sports Examiner: Surveying, monitoring and explaining the key competitive, economic and political forces shaping elite sport and the Olympic Movement. This site is free to view, with donations gratefully accepted to support our operating costs.
Comments? Click here. ★
★ Tell your friends to sign up for The Sports Examiner e-mails now, just in time for session-by-session coverage of the World Athletics Championships
coming this Friday. ★
≡ THE 5-RING CIRCUS ≡
1. T&F leaders promise again to raise sport's profile in U.S.
2. Paris 2024 settles vexing venue issues, but not basketball
3. Cycling shows €21.3 million surplus thanks to IOC TV money
4. World Games: Halfway home, the magic is happening
5. U.S. Women out-fight Mexico, 1-0, in CONCACAF W
The leaders of World Athletics, USA Track & Field and others all agree that having the World Championships in the U.S. – in Eugene, Oregon starting on Friday – is a must-succeed opening to re-ignite interest in the sport nationwide. How to get there is another question. The Paris 2024 organizers announced their re-arrangement of venues for three sports, but are still tussling with the basketball federation on preliminary games. Compared to athletics, cycling is a richer federation, but its 2021 finances were saved by the International Olympic Committee's television rights share. The World Games in Birmingham, Alabama, are continuing and are spreading the magic that only a multi-sport event can bring. At the CONCACAF W Championship, the U.S. women struggled to a 1-0 win over Mexico and advanced to the semifinals, perhaps to meet old foe Canada in the final?
1.
T&F leaders promise again to raise sport's profile in U.S.
"This is a very important market place for us, it's the largest sports market in the world and we need to be there in higher profile," World Athletics President Seb Coe (GBR) told Reuters for a Monday story.
Former British hurdles star Jon Ridgeon, now the World Athletics chief executive noted of the World Athletics Championships that start Friday in Eugene, "We have great live TV slots every evening on NBC and the U.S. team should perform spectacularly and I think that alone will really help grow audiences and our fan base in America."
Coe further told Scott Reid of the Southern California News Group:
"Every sport is wanting to get into the U.S. It is still the most potent of the sports marketing environments. Every member federation I sit down with is doing everything it can to get into the U.S. and for good reason. We have that opportunity this year. I see this as very much a runway through to [the 2028 Los Angeles Olympics] and in simple terms, we have to do everything we possibly can to create a greater perception and penetration of track and field not just in the U.S. but globally.
"But if you create that in the U.S., which is still the powerhouse of track and field, but perversely you still have athletes who are known globally but can still walk through their own towns in anonymity. We have a really important role and job to play here, and in my latest communication to member federations at the end of the year I have talked about the importance for all of us of making the most out of Oregon '22."
Reid spoke to multiple voices about the state of professional track & field in the U.S., including the usually-invisible Max Seigel, chief executive of USA Track & Field; World Athletics Council member Willie Banks, U.S. 800 m Olympian Nick Symmonds, 1996 Olympic icon Michael Johnson and NBC commentators and Olympic stars Ato Boldon (TTO) and Kara Goucher. Said Symmonds:
"Everybody always says the sport of track and field is dying. I just think that's silly. The sport of professional track and field is dying. But the sport of track and field is alive and vibrant and healthy as I've ever seen it. It's incredible."
Banks pointed to more meets with prize money being added and perhaps a betting aspect. Siegel promised 4-5 meets in an eight-week window in the future, with prize money on par with the current Diamond League international circuit.
Said Johnson, the Atlanta triple gold medalist in the 200-400 m and 4×400 m: "All of these things are the equivalent of putting a band-aid on a catastrophically broken leg," suggesting instead a private-equity play for the professional aspect of the sport; he cited the role of the PGA as tournament provider and promoter vs. the governing-body position of the U.S. Golf Association.
2.
Paris 2024 settles vexing venue issues, but not basketball
The 2024 Olympic venue merry-go-round has mostly been settled, with the Paris 2024 organizing committee agreeing to stage preliminary rounds of boxing and the modern pentathlon fencing segment in Hall 8 of the Parc des Expositions de Villepinte, near the Charles-de-Gaulle Airport northeast of Paris. The shooting competitions will be staged at the national shooting center in Chateauroux in central France, about 270 m km (~ 168 miles) south of Paris. These were fixed quickly and quietly.
The remaining tug-of-war is on preliminary basketball matches. The international federation (FIBA) rejected use of a technically sound exhibition hall in Paris, based on condemnations of some of the French national team players. Paris 2024 has now approved moving the early basketball games to the Stade Pierre-Mauroy in Lille, 225 km north of Paris (~140 miles). It's a retractable-roof facility which can seat up to 50,186, but has been very successfully used for EuroBasket 2015 and the Volleyball World League. FIBA wants to stay in Paris and neither side is budging; the International Olympic Committee will end up with the final say.
Is this a crisis? No; there is plenty of time. But it's a good illustration of the kinds of problems that organizing committees deal with constantly, working with the IOC, the federations and the National Olympic Committees, which sometimes get much more than annoying. As the FrancsJeux.com site notes, "[T]he soap opera drags on. Above all, it gives the impression of [Paris 2024] as a ship struggling to stay on course."
Not true for Paris so far, but then perception is reality, yes?
3.
Cycling shows €21.3 million surplus thanks to IOC TV money
With so much debate this week about the future of track & field in the U.S., it's worth a look at another high-profile federation is doing. The UCI is doing quite well, thank you.
The Union Cycliste Internationale, founded in 1900, is one of the oldest and most respected of the International Federations, with cycling on the Olympic program since 1896. For years, it consisted of road cycling and track events, but added mountain biking in 1996, BMX in 2008 and BMX Freestyle in 2020.
And it's a strong federation financially, with CHF 102.9 million in assets (~$104.7 million U.S.) and CHF 62.6 million (~$63.8 million U.S.) in reserves. Where its revenues came from describes the level of commercial (if not fan) interest in the various types of cycling:
● CHF 13.527 million: Road cycling (52.6%)
● CHF 5.354 million: Mountain biking (20.8%)
● CHF 2.600 million: Track cycling (10.1%)
● CHF 2.392 million: Cyclo-cross (9.3%)
● CHF 1.268 million: BMX Racing (4.9%)
● CHF 0.584 million: BMX Freestyle (2.3%)
Dwarfing all of this is the once-every-four-years receipt of a share of the IOC's television rights sales money, which for Tokyo was CHF 22.333 million or $24.5 million U.S. The UCI is a tier 2 federation, receiving the same amount as basketball, football, tennis and volleyball and behind the tier-one sports of athletics, gymnastics and aquatics.
Thanks to the Olympic TV money, the UCI showed a surplus of €21.256 million (~$21.65 million) for 2021, much better than the €1.01 million (~$1.03 million) loss for 2020.
The UCI receives very significant money from the hosts of its World Road Cycling Championships, a major tourist draw, and the federation is rolling the dice on multiplying its impact by the creation of a once-every-four-years grand World Championship, to first be held in Glasgow (GBR) from 3-13 August 2023. This will include road, track, mountain biking, cyclo-cross, BMX, artistic cycling and para-cycling events, with significant financial support from the Scottish government and the City of Glasgow. This could be a huge upgrade for the UCI, or a bust, but a forward-looking gamble from a fairly stable federation to try and leverage fan interest clustered primarily in one part of the sport to all parts of the sport.
4.
World Games: Halfway home, the magic is happening
Comprised of sports and events which are not on the Olympic program, the World Games attracts the top athletes in sports like Compound and Field Archery, Floorball, Finswimming, Lifesaving and a lot more.
Would anyone in Birmingham, Alabama care? Would it make any difference? It may be.
Dennis Pillion is the statewide natural resources reporter for Alabama.com and filed a Monday story that veterans of multi-sport events will instantly recognize. Titled "The World Games are turning Birmingham into a weird, wonderful melting pot," Pillion noted the commotion a group of five Ukrainian gymnasts caused when they walked to the Starbucks counter inside a Target store:
"The random Starbucks sighting is something repeating across Birmingham this week, as the city rolls out its welcome wagon for thousands of athletes, coaches and officials from 63 countries.
"[Gymnast] Dima [Lovusov] may have been just being polite, or using the only English words he knew, but it's hard to think that the city isn't making a good impression on its visitors from all over the world, even south of Homewood on I-65 who haven't ventured downtown in a while."
On a walk with his wife, Pillion saw the impact of the Games:
"You can tell almost instantly which people were there from the United States and which ones weren't. For the athletes, team jerseys that read Chinese Taipei or Finland, are a dead giveaway, and it's got to be one of the rare moments in Birmingham's recent history where you're more likely to see the flag of Finland than the Bass Pro Shops logo. …
"We didn't actually go into any events on Sunday, but in a way we didn't need to. Birmingham still had the air of a city of the world more than a city of the South, and was filled with locals looking to experience new and different cultures, events and sports and to reflect the famous Southern hospitality back to the world."
This is what an international multi-sport event does, especially in towns and cities which have not held them before. It is one of the hidden legacies of these kinds of events, something different and memorable.
On the fields of play, the competitions continue, with 116 of the 223 medal events completed. Keen fans of Olympic sport will see some familiar names, like Bart Swings (BEL), winner of the Beijing 2022 Mass Start events in speed skating, winning golds in the inline track skating men's 10,000 m eliminations and 10,000 m points eliminations and then two more in the road speed skating 10,000 m points and 15,000 m eliminations. Olympic archery medalist Brady Ellison of the U.S. won silver in the Men Field Archery, and Paige Pearce won a bronze in the women's Compound, a potential event for the Los Angeles 2028 Games.
Break dancing, which will be on the Olympic program for Paris 2024, saw Americans Victor Montalvo and Jeffrey Louis go 1-2 in the men's division and Ami Yuasa (JPN) win the women's contest, ahead of American Sunny Choi.
The biggest winners so far include Swings, with four golds, matched by Germany's Nina Holt (4 in Lifesaving) and Johana Viveros (COL: 4 in track and road speed skating). There's more to come, with Mixed Ultimate Flying Disc still to come; American Flag Football, sponsored in part by the NFL, with the U.S., Mexico, Austria and Italy into the men's semis and Mexico, Austria, Panama and the U.S. in the women's semis.
Italy has won the most medals so far with 36 (8-16-12), followed by Germany (27: 16-2-9) and Ukraine (24: 9-6-9); 61 countries have won medals so far, with the U.S. scoring three golds, eight silvers and four bronzes so far. The Games conclude Sunday; highlights air nightly on the CBS Sports Network.
5.
U.S. Women out-fight Mexico, 1-0, in CONCACAF W
The final game of the CONCACAF W Championship Group A was a battle – a true battle – between the undefeated U.S. women and host Mexico, which had lost both of its games, at San Nicolas de la Garza.
Neither team could score, despite the U.S. holding 70% of the possession in the first half, but only generating five shots to three for Mexico. The second half saw more Mexican possession, but also more aggression, with substitute midfielder Lizbeth Ovalle red-carded in the 73rd minute for stomping on Rose Lavelle's ankle, that was confirmed by video review.
Even playing 11×10 didn't help the U.S., as it could not get the ball into the net, despite a good chance for Alex Morgan in the 79th. But in the 89th minute, an Emily Sonnett header could not be cleared, bounced in front of the Mexican goal and sub Kristie Mewis hit the ball with her stomach and it bounded in for the only goal of the game. The fouls, a yellow and a red card for Mexico in the second half added 10 minutes of stoppage time, but the U.S. did finally prevail, 1-0. The Americans had 67% of the possession and a 15-5 edge on shots for the game.
Added to Jamaica's 4-0 win over Haiti, the U.S. won Group A with a 3-0 record and a 9-0 goals-against total, ahead of Jamaica (2-1). Canada (3-0, 8-0 goals-against) won Group B, in front of Costa Rica (2-1). These semifinalists all advance to the 2023 FIFA Women's World Cup in Australia and New Zealand, but Olympic qualification for Paris 2024 will only be available to the winner. The semis – U.S. vs. Costa Rica and Canada vs. Jamaica – will be on 14 July, with the finals in 18 July.
≡ PANORAMA ≡
● Olympic Games 2012: London ● In some ways, a Games never ends, especially when lots of new construction was part of the process. In a lengthy article, The Guardian's architecture and design critic Oliver Wainwright argues that the Olympic renovation of the East End is a failure in that it does not deliver the promised improvements in affordable housing and has instead been filled by luxury homes and apartments and businesses that cater to them.
It's long and detailed and entirely worth reading, especially to see how the project evolved from Mayor Ken Livingstone's bid concept, to building and operations under the next Mayor, Boris Johnson, and now Sadiq Khan, and the economic forces which have inexorably influenced its direction.
● Athletics ● The list of who won't be at the 2022 World Championships continues to grow, with defending champions Steven Gardiner (BAH: 400 m) injured and women's hammer champion DeAnna Price of the U.S. out with Covid. London 2017 javelin champ Johannes Vetter (GER) is also out with injuries.
Tokyo women's Olympic marathon winner Peres Jepchirchir (KEN) is out with a hip injury and Burundi's 2021 Diamond League 5,000 m winner Francine Niyonsaba withdrew due to a stress fracture in a foot.
While Niyonsaba, a medal favorite at the Worlds, cannot compete, South Africa's double Olympic 800 m champion, Caster Semenya (RSA) is entered in the 5,000 m. Although she did not meet the 15:10.00 qualifying standard, her seasonal best of 15:31.50 did qualify her on the descending order list for the field of 41. Both Niyonsaba and Semenya were moved out of events from the 400 m to the mile due to their elevated testosterone levels under the World Athletics rules for athletes with Differences in Sex Development.
An athlete who put up a big mark that makes him a contender in Eugene is American men's javelin thrower Curtis Thompson, who got a huge lifetime best at the American JavFest in East Stroudsburg, Pennsylvania on 9 July. His win at 87.70 m (287-9) moves him to no. 7 on the 2022 world list and no. 3 on the all-time U.S. list (with the no. 7 throw in U.S. history, the longest since 2007). Fellow American Avione Allgood-Whetstone won the women's jav with a lifetime best of 62.13 m (203-10), now no. 6 all-time U.S., but is not on the U.S. team since she didn't get a qualifying mark by the deadline.
● Cycling ● The 109th Tour de France resumed on Tuesday, on a hilly, 148.1 km course with an uphill climb to the finish in Megeve in the southeastern French Alps that had to be stopped for 10 minutes about 35 km from the finish due to a half-dozen climate protesters blocking the road.
Once the racing resumed, the stage was a four-way fight to the finish, with Dane Magnus Cort throwing his bike across the line to beat Australian Nick Schultz, with Luis Leon Sanchez (ESP) seven seconds behind and American Matteo Jorgensen fourth (+0:08).
The big news was further back, as the main contenders finish 8:54 back, meaning German Lennard Kamna moved to within 11 seconds of leader Tadej Pogacar (SLO), with last year's runner-up, Jonas Vingegaard (DEN) still 39 seconds behind, now third. Wednesday brings another big climb up the Col de Galibier and another uphill finish to the Col de Granon.
● Fencing ● You may not have noticed that the 2022 FIE World Championships are coming up this weekend in Cairo (EGY), with a logo which is too good to pass up: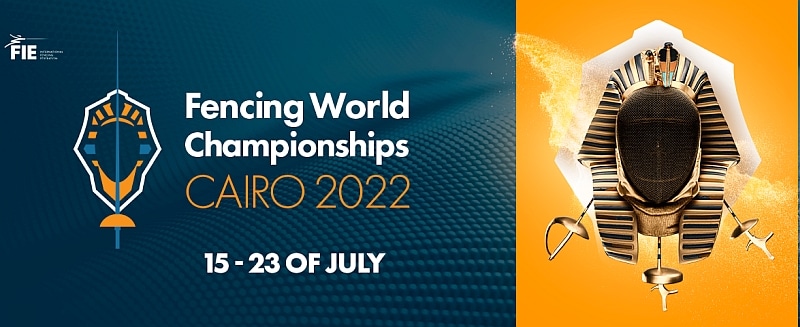 ● Football ● Much is written about the long qualifying and preparation period for teams to get to and compete in the 2022 FIFA World Cup in Qatar. Less well known is the behind-the-scenes prep for team officials, which include physicians and sports medicine staff.
FIFA held a special, two-day seminar last week for all 32 of the team physicians for the upcoming FIFA World Cup in Qatar, including the FIFA Tournament Emergency Medicine Course and an overview of all medical services that will be offered on-site during the tournament:
"The latter included the new FIFA standard for field-of-play emergency medical services, specific concussion and cardiac assessment services and the designated hospitals, in addition to a tour of the player medical facilities and an inspection of the dedicated critical care ambulances."
The new concussion protocol was also explained: "For the first time at a FIFA World Cup, an independent Concussion Assessment and Rehabilitation Service will be offered in Qatar to provide an evidence-based assessment of any player who has suffered a brain injury, including recommendations from concussion experts regarding the player's return to play." A "concussion substitute" will be allowed for the first time, aside from the allowed subs during a game.
Similar to the NFL, an "injury spotter" will be employed at all games, to bring attention to the in-stadium FIFA Medical Coordinator of any possible injuries which do not stop play.
All good ideas.
¶
You can receive our exclusive TSX Report by e-mail by clicking here. You can also refer a friend by clicking here, and can donate here to keep this site going.
For our updated, 620-event International Sports Calendar for 2022 and beyond, by date and by sport, click here!