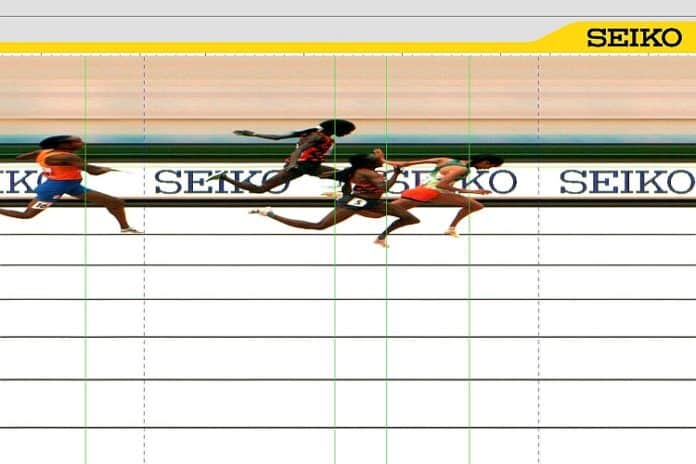 ★ The Sports Examiner: Surveying, monitoring and explaining the key competitive, economic and political forces shaping elite sport and the Olympic Movement. This site is free to view, with donations gratefully accepted to support our operating costs.
Comments? Click here. ★
★ Get The Sports Examiner's session-by-session Worlds e-mails; sign up here! ★
≡ WORLD ATHLETICS CHAMPIONSHIPS ≡
Session 3 ~ Saturday, 16 July 2022
Friday's bright sunshine gave way to clouds and 65 F temperatures on Saturday morning and early afternoon at a half-filled Hayward Field in Eugene for the second day of the 2022 World Athletics Championships. There were two finals, with brilliant wins by Ethiopian star Letsenbet Gidey at 10,000 m and a Polish 1-2 in the men's hammer. Event by event:
● Women/Triple Jump qualifying ● Venezuela's world-record holder Yulimar Rojas was the first jumper in the order and auto-qualified even with a take-off way behind the board at 14.73 m (48-4). One and done.
Four others reached the 14.40 m qualifying mark: Maryna Bekh-Romanchuk (UKR: 14.54 m/47-8 1/2), Dominican Ana Jose Tima (14.52 m/47-7 3/4), Finland's Kristiina Makela (14.49 m/47-6 1/2) and Shanieka Ricketts (JAM: 14.46 m/47-5 1/4). Americans Keturah Orji (14.37 m/47-1 3/4) and Tori Franklin (14.36 m/47-1 1/2) qualified seventh and ninth and Jasmine Moore reached 14.24 m (46-8 3/4) and missed out in 13th.
● Women/High Jump qualifying ● It took only 1.90 m (6-2 3/4) to qualify with world leader Yaroslava Manuchikh (UKR) as one of nine to clear 1.93 m (6-4) and move on to the final. Teammate Iryna Gerashchenko and Australia's Eleanor Patterson also cleared 1.93 m, but no Americans qualified. Vashti Cunningham cleared 1.86 m (6-1 1/4); Rachel Glenn only 1.80 m (5-11 1/4) and Rachel McCoy managed 1.90 m, but finished 17th.
● Women/Steeple heats ● Ex-Kenyan Norah Jeruto, now running for Kazakhstan, ran away with heat one, taking charge from the start and creating a huge lead, winning by almost 10 seconds in stunning 9:01.54, the no. 4 performance of 2022! Ethiopia's Werkuha Getachew and Tunisia's Marwa Bouzayani (lifetime best) ran away from American star Emma Coburn, 9:11.25-9:12.14-9:15.19, for the auto-qualifying spots.
The second heat was led by Olympic champ Peruth Chemutai (UGA) for most of the race, but Britain's Aimee Pratt took the lead at the bell, with NCAA champ Courtney Wayment (USA) on her shoulder into the backstraight. Chemutai drove hard to get to the lead, followed by Mekides Abebe (ETH), then Abebe took the lead into the far turn, with six running for the three auto-qualifying spots. Abebe had the lead into the final straight, but could not hold off France's Alice Finot, who won in 9:14.34, with Abebe second (9:14.83) and a mad dash for third won by Albanian Luiza Gega over Wayment, 9:14.91 to 9:14.95. Chemutai faded to a stunning fifth in 9:16.66 and Pratt was sixth in 9:18.91, a national record.
The final heat had six women together at the bell, with Kenya's Celliphine Chespol and Slovenian Marusa Zrimsek leading on the backstraight, with Winfred Yavi (BRN) and American Courtney Frerichs separating from the rest of the field. The final sprint had Chespol winning in 9:16.78, Zrimsek a surprise second in 9:17.14, then Yavi (9:17.32) and Frerichs (9:17.91)
All three Americans finished fourth, but all advanced to the final on time.
● Men/110 m Hurdles heats ● NCAA champ Trey Cunningham of the U.S. took the first heat in 13.28 despite hitting hurdles six and 10 (wind: -0.5 m/s). Defending champ Grant Holloway of the U.S. drew lane one, but blew away the field in heat two, winning in 13.14 (+0.4).
U.S. champ Daniel Roberts had control of heat three, but hit hurdle seven and then crashed into the eighth hurdle and did not finish. Spain's Asier Martinez won in 13.37 (-0.3). Olympic champ Hansle Parchment (JAM) came on in mid-race to win heat four in 13.17 (+0.2) and American Devon Allen labored through the fifth heat, hitting most of the hurdles, but managed to win in 13.47 (+0.4).
● Men/Hammer ● Olympic champ Wojciech Nowicki of Poland got the ball rolling – so to speak – at 80.07 m (262-8) in the second round and was joined by teammate and four-time World Champion Pawel Fajdek, who took the lead at 80.58 m (264-4), only to be passed by Norway's Elvind Henriksen at 80.87 m (265-4).
Nowicki upped the ante in round three, reaching 81.03 m (265-10), but Fajdek would have none of it, spinning out to a world-leading 81.98 m (268-11) to take the lead. But that was it. Fajdek won his fifth Worlds gold leading a Polish 1-2, with Nowicki taking a fourth Worlds medal, but first silver after bronzes in 2015-17-19. Henriksen stayed third, with Quentin Bigot (FRA) fourth at 80.24 m (263-3).
Among men's field eventers at the Worlds, only Sergey Bubka (UKR/vault) has more golds than Fajdek, with six from 1983-97; Germany's Lars Reidel also has five, in the discus, from 1991-2001.
American Rudy Winkler was sixth at 78.99 m (259-2), with Daniel Haugh in eighth (78.10 m/256-3) and Alex Young 12th in 73.60 m (241-6).
● Women/10,000 m ● Japan's Ririka Hironaka, Britain's Eilish McColgan and Kenyan Olympic 5,000 m winner Hellen Obiri towed the field through the half in 15:19.31, but gave way to Ethiopia's Ejgayehu Taye and Letsenbet Gidey by 7,000 m, with Obiri going nowhere.
Those three were at the head of a lead pack of nine which slowly shrank to seven with two laps to go and included defending champ and the Tokyo Olympic winner, Dutch superstar Sifan Hassan. After injuries and a lack of training, did she have the devastating kick that won two golds last year?
At the bell, it was Gidey and Obiri in the lead, but any of the top six could win it. Gidey and Obiri led into the far turn, but now Hassan was coming, and coming hard. She moved into third with 100 m to go, but her sprint gave way to Kenyan Margaret Kipkemboi in the last 20 m, who got third.
At the front, Gidey had the lead, but only by a step on the charging Obiri. Gidey, the world-record holder, gritted her teeth and looked behind at Obiri three times in the final 50 m, but held on to win in a world-leading 30:09.94, to Obiri's lifetime best of 30:10.02. Kipkemboi was third in 3:10.07, a lifetime best, with Hassan at 30:10.56.
American Karissa Schweizer, with the lead pack for most of the race, was ninth in 30:18.05 – a huge lifetime best and now no. 3 all-time U.S. – ahead of McColgan (30:34.60). Americans Alicia Monson and Natosha Rogers were 13th and 15th in 30:59.85 and 31:10.57.
● Men/400 m Hurdles heats ● American Rai Benjamin led off with a win in heat one in 49.07 with a surge on the far turn, despite an NBC report that he has right-leg hamstring issues.
World leader Alison Dos Santos (BRA) toyed with the field in heat two, jogging home in 49.41. World-record holder Karsten Warholm (NOR) blew away the field from the start as usual, winning heat three in 49.34. Estonia's Rasmus Magi won heat four in 48.78, with American Trevor Bassitt fading to a qualifying fourth in 49.17. American Khallifah Rosser dominated the fifth heat – from lane two – winning by a full second in 48.62, the fastest of the day!
¶
Splits from Friday's Mixed 4×400 m final showed that Americans Elija Godwin and Vernon Norwood had the fastest splits on the first and third legs – 44.71 and 44.40 – but that Allyson Felix (50.15) was nearly caught by Dominican star Marileidy Paulino (48.47) and anchor Kennedy Simon (50.90) was passed by Fiordaliza Cofil (49.92) and Dutch star Femke Bol, who timed 48.95 on her leg, fastest of the anchor runners.
On the visa saga, Athletics Kenya said that all of its athletes received a U.S. entry visa within a week except for sprinter Ferdinand Omanyala, whose application was incomplete. He arrived just hours before his heat in the 100 m and qualified to today's semifinals. A criminal investigation is being opened concerning the alleged inclusion of 32 non-athlete "joyriders" on the visa request list submitted by Athletics Kenya, which the federation says it has no knowledge of.
Good news from the Athletics Integrity Unit, reporting that no positives were found from testing of athletes in "high-risk" countries for doping, including Belarus, Bahrain, Ethiopia, Kenya, Morocco, Nigeria and Ukraine. Belarus is banned, of course, for collusion with Russia on its invasion of Ukraine, but 1,206 out-of-competition tests were carried out on athletes from the six other countries, including 378 for Kenya, 267 for Morocco and 241 for Ethiopia.
≡ PANORAMA ≡
● Olympic Games 1912: Stockholm ● The International Olympic Committee's announcement that Jim Thorpe has been recognized as the sole winner of the pentathlon and decathlon events acknowledged the efforts made on Thorpe's behalf:
"This development has been made possible by the engagement of the Bright Path Strong organisation, supported by IOC Member Anita DeFrantz [USA]. They contacted the Swedish Olympic Committee (SOC) and the surviving family members of Hugo K. Wieslander, who was named as the gold medallist in decathlon when Thorpe was stripped of his medals in 1913. They confirmed that Wieslander himself had never accepted the Olympic gold medal allocated to him, and had always been of the opinion that Jim Thorpe was the sole legitimate Olympic gold medallist. When contacted by the IOC, the SOC also declared that Thorpe should be acknowledged as the sole Olympic champion in decathlon at the Olympic Games Stockholm 1912.
"The same declaration was received from the Norwegian Olympic and Paralympic Committee and Confederation of Sports, whose athlete, Ferdinand Bie, was named as the gold medallist when Thorpe was stripped of the pentathlon title."
As to the rest of the results of the two events:
"With this decision, Thorpe's name will now be displayed as the sole gold medallist in pentathlon and decathlon, with the silver going to Bie in the pentathlon and Wieslander in the decathlon. However, James Donahue, from the US, and Frank Lukeman, from Canada, will keep the silver and bronze medals in pentathlon that they were awarded when the results were amended in 1913. The same applies to Charles Lomberg (silver) and Gosta Holmer (bronze), both from Sweden, in the decathlon."
● Cycling ● Australia's Michael Matthews won his fourth career Tour de France stage on Saturday with an attack in the final 2 km of the hilly, 192.5 Stage 14 ride from Saint Etienne to Mende. He finished 15 seconds up on Alberto Bettiol (ITA) and 34 seconds ahead of Thibaut Pinot (FRA). There was a modest change in the overall leaderboard, with Jonas Vingegaard (DEN) continuing with a 2:22 lead over two-time defending champ Tadej Pogacar (SLO), but now 2:43 over 2018 winner Geraint Thomas (GBR).
¶
You can receive our exclusive TSX Report by e-mail by clicking here. You can also refer a friend by clicking here, and can donate here to keep this site going.
For our updated, 620-event International Sports Calendar for 2022 and beyond, by date and by sport, click here!