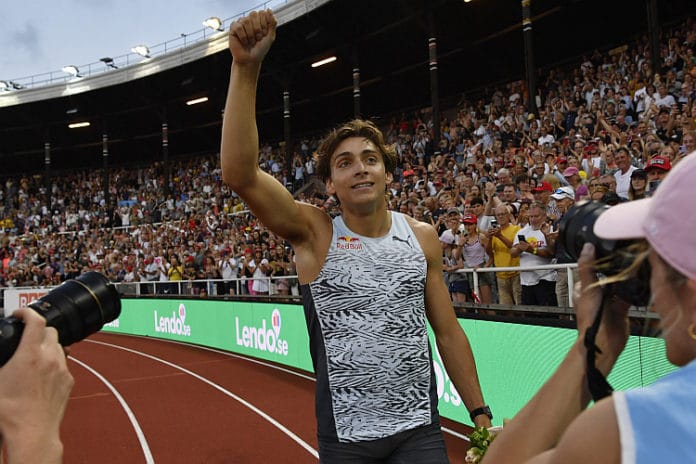 ★ The Sports Examiner: Surveying, monitoring and explaining the key competitive, economic and political forces shaping elite sport and the Olympic Movement. This site is free to view, with donations gratefully accepted to help support our operating costs. Comments are welcome here. Sign up to receive our reports by e-mail here. ★
≡ THE 5-RING CIRCUS ≡
1. All Mondo, all the time at Diamond League Stockholm: 20-2 1/2!
2. Tour de France starts in Copenhagen (!) Friday
3. Japan: 40% say Olympics left little impression
4. Weightlifting stunner: Urso elected Secretary General
5. USA Gymnastics bankruptcy lawyers getting paid
A special day in Stockholm as home favorite – and now Swedish resident – Mondo Duplantis cleared 6.16 m (20-2 1/2), the highest outdoor vault of all time. The 109th Tour de France starts Friday, with two Slovenian stars as favorites, defending champ Tadej Pogacar and three-time Tour of Spain winner Primoz Roglic. A Japanese government survey last November showed a plurality of responded found the Tokyo Games didn't impress them much. The initially "elected" Secretary General of the International Weightlifting Federation lost by one vote in a re-run of the election today. And the lawyers in the USA Gymnastics bankruptcy case have had almost $18 million in fees approved.
1.
All Mondo, all the time at Diamond League Stockholm: 20-2 1/2!
Sweden's Mondo Duplantis thrilled the crowd at the Diamond League Bauhaus Galan at Stockholm Stadium with the greatest outdoor vault in history with second-try clearance at 6.16 m (20-2 1/2).
Duplantis had company early on, with Tokyo Olympic silver winner Chris Nilsen (USA) and Rio gold medalist Thiago Braz (BRA) both over 5.93 m (19-5 1/2). Duplantis easily cleared 6.03 m (19-9 1/4) – the outdoor world leader – while Nilsen and Braz missed.
So the bar went to 6.16 m, and on his second try, Duplantis had great speed to the box and projected himself to a staggering 10-12 inches over the bar with his hips and while touching it on the way down, left no doubt of the clearance. It's the equal-fifth vault of all-time, with Duplantis owning four higher indoor clearances and France's Renaud Lavillenie having cleared 6.16 m indoors in 2014. Said Duplantis:
"I wanted to come here today and try to do something special. I felt I was in shape and that I have a great support here in Stockholm, where I live now, so that means so extra more. I had a huge advantage of competing on my home turf. It is hard to describe it really. You kind of black out out there. I just remember I was trying to focus really hard to not hit the bar. And once when I did, I was over the bar and then I just started to run like an idiot. …
"I feel like I am definitely in shape to win my title and maybe to do something special in Eugene."
There were two other world-leading performances, especially Tokyo 400 m hurdles bronze medalist Alison dos Santos (BRA), who stormed to a 46.80 win, the no. 6 performance in history and just 0.06 short of his Olympic bronze performance.
In the men's 3,000 m, South Sudan's Dominic Lobalu (on the Athletics Refugee Team) charged past a stumbling Jacob Kiplimo (KEN) to win in a world-leading 7:29.48, to 7:29.55.
In addition to Duplantis, there were five other world leaders in action, with two winning:
● American Chase Ealey, the world leader in the women's shot, won with the no. 2 throw of the year at 20.48 m (67-2 1/4) in the final round. She had already thrown 20.30 m (66-7 1/4) in round two.
● World leader Anderson Peters (GRN) is showing no let-up in the men's javelin, winning with the no. 3 throw of the year, 90.31 m (296-3), with Olympic champ Neeraj Chopra (IND) getting a national record at 89.94 m (295-1) in second.
● In the men's discus, Olympic champ and world leader Daniel Stahl (SWE) gave way to Slovenian rival Kristjian Ceh, who grabbed the win at 70.02 m (229-9) in the fifth round. Ceh took over from 19-year-old Mykolas Alekna (LTU), the NCAA runner-up for Cal and son of 2000-04 Olympic discus winner Virgilijus Alekna. His first throw was his fifth lifetime best of the season at 69.81 m (299-0). Stahl finished third at 67.57 m (221-8).
● Ukraine's women's high jump world leader Yaroslava Mahuchikh finished fifth, with Australia's emerging star Eleanor Patterson winning at 1.96 m (6-5).
● Long jump world leader Malaika Mihambo was only fifth, with Britain's Lorraine Ugen getting a seasonal best of 6.81 m (22-4) in the fifth round to win.
The men's 100 m was supposed to feature Tokyo Olympic winner Lamont Marcell Jacobs (ITA), but coach Paolo Camossi said "The situation is under control. He has a little pain in his glute muscle. It would have been too risky to run today." So, South Africa's Akani Simbine won in 10.02 (wind: -0.5 m/s). Algeria's Slimane Moula had all the speed down the straight to win the 800 m in 1:44.60.
Britain's Dina Asher-Smith held off Swiss Mujinga Kambundji, with both at 22.37 (-0.1). In a match-up of the no. 3 and no. 4 women's 800 m runners this season, Kenya's Mary Moraa beat Britain's Keely Hodgkinson, 1:57.68 to 1:58.18, both close to their seasonal bests. Daisy Jepkemei (KAZ) won the women's Steeple in 9:15.77.
Olympic champ Jasmine Camacho-Quinn (PUR) came on late to pass Tobi Amusan (NGR) in the women's 100 m hurdles, 12.46-12.50 (-0.5), with 2019 World Champion Nia Ali (USA: 12.53) third. The Tokyo 400 m hurdles bronze medalist, Femke Bol (NED), tightened her grip on the no. 2 spot on the 2022 world list with a 52.27 win.
In the non-Diamond League men's long jump, Greece's Olympic gold medalist Miltiadis Tentoglou won at 8.31 m (27-3 1/4). The Diamond League will resume after the World Athletics Championships in Eugene.
2.
Tour de France starts in Copenhagen (!) Friday
The world's most important bicycle race, the 109th Tour de France, starts with an individual time trial in Copenhagen on Friday and continues through 21 stages to the finish in Paris on 24 July. The "Grand Departe" this year is from Denmark for the first three stages before racing in France.
The favorite is two-time defending champion, 23-year-old Tadej Pogacar (SLO), along with countryman and three-time Vuelta a Espana winner Primoz Roglic. Denmark's Jonas Vingegaard was the 2021 runner-up and was a solid second in this year's Tirreno-Adriatico in March and June's Criterium du Dauphine. Also not to be underestimated: Britain's Geraint Thomas, the 2018 Tour winner and the winner of the just-completed Tour de Suisse.
It's a big production:
● 176 riders (22 teams of 8) and 450 team support staff
● 3,349.8 km (2,081.5 miles) across 21 stages to 39 towns
● 2 time trials, 6 flat stages, 7 hilly stages and 6 mountain stages
● 4 mountain ranges: Vosges, Alps, Massif Central and Pyrenees
● 28,000 police and firefighters deployed across the entire Tour
● 11 doctors, six nurses and seven ambulances
● 52 sponsors, suppliers, supporters and technical partners
The Union Cycliste Internationale (UCI) issued a statement on its program against "technological fraud" at the Tour:
"Controls for the presence of any possible propulsion and energy accumulation systems hidden in tubes and other bike components will be carried out with the use of three tools: magnetic tablets, mobile X-Ray cabinet and portable devices using backscatter and transmission technologies.
"Before each of the 21 stages, a UCI Technical Commissaire will be at the team buses to check all bikes being ridden at the start of that day's stage." Post-stage tests will be carried out on the stage winner, all of the category leaders, 3-4 riders randomly selected and "riders who give rise to suspicion, for example following the pre-stage scan, an abnormally high number of bike changes (in which case the bikes on the team car can also be checked) or other incidents picked up by the UCI Video Commissaire."
NBC will have coverage in the U.S., mostly on USA Network, with Phil Liggett covering his 50th Tour overall and 45th on television.
With curious timing, the top UCI Women's World Tour race, the 33rd Giro d'Italia Internazionale Femminile – known as the "Giro Donne" – started on Thursday with its Prologue stage, won by American Kristen Faulkner. The 10-stage race started in Cagliari and will finish on Padua on 10 July. Dutch riders have won nine of the last 11 times, with 2018-19 winner Annemiek van Vleuten the favorite for 2022, along with Italian star Elisa Longo Borghini, Ashleigh Moolman (RSA), Kasia Niewiadoma (POL) and Demi Vollering (NED). Stages 6-7-8 are all challenging climbing stages that will likely determine the winner.
3.
Japan: 40% say Olympics left little impression
Kyodo News reported on a post-Olympic, 4,000-person survey in Tokyo and northern Japan that indicated the 2021 Olympic Games made little impression on the public.
The Japan Reconstruction Agency made a survey last November of 1,000 people each from Tokyo and three northern prefectures – Iwate, Miyagi and Fukushima – with the results tucked into an appendix of a larger government report on the Games.
One question asked if respondents were "grateful for the reconstruction support, or believed the Olympics sent a message to the world that reconstruction is taking place." Per Kyodo:
"Only 29.8 percent of the 4,000 people in the survey answered that question by saying either 'I really think so' or 'I think so.' A total of 38.8 percent answered 'I don't think it did much' or 'I don't think so.'"
"Asked their opinion about the best thing from the Olympics, 20.7 percent said, 'events held in the disaster-hit region,' while 11.1 percent answered, 'the torch relay.' Nearly 40 percent, 39.6 percent, answered 'nothing in particular.'"
Ouch.
4.
Weightlifting stunner: Urso elected Secretary General
The International Weightlifting Federation's Electoral Commission improperly declared Peru's Jose Quinones the winner of the ballot for Secretary General – essentially the federation's chief executive – last weekend.
Instead of an absolute majority as required, Quinones was "elected" with 68 votes against 60 for Italy's Antonio Urso and 16 for Iran's Ali Moradi. Quinones identified the error and an online re-vote on Thursday saw Urso win by 64-63.
Both Quinones and Urso have ties to the IWF during its period of turmoil, as Quinones was an Executive Board member from 203-122 and Urso was a member of the Executive Board from 2008-20.
Observed: Urso's election could be important for the IWF in that the International Olympic Committee may be more comfortable with him as Secretary General than the controversial Quinones, who has been subject to scrutiny in Peru. But both have been members of the IWF Executive Board while it skidded out of control under former President Tamas Ajan (HUN).
Weightlifting as a sport is not currently on the program for Los Angeles 2028 and whether it is added back will depend in large part on the IOC's confidence in the IWF going forward. The top two officials in the IWF are now the former Secretary General (2017-22) and a former 12-year Executive Board member. On the surface, not promising.
5.
USA Gymnastics bankruptcy lawyers getting paid
The hundreds of abuse claimants in the USA Gymnastics bankruptcy case are being processed on the way to receiving $339.5 million in settlement funds from nine groups of insurers. In the meantime, the lawyers are getting paid.
The U.S. Bankruptcy Court for the Southern District of Indiana has now approved fee applications from:
Counsel for USA Gymnastics:
● $8,577,884 to Jenner & Block, the lead firm
● $3,472,427 to Plews Shadley Racher & Braun, LLP
● $2,466,911 to Miller Johnson Attorneys
● $452,887 to Rubin & Levin, P.C.
Counsel for the Additional Tort Claimants Committee of Sexual Abuse Survivors:
● $2,993,808 to Pachulski, Stang Ziehl & Jones LLP
That's a total of $17,963,917 in fees – there were also more than $100,000 in expenses – with $14,970,109 (83%) going to the USA Gymnastics lawyers and the $2.99 million to the counsel for the survivors. No announcement yet on when the payments will be made to the survivors; the specific amounts are being evaluated according to a questionnaire provided to each claimant.
≡ PANORAMA ≡
● Aquatics ● At the 2022 FINA World Championships, China continued its perfect run in diving, now 9-for-9, with Zongyuan Wang taking his second gold, this time in the 1 m Springboard, over Jack Laugher (GBR). Yuxi Chen and Hongchan Quan won the Women's Synchro 10m, with Chen getting her second gold. One of the world's most grueling events is the open-water 25 km Worlds, with Brazil's Ana Marcela Cunha winning in 5:24:15.0 (that's hours, minutes and seconds), out-touching Lea Boy (GER) by 0.2 and Rio 2016 Olympic 10 km champ Sharon van Rouwendaal (NED) by 0.3! It's Cunha's fifth Worlds 25 m gold. Italy's Dario Verani won the men's 25 km in 5:02:21.5 to 5:02:22.7 for France's Axel Raymond. In the women's water polo semis, the U.S. juggernaut continued with a 14-6 semifinal win over Italy. Hungary edged the Netherlands, 13-12, and will meet the Americans for the gold medal on Saturday.
● Athletics ● Blessing Okagbare (NGR), the 2008 Olympic long jump silver medalist and the 2013 Worlds 200 m bronze winner, was suspended for doping violations for 10 years back in February. But that's not all. The Athletics Integrity Unit has added a full year to her sanction for a new violations for evading sample collection and tampering with the doping control process. And because she competed in a national-team relay six days after skipping sample collection, Nigeria's qualifying mark for the women's 4×100 m for the 2022 World Championships was annulled.
● Biathlon ● The International Biathlon Union announced its candidate list for September's Congress, with President Ollie Dahlin (SWE) running unopposed, as is Vice President Jiri Hamza (CZE). The highly-respected USA Biathlon President and Chief Executive Max Cobb is one of three candidates for Treasurer; if unsuccessful, he will then be a candidate for the IBU Executive Board.
● Fencing ● Russian athletes will miss the 2022 FIE World Championships in Cairo in July after a Swiss court postponed a trial between the Russian Fencing Federation and the International Fencing Federation (FIE) until September. This is one of 21 appeals made by Russian federations contesting competition bans, all as yet unsuccessful.
¶
You can receive our exclusive TSX Report by e-mail by clicking here. You can also refer a friend by clicking here, and can donate here to keep this site going.
For our updated, 620-event International Sports Calendar for 2022 and beyond, by date and by sport, click here!