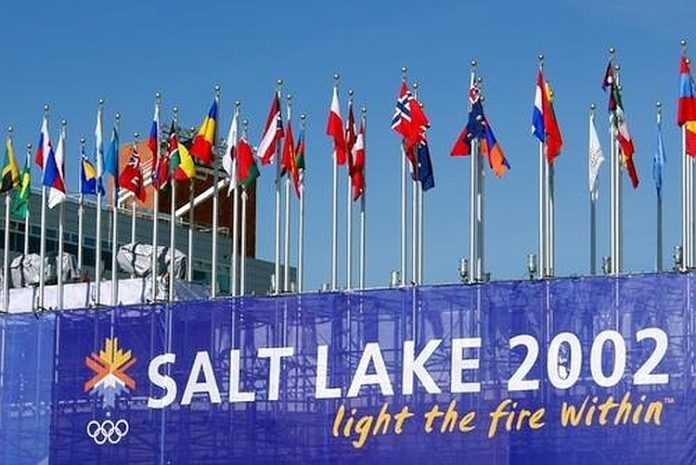 (★ Friends: Your support makes this site possible.
Please donate here if you would like to assist; thank you. ★)
● Plus: LA28: Olympic coin bill begins journey through Congress = Athletics: Vault champ Suhr retires = New rules allow road-race marks to count for track qualifying = Weightlifting: Three Russians allowed to run for IWF office this weekend = SCOREBOARD => Athletics: Richardson blows up, Kerley 9.83 world leader at USATFs = Swimming: U.S. stars Murphy and King score historic golds as Americans win three more at FINA Worlds ●
The latest news, notes and quotes from the worldwide Five-Ring Circus:
≡ SPOTLIGHT ≡
"They [the IOC] know that we have an absolutely terrific bid, and we are ready to have Salt Lake host the Winter Games as soon as 2030."
That was U.S. Olympic & Paralympic Committee chair Susanne Lyons, speaking to reporters on Thursday about the status of the Salt Lake City effort to land the 2030 Olympic Winter Games.
A USOPC delegation had met with the International Olympic Committee in Lausanne last week and got a pretty clear picture of what they stood.
"I think the IOC was fairly candid with us about some of the challenges that are presented to them by the U.S. having back-to-back Games. Optically, they really do not have a precedent for giving the same country back-to-back Games.
"There's some ill feeling, to some extent, about some of the geopolitical climate that surrounded the Beijing Games. You may recall that some of our sponsors were asked to testify in D.C., et cetera, and I think there's still some unhappiness at the IOC – not directed at the USOPC, of course, or the Salt Lake bid commission – but towards the U.S. government in terms of what they perceive to be a lack of support for the IOC.
"And then I think it's very realistic to say that given the inflationary situation that's happening, the tough commercial markets we face, and certainly it's more complicated for us to host a 2030 Games and try to raise monies that are needed for both L.A. and for Salt Lake, and of course, L.A. has a responsibility to ensure that they are successful, we all want that to happen.
"So, those are kind of the barriers to 2030, but that doesn't mean we're out of the running for 2030. And by the way, I will say if we're not 2030, I would say we got very, very favorable signs that we are certainly a leading candidate for 2034."
So it looks like 2030 or 2034, but the decision may not rest on anything more that the U.S. can do:
"What could potentially still makes us a 2030 candidate, really, is dependent on the other bids. And that's what I think the IOC now is waiting for; our bid is a bit ahead of the bids of Sapporo and Vancouver. They're waiting to see what other countries can offer for 2030. So, I don't think they will make any decision about whether they invite us or someone else to 2030 until they have those comparative bids to look at, and at the end of the year, that's when they will make some determination as to whether they have another city that they prefer to host for 2030.
"But in any case, I will say that while we may still be 2030, we certainly got very favorable signs that indicated that the Games should come back to the U.S. and Salt Lake, very, very soon."
Lyons explained further:
"Here's what I left the IOC with: we want to be here when you need us. So, if they come to us and say, we need you for 2030 – this is largely a commercial issue, an issue that is solvable – so I think it is really going to be up to the IOC to decide if they want us or not. If they need us, and they may, this is a problem that can be solved. So, I don't see huge barriers. It is more complicated for us to do back-to-back Games; it does make complications for L.A. and it is perhaps a little bit more difficult now than it might have been with easier [economic] tailwinds behind us a year or so ago, but certainly we are not out of the running yet.
"As a former marketer, I could argue this both ways. I could say that the package deal of the two Games back-to-back could be very appealing to a sponsor. On the other hand, having a little bit more runway and time to develop those commercial relationships absolutely is beneficial.
"If I had to really say which of those two is probably the most likely, it probably does help us to have some air between those Games, and it helps us have a longer period of time and commitment that we can negotiate with domestic sponsors. But again, if we are needed, if we are called upon, we will find a way to make that work."
So, it's now the difficult wait-and-see time for the USOPC and Salt Lake City.
Lyons touched on other issues, noting that chief exec Sarah Hirshland had come with with Covid on the return from Lausanne. The USOPC Board, which met in-person this week, spent a lot of time about future plans, now that the Tokyo and Beijing Games have been completed.
The priorities will be (1) elevating athlete performance and athlete support and welfare, especially as other countries continue to expand their programs, (2) expanding resources, and (3) growing fan support. Lyons explained:
"In order to accomplish that goal of elevated performance, we really need to work with our NGBs – large and small – to face this issue of meeting today's challenges with the available resources. We have to be flexible and disciplined and we really can't make do with what we have today. We have to learn to grow the pie, both commercially, philanthropically and through helping the NGBs themselves on ways to financially enhance the monies that they have to support themselves. …
"We need to have Americans engaged with the Olympic & Paralympic Movement. They need to want to hear about our athlete's stories … We've been through kind of a tough patch with these Games – time zones were difficult in Asia, et cetera – we need to re-engage our audience that wasn't able to connect with the athletes and the team, in Beijing or in Tokyo, and also the lack of fans certainly impacted us as well."
The USOPC wants to expand the number of sports in which it wins medals, and to have more individual athletes win medals, improve the standards for excellence for sport administration, and it needs more public interest:
"It means increasing share of mind and 'share of heart' … bringing in new fans, engaging existing fans in new ways, and we also need to elevate our fund-raising success to new, never-before-achieved levels, and we have been growing our philanthropic success really, pretty astronomically, in recent years and we think there's an opportunity not just on the major-donor side, but to engage broad bases of Americans, to really support in whatever way they are able – not just financially, but supporting financially even in small ways that engages people – with our movement."
≡ THE 5-RING CIRCUS ≡
● Games of the XXXIV Olympiad: Los Angeles 2028 ● A slow journey has begun for the minting of Olympic coins commemorating the Los Angeles 2028 Olympic Games.
California senators Alex Padilla (D) and Dianne Feinstein (D), along with Utah Senator Mitt Romney (R), introduced S. 4392 last week, which would provide for a four-coin program:
● $5 gold coin: 100,000, with a $35 surcharge;
● $1 silver coin: 500,000, with a $10 surcharge;
● 50-cent clad coin: 300,000, with a $5 surcharge, and
● $1 proof coin: 100,000, with a $50 surcharge.
LA28 and the U.S. Olympic & Paralympic Committee will benefit, of course, as "all surcharges received by the Secretary from the sale of coins issued under this Act shall be promptly paid by the Secretary to the United States Olympic and Paralympic Properties for the objects and purposes related to the hosting of the 2028 Olympic and Paralympic Games and to aid in the execution of its legacy programs, including the promotion of youth sports in the United States."
The surcharge total, according to the bill, would be $15 million: helpful, but hardly a game changer. For the 1984 Olympic Games in Los Angeles, a furious legislative battle was fought over the number and types of coins, with only a $10 gold piece and two $1 silver dollars eventually approved. However, 50 million of the silver dollars were produced and two million $10 gold pieces were made; both the L.A. Olympic organizing committee and the U.S. Olympic Committee received more than $35 million each from the program.
The bill has been referred to the Committee on Banking, Housing, and Urban Affairs.
● Artistic Swimming ● Two-time U.S. Olympian Anita Alvarez was saved from drowning at the FINA World Aquatics Championships in Budapest (HUN) by her coach, after fainting at the end of her Solo Technical routine.
Alvarez completed the routine, but sank to the bottom of the pool and American team coach Andrea Fuentes (ESP) – a four-time Olympic medal winner – dove in to retrieve here and bring her to the surface. Alvarez was attended to immediately and removed on a stretcher.
Sky Sports reported that "It was the second time Fuentes has had to rescue Alvarez after she leapt into the pool during an Olympic qualification event last year and pulled her to safety along with the American's swim partner Lindi Schroeder."
Fuentes told the Spanish newspaper Marca, "I jumped into the water again because I saw that no one, no lifeguard, was jumping in. I got a little scared because she wasn't breathing, but now she's fine. She has to rest." Alvarez, 25, finished in seventh place (87.6333) and could compete again on Friday in the Women's Team Free Final, but will obviously be carefully evaluated.
● Athletics ● Jenn Suhr, the 2012 Olympic gold medalist in the women's vault, announced her retirement on Thursday.
Now 40, Suhr was hampered in recent years by injury, but was one of the greatest female vaulters in history. Beyond her London triumph, she won the 2008 Beijing Olympic silver, the 2013 Worlds silver, the 2016 World Indoor Championship, the 2008 World Indoors silver and 17 national titles.
Suhr set the still-standing world indoor record of 5.03 m (16-6) in 2016 and had an outdoor best of 4.93 m (16-2) from 2018.
¶
The continuing lack of enthusiasm for longer distances on the track has resulted in a remarkable change in rules by the World Athletics Council.
For both the Budapest 2023 Worlds and the Paris 2024 Olympic Games, qualifying times for the 5,000 m and 10,000 m on the track can be met by marks made in road-race events over the 5 km and 10 km distances.
The 10,000 m qualification program for Budapest next year will also provide automatic qualification for the top eight men and top eight women in the World Athletics Cross Country World Rankings. This is an evolution from the 2019 Worlds in Doha, where the top 15 finishers in the 2019 Cross Country Worlds were qualified.
All of this points to a movement of the 10,000 m – especially – from the track to the roads, possibly as part of public-participation road events. The idea is to make the events more accessible, but will it eventually mean the removal of these events from the track entirely?
● Weightlifting ● With the sport's Olympic future hanging in the balance this weekend with elections at the International Weightlifting Federation, the Court of Arbitration for Sport ruled that Russian candidates Maxim Agapitov (President, Vice President and Executive Board), Dmitry Chernogorov (Coaching and Research Committee) and Aleksandr Kishkin (Technical Committee) are eligible to run for office.
The IWF's Eligibility Determinations Panel had disqualified the three Russians, but the Court noted that the panel had no such power, but only the ability to certify eligibility per the IWF Constitution. So, they will be on the ballot this weekend.
≡ SCOREBOARD ≡
● Athletics ● The USATF National Championships in Eugene got underway on Thursday, with three field-event finals in the women's hammer, women's long jump and men's discus, plus shocks in the men's and women's 100 m!
The U.S. women's hammer throwers stand 1-3-7 on the world list for 2022, and world leader Brooke Andersen won her first national title with her fourth-round throw of 77.96 (255-9), followed by no. 3 Janee Kassanavoid at 76.04 m (249-6). Defending World Champion DeAnna Price finished fourth with a seasonal best of 73.07 m (239-8), while Annette Echikunwoke was third (73.76 m/242-0).
Tokyo Olympian Quanesha Burks got off a big first jump at 7.06 mw (23-2w) and no one could catch here in the women's long jump. Jasmine Moore, no. 8 on the 2022 world list, also rode the winds to 6.80 mw (22-3 3/4w) and got second.
Rio Olympian Andrew Evans won the men's discus at a modest 63.31 m (207-8), followed by Dailin Shurts (BYU: 62.32 m/204-5) and Tokyo Olympian Sam Mattis (62.25 m/204-5).
In the qualifying, the shocker came in the women's 100 m. Tokyo relay silver medalist Aleia Hobbs won the first heat in a quick 10.88, followed by Twanisha Terry (10.92) in heat two. Tamari Davis won heat three in 11.04, but star sprinter Sha'Carri Richardson languished at the start and could not catch up, finishing a non-qualifying fifth in 11.31. Melissa Jefferson won the fourth heat in 11.04 (all wind-legal).
The men's 100 m heats started with a win by Trayvon Bromell (10.10), but then Olympic silver medalist Fred Kerley exploded to a world-leading 9.83 in heat two (wind +1.5 m/s), a lifetime best and moving him to equal-14th all-time and equal-6th all-time U.S.
Defending World Champion Christian Coleman was next, winning in 10.08, and Brandon Carnes and Olympic 200 m medal winner Kenny Bednarek were 1-2 in heat four, both in 10.10.
Many other big stars on the track advanced, including women's Olympic 800 m champ Athing Mu and World Indoor Champion Ajee Wilson and Olympic women's 400 m champ Sydney McLaughlin.
Donavan Brazier, the 2019 World Champion, was the leading qualifier in the men's 800 m in 1:46.49, followed by prep sensation Cade Flatt (1:46.48). But Cole Hocker, sixth in the Tokyo Games, failed to qualify in his men's 1,500 m heat, finishing sixth in heat one (3:39.57).
In the session-ending 400 m heats, the amazing Allyson Felix won the first race in 52.30, with Jaide Stepter the leading qualifier at 51.05 from heat two and Rosaline Effiong taking heat three (51.17). Michael Norman was the leading qualifier in the men's heats at a speedy 44.72; Bryce Deadmon was next-fastest at 45.31.
Attendance was announced at 2,751. The meet continues tomorrow, and will be televised on CNBC from 10 p.m.-12 a.m. Eastern time.
● Swimming ● The FINA World Championships continued in Budapest, with two familiar American stars earning golds in events they had never won before.
American Ryan Murphy was the focus of the men's 200 m Backstroke final. The Rio 100-200 m Backstroke gold medalist, he was second here in the 100 m Back and lost his world record, and had never won an individual World Championships gold. He ended that drought in style.
Murphy was the favorite, and moved from third to first on the second lap, leading by 0.66 at the half and then just sprinted away from the field, up by 0.96 at the final turn and winning, 1:54.52 – fastest in the world this year – to 1:55.16 for Luke Greenbank (GBR). American Shaine Casas was steady in third most of the way and won the bronze – his first Worlds medal – in 1:55.35.
American superstar Lilly King won the 50-100 m Breaststrokes at the 2017 and 2019 Worlds, but had never won a Worlds medal at 200 m. She got out well in the final, swimming with teammate Kate Douglass (Tokyo 200 m Medley bronze), Britain's Molly Renshaw and Australia's Jenna Strauch. It was Renshaw who had the edge at the halfway mark, with Douglass closest and then Douglass had 0.13 on Renshaw at 150 m. But on the final lap, King surged in the middle of the pool and stormed from fifth to first with 20 m to go and she touched first in 2:22.41 for her fifth Worlds Breaststroke medal, and a huge return from her fourth-place finish in the 100 m Breast, still suffering from illness. She joins Russian Yuliya Efimova as the only ones to win all three women's Worlds Breast events during their careers.
Douglass faded slightly on the way home, but Strauch was strong and got second, 2:23.04-2:23.20.
In the women's 100 m Free final, Australia's Mollie O'Callaghan, 18, was the qualifying leader and favorite, but Swedish star Sarah Sjostrom led at the turn. But then American Torri Huske (19) took over and had a solid edge halfway home … until O'Callaghan closed like a rocket, taking the lead only at the touch in 52.67, to 52.80 for Sjostrom and 52.92 for Huske, the winner of the 100 m Fly. Fellow American Claire Curzan was eighth in 53.81.
Australia's Zac Stubblety-Cook came in not only as the Olympic champ, but the world-record holder in the men's 200 m Breast final. But while he was eighth at the 100 m mark, he zoomed up to third at the final turn and sailed away to win in 2:07.07, easily ahead of Yu Hanaguruma (JPN) and Erik Persson (SWE: both 2:08.38). American Nic Fink, the 50 m Breast winner and 100 m bronze medalist, was fifth in 2:09.05.
The U.S. men mauled the field in the 4×200 m Freestyle relay, with Carson Foster taking the lead on the second leg (1:45.04) and forging a body-length lead on Australia. Trenton Julian expanded the advantage to 1.89 seconds (1:45.31) and Kiernan Smith finished with a brilliant 1:44.35 leg – fastest of the race – to finish with a win by 3.26 seconds in 7:00.24. That's the no. 6 performance of all-time and the first American Worlds golds in this event since 2013. Australia was second at 7:03.50 and the British third at 7:04.00.
With 29 of 42 events completed, the U.S. has 32 medals (14-6-12), in sight of its team record of 38 from the 2017 Worlds, with two days remaining. Australia now has 12 medals (4-7-1), followed by Canada (7: 2-3-2).
You can receive our exclusive TSX Report by e-mail by clicking here. You can also refer a friend by clicking here, and can donate here to keep this site going.
For our updated, 620-event International Sports Calendar for 2022 and beyond, by date and by sport, click here!