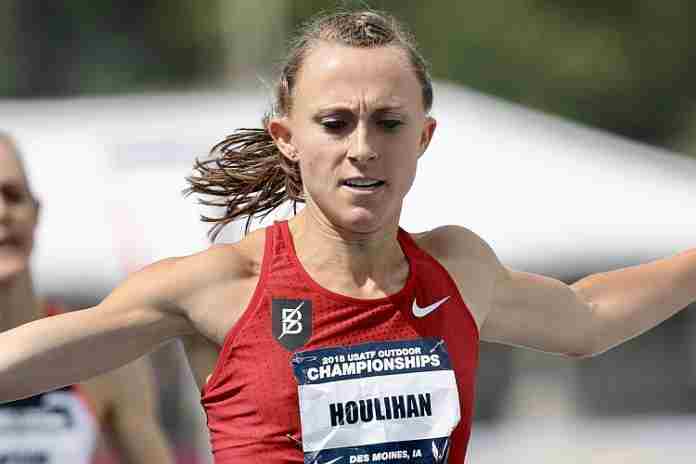 (Friends: As you know, TheSportsExaminer.com is a free site, but we still have expenses, for hosting and technical support. Our semi-annual bill has arrived, and if you value what you read here, perhaps you can donate to help with the costs. Thank you.)
The latest news, notes and quotes from the worldwide Five-Ring Circus
● Athletics ● After the fun of the Weltklasse Zurich round-the-world meet on Thursday came a serious – and successful – attempt at the American Record in the women's 5,000 m on Friday evening.
In the second "Portland Intrasquad" meet staged by the Bowerman Track Club, Shelby Houlihan outlasted Karissa Schweizer to maul Houlihan's 2018 mark of 14:34.45 by finishing in stunning times of 14:23.92 and 14:26.34!
There were seven starters in the race and steeple star Colleen Quigley paced the group through almost 2,000 m. Another steepler, 2017 Worlds silver winner Cortney Frerichs, then took over for two laps, followed by Elise Cranny, with Houlihan and Schweizer running behind them. Houlihan took over with three laps to go, and charged home in 68.9, 65.8 and 61.5 to claim another American Record; she also owns the 1,500 m mark at 3:54.99 (2019).
How good was this?
Houlihan's 14:23.92 would have been the no. 4 performance of 2019, with only Hellen Obiri and Agnes Tirop (KEN) and Sifan Hassan (NED) ahead of her. Compared to the Doha World Championships final, Houlihan and Schweizer would have been 1-2, ahead of Obiri's winner of 14:26.72! Houlihan moves to no. 12 on the all-time world list.
Schweizer, still just 24 and only two years removed from her last of five NCAA track titles at Missouri, took nearly 20 seconds off her best – from 14:45.18 for ninth in Doha last year – to move to no. 14 all-time in the event.
So what about Tokyo (assuming there is a Tokyo): is a 1,500/5,000 double possible for Houlihan?
It won't be easy. The women's 5,000 m – as currently scheduled – has heats on Day 1 and the final on Day 4 in the evening. The problem is that the 1,500 m heats are on the morning of Day 4, with the semis on Day 6 and the final on Day 8.
But after two days of rest, perhaps a morning 1,500 heat won't be too taxing. At Doha last year, the three heats were won in 4:03.88, 4:08.32 and 4:07.27. Houlihan might be in such superb shape as to be able to handle that load. We won't know for a while, and the schedule could be changed between now and then.
The men's 5,000 m was no slouch either, with Canada's Mo Ahmed claiming a national record and moving to no. 10 all-time at 12:47.20. He was trailed by American Lopez Lomong, finishing in 12:58.78 and becoming the ninth American to break 13 minutes outdoors. Ahmed ran his final four laps in 3:58.6 and his final 400 m was 57.45. Wow!
¶
With a possible expulsion recommendation coming at the World Athletics Council meeting on 29-30 July, Russian Athletics Federation chief Yevgeny Yurchenko told Match TV:
"Withdrawing the right of the neutral status participation is a monstrous violation of athletes' rights. I believe that we must go to court to protect this right."
In the meantime, Vadim Devyatovskiy, the 2008 Olympic hammer silver medalist and now head of the Belarus Federation said on Wednesday:
"It's too early to talk about any decisions and steps but we are closely following the development of events and, if we receive offers from Russian athletes, of course, we will consider them.
"If these athletes are forced to miss the Olympics or, moreover, finish their careers, this will be a loss not only for the Russians, but also for world athletics."
The Russian federation missed a scheduled $5 million payment of a fine by World Athletics for its past doping violations on 1 July, along with a $1.31 million payment for expenses related to the federation's investigations.
Current world champions Maria Lasitskene (high jump) and Anzhelika Sidorova (pole vault) have both complained publicly about the quagmire faced by current Russian athletes and noted that their competitive future may lie elsewhere.
¶
In a video interview with the Variety After-Show, retired sprint legend Usain Bolt said he's now open to returning to the track … if he was called by coach Glen Mills:
"If my coach came back and told me, 'Let's do this,' I will because I believe so much in my coach. So, I know if he says, 'We're gonna do this,' I know it's possible."
Well?
¶
Yet another Kenyan doping positive was announced by the Athletics Integrity Unit, with Alex Oliotiptip suspended for two years for "whereabouts" failures, from 19 July 2019.
Kenya now has a total of 57 people on the AIU's "Global List of Ineligible Persons," second only to Russia.
¶
Dean Cromwell was one of the outstanding track & field coaches in American history, guiding dozens of star athletes to 12 NCAA team titles during his long career (1909-48, except for 1915) at the University of Southern California.
But he was also a Nazi sympathizer and has long been credited – although without absolute proof – with pulling two U.S. sprinters who were both Jewish from the American 4×100 m relay at the 1936 Berlin Games.
In those days, the top two finishers at the U.S. Trials got to run in the 100 m, and finishers 3-4-5-6 in the relay. While Jesse Owens and Ralph Metcalfe went 1-2 in the 100 m final, the four relay men should have been Foy Draper and Frank Wykoff (both USC runners) and Sam Stoller and Marty Glickman, both Jewish.
With no concern from the anti-Semitic Avery Brundage, head of the American Olympic Committee, Stoller and Glickman were replaced by Owens and Metcalfe and the team won easily, equaling the world record in the heats and setting a new standard of 39.8 in the final.
The track at USC has long been named for Cromwell, but that is now under review after a student group wrote to the USC administration asking about multiple facilities on campus named for individuals whose actions or writings are not in line with the "university's values."
The university issued a statement to the Los Angeles Times, noting "The Task Force on University Nomenclature is looking at buildings, monuments, and symbols across campus."
● Aquatics ● FINA, the international federation for the aquatic sports, has quietly approved a $4.46 million support program for its national and continental federations.
A total of $4 million will be available in blocks of $25,000 for the 160 national federations, plus another $460,000 to the continental federations.
There are strings attached: the national federations who had swimmers participating as "universality" (i.e., non-qualifier) athletes at the 2019 World Championships must first allocate funds to four such athletes, and then to the next four who show promise to be qualifiers for the Tokyo Games.
Following that, funds can be used for coaching, access to facilities, training camps, competitions (if held) and athlete living expenses.
It's a big grant of funds, but with so many federations, will have a mild impact on any one of them. Still, it's a positive reflection of FINA's shepherding of funds, with $107 million in reserves at the end of 2018.
The International Swimming League announced a Solidarity Program last April, with payments of $1,500 per month from September 2020 to July 2021 for its contracted swimmers (up to 320 = $5.28 million) and a five-week training and competition program from mid-October to mid-November of this year. Reuters reported the package is estimated at "$11 million set aside to cover wages, bonuses, ambassador payments and prize money in a condensed season" with the overall cost as high as $20 million.
● Fencing ● The Federation Internationale de Escrime (FIE) joined the federation support party, announcing Friday that CHF 1,000,000 ($1.06 million U.S.) has been allocated for support of athletes, federations and judges.
TASS reported "every national federation and confederation will receive financial support. Besides, the organization will cancel 2020 membership fees and organizational fees for the 2020/21 season. One athlete from each national federation will receive a financial grant to take part in 2021 continental junior championships."
The funding comes from FIE chief Alisher Usmanov, a Russian mining and metals billionaire whose donations have been keeping the federation afloat for more than a decade; he was elected as FIE President in 2008.
● Gymnastics ● In a lengthy feature in Vogue, superstar Simone Biles reviewed her situation, the difficulties caused by the postponement of the Tokyo Games and more. She notably said of the continuing Larry Nassar abuse scandal and lawsuit:
"We need to figure out why it happened, when it happened, and who knew what, when. …
"We can't feel comfortable promoting our sport if we fear that something might happen like this again because they're not doing their part. And the hardest part for us is we've always done our part. We've always represented the U.S. to the best of our ability, and all the time, most of the time, every time I've represented, come back with gold medals. It's like: We've done our part. Come on."
She also noted that the delay of the Games meant: "Another year of dealing with [USA Gymnastics]. That, I don't know if I can take."
As to the proposed settlement submitted by the federation's legal team, now being revised: "It's like, at the end of the day, I don't want your dirty money."
¶
A new abuse inquiry was announced in Great Britain, following allegations in artistic and rhythmic gymnastics.
Both physical and emotional abuse has been cited, with a 10-year-old gymnast stating she was locked in a closet by her coach.
The chief of British Gymnastics, Jane Allen, said "It is clear that gymnasts did not feel they could raise their concerns [with us] and it is vital that an independent review helps us better understand why so we can remove any barriers as quickly as possible."
An outside investigation has been started; UK Sport, the agency which funds Britain's Olympic programs, issued a statement that "These allegations relating to the treatment of young athletes within gymnastics are shocking and upsetting. There is absolutely no place for any sort of bullying or abuse in sport and anyone responsible for such behaviour must be held accountable, with support offered to those affected."
● Skating & Skiing ● Very sad news this past week of the death of three winter-sport stars:
● On 8 July, Australian snowboarder Alex "Chumpy" Pullin, 32, died while spearfishing off an artificial reef near Gold Coast. He was a three-time Olympian in 2010-14-18 and the World Champion in Snowboard Cross in both 2011 and 2013. He had retired only this year.
● On the same day, Norway's 1992 Olympic gold medalist in the Slalom, Finn Christian Jagge, passed away at just 54 years old. Winner of seven World Cup Slaloms from 1991-99, he retired in 2000, but passed away from what was reported as an "acute illness."
● On Friday, Dutch Short Track star Lara van Ruijven, 27, died from complications of an autoimmune disorder in Perpignan, France. She was the 2019 World Champion in the 500 m and won an Olympic bronze in 2018 in the 3,000 m relay. She took ill at a training camp in late June in France and was hospitalized, but did not recover.
Our condolences to the families and friends; passing at 32-54-27 is just not fair.
● Doping ● A message on the Russian messenger application Telegram accused Russian Anti-Doping Agency chief Yury Ganus of corruption. Agence France Presse reported:
"The 'Post-Truth' channel said Ganus may have appropriated at least 110 million rubles ($1.55 million) over two years in his capacity as head of RUSADA.
"Ganus, who has for many months sharply criticised Russia's sports leadership over the ongoing doping ban, held an emergency press conference Friday to denounce the allegations, which he said were 'revenge' and 'the start of a campaign to discredit RUSADA'."
It isn't easy to do anything, anywhere.
● XXIV Olympic Winter Games: Beijing 2022 ● China canceled all international sporting events for the remainder of 2020, but exempted test events needed to prepare for the 2022 Winter Games. According to the Associated Press:
"China has largely contained local transmission of the coronavirus but remains on guard for imported cases.
"The General Administration of Sports cited 'science and order' in issuing its plan to proceed on Thursday."
There is doubt in some quarters that the coronavirus pandemic may not be sufficiently controlled to allow the 2022 Winter Games to take place, just six months after the 2020 Tokyo Games conclude in 2021.