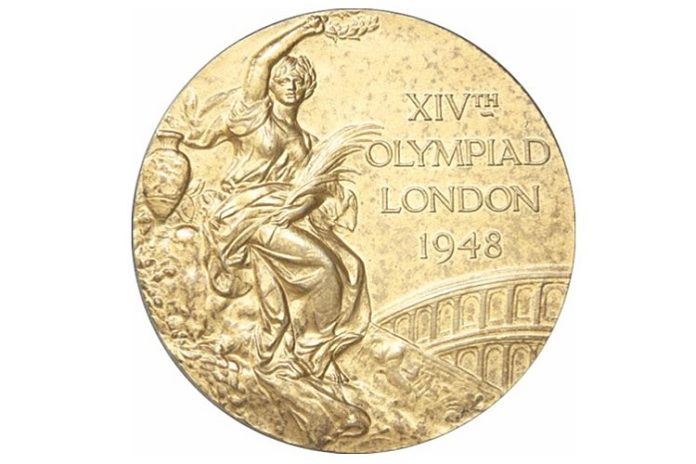 (★ THANK YOU to the 45 donors who have covered 77% of our site costs for services for the first six months of 2022. Like the coverage? Please donate here. ★)
● Plus: Seoul 1988: Seoul Sports Complex in $1.8 billion renovation = Milan Cortina 2026: New chief executive to be named next month = Biathlon: IBU suspends Belarus and Russia = Gymnastics: USA Gymnastics to replace women's program head with three; names 2022 Hall of Fame class = Swimming: USA Swimming announces Indianapolis as 2024 Trials site = Wrestling: USOPC & USA Wrestling ask NCAA to table training center rule change = SCOREBOARD: Football: Portugal and Poland qualify for Qatar '22; U.S. faces Costa Rica in final CONCACAF qualifier ●
The latest news, notes and quotes from the worldwide Five-Ring Circus:
≡ SPOTLIGHT ≡
Another massive auction of Olympic memorabilia by veteran dealer Ingrid O'Neil is underway and will conclude on 9 April. The dazzling program includes 502 lots, starting with the men's 100 m gold medal won by legendary American sprinter and hurdler Harrison "Bones" Dillard.
Inspired by Jesse Owens, who attended the same high school – Cleveland East Technical – Dillard was best known as a hurdler, but failed to make the London '48 U.S. team in his specialty. But he did make the American team in the 100 m and won the gold in a major upset over teammate Barney Ewell, 10.3-10.4, with favored Mel Patton sixth.
Four years later, in Helsinki, he won the 110 m high hurdles in another tight finish, this time with fellow American Jack Davis, both timed in 13.7. And Dillard ran on both of the winning U.S. men's 4×100 m teams in London and Helsinki for four career golds in all.
Dillard, universally known not only as a great athlete, but as a gentle, pleasant and kind man, passed away in 2019 at age 96.
Offered with the original case, the medal was made available by Dillard's daughter, Terri, with bidding starting at $120,000.
There are plenty of other interesting lots in the auction, including:
● An amazing winner's medal from the first modern Games in 1896! These were in silver – not gold yet – picturing Zeus on the obverse and the Acropolis in Athens on the reverse. A bid of $80,000 has already been received!
● A solid gold winner's medal for the football (soccer) tournament at the 1904 St. Louis Olympic Games, won by the Galt Football Club of Ontario, Canada. Bids start at $95,000.
● A Stockholm 1912 silver medal, in its presentation case, starting at $7,000, and a bronze medal, starting at $5,000.
There is a staggering selection of additional Olympic medals offered, from Antwerp 1920, from the first Winter Games in Chamonix (FRA) in 1924 (one already has a $26,000 bid), Paris 1924, Amsterdam 1928, St. Moritz 1928 Winter, Los Angeles 1932, Berlin 1936, London 1948, St. Moritz 1948 Winter, Oslo 1952 Winter, 1952 Helsinki, 1956 Melbourne, 1960 Rome, Innsbruck 1964 Winter, 1972 Sapporo Winter, 1976 Innsbruck Winter, Montreal 1976, Moscow 1980, Lake Placid 1980 Winter, Calgary 1988 Winter, Seoul 1988, Albertville 1992 Winter, Salt Lake City 2002 Winter and Rio 2016, plus the 1906 10-year Anniversary Games in Athens and many Paralympic Games medals.
And, of course, no Olympic memorabilia auction would be complete without Olympic torches, and there are 31 to choose from:
● 1936 Berlin: $5,000 starting bid
● 1948 London: $7,500
● 1956 Cortina d'Ampezzo Winter: $22,000
● 1960 Rome: $7,000
● 1964 Tokyo: $11,000
● 1968 Mexico City (2): $3,000 and $2,000
● 1972 Munich: $2,000
● 1976 Montreal: $2,600
● 1976 Innsbruck Winter: $22,000
● 1980 Moscow (2): $2,800 and $1,500
● 1984 Los Angeles: $4,000
● 1984 Sarajevo Winter: $5,500
● 1988 Seoul: $5,000
● 1988 Calgary Winter: $28,000
● 1992 Barcelona: $5,000
● 1992 Albertville Winter: $65,000
● 1996 Atlanta: $2,400
● 2000 Sydney: $3,750
● 2002 Salt Lake City Winter: $3,250
● 2004 Athens: $2,800
● 2006 Turin Winter: $1,800
● 2008 Beijing: $5,000
● 2010 Vancouver 2010 Winter: $1,800
● 2012 London: $5,000
● 2014 Sochi Winter: $2,600
● 2016 Rio de Janeiro: $3,500
● 2020 Tokyo (2): $12,000 and $9,500
● 2022 Beijing Winter: $12,000 already bid
An enormous sampling of Olympic participation medals is also available; truly a sensational offering of Olympic hardware spanning the entire modern Olympic era. Bidding continues to 9 April.
≡ THE 5-RING CIRCUS ≡
● Games of the XXXIV Olympiad: Seoul 1988 ● The Seoul Sports Complex, built for the 1986 Asian Games and the 1988 Olympic Games, is being redeveloped in a $1.8 billion project that is expected to begin construction in mid-2023.
The Populous architectural and planning firm detailed the program on Monday, with the Olympic Stadium preserved and new facilities to be added or revamped, such as a convention center, concert hall, an 11,000-seat sports arena, 35,000-seat baseball park, 3,000-seat swim complex and 2-3 hotels or office towers.
Now known as the Jamsil Sports MICE Complex, it hosted track & field, football and equestrian jumping in the Olympic Stadium in 1988, plus swimming, basketball, volleyball, boxing and baseball in other facilities.
● XXV Olympic Winter Games: Milan Cortina 2026 ● Italian media are reporting that Vincenzo Novari, head of the Milano Cortina 2026 organizing committee, will be replaced soon.
Hired in November 2019, Novari is expected to move on after the 6 April board meeting, being seen as slow to integrate himself into the international-sport community in Italy. According to La Repubblica:
"To replace Novari, there are various solutions: one could be Michele Uva, now at UEFA. Certainly, Uva has strong experience in sports management and excellent contacts also at an international level. Then, other candidates could be Alessandro Antonello, CEO of [Inter Milan], [retail executive] Alberto Baldan and Gianfranco Battisti, former CEO of Ferrovie dello Stato [railway]."
Novari stated that the organizing committee's financial responsibilities include domestic sponsorships, ticketing, merchandising, but these have been seem as lagging so far.
● XXVI Olympic Winter Games: 2030 ● "It is unacceptable that the bid benefits one party to the detriment of the other, it is unacceptable for a part of the Pyrenees to be left without the benefit of the Games."
So much for the technical agreement on the organization of the Spanish bid for the 2030 Olympic Winter Games, reported last week from discussions brokered by the Spanish Olympic Committee (COE).
Javier Lamban, President of the Government of Aragon, blasted the plan on Tuesday, saying the distribution of events was "unbalanced" between Aragon and Catalonia. He plans to present a different plan, which is not yet ready to be divulged.
Lamban complained that the proposal from the COE assigned curling to Jaca and figure skating and speed skating to Zaragoza and did not place any events within the section of the Pyrenees Mountains in Aragon. Biathlon and cross-country skiing were also to be held in Aragon.
This stops the Pyrenees-Barcelona bid in its tracks, and referenda are still to be held to determine the public attitude towards the concept of chasing the Games. The bids for Salt Lake City and Sapporo continue on, along with a developing concept from Vancouver (CAN), which hosted in 2010.
● Biathlon ● The International Biathlon Union's Executive Board suspended both Russian and Belarus, "with immediate effect." The announcement included:
"Both federations have violated the humanitarian obligations for member federations under the IBU Constitution. These violations by RBU and BiFB bring the IBU and the sport of biathlon into disrepute, and their active membership would undermine the IBU's and its members' efforts to promote its constitutional principles and purposes with credibility.
"In addition, the EB agreed that given the Russian invasion of Ukraine has stopped the activities of the Ukrainian Biathlon Federation it would be unfair for the NFs of the attacking countries to continue to enjoy the full rights of IBU membership when their nations have disrupted the conduct of sport in Ukraine."
Both countries are biathlon powers. Belarus scored an Olympic silver in Beijing and 12 World Cup medals this past season and Russia won four Olympic medals (0-1-3) and had 15 World Cup medals, including four wins. But the season won't start up again until the end of November.
The Russian Biathlon Union has filed an appeal to the decision with the Court of Arbitration for Sport.
● Gymnastics ● "We are coming forward with our experiences of abuse, neglect, and discrimination in hopes of forcing change.
"We ask Sport Canada to take action to ensure the next generation of Canadian gymnasts is not subject to the physical and psychological trauma that we have had to endure."
This from a letter signed by 70 current and former Canadian gymnasts, alleging emotional, physical, and sexual abuse from Canadian coaches, reported on Monday.
The letter explains that "The current Board and CEO of GymCan have failed to address these issues and have failed to earn the trust and confidence of athletes. Their inability to adequately respond to ongoing systemic abuse, mistreatment, and discrimination is troubling."
Canadian bobsledders and skeleton racers sent a similar request for governmental oversight three weeks ago.
Sport Canada is a governmental agency responsible for "access to sport as part of a healthy and active lifestyle, and help high performance athletes participate and succeed in competitions." It is not the Canadian Olympic Committee, which is the recognized National Olympic Committee in the country.
The gymnasts, like the bobsled & skeleton athletes, are looking for a public investigation and report on the situation in their sport.
¶
USA Gymnastics is changing the staff leadership of its women's high-performance program to include three people instead of one.
Tom Forster retired as the federation's women's elite performance director after the Tokyo Games, but will be replaced with three people instead of one. The Associated Press reported that the federation explained to members that having a single manager
"created either the perception or reality of one person having total control over the program and National Team athletes. Such control – whether real or perceived – is not healthy or balanced for athletes or for the sport. Those perceptions also put untenable pressure on a single person."
So, individuals to manage (1) athlete development (2) technical training and performance and (3) overall direction and strategy of the program are being sought. This newest step in response to the tight scrutiny the federation is under following the massive Nassar scandal will succeed or fail, of course, on the people selected.
¶
The Federation Internationale de Gymnastique announced a "Special Aid for Ukraine" fund, coordinated through the federation's Foundation for Solidarity, to support the Ukrainian federation and their FIG-licensed athletes.
¶
USA Gymnastics announced its 2022 Hall of Fame class, including Olympic medal winners Annia Hatch and Jonathan Horton.
Hatch came to the U.S. from Cuba, where she was the 1996 Worlds bronze medalist on Vault. After becoming an American citizen in 2001, she was a National Team member from 2002-04 and won a Team silver and Vault silver at the 2004 Athens Games. She has continued her support of the sport as a coach.
Horton was an 18-time All-American at Oklahoma and was the U.S. men's All-Around champ in 2009 and 2010. He won an Olympic Team bronze and Horizontal Bar silver at the 2008 Beijing Games and claimed World Championships medals in 2010 (All-Around bronze) and 2011 (Team bronze).
Also named with Lifetime Achievement Awards were Artistic coaches Tammy Biggs and the late Tim Rand; London 2012 Olympic and University of Michigan coach Kurt Golder; 2008 Olympic Trampoline performer Erin Blanchard and Acrobatic Mixed Pair World Championships medalists Kiley Boynton and Ryan Ward.
● Swimming ● USA Swimming and the Indiana Sports Corporation formally announced that the 2024 U.S. Olympic Trials will be at Lucas Oil Stadium in Indianapolis. The project will include:
● "Three temporary pools, two 50-meter and one 25-meter, will be installed over the field";
● "The Indiana Convention Center, connected to the stadium, will feature USA Swimming's Toyota Aqua Zone";
● "USA Swimming and the Indiana Sports Corp expect to create a city-wide festival throughout the course of the event to celebrate the sport of swimming."
The Trials were a huge hit in Omaha, Nebraska in 2008-12-16-21, with a 14,500 spectator capacity at the CHI Health Center. The 2024 Trials are expected to double that capacity or more, with a proposed layout shown as: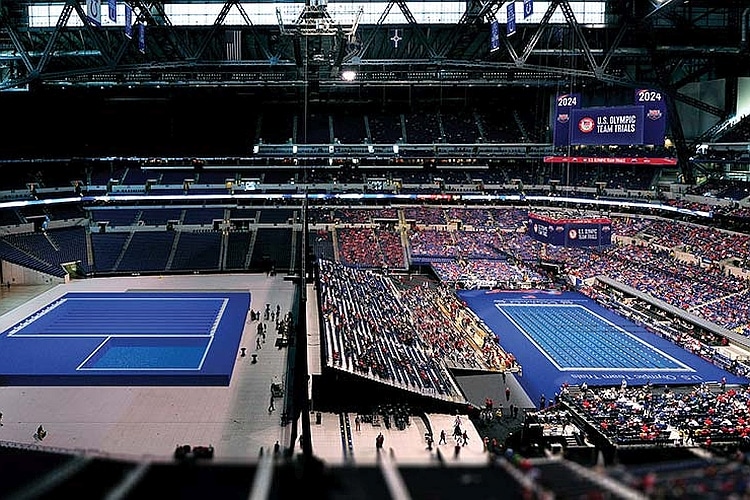 Beyond the pool, "USA Swimming and the Indiana Sports Corp. will commit a total of $400,000 to Legacy Projects to ensure increased access to water for children in underserved areas of the Indianapolis region. The entities will work with programs and facilities in need of financial and programmatic assistance, with the ultimate goals of promoting the sport of swimming and the life-saving skills of water safety."
● Wrestling ● A modest test of the expanding cooperation between the NCAA and the U.S. Olympic community – specially USA Wrestling – is coming in mid-April in the form of a proposed rule change at the NCAA Division I Council.
At issue is the use of wrestling Regional Training Centers, established in 2009 to help stem the loss of college wrestling programs – 55 had closed over the prior 28 years – by allowing high school and college athletes to train in the Olympic classes of Freestyle and Greco-Roman, vs. the Folkstyle rules used by the NCAA.
There are 44 schools using RTC program and the emerging women's wrestling movement has 30 athletes currently involved, including 13 active U.S. national team members. Proposal 2019-50 was submitted by the Mid-American and Southern Conferences, concerned that Regional Training Centers have also become recruiting mills for the top collegiate programs.
USA Wrestling and the U.S. Olympic & Paralympic Committee have urged the proposal to be tabled in view of operating changes which have narrowed the use of the RTC programs to high school wrestlers and an infractions oversight program to avoid abuse. The outcome will provide a noteworthy signal on the progress of cooperation between the pressure on recruiting prep stars and maintaining and expanding the wrestling pipeline to the elite level.
≡ SCOREBOARD ≡
● Football ● Europe dominated the 2018 World Cup in Russia, producing six of the eight quarterfinalists and all four semifinalists. On Tuesday, UEFA nearly completed its qualifying competitions for 2022, with Portugal and Poland advancing to the Qatar World Cup in November.
Portugal defeated North Macedonia, 2-0, in Porto, with Bruno Fernandes scoring in the 32nd and 65th minutes in "Path C"; Robert Lewandowski scored on a penalty kick in the 50th minute to key Poland's 2-0 win in Chorzow in "Path B". Still to be determined is "Path A," with Wales waiting to meet the winner of Scotland and Ukraine, right now expected to be played in June.
UEFA's 10 qualifying group winners, already set for Qatar, include Germany, Denmark, France, Belgium, Croatia, Spain, Serbia, England, Switzerland and the Netherlands.
¶
The U.S. men's National Team will finish its CONCACAF World Cup qualifying schedule with a final match at San Jose, Costa Rica on Wednesday at 9:05 p.m. Eastern time, shown on the CBS Sports Network and Universo.
According to U.S. Soccer, "the USA would punch its ticket to Qatar 2022 with a win, draw, or loss by less than six goals against Los Ticos."
Costa Rica stands fourth in the CONCACAF World Cup qualifying standings with 22 points to 28 for Canada (clinched), and 25 for the U.S. and Mexico. However, the U.S. has a goal-differential advantage of +13 compared to +7 for Mexico and +3 for Costa Rica.
The U.S. beat Costa Rica by 2-1 last October in Columbus, but is 0-10-2 against them on the road and 0-9-1 in road World Cup qualifying games. Los Ticos are 5-0-1 in their last six qualifying matches and if fourth, will face an Oceanian team in a playoff for Qatar 2022.
You can receive our exclusive TSX Report by e-mail by clicking here. You can also refer a friend by clicking here, and can donate here to keep this site going.
For our 832-event International Sports Calendar for 2022 and beyond, by date and by sport, click here!