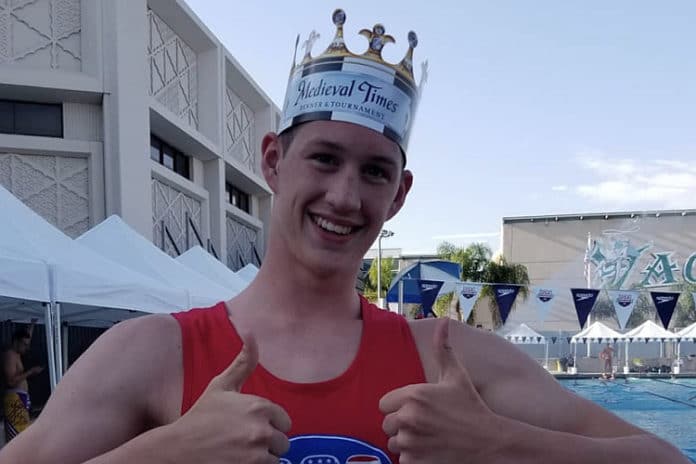 Sensational! An already hot Phillips 66 International Team Trials got crazy on Thursday in Greensboro, North Carolina, with three American Record swims and a world mark in the meet to select the U.S. team for the 2022 FINA World Championships.
The qualifying protocol is a little complicated, with only the winner of each event guaranteed a spot on the U.S. team, plus the top four in the 100 m and 200 m Freestyles (for relays). Most likely, the top two in each event will be on the U.S. team in Hungary, but only the winners in non-Olympic 50 m races. On Thursday:
● Women/400 m Medley ● The Olympic silver and bronze medalists – Emma Weyant and Hali Flickinger – were the big names in this race, but two 16-year-olds, Leah Hayes (4:39.65) and Katie Grimes (4:41.02) led the qualifying with lifetime bests.
Off the start, it was Hayes who swam to the lead on the Fly leg, but it was Grimes who touched first at 100 m, with Flickinger and Hayes in close attendance. Grimes – who is the U.S. national open-water champ at 10 km – stayed in front and fought off Flickinger on the Backstroke leg and then Hayes on the Breaststroke, until Hayes smoked the last 50 on the Breast leg and led after 300 m, with Weyant making a major charge to come from fourth to second heading into the Free leg.
But no one could catch Grimes. Weyant tried, with Hayes and Flickinger trying to move up, but Grimes held the lead and got home first in 4:36.17, no. 2 in the world for 2022. Weyant's strong last 150 got her second (4:37.72: no. 7), followed by Flickinger at 4:39.50 and Hayes at 4:40.70.
Grimes' win was another lifetime best by almost four seconds!
● Men/400 m Medley ● The Olympic gold medalist, Chase Kalisz, qualified first at 4:13.24 and was the favorite. But he had to deal with Olympic silver winner Jay Litherland, Olympic 800-1,500 m Free star Bobby Finke and Texas star Carson Foster, third in the 2021 Olympic Trials in this event.
Off the start, Kalisz, Foster and older brother Jake Foster touched 1-2-3 after the Butterfly leg, but Carson Foster took control during the Backstroke leg as Kalisz fell back and Finke moved up to second.
Then came Kalisz – as expected – on the Breast leg, taking the lead by 0.66 from Foster on the turn for home, with Jake Foster third and Finke falling back. But Carson Foster grabbed the lead again on the first 50 m of the Freestyle, passing Kalisz and holding on right to the final touch in 4:09.33, no. 3 in the world for 2022.
Kalisz looked like a clear second, but the amazing Finke was motoring on the final 50 m and just about caught Kalisz at the touch, but ended up third, 4:10.50-4:10.57, nos. 3-4 for the year. David Johnston was fourth in 4:13.24.
● Women/100 m Butterfly ● Teen sensations Torri Huske (19) and Claire Curzan (17) were 1-2 in the qualifying, after finishing 1-2 in the 100 m Free and Curzan and Huske 1-2 in the 50 m Fly yesterday.
They stormed to the lead right away in the final, with Kelsi Dahlia, the 2016 Olympic Trials winner, chasing hard. But the two teens separated from the rest of the field after the turn and swam almost together to the wall.
Huske was better in the final 10 m and touched in 56.28, with Curzan at 56.35, the nos. 1-2 marks in the world for 2022 and their third 1-2 finish in the meet so far! Dahlia was third in 57.58, her second-fastest swim of the year.
● Men/100 m Butterfly ● Caeleb Dressel, already the winner of the 100 m Free and 50 m Fly in world-leading times, grabbed another world-leader in the heats in 50.01.
In the final, Dressel got to the lead right away and no one could pass him. On the turn, he flipped first and had just a 0.09-second lead on Michael Andrew … who could get any closer. Dressel stayed on form, stayed consistent and stayed in front to the touch in 50.20, the no. 2 time in 2022.
Andrew was a clear second in 50.88, equal-third this year, with Trent Julian getting up for third in 51.10, no. 7 on the world list, but off the team for Budapest.
● Women/50 m Breaststroke ● Superstar Lilly King led the qualifying at 30.39 and off the block, NCAA 100-yard Breast champ Kaitlyn Dobler charged to the lead, but King took over quickly and was strong right to the wall.
She finished in 29.76, no. 2 in the world for 2022. Dobler got second with a lifetime best of 30.34, followed by Tokyo 100 m Breast gold medalist Lydia Jacoby, in 30.35.
King won the 200 m Breast yesterday and goes for the triple in the 100 m Breast tomorrow.
● Men/50 m Breaststroke ● Michael Andrew led the qualifying at 26.78, moving him to no. 2 on the world list for 2022.
In the evening, Andrew came back 15 minutes after his 100 m Fly final, and he and 2021 World Short-Course gold medalist Nic Fink figured to be the race. They were. Fink had the lead by a nose by the 30 m mark, but Andrew was coming and only got in front as they came to the wall.
The result was an American Record for Andrew in 26.52, breaking Kevin Cordes' 2015 mark of 26.76, as well as taking the U.S. Open mark for the fastest ever swim in a U.S. pool. He remains at no. 2 in the world for 2022.
Fink was also under the American Record at 26.55 for second; Kevin Houseman was third in 27.24.
● Women/50 m Backstroke ● Two-time Worlds gold medalist Regan Smith was the top qualifier at 27.40, setting a U.S. Open record and moving to no. 2 on the 2022 world list. But NCAA 100-yard Back champ Katharine Berkoff was only 4/100ths behind and American Record holder Olivia Smoliga third at 27.75.
Berkoff was second-fastest off the blocks and held only the tiniest of leads over Smith at halfway … and it stayed that way to the end! Berkoff finished in 27.12, smashing Smoliga's American mark from 2019 and taking over the no. 1 on the 2022 world list. She's now no. 5 on the all-time list.
Smith finished in 27.25, also under the old AR, with Smoliga in 27.33, tying her 2019 mark, but only getting third this time.
● Men/50 m Backstroke ● The four-year-old American Record of 24.24 by Ryan Murphy from 2018 took a beating in the heats, with Hunter Armstrong smashing it in heat two at 24.01 – also fastest in the world this year – and then Justin Ress winning heat three in a just-slower 24.05.
In the final, Murphy got off brilliantly and came up first, but Armstrong had all the power in the final 20 meters and stormed to the wall, just ahead of Ress to his left, winning in a world record 23.71!
That breaks Russian Kliment Kolesnikov's 23.80 mark from 2021 and improves Armstrong's own American Record. When not doing magic tricks, Armstrong was a Tokyo Olympian, earning a 4×100 m Medley gold for swimming in the prelims; he finished ninth overall in the 100 m Back.
Ress was second at 23.92, no. 3 all-time and Shaine Casas for up for third in 24.00, now no. 4 all-time. Murphy was fourth (24.57) and Andrew swam his third final in 32 minutes, and finished fifth in 24.80.
Incredible: three American Record swims and a world record, not to mention five more world-leading marks. After three days, the meet has produced world-leading marks in 10 events and there are two more days to come.
Friday's program includes the 400 m Freestyles, 100 m Breaststroke finals and 100 m Backstrokes; the finals will be shown on NBC's Olympic Channel live at 6 p.m. Eastern.
You can receive our exclusive TSX Report by e-mail by clicking here. You can also refer a friend by clicking here, and can donate here to keep this site going.
For our updated, 620-event International Sports Calendar for 2022 and beyond, by date and by sport, click here!