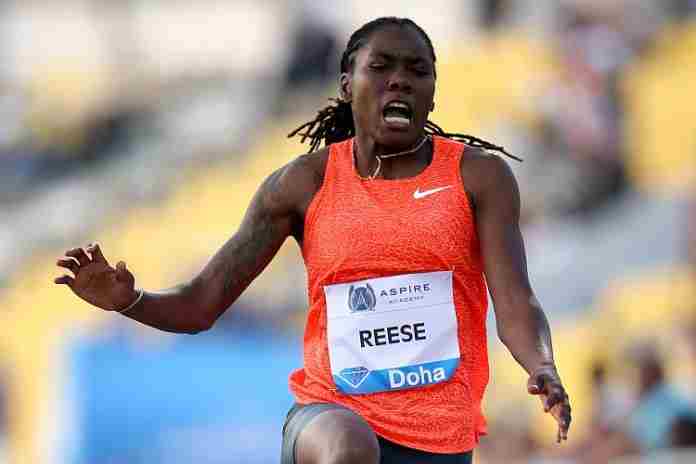 News, views and noise from the non-stop, worldwide circus of Olympic sport:
(Errata: Some of our e-mail recipients received a version of Monday's Lane One story about Caeleb Dressel's possible chase for nine medals at the Tokyo Games with an incorrect lead stating only Michael Phelps (USA) had won eight medals at one Games. Olympedia.com founder Dr. Bill Mallon notes that Soviet gymnastics Aleksandr Dityatin also did it (3G-4S-1B) at the 1980 Moscow Games. Thanks, Bill!)
● Games of the XXXII Olympiad: Tokyo 2020 ● "As the host city, I'm determined to achieve the Games whatever it takes."
That's Tokyo Metropolitan Governor Yuriko Koike, speaking to a Tuesday news conference at the Foreign Correspondents Club.
"The best case scenario of course would be something where athletes would be able to come here to Japan in safety and with ease of mind and the Olympics, as in previous years, could be held with full spectators present as well, but at the same time with stringent and thorough Covid-19 related measures.
"When we are talking about measures, the situation of Covid-19 is different from country to country at the moment, therefore we need to be constantly monitoring this situation to being able to adopt and these measures can fit what the current situation is. …
"The Tokyo 2020 Games can also symbolize the resilience of humanity as we work together to defeat this invisible enemy, COVID-19."
In a video recorded during his Tokyo visit and released today (24th), International Olympic Committee chief Thomas Bach (GER) urged athletes to keep up their preparations to come to Tokyo in 2021. Speaking from the Olympic Village in Tokyo, he said:
"This is the place to be nine months from now. I am very happy to be able to greet you here from the Olympic Village in Tokyo. …
"Get ready for these Olympic Games and train even harder, even under these very difficult circumstances many of you, and most of you, are in at this moment. But if you look around again, I think it's worth the effort. I am looking forward to seeing you at Tokyo 2020, in Tokyo 2020 plus one."
● EOPAAA Commission ● It's not like we need another acronym in the Olympic world or from the U.S. government, but look for more appointments coming to the "Empowering Olympic and Paralympic and Amateur Athletes Act" Commission on the State of the U.S. Olympics and Paralympics.
This group of 16 individuals – half of whom must be current or former athletes – is charged with reviewing the activities of the U.S. Olympic and Paralympic Committee, with a report to be provided at the end of next July.
The first appointees came from Sen. Roger Wicker (R-Mississippi), chair of the Senate Committee on Commerce, Science, and Transportation. He has four nominations, as do ranking member Sen. Maria Cantwell (D-Washington and the chair and ranking member of the House Energy & Commerce Committee, Frank Pallone (D-New Jersey) and Greg Walden (R-Oregon).
Wicker named two from his state to the Commission, sailor John Dane and long jumper Brittney Reese. Dane, now 70, was a 2008 Olympian in the Star class and was the 1970 (!) World Championships silver medalist in Soling. Reese, 34, who is still competing, is a seven-time World Champion – four outdoor and three indoor – in the long jump and won Olympic gold and silver medals in 2012 and 2016.
Look for more appointees in the coming days as the time for the Commission to do its work is short.
● XXIV Olympic Winter Games: Beijing 2022 ● The chatter over a possible boycott or demonstration – or something else – continues, but the IOC's senior member, Richard W. Pound (CAN), told The World:
"If your objective is to change Chinese policy, it has no chance of working. Anybody who thinks it has a possibility of working is just way off the mark."
He added that if individual nations decide to boycott the 2022 Winter Games, the IOC would reach out to their athletes directly:
"We will invite them ourselves — as if they were refugees. Leave it to the athletes to decide."
● Athletics ● World Athletics announced a 10-year agreement with NBC Sports to televise the federation's championship events from 2020-2029.
This includes the World Championships in 2022-23-25-27-29 and five editions of the World Indoor Championships, World Cross Country Championships, World Athletics Relays and the World U20 Championships, among others.
The organizing committee for the 2022 Worlds in Eugene, Oregon, launched its revamped Web site and branding elements on Monday as well.
¶
World Athletics released the names of its five finalists for Men's Athlete of the Year: Joshua Cheptegei (UGA: distances), Ryan Crouser (USA: shot put), Mondo Duplantis (SWE: pole vault), Johannes Vetter (GER: javelin) and Karsten Warholm (NOR: 400 m hurdles).
The women's finalists include Letesenbet Gidey (ETH: distances), Sifan Hassan (NED: distances), Peres Jepchirchir (KEN: distances), Yulimar Rojas (VEN: triple jump), Elaine Thompson-Herah (JAM): sprints).
The awards ceremony, to be hosted by NBC track & field analysts Ato Boldon and Sandra Richards-Ross, will be held online on 5 December.
¶
The 2021 Wanda Diamond League schedule was released, to begin – maybe – on 23 May in Rabat, Morocco, followed on 28 May on Doha (QAT). The Prefontaine Classic in Eugene at the new Hayward Field is slated for 21 August, sandwiched between the two meets in China on 14 and 22 August, after the close of the Tokyo Olympic Games.
● Bobsled & Skeleton ● USA Bobsled & Skeleton competed its national team selection races over the weekend and named the 2020-21 women's national team on Saturday.
Superstar drivers (and Olympic medalists) Kaillie Humphries and Elana Meyers-Taylor – back from maternity – both made the squad, along with Nicole Vogt. The push athletes on the squad include Lauren Gibbs, the 2018 Olympic silver medalist with Meyers-Taylor, plus five-time national team selection Lolo Jones, plus veterans Lake Kwaza, Sylvia Hoffman and Nicole Brungardt. The two newcomers to the squad are Colleen Fotsch and Emily Renna.
Codie Bascue swept the two men's selection races, with the men's selections to be announced.
The U.S. Skeleton team for the World Cup will be led by three-time Olympian John Daly – the winner of the selection races – and also includes Austin Florian. The three U.S. women are Megan Henry – winner of the selection races – as well as Olympians Katie Uhlaender and Savannah Graybill.
● Equestrian ● The Federation Equestre Internationale (FEI) held its General Assembly online this year, with its financial reports showing a surprising impact of the coronavirus.
The 2019 financial statements were published, showing total revenues of CHF 54.45 million against operating expenses of CHF 55.32 million, but a good investment return of CHF 3.07 million for a net gain of CHF 2.198 million. (1 CHF = $1.10 U.S.)
The FEI showed healthy reserves of CHF 24.33 million in cash and another CHF 21.66 million in designated fund balances.
For 2020, the projections showed that revenues would suffer by CHF 28.98 million (!) while expenses would also be reduced by CHF 34.71 million, for an actual savings of CHF 5.73 million. Wow!
However, the 2021 budget is likely to show a loss of CHF 1.32 million as the impact continues to be felt. But the FEI is certainly weathering the coronavirus storm nicely, at least on the financial side.
● Gymnastics ● USA Gymnastics' latest report of operations was filed on 19 November, with legal fees in its bankruptcy case now totaling $12.47 million. However, only $7.55 million has been paid and for the rest … the lawyers will have to wait.
● Weightlifting ● Hillary Evans, the "Olympic Statman" on Twitter, noted on Monday the latest list of weightlifting federations whose doping activities have reduced or eliminated their participation in Tokyo in 2021:
● Banned from Tokyo (4) for various doping activities: Egypt, Malaysia, Thailand, Vietnam
● Limited to 1 male/1 female entry (6): Russia (36 doping positives), Kazakhstan (20), Azerbaijan (33), Belarus (24), Armenia (20), Romania (20); also Thailand (20).
● Limited to 2 male/2 female entries (8): Bulgaria (18), Ukraine (18), Uzbekistan (16), Moldova (14), India (13), Iran (13), Turkey (13), Albania (11); also Egypt (13) and Malaysia (12).
That's 18 federations out of a total of 187 national federations or almost 10%. Ten percent!
● Wrestling ● Rio Olympic 53 kg champion Helen Maroulis of the U.S. gave a lengthy interview to United World Wrestling and underscored her desire to compete at the highest level in Tokyo in 2021:
"I always take things one at a time and I always do it to pursue excellence. So, to me, I committed to this goal, I committed to four years. I've been through a lot with all these physical injuries, mental, all this stuff, so for me, I made a commitment and made a decision, so I am seeing this through.
Now recovered from two years of injuries that included a concussion, Maroulis qualified the U.S. for the 57 kg class with a brilliant Olympic qualifying tournament in February 2020, stomping reigning World Champion Linda Morais (CAN) by 12-2 in her opener and then outscored her next three opponents by 26-2. Maroulis still has to make the U.S. team, but was asked about the difficult field she could face at 57 kg in Tokyo, including Japan's Risako Kawai, the reigning 57 kg World Champion. Maroulis was unafraid:
"This is my dream come true, right? When you think about winning Olympic gold, it's not just like you want the medal for the sake of the medal, , you're like, I want it to be the toughest competition because the point of being the best is you want to know that you beat everyone else who you think is incredible."
Off the mat, she shared her new interest in salsa dancing, where she is learning a lot and said, "I enjoy it just as much as wrestling." Is that in her future? Maybe, but she also sees herself giving back to wrestling as a coach, helping others to learn as she has.
● At the BuZZer ● A very happy Thanksgiving to our American readers. Even with all of the misery we have shared in 2020, there is still plenty to be grateful for. Please stay safe as you enjoy the holiday!