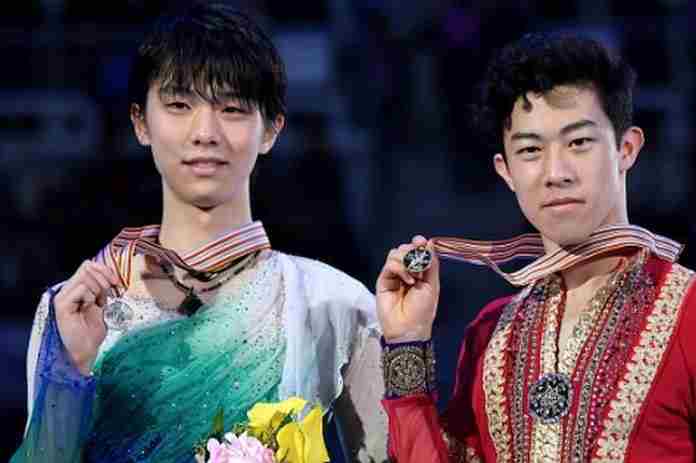 All you Hanyu bots can start getting your fingers near the send button.
Because no figure skating fans get more dyspeptic than many of Yuzuru Hanyu's if anyone dares suggest the sport's biggest global star is not one million times better at all times than any other men's figure skater.
And I'm saying this: the free skate Nathan Chen did in winning his third straight U.S. championship nine days ago was considerably better than any other men's free skate in the world since Hanyu's at the 2017 World Championships.
That 2017 Hanyu performance in Helsinki simply is the best free skate ever when one looks at it in terms of execution and difficulty of jumps (four pristine quads), quality of footwork and spins and overall level of artistry and skating skills.
Chen's skating at the 2019 nationals was as close to Hanyu's 2017 worlds free skate as anyone – even the Japanese skater himself – has come since then.  The U.S. champion's four quads were huge and steady, his artistry a huge leap forward from his past level, going from good to excellent.
There could be quite a showdown between the two at March's World Championships in Japan, because Chen has developed into a skater whose best skating now can challenge even Hanyu's best skating.
Because injuries have kept Hanyu out of the last two Grand Prix Finals and because he chose not to push the injured foot on which he won a second straight Olympic title last winter, the 2018 Winter Games is the only time Hanyu and Chen have met In the last 14 months.
Chen bombed his 2018 Olympic short program so badly he was hopelessly out of medal contention before the free skate, in which he finished first, 7.01 points ahead of Hanyu.  That moved Chen from 17th to fifth overall, still 20.5 points behind Hanyu, who remained then in a league of his own.
Since Chen became a senior internationally in the 2016-17 season, he has met Hanyu six times, with the U.S. star winning twice, at the 2017 Four Continents Championships and the 2017 Rostelecom Cup.  Chen won the 2018 worlds and the last two Grand Prix Finals in Hanyu's absence.  Neither is competing at this week's Four Continents Championships in Anaheim, Calif.
Beginning with the 2013-2014 season, there has been no better big-event skater than Hanyu, even if he did squander leads after the short program in the 2015 and 2016 worlds, finishing second in both.  Over that span, Hanyu is 2-for-2 gold at the Olympics, 2-for-4 at worlds, 4-for-4 at the Grand Prix Final.
So it would be no surprise if Hanyu lays it down at the upcoming worlds, which are to be his first competition in four months.
And no matter how home-cooked the 2019 worlds judging might be, Hanyu will likely need such brilliance again if Chen repeats what he did at nationals – dazzling skates in both the short program and the free.
If that happens, Hanyu will get more gold, and the big winner will be skating.