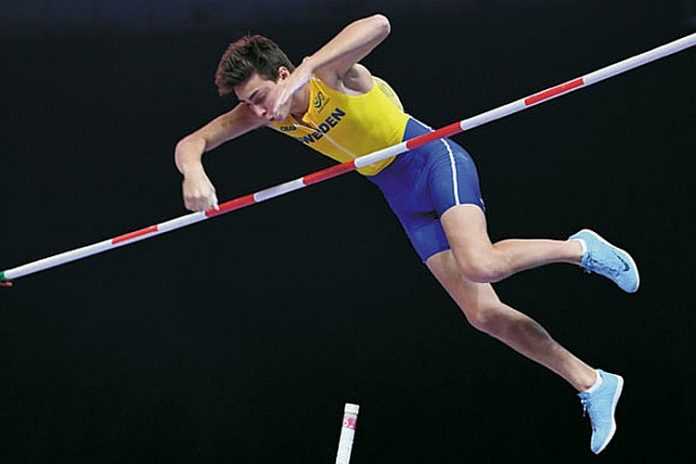 TSX HEADLINES – for August 17, 2018: One of the greatest pole vaulting competitions of all time came at the European Championships, with three men vaulting at the magical 6-meter mark and two clearing it.
Then an 18-year-old competing for Sweden won the event at 6.05 m (or 19-10 1/4), not only setting his third World Junior Record of the competition, but also setting an American Record and a Swedish Record in the process of becoming European Champion.
Confused? Don't be; it's the amazing reality show known as Mondo Duplantis, from an athletic family in Lafayette, Louisiana, who competes for Sweden and … well, we'll explain.
All the details are in our Lane One commentary, plus a whole week's worth of results and a preview of this weekend's biggest events in this 34-page issue:
(1) THE BIG PICTURE: Massive Asian Games, with as many as 11,000 athletes, gets ready to open in Indonesia on Saturday … at a cost of $3.2 billion!
(2) GYMNASTICS: Simone Biles ready to star in U.S. National Championships in Boston, the next step on her way to the World Championships …
(3) EUROPEAN CHAMPIONSHIPS: New superstars minted at the Euros include Norway's teen distance sensation Jakob Ingebrigtsen and British sprinter Dina Asher-Smith, and much more drama in one of the best Europeans ever.
(4) SOFTBALL: A classic between the U.S. and Japan in the final of the World Championships in Chiba, Japan that went into extra innings!
(5) SWIMMING: U.S. closes with seven golds in 10 events on the final day of the Pan-Pacific Championships in Tokyo!
This issue includes ON DECK previews of Beach Volleyball ~ Cycling ~ Gymnastics ~ Sport Climbing ~ Table Tennis, SCOREBOARD reports on the European Championships (Athletics and Cycling) ~ Archery ~ Beach Volleyball ~ Cycling ~ Judo ~ Sailing ~ Softball ~ Swimming ~ Taekwondo, plus AGENDA, our exclusive calendar of upcoming international events!