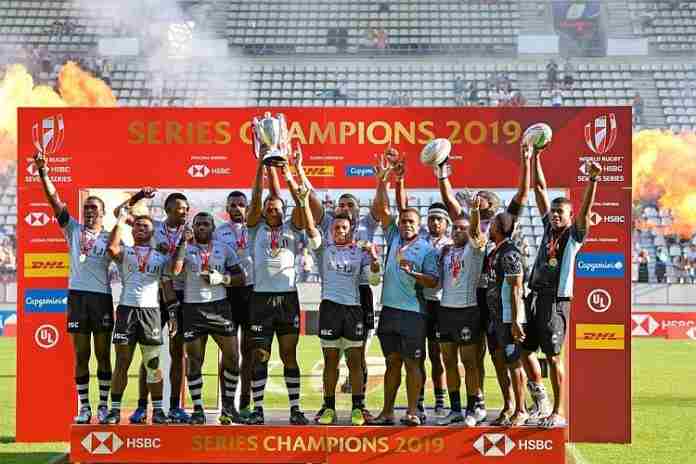 The best season ever for the U.S. Eagles came to a close in Paris (FRA) on Sunday with a fourth-place finish in the final Sevens Series tournament, and two rewards: a seasonal silver medal and qualification to the Tokyo 2020 tournament.
The U.S. came into Paris trailing Fiji by a couple of points and the draw had the two teams meeting in the championship semifinals if they made it that far. They did: Fiji, the U.S., South Africa and New Zealand all finished 3-0 in pool play and all four won their quarterfinal game.
While New Zealand drubbed South Africa, 33-7, the U.S. continued to have its problem with Fiji, losing for the seventh time (without a win) in the playoff rounds this season, 33-14.
That sent the American squad to the third-place game, which was a 24-7 loss to South Africa, while Fiji won, 35-24, against New Zealand to win the tournament and the seasonal series. The final standings:
1. 186 Fiji ~ fourth title: also in 2006-15-16
2. 177 United States ~ best-ever finish in a Sevens Series season
3. 162 New Zealand ~ also qualifies for Tokyo 2020
4. 148 South Africa ~ also qualifies for Tokyo 2020
5. 114 England
6. 107 Samoa
7. 104 Australia
8. 99 France
New Zealand's Andrew Knewstubb won the seasonal scoring title with 307 points, just ahead of the U.S. pair of Madison Hughes (299) and Carlin Isles (260). Isles won the seasonal title for tries for the second consecutive year with 52, followed by Aiminiasi Tuimaba of Fiji (46) and Dan Norton of England and Max McFarland of Scotland (39 each).
Among the seasonal awards:
● Coach of the Series: Mike Friday (USA)
● Rookie of the Year: Meli Derenalagi (FIJ)
● Impact Player: Vilmoni Botitu (FIJ)
● Mark of Excellence: Danny Barrett (USA)
The seasonal HSBC Dream Team was announced as Ben Pinkelman and Stephen Tomasin of the U.S., and Fiji's Aminiasi Tuimaba, Meli Derenalagi, Jerry Tuwai, Folau Niua and Vilimoni Botitu. Summaries:
World Rugby Men's Sevens Series
Paris (FRA) ~ 1-2 June 2019
(Full results here)
Final Standings: 1. Fiji; 2. New Zealand; 3. South Africa; 4. United States; 5. France; 6. Samoa; 7. tie, Kenya and Argentina. Semis: Fiji d. U.S., 33-14; New Zealand d. South Africa, 33-7. Third: South Africa d. U.S., 24-7. Final: Fiji d. New Zealand, 35-24.
Final Series Standings: 1. Fiji, 186; 2. United States, 177; 3. New Zealand, 162; 4. South Africa, 148; 5. England, 114; 6. Samoa, 107; 7. Australia, 104; 8. France, 99; 9. Argentina, 94; 10. Scotland, 72; 11. Canada, 59; 12. Spain, 49; 13. Kenya, 37; 14. Wales, 31; 15. Japan, 27; 16. Ireland, 19.