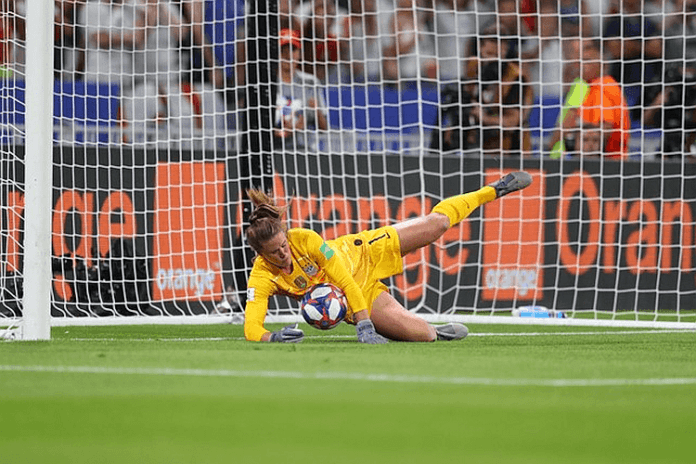 The gap between the top-ranked U.S. and the rest of the world has been closing and the taut semifinal in Lyon between the Americans and England was a prime exhibit.
A brilliant opening goal on a header by Christen Press off a Rose Lavelle cross in the 10th minute and an Alex Morgan score in the 31st minute from Lindsey Horan proved to be barely enough against a spirited English team in a 2-1 victory that sends the Americans to their third straight Women's World Cup final on Sunday.
The first half was a back-and-forth affair, with the U.S. attacking early, but without striker Megan Rapinoe, out with an apparent hamstring injury. England had to use backup keeper Carly Telford due to a hamstring injury to starter Karen Bardsley.
The U.S. got the early goal and was pressing with great play from midfielder Lavelle, who was unstoppable in the first 25 minutes. But England came back and Ellen White converted a cross to the front of goal from Beth Mead in the 19th minute to tie the game at 1-1.
Morgan's header off a perfect pass from Horan gave the U.S. a 2-1 lead and the half ended that way, with U.S. keeper Alyssa Naeher at full extension to save a rocket from Keira Walsh in the 32nd minute.
But England roared back and mounted challenge after challenge to the U.S. in the second half. White scored on a breakaway through the center of the U.S. defense in the 66th minute, but was offsides by an inch; no goal.
Another White try, where she missed a cross right in front of the U.S. goal in the 83rd minute, resulted in a video review and a penalty shot for England. But Steph Houghton took a poor penalty, sending a bounder toward the left of goal and Naeher – who guessed correctly – going to the ground to make the save.
There were seven minutes of extra time, but the English could not get close again and the game ended with both sides exhausted and the U.S. moving on to face the Dutch or Swedes for the title.
The U.S. ended with 10 shots to seven for England and the English had 53% of the possession. But the game was much closer than that. It was the 11th straight win for the U.S. in World Cup play, and extended their unbeaten streak to 13. The last team they did not defeat? Sweden, in a 0-0 tie in the group stage in 2015 …
On her 30th birthday, Morgan proved to be a continuing good-luck charm for the U.S. When she has scored a goal, the U.S. is now 63-0-10.