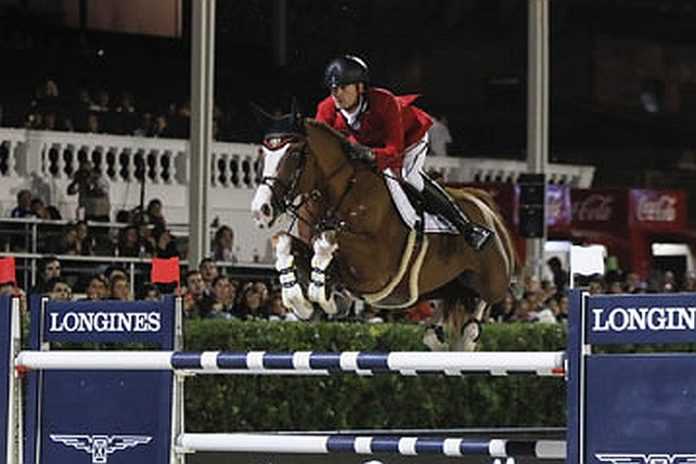 The annual FEI Nations Cup Jumping Final in Barcelona (ESP) was more difficult than ever this year, with a challenging course that saw Belgium win its second Nations Cup title in the past four years.
The first round separated the 18 teams into the championship round and the "Challenge Cup" group, with Austria and Italy tying for first and Sweden and Belgium third. Germany and the U.S. placed ninth and were relegated to the Challenge Cup final.
In the Nations Cup Final, there were only for clean rounds – no faults – among the 32 riders and the Belgians had half of those. Niels Bruynseels (aboard Gancia de Muze) and Nicola Philippaerts (aboard H&M Harley V. Bisschop) were perfect and the team had a total of 12 faults (from Jos Verlooy).
The only other faultless rides came from Italy's Riccardo Pisani and Swede Peder Fredricson, and France, Ireland, Italy and the Netherlands all had 16 total faults. The tie was broken by total time on the course, leaving the French second and the Irish third.
There was 1.25 million Euro riding – literally – on the outcome and the Belgian team received the winner's share of €417,000, followed by €251,000 for France and €167,000 for Ireland.
It was Belgium's second title in the Nations Cup Final (after 2015) and their third medal after a bronze last year.
In the Challenge Cup final, Germany won the trophy with just five faults in the final, followed by the U.S. team of Andrew Kocher, Alex Granato and Lucy Deslauriers with nine. Brazil was third. Summaries:
FEI Nations Cup of Jumping Finals
Barcelona (ESP) ~ 5-7 October 2018
(Full results here)
Final: 1. Belgium (Niels Bruynseels, Pieter Devos, Jos Verlooy, Nicola Philippaerts), 12 total faults; 2. France (Staut, Angot, Billot, Robert), 16; 3. Ireland (Twomey, Condon, Duffy, Kenny), 16; 4. Italy, 16; 5. Netherlands, 16; 6. Sweden, 20; 7. Austria, 20; 8. Switzerland, 32.