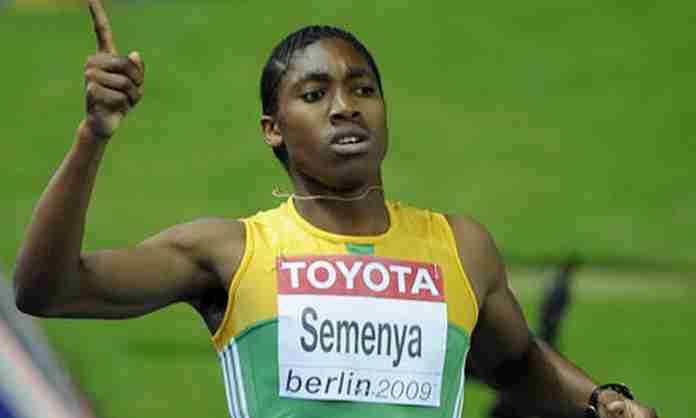 After her 30th straight victory in the 800 m in a dominant 1:54.99, South Africa's Caster Semenya gave a short interview for international television. The transcript:
Q: "Congratulations. What are your feeling about this win today?"
A: "This is an opener. I cannot really tell the feelings. It's always hard to run, you know, a first race. But if you run in such weather conditions, and then you feel like you can move, you just keep moving.
"I enjoy running all of the faster races. 1:54, that's a crazy pace. It's not suicidal, but at the end of the day, it's all about inspiring the world, you know. Showing the world that it's possible if you believe."
Q: "It has been turbulent for you, the past time. How do you want to describe it?"
A: "Oh, there's nothing hard about life. It's up to human, if you take it that way. To me, life is not about personal stuff. I put, you know, personal issues aside. I deliver. I'm a sportswoman. I believe in sportsmanship. I studied sports. So, this is all about people who are watching, you know, all over the world. It's not about the negativity that is going around, you know.
"For me, I am blessed, you know, that I've got this, such a great talent, and then you know, when you are a living testimony of God, nothing can stop you from delivering what you have been given to deliver."
Q: "Has it affected you personally?"
A: "No, not really. I'm a believer. Like I said, there is nothing hard in this world. If there is a difficult issue, you have to find a way to resolve it. So with me, with the great team I have, support system I have, I saw about what other people say. Those are their opinions; it does not stop me from living.
"I'm a human. Nobody knows what they [are] doing in this world. So we are just here; we are just living, you know, a temporary life. So I'm not going to waste my time, you know, focused on negativity. I'm just going to enjoy my life, and then live it. You try to be in front of me, I jump you. So, that's how life is."
Q: "Last one; what happens for you now?"
A: "I keep training. I keep running. So, [it] doesn't matter. If something comes in front of me – like I said – always find a way to come and jump it, you know. If the wall is built – it's like in the U.S. – you build a wall for Mexico, you always find Mexicans in U.S.A. So, that's what we do."
Doesn't sound like someone ready to retire!
¶
One of the unexpected stars of the Dola meet was American Hilary Bor's runner-up finish to Morocco's Soufiane El Bakkali in the men's 3,000 m Steeplechase in 8:08.41. That's not only a lifetime best, but makes him the no. 3 American ever in the event. And he was delighted:
"Finishing second behind Soufiane, a world silver medalist, is a great achievement and it means I'm doing something right. My goal now is to go back and study the race and see how I can improve. I hope to participate in one or two more Diamond Leagues meet before the end of the season but that depends on my coach. My major target is the USA Championships which I hope to do well and hopefully be back in Doha for the World Championships. I love the stadium and the atmosphere here tonight is great."
¶
Maybe the most surprised winner in Doha was Ukraine's 17-year-old Yaroslava Mahuchikh, who won the women's high jump at 1.96 m (6-5):
"I was so surprised that I won because I am the youngest competitor here, so I am extremely happy to take the win and to jump a personal best. It is my first time here and I would love to come back for the IAAF World Championships but I cannot get carried away. I hope I will now receive some invitations to other IAAF Diamond Leagues and I will next compete in Stockholm in a few weeks time."