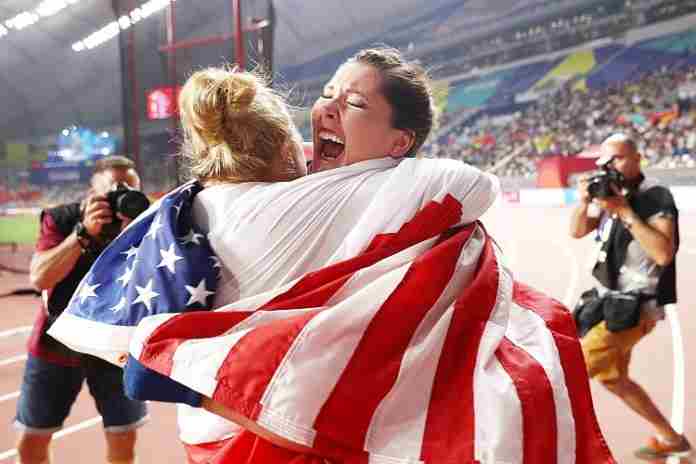 U.S. track & field history was made on Saturday at the Khalifa International Stadium in Doha, Qatar, with the first-ever medal in the women's hammer throw, a world record in the first-ever Mixed 4×400 m relay in the IAAF World Championships and a second straight 1-2 finish in the men's 100 m.
The 100 final was expected to be a confirmation of Christian Coleman's dominance over the rest of the world, but everyone had to wait while an over-produced introduction turned the track into a giant computer monitor. Very, very impressive technically, but perhaps a little overdone, especially since the runners themselves looked so tiny compared to the images shown on the stadium floor!
Once the runners actually got into the blocks, it was no contest. Coleman, who ran 9.98 and 9.88 in his heat and semi, was third-fastest out of the blocks in lane four, but accelerated brilliantly and had a clear lead by 25 m.
There was no let-up and he relentlessly ran away from everyone except 2017 World Champion Justin Gatlin to his left, in lane three. The two ran steadily to the tape, with Coleman setting a lifetime best in 9.76, moving him to no. 6 on the all-time list, and no. 3 all-time U.S. (and the no. 6 performance in U.S. history).
Gatlin, in second at 9.89, was just about as amazing. He looked pedestrian in his heat, running 10.06 and then only made the final as a time qualifier at 10.09. But in the final, he drew a favorable lane – next to Coleman – and ran his second-fastest time of the season at 9.89 to earn a silver medal. Canada's Andre De Grasse continued his comeback with a bronze medal in 9.90 for a North American sweep.
It's the second straight 1-2 finish for the U.S. in the men's 100 m, as Gatlin and Coleman were 1-2 in London in 2017. It's also happened one other time, way back in the first Worlds in 1983, as Carl Lewis and Calvin Smith won gold and silver.
But that was one of two gold medals won on the day by the Americans.
The women's hammer was all about U.S. champion and world leader DeAnna Price. Already the favorite coming in, she immediately put the field on notice as the second thrower in the first round, sailing out to 76.87 m (252-2), which – as it turned out – would have been the winning throw.
Price improved to 77.54 m (254-5) in the third round and had a third throw that would have won a medal in the sixth round, but she didn't need it. "It's just a dream," she said afterwards. It's the first-ever U.S. Worlds medal in the hammer, and it was gold.
Behind her, American Gwen Berry – no. 3 on the year list – continued to have trouble, fouling all three of her throws by hitting the cage. Poland's Joanna Fiodorow launched a lifetime best of 76.35 m (250-6) in the first round and that held up for the silver.
Price's winning mark is the no. 5 performance in U.S. history – of which she owns four – and her second-best throw of the year, at just the right time.
The men's long jump was supposed to be a showcase for Cuba's Juan Miguel Echevarria, but Jamaica's speedy Tajay Gayle opened with a lifetime best of 8.46 m (27-9 1/4) to take the lead. Echevarria opened at 8.25 m (27-0 3/4), but then American Jeff Henderson jumped 8.28 m (27-2) to finish the first round in second place.
Echevarria improved to 8.34 m (27-4 1/2) in round three to move into second, but then round four changed the story. Henderson boomed a seasonal best of 8.39 m (27-6 1/2) to move into second and then Gayle sailed to a national record of 8.69 m (28-6 1/4) to not only secure the lead, but move to no. 10 on the all-time list.
In round six, defending world champ Luvo Manyonga (RSA) got his best mark at 8.28 m (27-2) but had to settle for fourth. Echevarria fouled and Henderson produced only 8.17 m (26-9 3/4), so Gayle had moved from challenger to champion, and the 2019 world leader. Henderson's inconsistent season is all but forgotten in the glow of a silver medal.
The women's 10,000 m was going to be a showdown between Kenya, Ethiopia and Dutch star Sifan Hassan – born in Ethiopia – who elected to run this race and the 5,000 m. After a slow start, the Kenyans and Ethiopians – led by reigning 5,000 m champ Hellen Obiri, increased the pace and broke away from the field by 4,400 m. Hassan was well back and slowly worked her way back into contact by 4,800 m.
Ethiopia's Letesenbet Gidey then sprinted to the front with three laps to go, with Obiri running after her down the back straight and Hassan following. With two laps to go, Gidey had a 10 m lead, with Hassan and Agnes Tirop of Kenya chasing and Obiri fourth and out of contact. Hassan kept closing and reached Gidey's shoulder around the turn at 500 m left and had the lead at the bell.
She was completely in charge on the final lap, looking behind her repeatedly to check on Gidey, but then steaming down the straight to win in 30:17.62 with a final lap of 61.50. Gidey took the silver in a lifetime best 30:21.23 and Tirop won bronze (lifetime best 30:25.20). Americans Marielle Hall, Molly Huddle and Emily Sisson finished 8-9-10, with Hall getting a personal record of 31:05.71 to move to no. 6 all-time U.S.
In the heats of the Mixed 4×400 m relay, the U.S. was in the first race, with a M-F-F-M pattern starting with Tyrell Richard, who rolled to a big lead with an impressive 44.51 leg. He handed off to veteran Jessica Beard, who extended the lead with a 51.20 leg, as did Jasmine Blocker (51.27). Anchor Obi Igbokwe had no trouble on his way home in 45.44 for a new world record of 3:12.42, easing up in the final straight to finish 0.31 ahead of Jamaica. The old mark was also set by a U.S. team at 3:13.20 in 2016.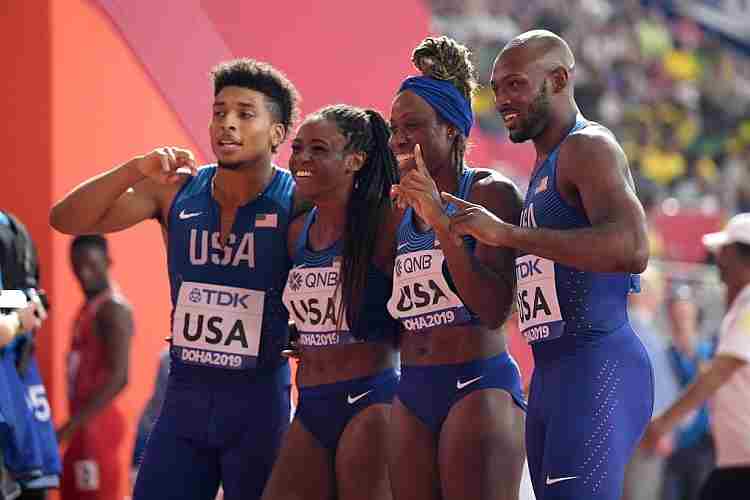 There was a lot of other hot action in the other qualifying:
● Men/800 m: Donovan Brazier ran a controlled race in the first heat to win at the tape from Canada's Marco Arop, 1:46.04-1:46.12. The fastest time of the day was 1:45.16 by Kenya's Emmanuel Korir, with Clayton Murphy and Bryce Hoppel also advancing.
● Men/400 m hurdles: The semifinals went to form, with Norway's Karsten Warholm winning race two at 48.28 and American Rai Benjamin winning semi three in 48.52, saying he felt "easy." Qatar's Abderrahmane Samba also qualified out of semi three in 48.72 and T.J. Holmes of the U.S. was a time qualifier at 48.67.
● Men/Pole Vault: Sam Kendricks of the U.S. led the qualifying at 5.75 m (18-10 1/2), with Piotr Lisek (POL), Thiago Braz (BRA), Mondo Duplantis (SWE) and Cole Walsh of the U.S. also getting through to the final.
● Men/Discus: Sweden's Daniel Stahl led the qualifying as expected, at 67.88 m (222-8), ahead of Jamaica's Fredrick Dacres (65.44 m/214-8). American Sam Mattis made it into the final, throwing 63.96 m (209-10).
● Women/100 m: Jamaica's Shelly-Anne Fraser-Pryce – in shocking all-yellow hair – won the first heat of the day in a steamy 10.80 into a slight headwind of 0.2 m/s, beating Murielle Ahoure (CIV) by 0.25. Wow!
The second heat saw Marie-Josee Ta Lou (CIV) win in an equally-startling 10.85, tying her lifetime best. It slowed a little from there, with Dina Asher-Smith (GBR) winning heat four in 10.96. Jamaica's Elaine Thompson won heat three in 11.14.
U.S. champ Teahna Daniels ran 11.20 for second in heat six to advance to the semis, as did English Gardner (11/20 in heat 4), Morolake Akinosun (11.23 in heat three) and defending champ Tori Bowie (11.30 in heat five).
● Women/800 m: Excellent running from Raevyn Rogers and Ajee Wilson of the U.S., who won the first two semifinals in convincing fashion, in 1:59.57 and 2:00.31. The third heat had some pushing and shoving, but Uganda's Halimah Nakaayi managed to win in 1:59.35 – fastest of the day – with Eunice Sum (KEN) second and American Ce'Aira Brown a time qualifier at 2:0012.
The men's and women's 50 km walk events are also being held today, beginning at 11:30 p.m. Doha time. Summaries so far:
IAAF World Championships
Doha (QAT) ~ 27 September-6 October 2019
(Full results here)
Men
100 m (wind +0.6 m/s): 1. Christian Coleman (USA), 9.76; 2. Justin Gatlin (USA), 9.89; 3. Andre De Grasse (CAN), 9.90; 4. Akani Simbine (RSA), 9.93; 5. Yohan Blake (JAM), 9.97; 6. Zharnel Hughes (GBR), 10.03; 7. Flilppo Tortu (ITA), 10.07; 8. Aaron Brown (CAN), 10.08.
Long Jump: 1. Tajay Gayle (JAM), 8.69 m (28-6 1/4); 2. Jeff Henderson (USA), 8.39 m (27-6 1/2); 3. Juan Miguel Echevarria (CUB), 8.34 m (27-4 1/2); 4. Luvo Manyonga (RSA), 8.28 m (27-2); 5. Ruswahl Samaai (RSA), 8.23 m (27-0); 6. Jianan Wang (CHN), 8.20 m (26-11); 7. Eusebio Caceres (ESP), 8.01 m (26-3 1/2); 8. Yuki Hashioka (JPN), 7.97 m (26-1 3/4).
Women
10,000 m: 1. Sifan Hassan (NED), 30.17.62; 2. Letesenbet Gidey (ETH), 30:21.23; 3. Agnes Tirop (KEN), 30:25.20; 4. Rosemary Wanjiru (KEN), 30:35.75; 5. Hellen Obiri (KEN), 30:35.82; 6. Senbere Teferi (ETH), 30:44.23; 7. Susan Krumins (NED), 31:05.40; 8. Marielle Hall (USA), 31:05.71. Also: 9. Molly Huddle (USA), 31:07.24; 10. Emily Sisson (USA), 31:12.56.
Marathon: 1. Ruth Chepngetich (KEN), 2:32:43; 2. Rose Chelimo (BRN), 2:33:46; 3. Helelia Johannes (NAM), 2:34:15; 4. Edna Kiplagat (KEN), 2:35:36; 5. Volha Mazuronak (BLR), 2:36:21; 6. Roberta Groner (USA), 2:38:44; 7. Mizuki Tanimoto (JPN), 2:39:09; 8. Ji Hyang Kim (PRK), 2:41:24. Also: 13. Carrie Dimoff (USA), 2:44:35.
Hammer: 1. DeAnna Price (USA), 77.54 m (251-1); 2. Joanna Fiodorow (POL), 76.35 m (250-6); 3. Zheng Wang (CHN), 74.76 m (245-3); 4. Zalina Petrivskaya (MDA), 74.33 m (243-10); 5. Iryna Klymets (UKR), 73.56 m (241-4); 6. Alexandra Tavernier (FRA), 73.33 m (240-7); 7. Hanna Skydan (AZE), 72.83 m (238-11); 8. Na Luo (CHN), 72.04 m (236-4).